If you want to have a rather different barbecue experience, try putting on some chicken instead of pork or beef. In this recipe, we'll guide you through the process of making a delicious chicken on the barbie dish. It's inspired by Outback's Grilled Chicken on the Barbie, but this recipe keeps it simple with its ingredients for a more budget-friendly yet satisfying and filling dish. It's the perfect dish to serve with some grilled vegetables on the side.
Tips on Making Grilled Chicken on the Barbie
This grilled chicken on the barbie is flavorful with all its smoky goodness, and each bite is so tender and appetizing. It's an easy chicken grill style recipe to make since it uses kitchen pantry staples so all you really need is a good quality poultry. So get your griller ready, and follow some of our tips for the best tasting grilled chicken on the barbie: 
Clean and prep your grill.

A properly cleaned and maintained grill is the first step to make delicious chicken. Make sure that the grill grates don't have any leftover charred stains. It may affect the taste of your chicken while it's cooking. Then, start preheating the grill and greasing it with oil. 
Let the seasoned chicken rest for at least 30 minutes before grilling

. After coating the chicken with the seasonings, it's best that you let it rest and sit for at least 30 minutes to an hour. Let the seasonings soak into the chicken so it's more flavorful. If you want, you can even mix in a bit of lemon juice for a subtle tang.

Or, add a teaspoon of

chili powder

for some spice! 
Try basting the chicken with BBQ sauce.

For this recipe, you can either serve the barbecue sauce on the side or apply it while it's cooking. Remember that it's best to coat the chicken when it's 10 minutes away from being done. Use a basting brush and apply a generous amount of barbecue sauce on each side of the chicken. 
Control the heat or flames of the grill.

It's best to keep a steady temperature while grilling the chicken. High heat is not recommended when grilling chicken. Medium heat works best when grilling chicken so make sure to not go overboard with the gas or charcoal.
Serve with a side dish of your choice. This grilled chicken on the barbie tastes best with mixed seasoned vegetables that are either roasted or grilled. Try making some roasted asparagus on the side.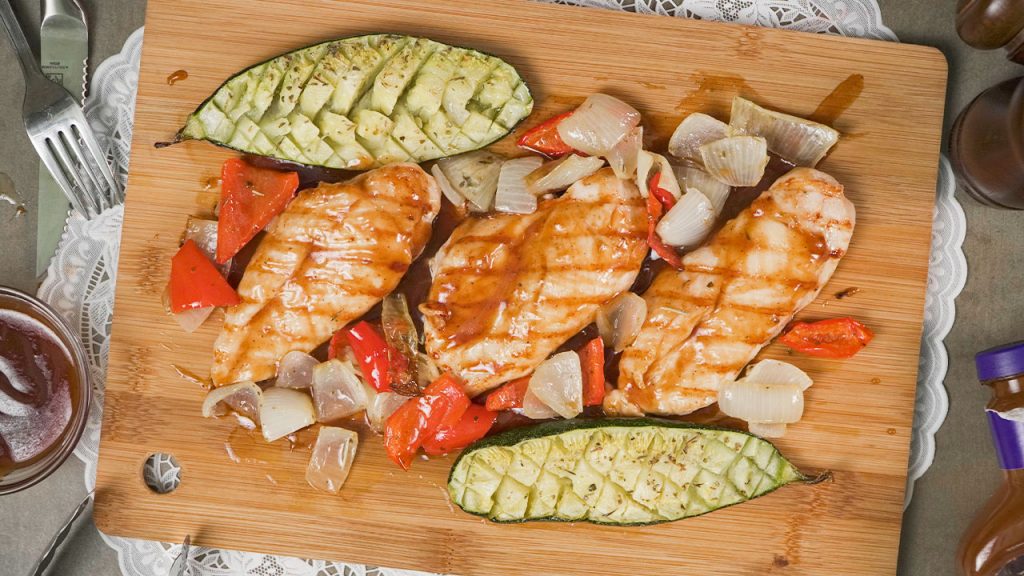 Grilled Chicken on the Barbie Recipe
How To Make Grilled Chicken on the Barbie
Enjoy Sunday barbecues even more with our tasty grilled chicken on the barbie recipe that's seasoned with flavorful spices for a savory finish. Pair this delicious Outback Steakhouse inspired dish with a side of BBQ sauce and other side dishes.
Ingredients
10

oz

chicken breasts,

boneless and skinless

olive oil,

or canola oil

¼

tsp

poultry seasoning,

or chicken bouillon powder

⅛

tsp

cayenne pepper

⅛

tsp

white pepper

⅛

tsp

onion powder

1

tbsp

garlic powder
To serve:
2

oz

fresh seasonal mixed vegetables,

grilled or roasted to your preference, such as roasted onions, bell peppers, and eggplants

barbeque sauce
Instructions
In a bowl, mix poultry seasoning or chicken bouillon powder, cayenne pepper, white pepper, onion powder and garlic powder to make dry rub.

Evenly coat chicken and let it sit for at least 30 minutes to an hour.

Preheat your grill and grease it.

Brush chicken breasts with olive oil. Grease the grill and grill the chicken over medium heat until it is almost done.

Add barbecue sauce and serve with fresh seasonal mixed vegetables.
Nutrition
Sugar:

1g

:

Calcium:

19mg

Calories:

191kcal

Carbohydrates:

6g

Cholesterol:

91mg

Fat:

4g

Fiber:

1g

Iron:

1mg

Potassium:

613mg

Protein:

31g

Saturated Fat:

1g

Sodium:

169mg

Vitamin A:

171IU

Vitamin C:

2mg
Nutrition Disclaimer
Frequently Asked Questions
How long do you grill chicken on the grill?
Grill chicken for about 10 minutes, and make sure to flip the chicken breasts at the halfway point. Flipping it would give the chicken those delightful grill marks. If you're still unsure about the doneness of your chicken, then you can also use a thermometer to check its internal temperature. A fully cooked grilled chicken should have an internal temperature of 160 to 165 degrees F.

Can I grill chicken on a griddle?
Yes, you can. If you don't have any indoor or outdoor grilling equipment, a griddle is the next best thing! It's also easy to use and cook entire chicken breasts with a griddle. Unlike a regular grill, however, cooking whole chicken breasts on a griddle takes longer time. A total of 10 to 20 minutes is needed which means each side takes about 5 to 10 mins to be fully cooked through.

How do you grill chicken without it drying out?
The simplest solution is to brine the chicken before grilling. It takes about 30 minutes to do this step. The brine solution is basically a salt water bath for the chicken meat. To make the brine solution, mix together ¼ cup of kosher salt and 4 cups of water, and then soak the chicken in it. This brine solution would prevent the chicken from losing moisture while it's on the grill.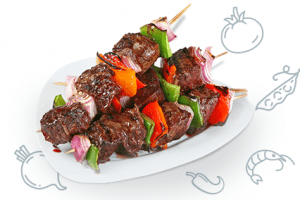 Conclusion
As barbecue season approaches, this grilled chicken on the barbie dish will surely make you satisfied and filled. Simply whip out your favorite seasonings and apply it on fresh poultry and start grilling! Enjoy a delicious serving of tender chicken with a side of barbecue sauce and vegetable side dishes.