This easy pork chop recipe will let you serve an amazingly simple yet elegant dinner. This recipe is incredibly easy and inexpensive to make! We can cook our chops like steak, but we're going for simple home style cooking for this pork chop recipe. It takes you less than an hour to serve juicy, tender and moist pork chops on the table!
The golden brown crust of the chops and the soft and tender interior of its meat are irresistibly comforting. The flavor of the sauce makes it even better! This pork chop recipe makes your simply seasoned pork chops soft and tender by cooking them to golden perfection. You can definitely go for boneless chops but we suggest using bone-in ones because they absorb more flavor. Test it out with our Honey Barbecue Pork Chops and Pork Chops with Smoked Gouda and Bacon bone-in meat recipes.
This will be a staple weeknight dinner, with many sides to choose from. You can pair it with roasted veggies or some garlic mashed potatoes for a fuller meal. Whip up this quick and easy flavorful meal and enjoy every slice of chops that you'll love in every bite!
How To Make Easy Pork Chop Dinner
A quick and easy pork chop recipe that perfectly cooks your chops and flavor it with a rich and savory sauce that's simply seasoned. Perk up your day with a tasty dish that has your daily dose of protein!
Ingredients
4

pork chops

bone-in

1 3/4

cup

beef flavored broth or chicken broth

2

tbsp

cornstarch

1

onion

chopped

2

cloves

garlic

chopped

2

tbsp

olive oil

fresh parsley

chopped, if desired
Instructions
In a small bowl, add in the broth and cornstarch then mix well.

In a skillet, heat 1 tablespoon of oil on medium-high heat. Cook the pork chops for 5 minutes until both sides are browned. Transfer cooked pork chops on a plate.

Heat the remaining oil then saute the onion and garlic for 3 to 4 minutes.

Add in the broth mixture into the skillet. Cook and stir the mixture until it boils and thickens then add in the pork chops in the skillet.

Cover and cook under low heat for 5 minutes or until the pork is well-done.

Place your pork chops on a plate and let them rest on a countertop for 2 to 3 minutes.

Lastly, pour the sauce over the pork chops. Sprinkle your meal with parsley and you're ready to dig in.
Recipe Notes
Make sure to let your pork chops rest before serving, the juices released will be reabsorbed by the meat, making them tender and juicy.
Nutrition Facts
Calories:
305
kcal
|
Carbohydrates:
7
g
|
Protein:
30
g
|
Fat:
17
g
|
Saturated Fat:
4
g
|
Cholesterol:
90
mg
|
Sodium:
457
mg
|
Potassium:
597
mg
|
Fiber:
1
g
|
Sugar:
1
g
|
Vitamin C:
3
mg
|
Calcium:
25
mg
|
Iron:
1
mg
Commonly Asked Questions
Why are some pork chops tough?
Pork chops that are lean are quick to cook and are prone to overcooking. This is why they tend to become tough. Here are some ways to ensure you get a tender, juicy pork chop. Firstly, you can consider using bone-in pork chops instead of boneless ones, for the bone actually helps to keep the meat moist and also adds a richer depth of flavor. Otherwise, if you opt for boneless pork chops, make sure the slices are around 1 inch thin and not any thinner, if not they will overcook easily. Secondly, marinades are important. Low acid marinades like vinegar or wine, and dairy products like buttermilk and yogurt, are ideal marinades for lean meats like pork chops, as they help to tenderize the meat. Finally, one of the easiest ways to ensure your pork chop comes out soft and tender is by doing what we did, that is to let them rest for 2 to 3 minutes before cutting. 
Does pork become tender when you cook it longer?
It depends on the cut of the pork. If it is a pork belly high in fat and connective tissues, it tenderizes best under long slow cooking. Pork chops or loin roasts are leaner with fewer connective tissues, so they require careful cooking to crisp the edges, while ensuring the meat stays tender and juicy. It is best to cook them quickly by pan frying or roasting them.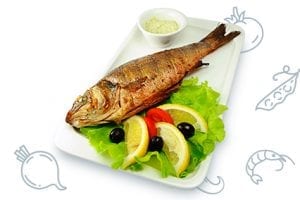 Conclusion
This satisfying weeknight meal will go straight to your list of go-to pork chop recipes. It's incredibly fast and easy to make and you can even explore using other cuts of pork to cook and flavor! You can definitely toss in vegetables and spices to your pan mixture if you want some added personal flavor to your pork chop skillet dinner. It definitely feels like home with an incredibly tasty and filling meal made with this easy pork chop recipe!