Banana bread is one of those things that bring back fond memories for many of us. A thick slice right out of the oven topped with a heaping scoop of vanilla ice cream. Above all, that is one of the many simple pleasures in life. So, give our slow cooker banana bread recipe a try.
We are particularly fond of this recipe as the use of a slow cooker makes this recipe even easier than it was to begin with. As a result, you'll just have to pour it in and let your slow cooker work its magic. In contrast, baking requires more of a hands-on approach. But when you start off with the use of a slow cooker, you are setting yourself up for success. Certainly, this simple recipe ensures you a plump and moist banana bread, even for inexperienced bakers!
So, if you're feeling adventurous, you can add some walnuts or chocolate chips to this particular recipe. For instance, we prefer to add the walnuts in the mix while topping our loaf with a generous helping of semi-sweet chocolate chips. Moreover, these extra ingredients give your slow cooker banana bread some extra bite without becoming too sweet.
Slow Cooker Banana Bread Recipe Video
How to Make Banana Bread in Slow Cooker
Ingredients
2

large eggs

1/2

cup

butter

melted

3/4

cup

sugar

1/4

cup

brown sugar

1/2

teaspoon

vanilla extract

2

cups

flour

2

teaspoon

baking powder

1/2

teaspoon

baking soda

1/2

teaspoon

salt

3

bananas

small ripe, mashed

oil spray
Instructions
Just as you preheat an oven before baking, don't overlook the step of preheating your slow cooker too. When you have baking soda and baking powder in your ingredients, it reacts to heat and help the mixture rise. Turn on the slow cooker for about 20 to 30 minutes before you pour the banana bread mixture. So preheat the slow cooker first before mixing other ingredients. That gives it enough time to heat.

In a large mixing bowl, combine your dry ingredients, starting with the flour, baking powder, and baking soda. Add in the eggs, butter, white and brown sugar, and vanilla extract. Stir this and mix with the dry mixture until it forms a smooth batter.

With a silicone spatula, fold in mashed bananas and walnuts. Riper bananas give it a sweeter. So, the riper bananas, the better. We enjoy substituting chocolate chips with walnuts, too. If you like to use both, use equal parts of chocolate chip and walnuts. So for this recipe, you will need ¼ cup for each.

Now that you have prepared the mixture, it's time to pour it in the slow cooker. Coat the bowl of the slow cooker with a cooking spray. Then line it with a parchment paper, allowing the sides to stick out of the cooker. The oil will help the parchment paper to stick to the bowl and prevent it from moving while you pour the mixture. You need a parchment paper to prevent the bread from sticking to the bottom.

Before placing the lid, cover the top with paper towels. Cook this on high for about 2 hours. Cooking time varies from slow cooker to slow cooker. And we want to make sure you don't get undercooked loaves that are too runny or gummy in the interiors. Check the bread after 2 hours do the toothpick test. Insert the toothpick in the center of the bread. If it comes out clean, then you have a perfectly cooked banana bread. But if the batter is still on the toothpick, the bread needs another half hour to an hour in the cooker. The trick is to cook the bread long enough that it bakes all the way through.

Once cooked, and the slow cooker has cooled, pull both sides of the parchment paper to loosen the bread. Running the knife around the edges also helps to make sure you're not ruining the shape. Let the bread cool completely before slicing.
Nutrition Facts
Calories:
2836
kcal
|
Carbohydrates:
477
g
|
Protein:
31
g
|
Fat:
96
g
|
Saturated Fat:
59
g
|
Cholesterol:
244
mg
|
Sodium:
2970
mg
|
Potassium:
1608
mg
|
Fiber:
16
g
|
Sugar:
247
g
|
Vitamin A:
3063
IU
|
Vitamin C:
31
mg
|
Calcium:
363
mg
|
Iron:
13
mg
Commonly Asked Questions
How can I make this recipe vegan?
You can substitute the eggs in this recipe with ground flaxseed and warm water. Your flaxseed to warm water ratio should be 1:3 tablespoons. This replaces one egg in your recipe, adjust as needed. Alternatively, since bananas already act as a binder, you can skip the eggs entirely and add a tablespoon of coconut oil for a richer taste. This richness would otherwise come from the egg yolk.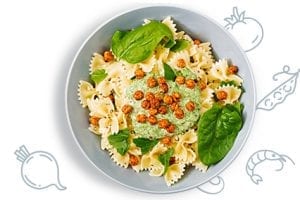 Conclusion
Banana bread has always been a great way to make use of extra bananas. In doing so, it has gained a special place in many of us.
Packed full of vitamins and minerals, this slow cooker banana bread recipe is the perfect excuse to go back for a second helping of dessert!