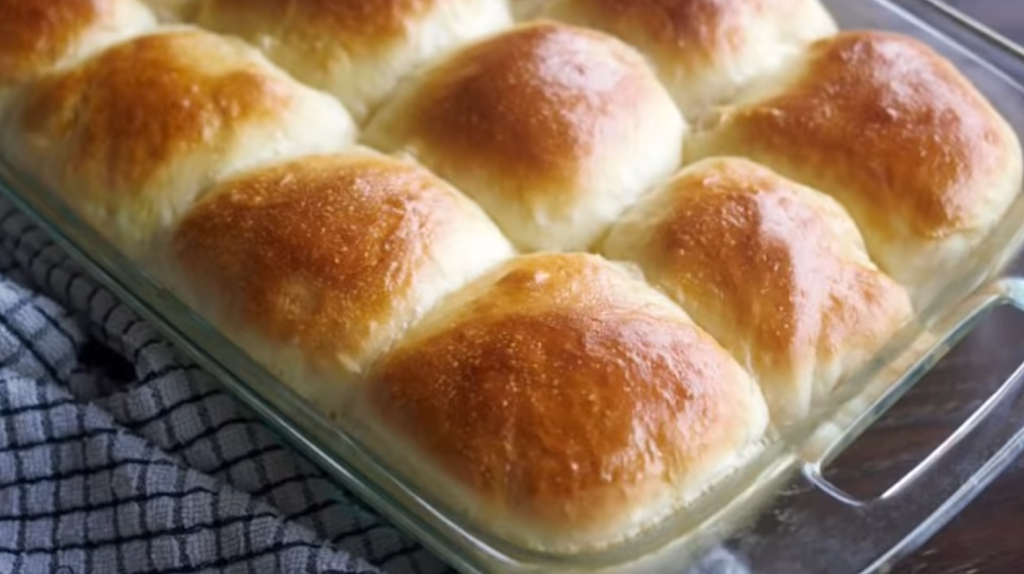 Make-Ahead Dinner Rolls Recipe
There's hardly anything better than freshly-baked homemade make-ahead dinner rolls.
When the holidays roll around, people are usually looking forward to the turkeys and ham. But my guests have set their hearts on something different — warm dinner rolls. Who could blame them, though, when they're as fluffy and buttery as I make them? They're so irresistible that they will have no less than two rolls each time.
This easy dinner roll recipe has been my go-to for years. It always yields the most perfectly soft, fluffy, buttery rolls even when I make them ahead. I also love how the ingredients are easy-to-find, the rise times are minimal, and you can pull everything together in an hour or so.
Everyone who has had their share of my dinner rolls has asked about a make-ahead version. So, I've made this post with instructions on how to make dinner rolls ahead of time plus tips on how to freeze and heat them. These are super helpful on busy days and holidays.
For this homemade dinner roll recipe, I am using instant potato flakes to make the rolls extra tender. It's also what makes them fluffier than other bread. This recipe also calls for instant yeast for a quicker rising time. Make sure your yeast has not expired, and that you are using a quality brand, to give your rolls the best rise.Unlike sourdough or bagels that are crustier and chewier, dinner rolls have rich dough. It means they have high amounts of fat derived from milk, butter, oil, and eggs which make them softer and richer.
The dough for these make-ahead rolls for Thanksgiving contains flour, instant potato flakes, yeast, sugar, and salt. They're then combined with eggs and milk in a mixer. Make sure all of these are at room temperature prior to mixing! Eventually, you'll need to knead the dough by hand, although it requires a bit of arm muscle.
The dough becomes softer and fluffier as it rises, which helps achieve the texture we are aiming for. So do not skip on the first rising time of 1½ hours to 2 hours. And the second rising time of 1 hour after shaping the dough into balls.
You can bake the dough immediately after rising for 20 minutes in the oven. Feel free to serve them as is, or freeze the baked rolls for later consumption. Make sure to wrap the rolls in foil, and store them in freezer bags prior to freezing! Then, just thaw and bake them in a 300 degrees F oven for about 10 minutes. Brush with melted butter afterwards for shine and added flavor.
Alternatively, you can make the dough, shape them into rolls, place them in a pan, and freeze them for later baking. The dough for these make-ahead dinner rolls will stay fresh for 3-5 days in the fridge and up to a month in the freezer. The day you want to serve them, take out the rolls, place them in a pan, and let them thaw and rise for 4 to 5 hours or so before baking as normal.
How To Make Make-Ahead Dinner Rolls
These make-ahead dinner rolls are easy to make. Save this recipe to create buttery, melt-in-your-mouth rolls! Serve them as a classic for Thanksgiving or at your next dinner party.
Rise Time:
2 hours 30 minutes
Total:
3 hours 20 minutes
Ingredients
4 cups all-purpose flour, plus more for dusting

⅔ cup instant potato flakes, unflavored or natural flavored

1 pkg instant yeast

¼ cup sugar

1½ tsp salt

2 large eggs

1¼ cups whole milk

4 oz unsalted butter, softened at room temperature

1 tsp vegetable oil, or olive oil

3 tbsp butter, melted
Instructions
In the bowl of a stand mixer on low speed with the paddle attachment, add 2 cups of flour, potato flakes, yeast, sugar, and salt until combined. Add eggs and milk, then beat for 1 minute at medium speed.

Add butter in tablespoon-size portions on medium speed, then beat for about 3 to 5 minutes until well incorporated. Scrape down the sides of the bowl and mix in 1½ cups more flour at low speed. The dough will be thick and smooth. Scrape down the sides of the bowl again, and then switch to dough hook attachment.

Set the mixer on low speed and gradually add ½ cup more of flour. Continue kneading the dough on low speed for 10 minutes or until it cleans the sides of the bowl. The dough should be soft and slightly tacky, but not so sticky that it will be difficult to shape into rolls. If it is very sticky, add more flour, 1 tablespoon at a time, until the dough pulls away from the sides of the bowl.

Turn the dough out of the bowl and form it into a ball. Drizzle the oil into the bottom of the bowl. Set the dough back in the bowl, turn, and then coat again with oil.

Cover the bowl with plastic wrap. Leave in a warm place to rise for 1½ to 2 hours, or until doubled in size and the dough is firm but fingertips leave an impression on the surface.

Turn the dough onto a lightly floured countertop then, using a rolling pin, roll evenly into a 12-inch square. With a chef's knife or pizza cutter, cut the square into 16 equal pieces of dough.

For each piece of dough, fold the edges into the center, then pinch the loose ends together to form a ball. Turn the dough over so the seam side is down. Move it to an un-floured part of the work surface. Cup your hands over the dough and rotate the roll, using your cupped fingers and your palm to make a round, taut roll.

Line a rimmed baking sheet with parchment. Set the rolls on the sheet about 1-inch apart, then cover them with plastic wrap. Let the rolls rise for another 1 hour, or until they have risen and look puffy.

Toward the end of the rising time, preheat the oven to 350 degrees F.

Bake for 20 minutes, or until golden brown. Lift them off the baking sheet and set them on a rack to cool.

If serving immediately, brush with melted butter, then serve! Alternatively, freeze (without the butter) and reheat at your convenience.
Nutrition
Calories: 

228.53kcal

Fat: 

9.61g

Saturated Fat: 

5.63g

Trans Fat: 

0.32g

Monounsaturated Fat: 

2.56g

Polyunsaturated Fat: 

0.59g

Carbohydrates: 

29.97g

Fiber: 

1.59g

Sugar: 

4.24g

Protein: 

5.74g

Cholesterol: 

46.12mg

Sodium: 

181.52mg

Calcium: 

33.65mg

Potassium: 

117.71mg

Iron: 

1.67mg

Vitamin A: 

85.76µg

Vitamin C: 

1.25mg