Looking for a luscious breakfast to start your morning off right? We got you covered. With these delicious souffle pancakes, you'll surely look forward to your weekend mornings. Who wouldn't love waking up to a stack of fluffy pancakes on a Saturday morning? And with a delectable syrup dripping off the edges. Yum! 
What are Japanese Souffle Pancakes?
With its delectable airy texture and buttery aroma, it is no wonder that souffle pancake towers above traditional pancakes. Souffle pancakes are very popular in Japan. In fact, pastry shops and cafes in Japan are competing against one another in making the yummiest souffle pancakes.
Souffle pancakes share the same components of regular versions, but what makes them fluffier and way more delicious?
While normal pancake varieties and fluffy Japanese pancakes have similar basic ingredients—eggs, flour and milk—the latter are extra soft and fluffier. The secret lies on how its ingredients are prepared. This Japanese pancake recipe is prepared like a savory souffle wherein yolks and egg whites are separated. And what exactly is a souffle? Souffle is a French light cake baked with eggs. If you want to learn how to make a souffle, try our Egg Souffle Copycat Recipe.
How To Make Souffle Pancakes
Just like a souffle, souffle pancakes are cottony soft and fluffy thanks to the addition of the eggs. The egg yolks and egg whites are first separated. Then, the egg whites are whipped up carefully to make the meringue, which gives additional fluffiness to the pancakes. As a result, this Japanese pancake has an airy texture like a souffle. 
Now, if you want a stack of perfectly round, lofty, fluffy pancakes, you need to cook them in ring molds. For this recipe, we use ring molds to help our batter pile up high which is easier than trying to create tall pancakes without molds. Without ring molds, the batter will be messy and lumpy, and they will cook unevenly because of their irregular shape. Fill each mold with batter slightly less than halfway full and make sure to cook them covered for longer time in low heat to avoid burning the pancake surface while the insides remain uncooked.
With our quick and easy recipe, you'll have a taste of these jiggly pancakes. Once you bite into the soft and delicious fluffiness of these Japanese pancakes, your weekend mornings would no longer be complete without a delectable souffle pancakes tower. A pancake is already delicious all by itself, but why not drizzle some syrup to add extra sweetness? Besides, delicious pancakes drenched in a homemade pancake syrup sounds tempting, right?
Souffle Pancakes Recipe Video
How To Make Souffle Pancakes
These souffle pancakes taste like sweet pillowy clouds that deliciously melt in your mouth. A fluffy treat that'll surely take your breakfast to another level.
Ingredients
2

egg yolks

4

egg whites

4

tbsp

sugar

1

tbsp

canola oil

1

tsp

vanilla extract

3

tbsp

milk

1 ⅓

cup

cake and pastry flour

1 ½

tsp

baking powder

¼

tsp

salt

⅓

meringue
Instructions
Preheat the non-stick frying pan at the lowest heat setting for about 10 minutes with 3 ring molds. These molds will be used to shape your fluffy pancakes in a cylindrical shape. While waiting for the pan to heat up, proceed to make the batter.

To create the meringue, get 4 whole eggs and separate the yolk from the whites. Set the egg yolks aside as you will be needing them in the next steps. Beat the egg whites using an electric mixer for about 30 seconds or until foamy.

Add 3 tablespoons of sugar and increase the speed of your mixer to high for three to five minutes until stiff peak form. Set aside.

In a separate bowl, toss 2 egg yolks and 1 tablespoon sugar. Make sure to whisk it until it is dissolved before adding canola oil, vanilla extract, and milk.

Sift cake and pastry flour, baking powder, and salt onto the egg yolk mixture and whisk until smooth.

Gently fold ⅓ cup of the meringue mixture into the egg yolk batter. Mix until there are no small lumps or streaks visible in the mixture.

Fill the ring molds half full with the batter, and cover the pan and cook the pancakes on low heat for around 7 minutes.

Flip the pancake molds quickly to cook the other side for around 3 to 4 minutes until golden.

Remove the metal molds and transfer the pancakes to a serving plate. Sprinkle confectioner's sugar and drizzle with some syrup and your tall, fluffy souffle pancakes are ready to serve!
Recipe Notes
Sift your flour. If you don't, your batter will turn out lumpy.

Preheat the pan at the lowest heat to help prevent the bottom part of the pancakes from burning.
Nutrition
Calcium:

132mg

Calories:

285kcal

Carbohydrates:

46g

Cholesterol:

99mg

Fat:

7g

Fiber:

1g

Iron:

2mg

Potassium:

118mg

Protein:

9g

Saturated Fat:

1g

Sodium:

388mg

Sugar:

13g

Vitamin A:

148IU
Nutrition Disclaimer
Commonly Asked Questions
Why are my pancakes flat?
The meringue makes the souffle pancakes extra fluffy and much lighter so make sure that the meringue mixture is beaten to stiff peaks. If your pancakes are flat, chances are your meringue wasn't whipped correctly or the meringue and egg yolk batter were over mixed. Over-mixing may also cause your pancakes to deflate. So always beat the meringue correctly and gently to make your pancakes souffle-like.
How to reheat souffle pancakes?
Microwave your uncovered pancakes at a time on a microwave-safe plate for 20 seconds. And if you happen to freeze your pancakes, allow them to thaw at a room temperature before microwaving them.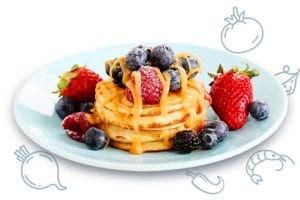 Conclusion
Souffle pancakes are sweet, cottony treats that will make your weekend mornings extra delicious. These Japanese pancakes are incredibly soft and light. And with our easy recipe, you'll have a bite of these delicious, fluffy pancakes.
Topics: