Looking for a luscious breakfast to start the morning right? With these delicious souffle pancakes, you'll surely look forward to your weekend mornings. Who wouldn't love to wake up to a stack of fluffy pancakes? You can never go wrong with a breakfast for champions, so turn your meal into a continental one by also making this caramelized bacon recipe.
What Are Japanese Souffle Pancakes?
It is no wonder that souffle pancakes tower over your usual ones, with their airy texture and buttery aroma. So they became very popular in Japan. In fact, pastry shops and cafes across Japan compete with each other to make the yummiest pancakes. 
You might be wondering about what makes them fluffier and tastier. Firstly, both normal pancake varieties and fluffy Japanese pancakes actually have similar basic ingredients — eggs, flour, and milk. Secondly, the secret lies in how the pancake batter is prepared. Lastly, it's prepared like a savory souffle wherein yolks and egg whites are separated. If you want to learn more about making souffles, try making our four cheese panera souffle.
Tips on Making Souffle Pancakes

These Japanese souffle pancakes are cottony soft and fluffy thanks to the addition of whipped eggs. After reading these tips, you'll wonder how you've been eating just the regular pancakes your whole life.
Separate the egg yolks from the egg whites.

Egg whites are then whipped up carefully to make the meringue. As a result, this gives additional fluffiness to the pancake.

Sift your flour or else

 your batter will turn out lumpy.

Preheat the pan at the lowest heat

to help prevent the bottom part of your cakes from burning.

Cook them using ring molds.

For this souffle pancake recipe, we're using ring molds to help our batter pile up high, which is easier than trying to make them tall without molds. Without ring molds, the batter will be messy and lumpy, and they will cook unevenly because of their irregular shape. 

This dish is already delicious by itself, but why not

drizzle some homemade pancake syrup

over it to add extra sweetness?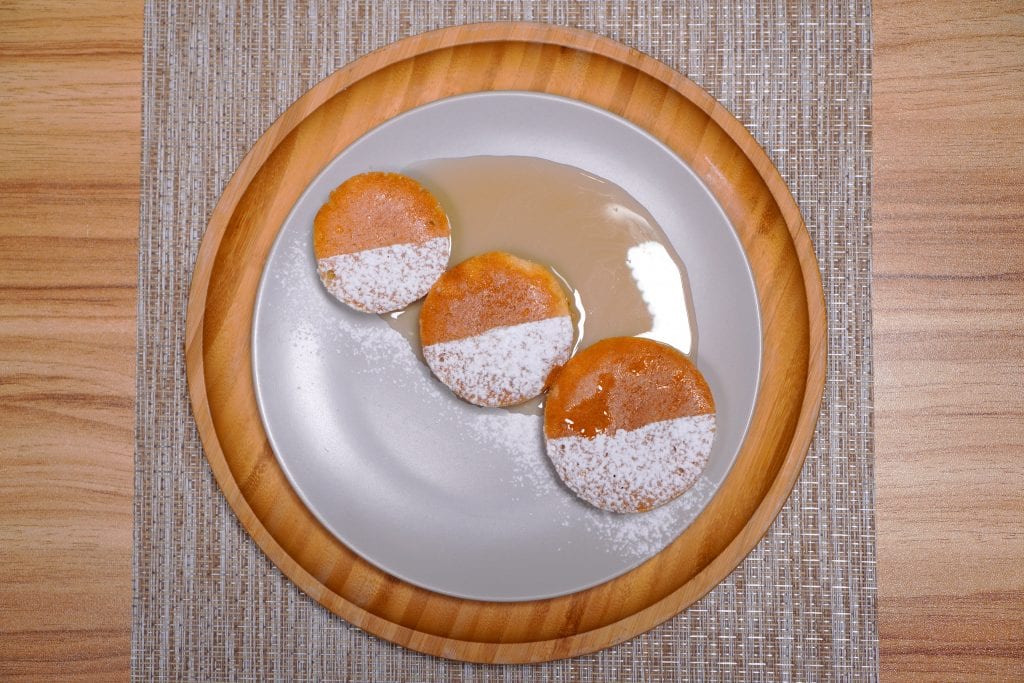 Souffle Pancakes Recipe
How To Make Souffle Pancakes
These souffle pancakes taste like sweet pillowy clouds that deliciously melt in your mouth. A fluffy, golden brown treat that'll surely take your breakfast to another level.
Ingredients
2

egg yolks

¼

cup

granulated sugar,

divided

1

tbsp

canola oil

1

tsp

vanilla extract

3

tbsp

milk

1⅓

cups

cake and pastry flour

1½

tsp

baking powder

¼

tsp

salt

4

egg whites
Instructions
Preheat a large non-stick frying pan over low, at least 10 minutes.

Oil insides of 3 ring moulds, 3 inches wide and 1½ inches high.

Whisk egg yolks and 1 tablespoon sugar in a large bowl until sugar is dissolved.

Whisk in milk, oil and vanilla. Whisk flour, baking powder and salt in a small bowl.

Beat egg whites in a medium bowl using an electric mixer on medium for about 30 seconds or until foamy.

Gradually beat in remaining 3 tablespoons of sugar. Increase speed to high and beat for 3 to 5 minutes until stiff peaks form.

Sift flour, baking powder and salt into egg yolk mixture and whisk until smooth. Gently fold ⅓ cup of meringue mix into yolk mixture, using a whisk, just until no streaks remain. Repeat twice more. Don't overmix the batter.

Lightly oil the pan, then wipe with a paper towel so a thin layer remains. Place 2 or 3 prepared moulds in the pan and fill about half full of batter, about ⅓ cup batter each. No need to smooth tops.

Cover and cook for 7 minutes. Flip pancakes with moulds. Run a sharp paring knife around the inner edges of moulds, then carefully remove (they will be hot).

Cover pan and continue cooking for 5 to 7 more minutes or until pancake sides are dry and bottoms are golden.

Remove the metal molds and transfer the pancakes to a serving plate.  Wash and re-oil ring moulds and repeat with remaining batter.

Sprinkle confectioner's sugar and drizzle with some syrup, then serve and enjoy!
Nutrition
Sugar:

13g

:

Calcium:

132mg

Calories:

285kcal

Carbohydrates:

46g

Cholesterol:

99mg

Fat:

7g

Fiber:

1g

Iron:

2mg

Potassium:

118mg

Protein:

9g

Saturated Fat:

1g

Sodium:

388mg

Vitamin A:

148IU
Nutrition Disclaimer
Frequently Asked Questions
How do you keep souffle pancakes from collapsing?
The meringue makes the souffle pancakes extra fluffy and much lighter so make sure that the meringue mixture is beaten to a stiff peak. If they come out flat, the meringue probably wasn't whipped well. Also, over-mixing the egg yolks and meringue could cause them to collapse, so make sure to stop once your meringue has a stiff peak.
Do souffle pancakes taste eggy?
Your souffle pancakes should taste like a very light and extremely fluffy vanilla sponge cake. If it does taste eggy, avoid lessening the number of eggs that you use because that will change the texture of your souffle pancake entirely. Instead, you can add a bit of flavoring such as 1/4 teaspoon of vanilla extract. You're free to use other extracts that you like aside from vanilla, but remember that it might turn out different from the flavor of a standard souffle pancake.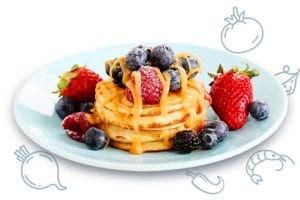 Conclusion
Souffle pancakes are sweet, cottony treats that will make your weekend mornings more exciting to wake up to. With our easy Japanese fluffy pancakes recipe, you'll have a bite (or several!) of these delicious, feathery cakes.