Looking for a breakfast burrito recipe? If you love a protein-packed morning meal that you can easily grab and go for a busy morning, there's no better option than Chick-Fil-A Breakfast Burrito. This menu staple is made of chicken tenders, scrambled eggs, roasted onions, peppers, cheese, and a sides of Jalapeno salsa. It's bound to make you full and energized the whole morning. Unfortunately, Chick-Fil-A rolled the chicken burrito out on the menu and replaced it with the hash brown variety. As regulars, you probably were disappointed just like us. Sure, hash browns are great. But we want our chicken tenders!
Chick-Fil-A removing this in the menu is all the more reason to learn how to make them at home. As you know, whenever there's a dish that we really love, we try to hack the ingredients so we can all just down in our couches, and enjoy a deliciously satisfying meal. If you prefer burrito with the traditional lettuce and frijoles, we've done a Copycat Recipe for Chipotle Burrito, too.
Burritos are such a humble combination of rice, meat, and vegetables ingredients wrapped in a tortilla with some salsa on the side. Pretty basic, huh? But once you get a bite of this wrap, the ingredients all melts in the mouth together. There's probably no other better food than a breakfast burrito recipe where you can taste all the ingredients in one single bite. There's also probably no other better food where you can mix and match a variety of ingredients and still make it exceptional. Whoever invented burritos must be a genius!
If you don't appreciate a good tortilla wrapped around savory contents, then what are you? Okay, enough about burritos. Let's get on to how you can make this Chick Fil A-inspired breakfast burrito recipe. For this dish, we're making an omelette-style egg topped with Monterey Jack and cheddar cheese.
How To Make Chick-Fil-A Chicken Breakfast Burrito Recipe
people

Ingredients
4

packs

frozen chicken tenders

2

tsp

olive oil

1/2

onion

chopped

4

eggs

beaten

kosher salt

freshly ground black pepper

1

cup

heirloom cherry tomatoes

quartered

1/2

cup

Monterey Jack

shredded

1/2

cup

cheddar cheese

shredded

4

tortillas

warmed

1/4

cup

spicy salsa

for serving
Instructions
Begin this recipe by cooking your chicken tenders according to its package directions. Once finished, let them cool slightly and then chop them evenly.

Afterward, heat some olive oil in a large skillet over medium heat. Add the onions and let them cook for five minutes or until they become slightly brown (but still plump). Remove them from the pan and keep them warm.

Next, add your eggs to the pan and season them with salt and pepper. Allow the bottom to set slightly as if you're making an omelet. Use your spatula to scrape the egg from the bottom of the pan.

Continue cooking and flipping your eggs until they're cooked through. Top them with the Monterey Jack and cheddar cheese and let the cheeses melt.

Coat the four tortillas with the cheesed eggs. Then top the tortillas with sliced tomatoes, chopped chicken tenders, and onions.

Fold the short sides of your tortillas inward and roll the long side toward the other. When done, you can now serve your finished burrito with some fresh spicy salsa.
Recipe Notes
You can also use any type of cheese as long as it melts and has a mild taste. Any spicy salsa will make a great pair but sticking to Chick fil A-style, jalapeno salsa is definitely your best choice.
Nutrition Facts
Calories:
345
kcal
|
Carbohydrates:
17
g
|
Protein:
26
g
|
Fat:
19
g
|
Saturated Fat:
8
g
|
Cholesterol:
223
mg
|
Sodium:
490
mg
|
Potassium:
337
mg
|
Fiber:
1
g
|
Sugar:
2
g
|
Vitamin A:
503
IU
|
Vitamin C:
2
mg
|
Calcium:
267
mg
|
Iron:
2
mg
Commonly Asked Questions
How do I cook frozen chicken tenders?
There's usually an included package direction when you buy some frozen chicken tenders in the market. And it's always best to follow them. However, if you want to cook it in the oven, place them evenly in a baking rack and cook until brown and crispy for about 15 minutes. If you're cooking it in an air fryer, spray a little bit of oil.
How long can you refrigerate breakfast burrito?
You can make breakfast burritos ahead and freeze up for 3 days up to a week. Use tin foil to wrap burritos and place them in a Ziplock bag before putting in the fridge. Once ready to eat, remove the breakfast burritos from the foil and reheat for 10 to 15 minutes, or until the filling is warm, in a preheated oven of up to 425 degrees. You can also preheat burritos in a pan, turning it on both sides to prevent burning the tortilla. Repeat this until the filling is warm enough.

How to fold a burrito?
We get it, some of us just resort to ordering burrito because it's so impossible to make one at home without ruining your tortilla wrap. We always wondered why restaurant burritos are always perfectly rolled, in the right size and proportions. One thing to remember when folding a burrito is to steam the tortilla first. It makes the tortilla easier to work with as it holds much stronger. Put the filling in the center spreading even layers of rice, meat, and vegetables. Fold the short sides inward, and then proceed to rolling the long sides, putting just the right force to seal the filling. Let the burrito rest on top of the flap to let the tortilla seal, or immediately roll it in a tin foil.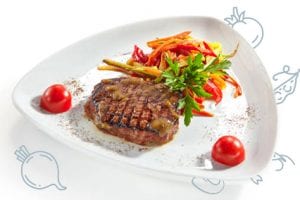 Conclusion
Burritos can be a perfect hangover remedy, a great pre-workout meal, or just a fulfilling snack to enjoy any time. It's easy to make and there's no reason not to try them at home. And with this Chick Fil A-inspired Breakfast Burrito Recipe, you'll sure be asking for a second serving!