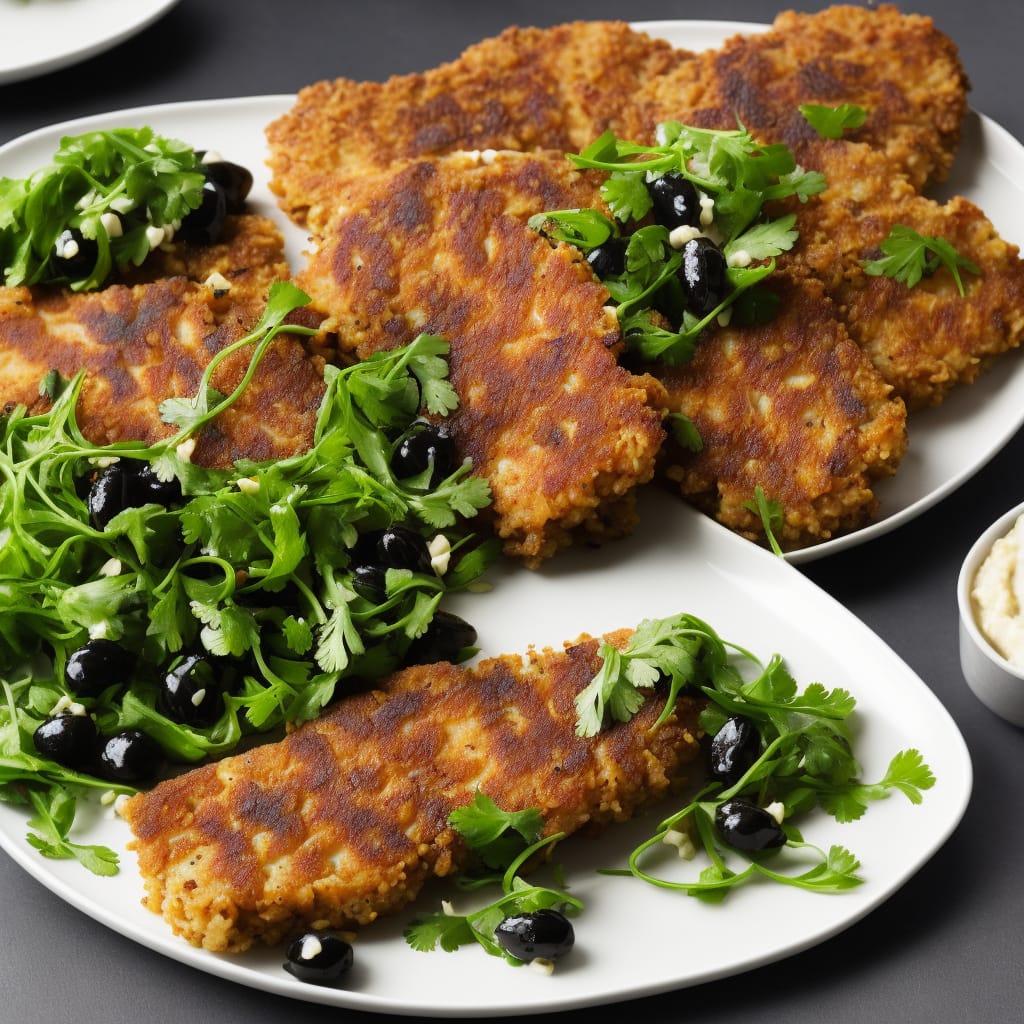 Tofu Escalopes with Black Olive Salsa Verde Recipe
How To Make Tofu Escalopes with Black Olive Salsa Verde
Who says vegetarians don't get to enjoy savory meals? A taste of these authentic vegetarian recipes will make you change your mind. So, you just might want to go vegetarian after your first bite.
Ingredients
1 block of firm tofu, drained and pressed
1/4 cup all-purpose flour
1/4 cup breadcrumbs
1 tsp smoked paprika
1/2 tsp garlic powder
1/4 tsp salt
2 tbsp olive oil
1 cup black olives, pitted and chopped
2 tbsp capers, drained
2 cloves of garlic, minced
1/4 cup fresh parsley, chopped
2 tbsp fresh lemon juice
Salt and pepper, to taste
Instructions
Preheat your oven to 400°F (200°C).

Slice the tofu block into 1/2-inch thick escalopes.

In a shallow dish, combine the flour, breadcrumbs, smoked paprika, garlic powder, and salt.

Dip each tofu slice into the flour mixture, pressing it firmly to coat all sides.

Heat olive oil in a large skillet over medium heat. Add the breaded tofu slices and cook until golden brown on both sides, about 3-4 minutes per side.

Transfer the tofu escalopes to a baking sheet lined with parchment paper and bake for 10 minutes, until crispy.

Meanwhile, prepare the black olive salsa verde. In a bowl, combine the chopped black olives, capers, minced garlic, parsley, lemon juice, salt, and pepper.

Serve the crispy tofu escalopes topped with the black olive salsa verde.
Nutrition
Calories :

235kcal

Total Fat :

11g

Saturated Fat :

2g

Cholesterol :

0mg

Sodium :

660mg

Total Carbohydrates :

19g

Dietary Fiber :

4g

Sugar :

1g

Protein :

16g