This copycat Red Robin veggie burger recipe makes for a wonderful healthy and hearty meal with its delicious homemade plant-based patty. The vegetable patty is made from chopped onions, carrots, button mushrooms, bell peppers, and edamame soy beans.  These meatless patties are squished between two burger buns, and layered with flavorful burger toppings. Pair this burger alongside a spinach salad with rhubarb for a healthy and satisfying meal.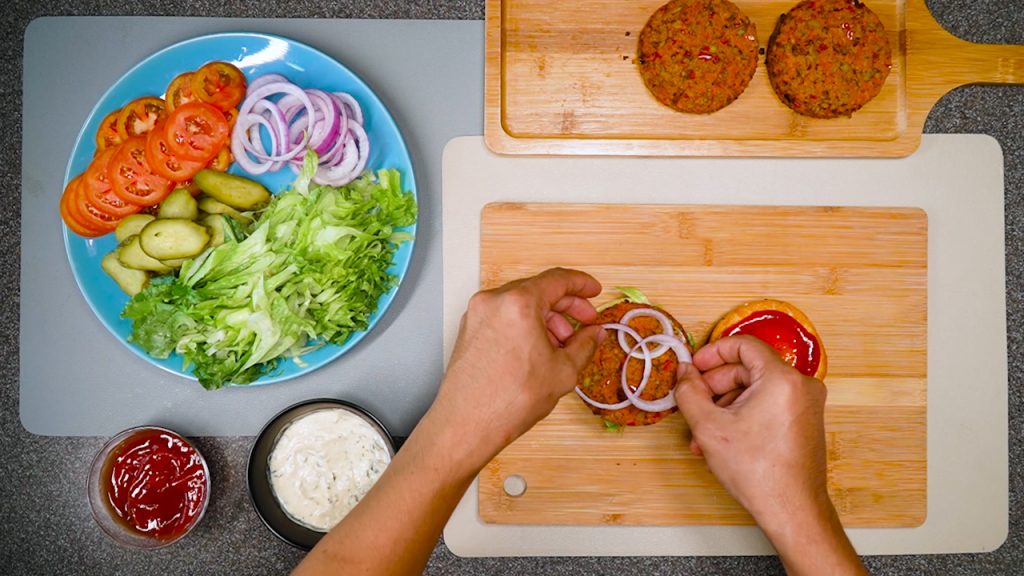 Tips on Making Copycat Red Robin Veggie Burger
With this copycat veggie burger recipe, you can recreate one of the classic Red Robin vegan options in their menu. Apart from their iconic Impossible Burger, this inspired Red Robin veggie burger is the next best healthy dish to make at home! Since it's a burger recipe, you're free to customize the toppings or some of the ingredients however you like so it suits your preferences. Try out some of our helpful tips below: 
Mix and match your favorite burger toppings.

There are a lot of different burger toppings that you can try for this veggie burger. Start with the classic

cheddar cheese

slices for that delicious melty cheese taste. Or, if you want to keep it healthy, add in more veggies like caramelized onions, avocados, or

pickle slices

using

dill pickles

.

You can also make it more flavorful with some added corn

salsa, guacamole

, or even spicy mustard.
Spice it up

by adding in smoked paprika, chili powder, roasted red peppers, or sriracha. Instead of just using paprika for this recipe, you can combine smoked paprika and chili powder so it's extra smokey and spicy. Or, you can also choose to chop up some roasted red peppers to mix in the patty mixture. Aside from these, sriracha or hot sauce are also good substitutes to add heat. 
Use almond flour as a substitute for bread crumbs.

Almond flour is a healthy alternative for bread crumbs. If you prefer a much healthier veggie burger, then almond flour is the best option for you. There are also other substitutes you can try which are crushed crackers or oat flour. Either way, your copycat veggie burger will taste just as delicious! 
Brush plant-based patties with flavored sauces.

Aside from the

ranch dressing

, you can also try using a

homemade

teriyaki sauce

which you can pair with

pineapple rings

to make a tasty Hawaiian-inspired veggie burger recipe variation. Alternatively, you can also use Worcestershire sauce or

bbq sauce

.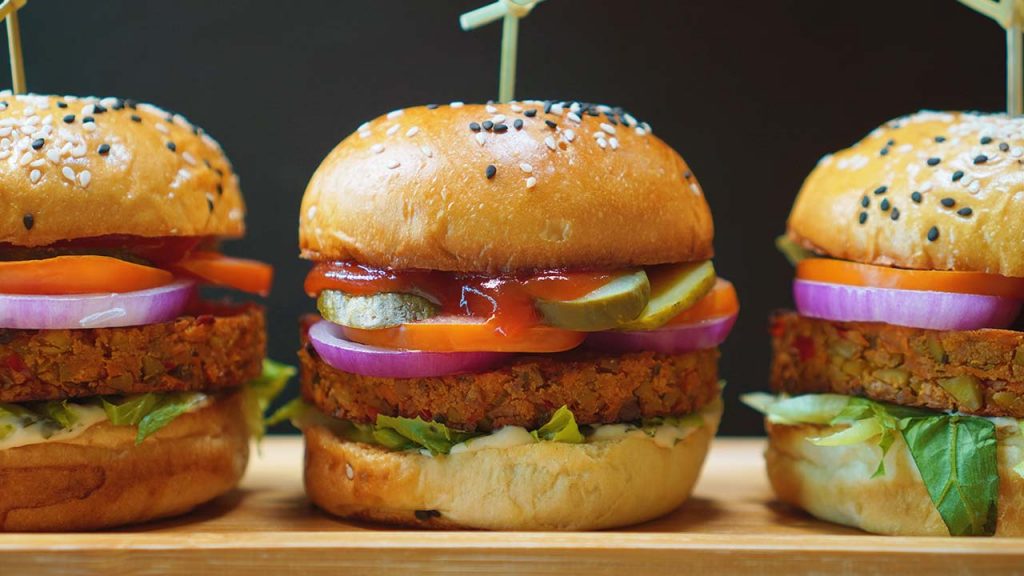 Copycat Red Robin Veggie Burger Recipe
How To Make Copycat Red Robin Veggie Burger
Make your own healthy burger with this copycat Red Robin veggie burger recipe! It's a quick and easy dish that uses simple ingredients and seasonings to make delicious plant-based burger patties. Serve this tasty veggie burger with toppings and sides of your choice.
Ingredients
1

cup

plain Greek yogurt

3

tbsp

olive oil

1

egg,

beaten

½

cup

bread crumbs

1

carrot,

medium sized, grated

2

green onions,

finely chopped

1

tsp

garlic salt

5

button mushrooms,

chopped

¾

cup

edamame soy beans,

thawed, chopped

½

bell pepper,

chopped

1

tsp

salt

1

tsp

pepper

1

tsp

paprika
To Serve:
6

burger buns

1

tbsp

ketchup

1

tbsp

ranch dressing

½

oz

lettuce,

shredded

1

oz

onions,

sliced

1

oz

tomatoes,

sliced

1

oz

pickles,

sliced
Instructions
Heat the olive oil in a skillet over medium heat and add the mushrooms, bell pepper and soybeans.

Let these cook for about 3 minutes.

Stir in the garlic salt and paprika, followed by the carrot, Greek yogurt, green onions and egg.

Lower the stove to medium low and let these cook for 20 to 30 minutes.

Season with the salt and pepper before removing from the burner.

Mix in the bread crumbs and allow the mixture to cool before shaping it into 5 to 6 veggie patties.

Refrigerate for 1 hour and spray some oil before cooking.

Roast at 400 degrees F for 10 minutes, then broil for about another 10 minutes until golden and crispy on top, rotating the baking sheet in the oven as necessary.

Serve on toasted rolls with condiments and other veggies.
Nutrition
Sugar:

7g

:

Calcium:

154mg

Calories:

288kcal

Carbohydrates:

34g

Cholesterol:

30mg

Fat:

12g

Fiber:

2g

Iron:

2mg

Monounsaturated Fat:

6g

Polyunsaturated Fat:

3g

Potassium:

241mg

Protein:

11g

Saturated Fat:

2g

Sodium:

1183mg

Trans Fat:

1g

Vitamin A:

2212IU

Vitamin C:

17mg
Nutrition Disclaimer
Frequently Asked Questions
Are veggie burgers healthy?
Yes and no. It really depends on the kind of veggie burgers that you are eating. In general, veggie burgers are considered as the healthier alternative to the usual burgers, which use fatty beef patties made from ground meat. Most veggie burgers are low in fat and calories, and contain more fiber. Thus, making them the perfect dish for vegetarians or healthy meal planners who prefer cholesterol-free dishes. However, not all veggie burgers can be healthy. Some plant-based burgers use ingredients that contain saturated fats such as coconut oil or palm oil. Making your own veggie burgers at home will ensure that you get a healthy burger as you get to control the ingredients you add inside.

Are veggie burgers vegan?
Not all veggie burgers are vegan. This is mainly because some veggie burgers would use egg as their binder. For a vegan burger recipe variation, we highly recommend that you omit the egg. If you want something vegan friendly, then you can also try adding in crushed nuts like cashew or walnuts in the patty mixture for flavor and texture.
What sides go with veggie burgers?
Enjoy this tasty Red Robin veggie burger with a variety of healthy side dishes. You can pair this with a simple house salad or steamed broccoli. If you prefer a more restaurant style experience, then try making their iconic Yukon chips, which are basically homemade potato chips. You can also recreate an inspired Red Robin fries as well with this simple steak fries recipe. These are thick potato wedges that taste great with the veggie burger. Try using sweet potatoes next time to make a sweet potato fries recipe variation.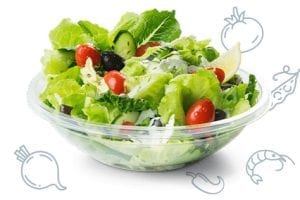 Conclusion
With this inspired Red Robin veggie burger recipe, you no longer have to go out and wait in line to have your fill! Make your own healthy vegetarian burger at home and serve with a cool drink and tasty side dish to fully enjoy its savory flavor.
Comments
A very good article. Congratulations

Comment is awaiting moderation.