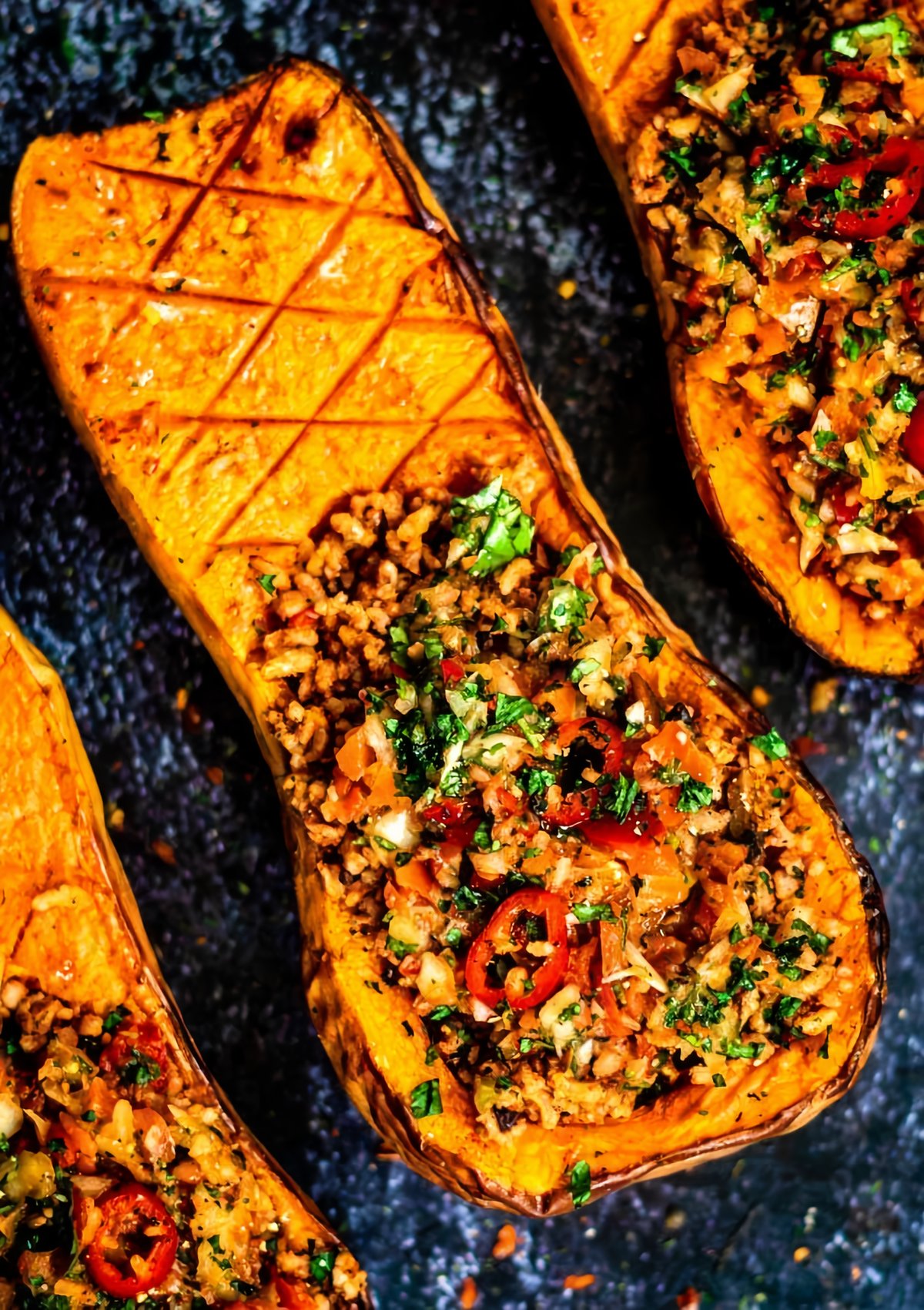 Roasted Stuffed Squash with Herby Pistachio Salsa Recipe
How To Make Roasted Stuffed Squash with Herby Pistachio Salsa
Who says vegetarians don't get to enjoy savory meals? A taste of these authentic vegetarian recipes will make you change your mind. So, you just might want to go vegetarian after your first bite.
Ingredients
2 small butternut squash
1 cup cooked quinoa
1 cup spinach, chopped
1/2 cup feta cheese, crumbled
1/4 cup dried cranberries, chopped
1/4 cup pistachios, chopped
2 tablespoons fresh parsley, chopped
2 tablespoons fresh basil, chopped
2 tablespoons olive oil
Salt and pepper to taste
Instructions
Preheat the oven to 400°F (200°C). Cut the butternut squash in half lengthwise and scoop out the seeds.

Place the squash halves on a baking sheet and drizzle with olive oil. Season with salt and pepper.

Roast the squash in the preheated oven for 30-35 minutes, or until tender.

Meanwhile, in a mixing bowl, combine cooked quinoa, spinach, feta cheese, dried cranberries, pistachios, parsley, basil, olive oil, salt, and pepper.

Once the squash is roasted, remove from the oven and let cool slightly. Spoon the quinoa mixture into the hollowed-out center of each squash half.

Return the stuffed squash to the oven and bake for an additional 10 minutes, or until the stuffing is heated through and the cheese is melted and slightly golden.

While the squash is baking, prepare the herby pistachio salsa. In a small bowl, combine the chopped pistachios, parsley, basil, olive oil, salt, and pepper.

Remove the stuffed squash from the oven, and drizzle with the herby pistachio salsa before serving.
Nutrition
Calories :

322kcal

Total Fat :

15g

Saturated Fat :

3g

Cholesterol :

8mg

Sodium :

264mg

Total Carbohydrates :

44g

Dietary Fiber :

7g

Sugar :

9g

Protein :

8g