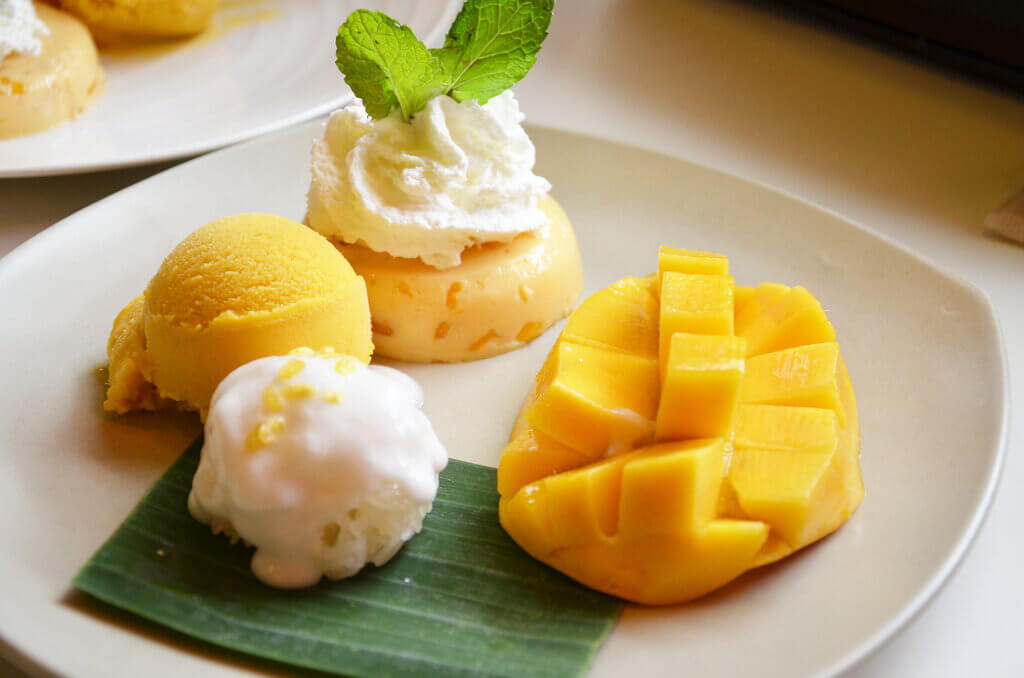 23 Mango Dessert Recipes for Any Season
If you're thinking of ways to revitalize your fruit dessert recipes, then look no further than the taste of delicious mangoes! Seasons may change but there's nothing like the luxurious sweetness and tanginess of this golden fruit to remind you of the radiance of summer. Find your new favorite mango dessert recipe in this collection of tropical delights and put a twist to your usual after-dinner treats.
---
Frozen Mango Dessert Recipes
There's nothing like a frozen dessert to cool you down and rejuvenate your spirits on hot days. Putting a tropical twist with the use of fresh mangoes will make it even more refreshing and satisfying. So sit beside the pool and dip your toes in the water as you discover your new favorite summertime treat from the ones listed below.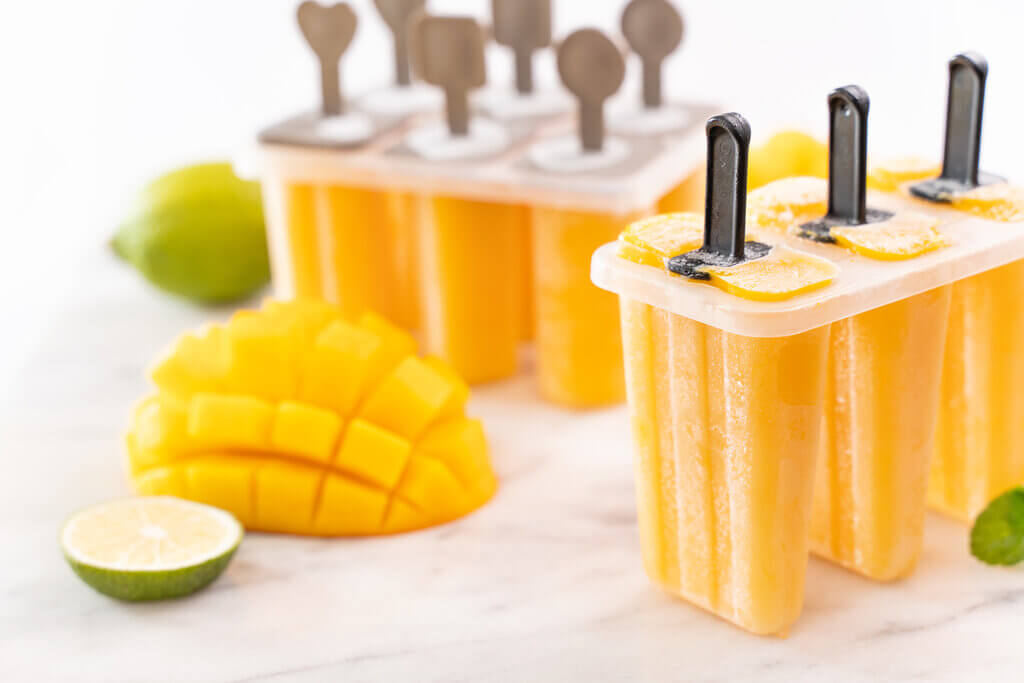 01 of 23
Mango Popsicles
Let's start this list with a trip down memory lane. Picture a hot summer's day filled with sounds of laughter and the splashing of pool water. Basking under the sun with a popsicle in hand will certainly make you want to relive those moments.

Luckily, you can easily make refreshing popsicles with just a few ingredients such as mango, honey, and lime! Making this mango dessert recipe at home can be a fun activity you can share with kids or your friends. You just have to freeze blended sweet ripe mangoes plus any fruit you might have to get some frozen delight on a stick.

Try Recipe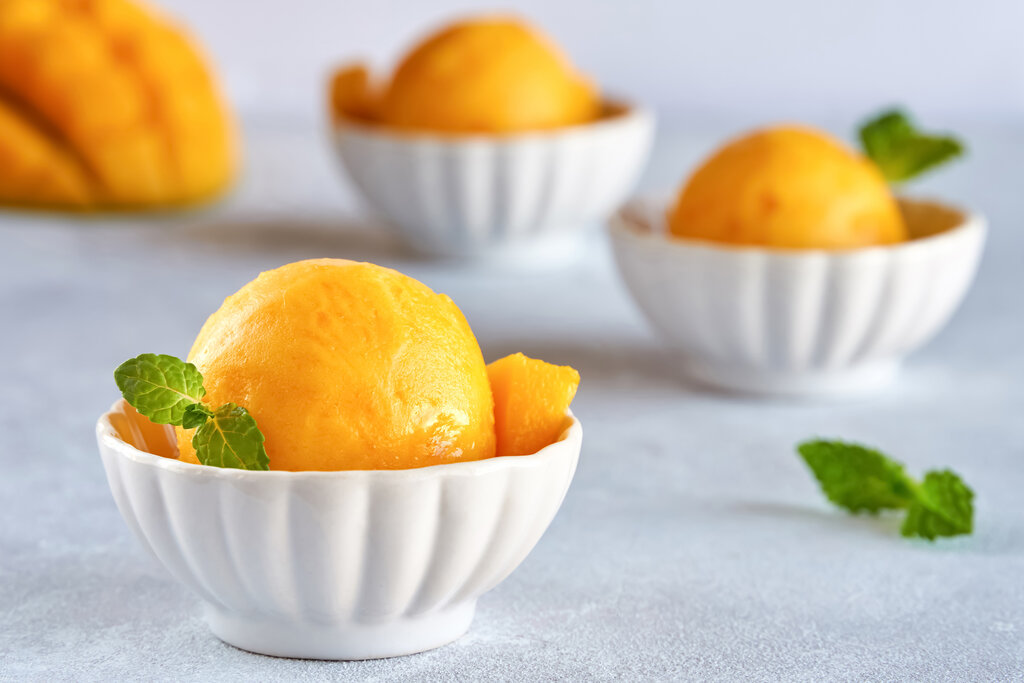 02 of 23
Mango Sorbet
If you're looking for an excuse to whip out your ice cream maker to impress your friends. This mango sorbet is the one for you! With just a few simple ingredients, you can get a smooth and invigorating treat that is bursting with flavors. A few spoonfuls of this tangy mango dessert and you'll want to scoop a big one after the other.

Try Recipe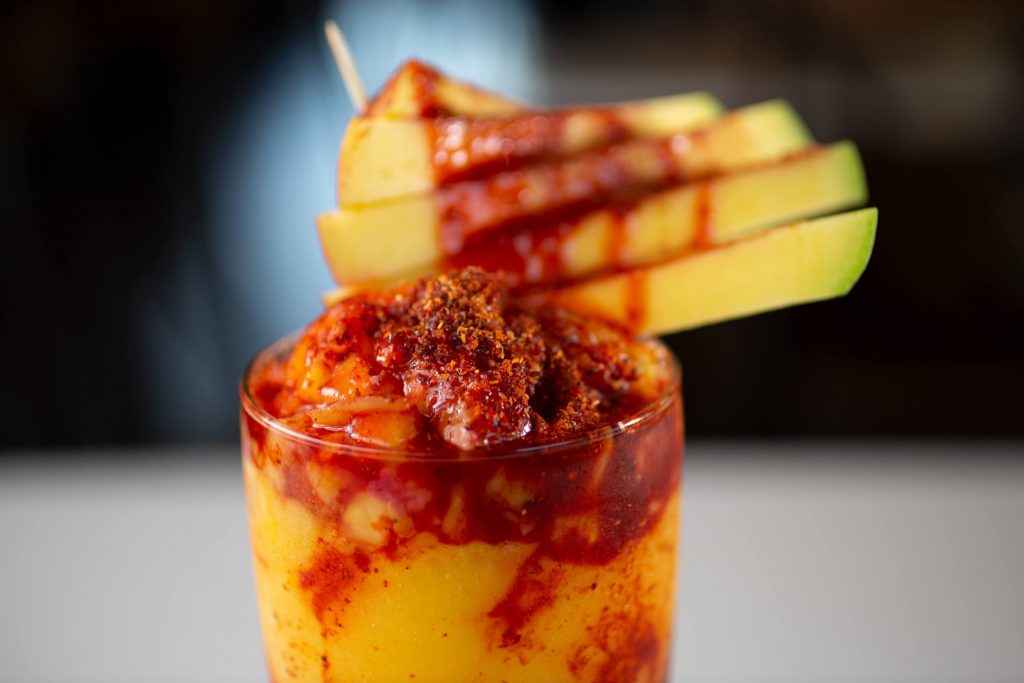 03 of 23
Mangonada
Make your regular smoothies interesting with this classic Mexican frozen drink. This sweet mango dessert makes use of the sour and slightly spicy kick of chamoy to elevate the sweetness of mangoes. It's absolutely the perfect companion against the sweltering summer weather.

Try Recipe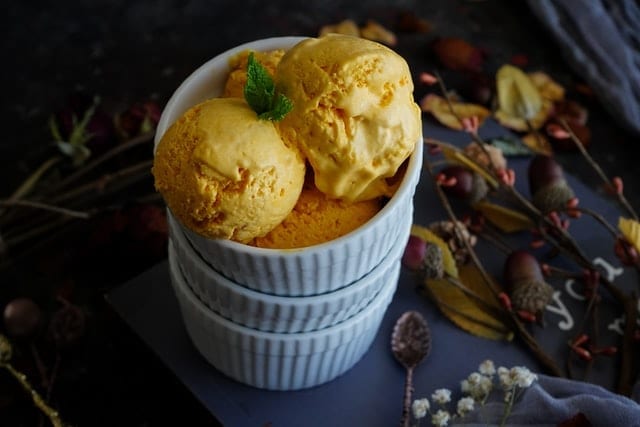 04 of 23
Mango Ice Cream
No need for fancy equipment to make your own ice cream at home. The best part is you can use either fresh or frozen mangoes and still produce a heavenly result. This silky smooth mango dessert is so easy to make! So, whip up a big batch of this and store it in the freezer for when you crave something sweet.

Try Recipe
---
Baked Mango Dessert Recipes
Aside from cold treats, the versatility of mangoes is exceptional and can be a great addition to baked goods too. It can add a bit of tang and tropical feel to any dessert recipe, from spongy cakes to crumbly pies. Using this golden fruit to end your meals would make for a picturesque plate you can serve to guests.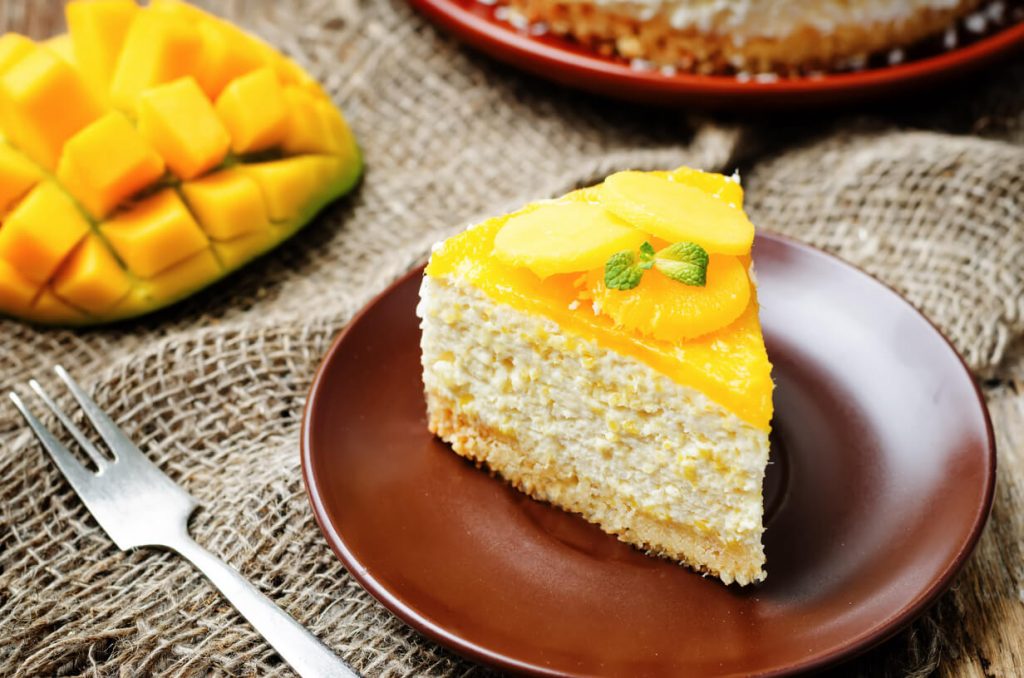 05 of 23
Mango Mousse Cake
Look no further for decadence and marvel at a beautiful slice of this mango dessert. Making this cake might test your patience as you would have to wait for the mousse to set before you can dive right in. The waiting, however, will be so worth it as every bite will surely satisfy your sweet tooth. 

Try Recipe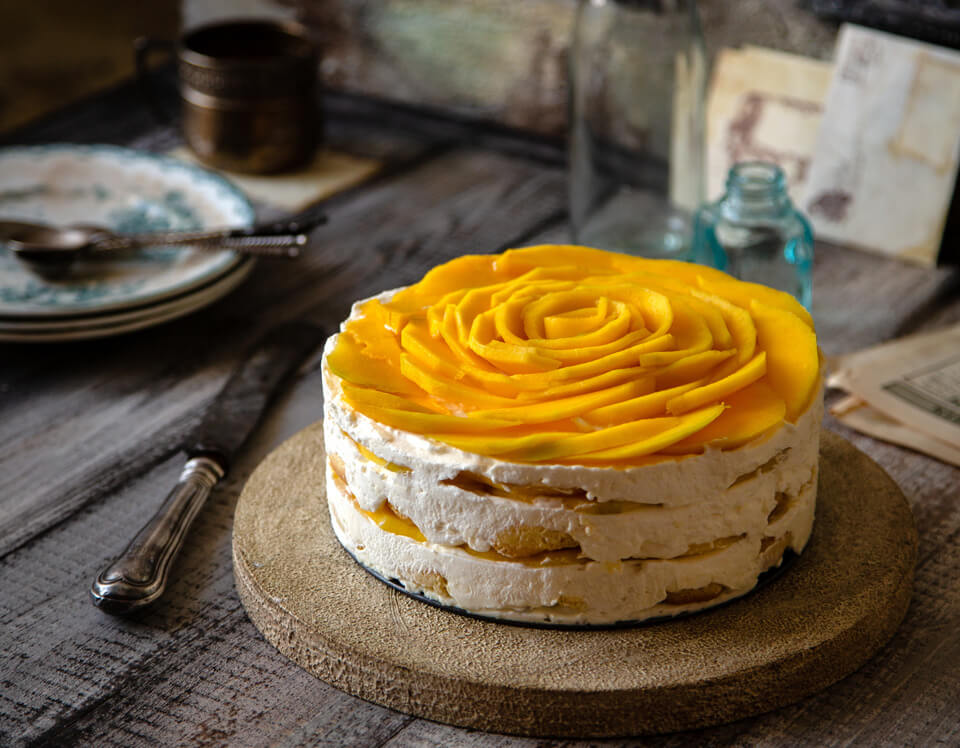 06 of 23
Mango Cake
Whip up this easy sponge cake to surprise any mango lover! You'll absolutely be adored if you serve this dessert oozing with rich tartness, courtesy of the mango filling between its layers and the mango slices on its crown. Wrap it up with a layer of cream cheese frosting and it will certainly be a crowd-pleaser. 

Try Recipe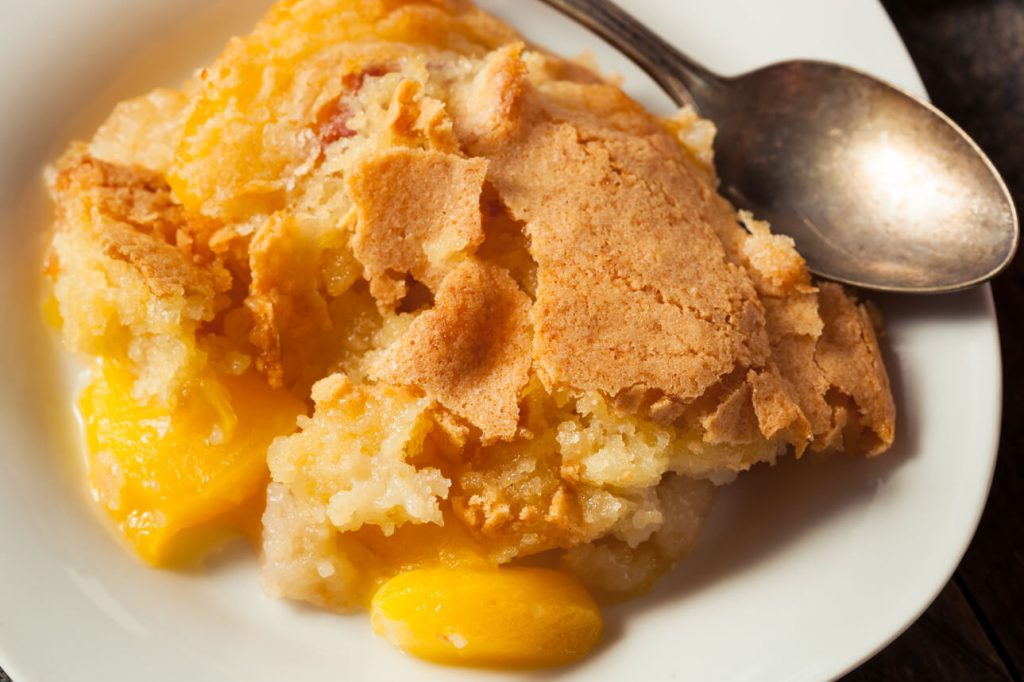 07 of 23
Mango Cobbler
Put a tropical twist to your classic peach or apple cobbler as an after-meal treat. The harmony between cinnamon sugar and the jammy mangoes is a satisfying experience. Add the buttery crumb that soaks up the syrupy goodness of the fruit then top with whipped cream to enjoy!

Try Recipe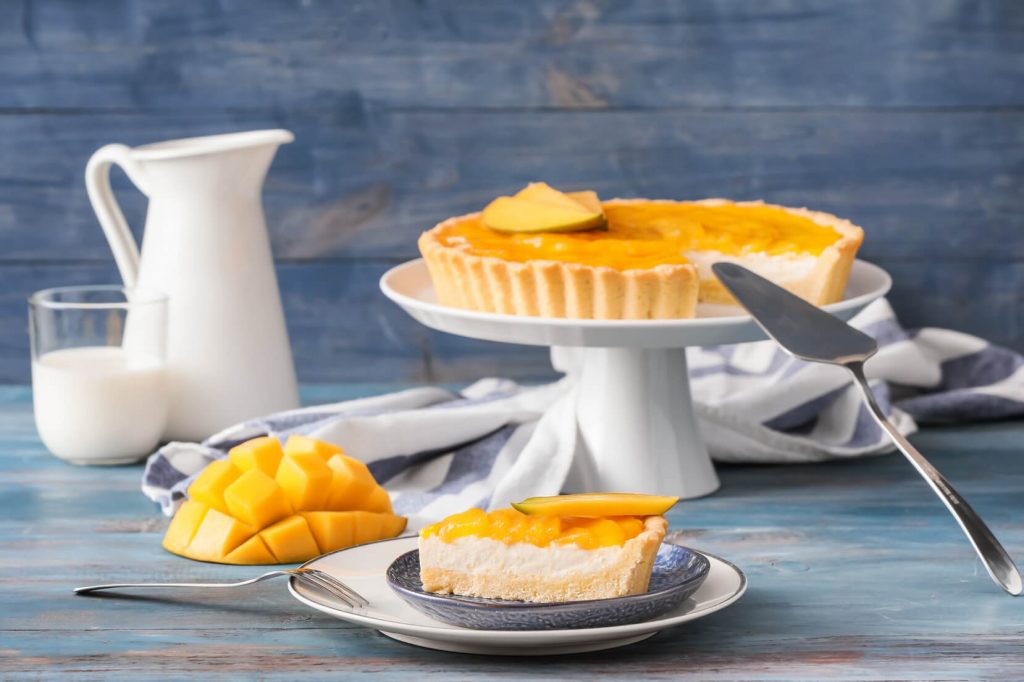 08 of 23
Mango Pie
Do yourself a favor and make yourself a delicious pie with this mango dessert recipe. The warm graham crust makes for a great base to carry the citrusy and tart mango filling, from the oven to your table. Just know that this dessert is best enjoyed with a scoop of vanilla ice cream. 

Try Recipe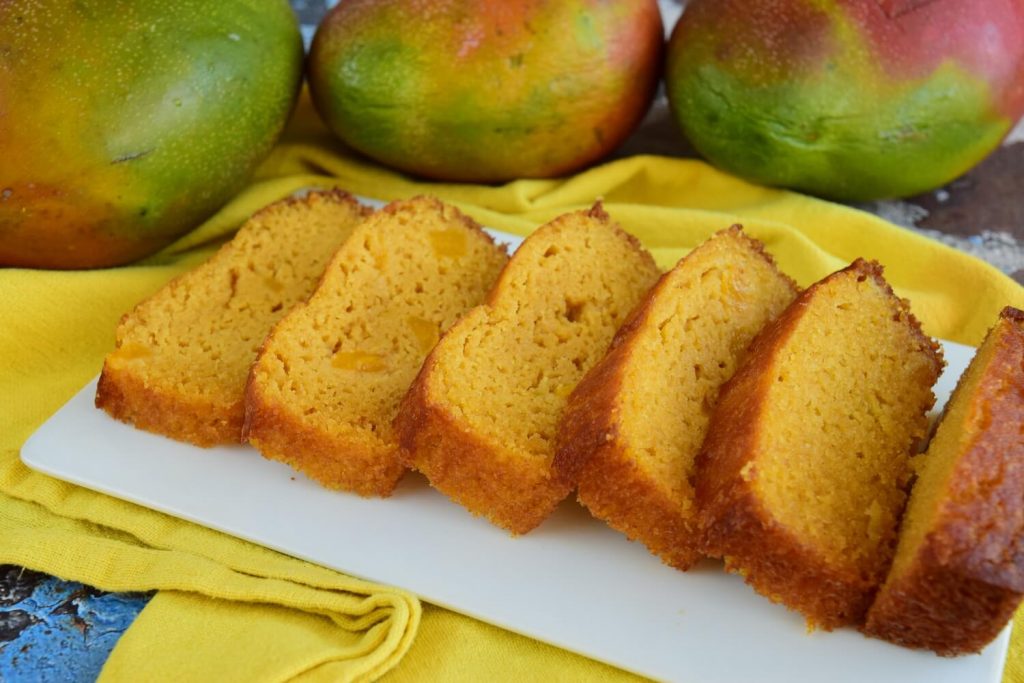 09 of 23
Mango Bread
You've certainly heard of banana bread, but how about mango bread? This tropical version has the addition of coconut and walnuts in the mix. You won't miss out on flavor and texture at all! 

Try Recipe
---
No-Bake Mango Dessert Recipes
There's no need to warm up your oven to make a pleasurable dessert. With these no-bake mango dessert recipes, you will save yourself the hassle of baking timers and accidental oven burns!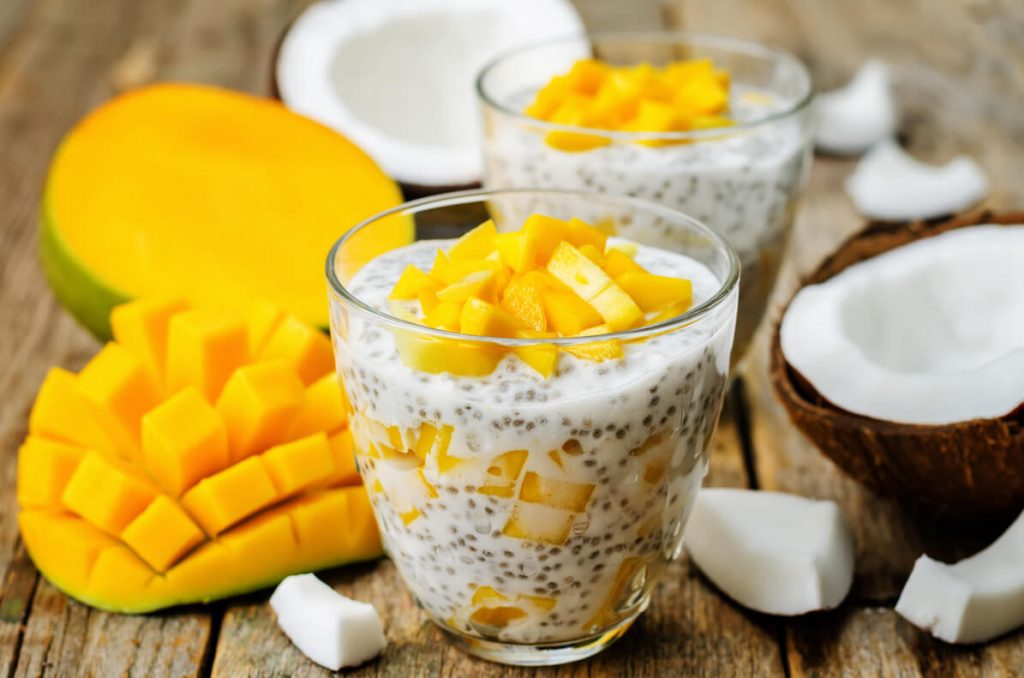 10 of 23
Mango Chia Pudding
Add a touch of texture and nutrition to your mornings with this vegan mango dessert recipe. The healthy goodness of chia plus the richness of coconut milk is invigorating and delicious, it's surprising that you can prepare this in just 10 minutes. Best made the night before and can be enjoyed any time of the day.

Try Recipe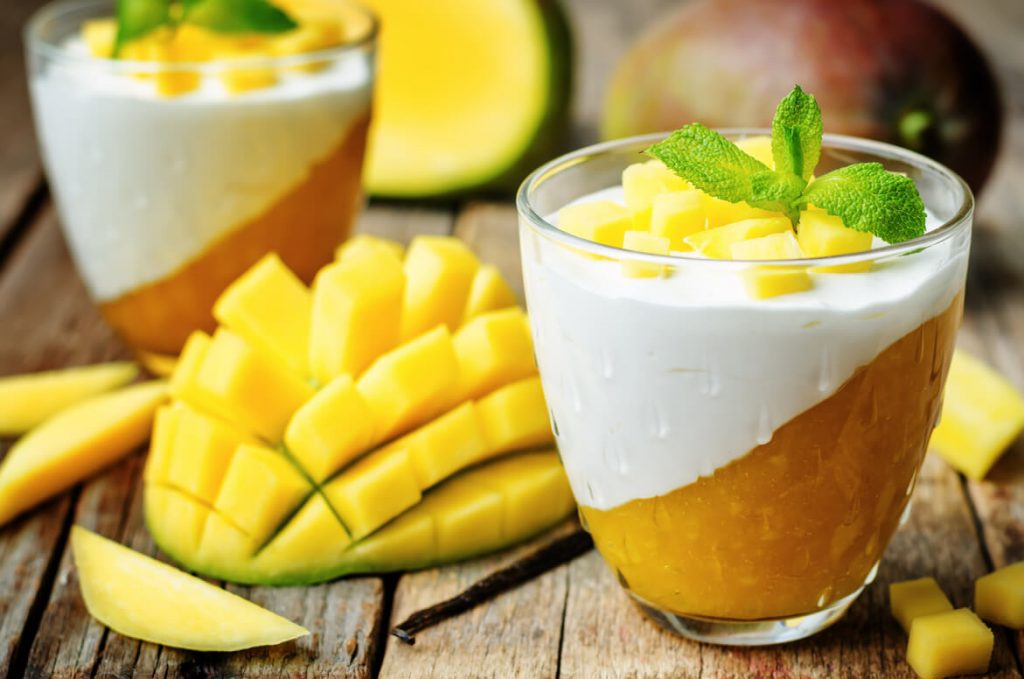 11 of 23
Mango Panna Cotta
How about trying your hand at this mango panna cotta? You can make this dessert with just a few simple ingredients in your pantry. Get creative with the layers of cream and mango but alternatively, you can simply mix everything together and let your fridge do the rest.

Try Recipe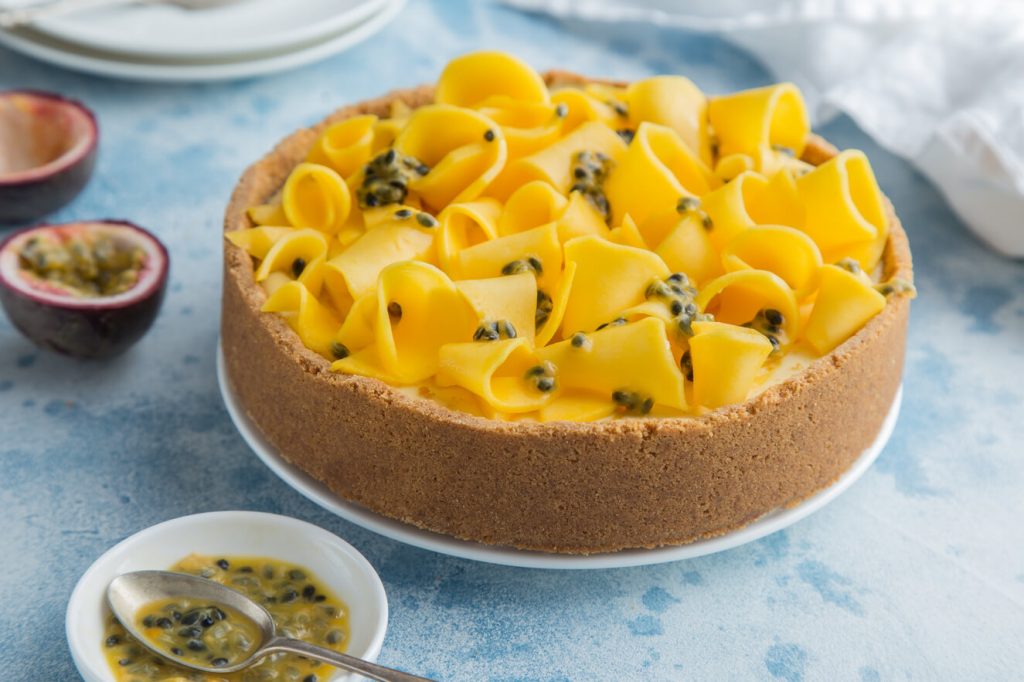 12 of 23
Mango Cheesecake
When thinking of heavenly desserts, how could we not include a cheesecake recipe in this list? There are a lot of variations to this dessert out there but nothing compares to a no-bake mango cheesecake. The lovely smoothness of mango goes well with the cream cheese filling and will leave you speechless. You can also garnish it with passionfruit to get an extra feel of summer.

Try Recipe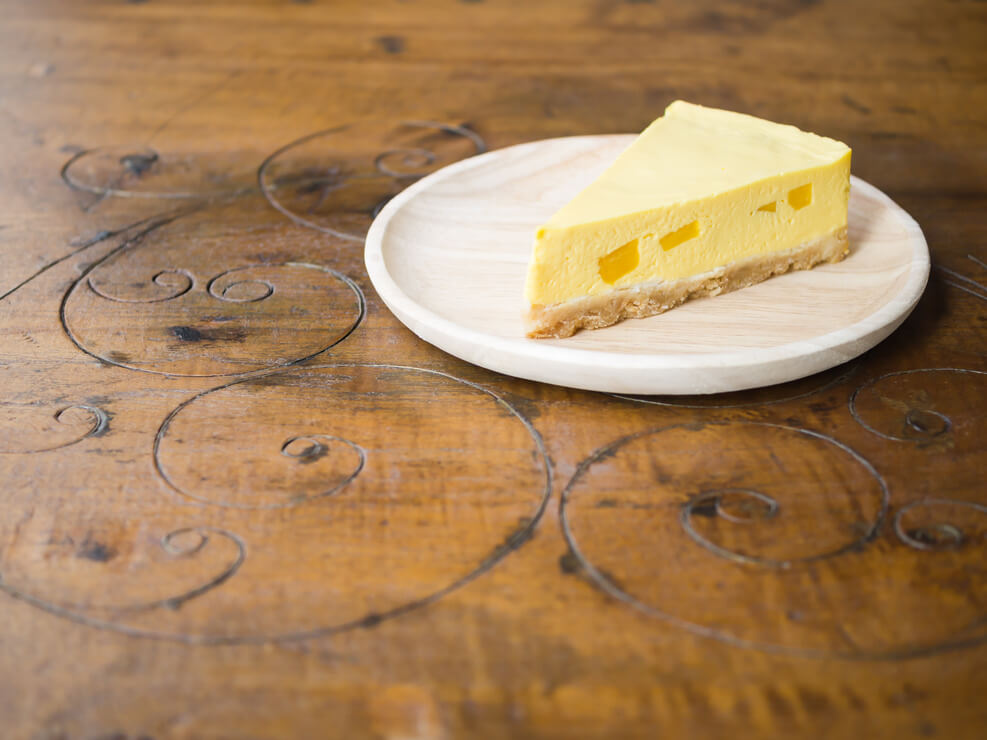 13 of 23
Mango Custard Pie
The interesting layers in any scrumptious pie make for a great mealtime finale. In this mango dessert recipe, the cookie layer is a yummy bed for the creamy tartness of the mango filling. You can top it with as much whipped cream as you like too.

Try Recipe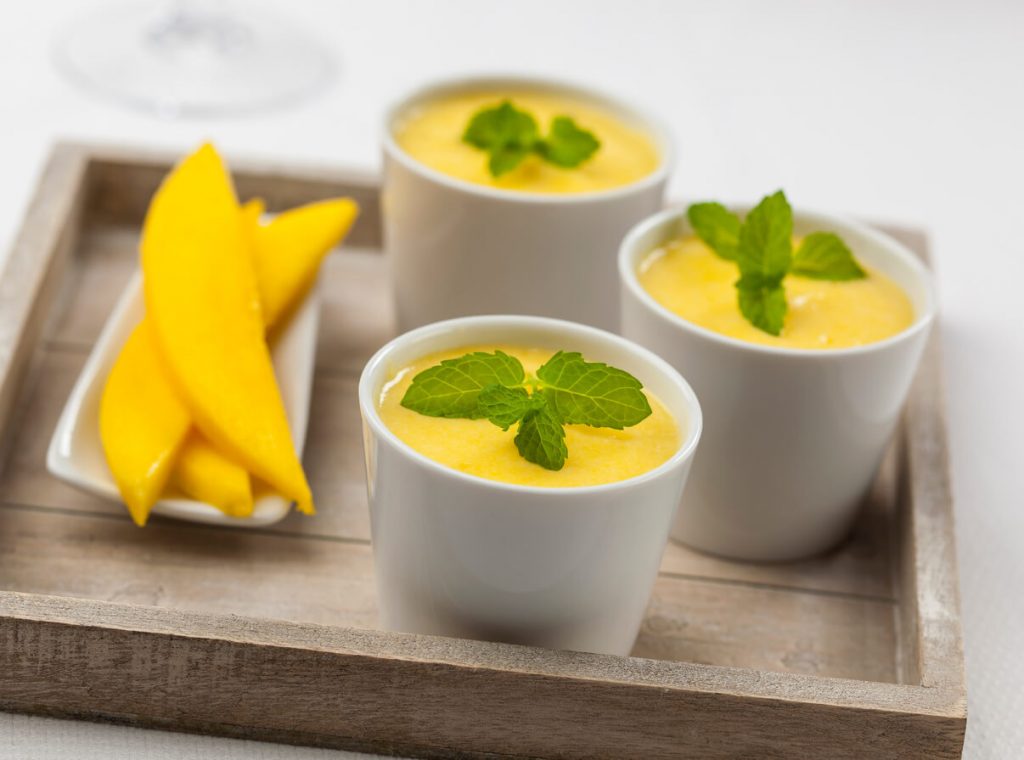 14 of 23
Mango Mousse
Treat yourself with decadent mouthfuls of this mango mousse. It is delicious but also vegetarian-friendly as it doesn't need eggs in the mixture. You can even make it completely vegan if you swap the dairy for coconut cream. 

Try Recipe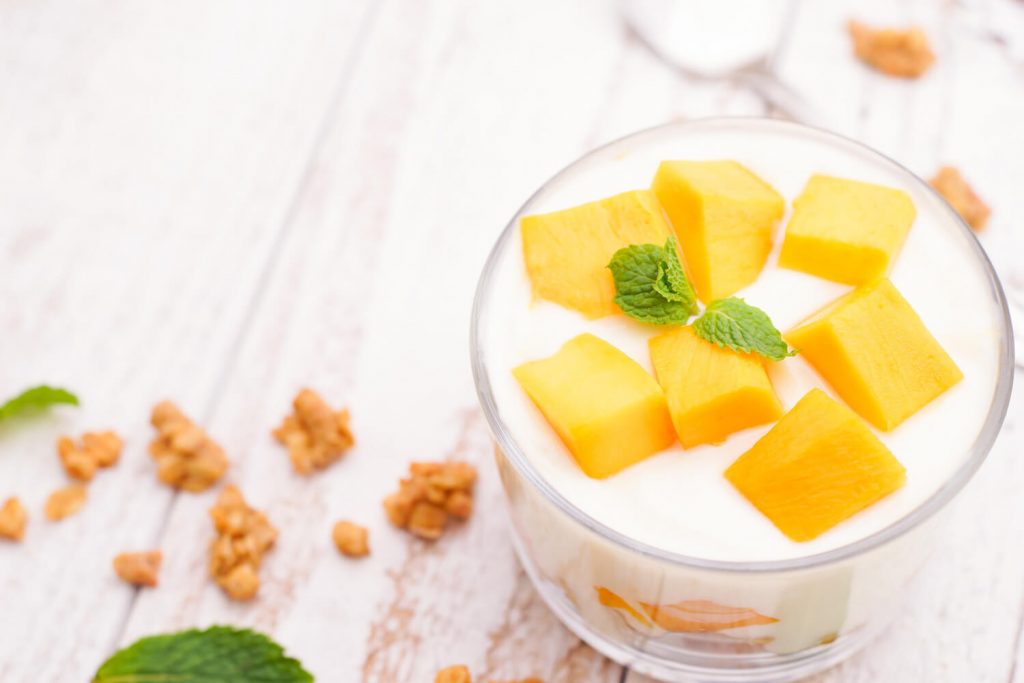 15 of 23
Mango Parfait
This mango dessert recipe takes the cake as a handy treat in a glass! The usual tropical flavors of sweet mangoes and coconuts are delectable and irresistible. Plus it takes no time at all to whip out this dessert, all in five minutes and it's ready to serve.

Try Recipe
---
Asian Mango Dessert Recipes
If you're into the diverse flavors of Asian cuisine, you'll agree that Asian desserts definitely deserve praise and recognition. With the use of a myriad of spices and traditional techniques in their dishes, they can seem difficult to recreate. But there is a whole world of desserts in this cuisine that are easy to make with ingredients you have at home. Take a trip with these Asian mango dessert recipes that will transport you to the East and discover your new favorite treat!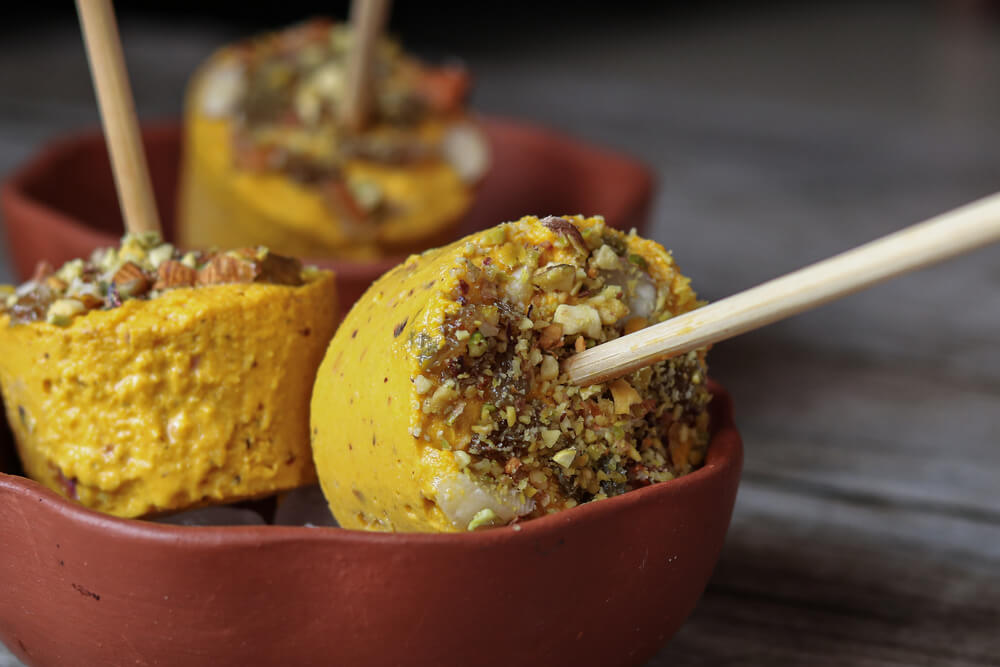 16 of 23
Mango Kulfi
This cool and creamy Indian frozen dessert is basically an Indian version of mango ice cream but with a sweeter twist. It usually starts off with a combination of reduced whole milk and condensed milk to mimic the traditionally-made kulfis. Blended with ripe mangoes and spices, it absolutely doesn't get any sweeter than this. You can enjoy it as a popsicle or as a sundae topped with pistachios for a nuttier taste.

Try Recipe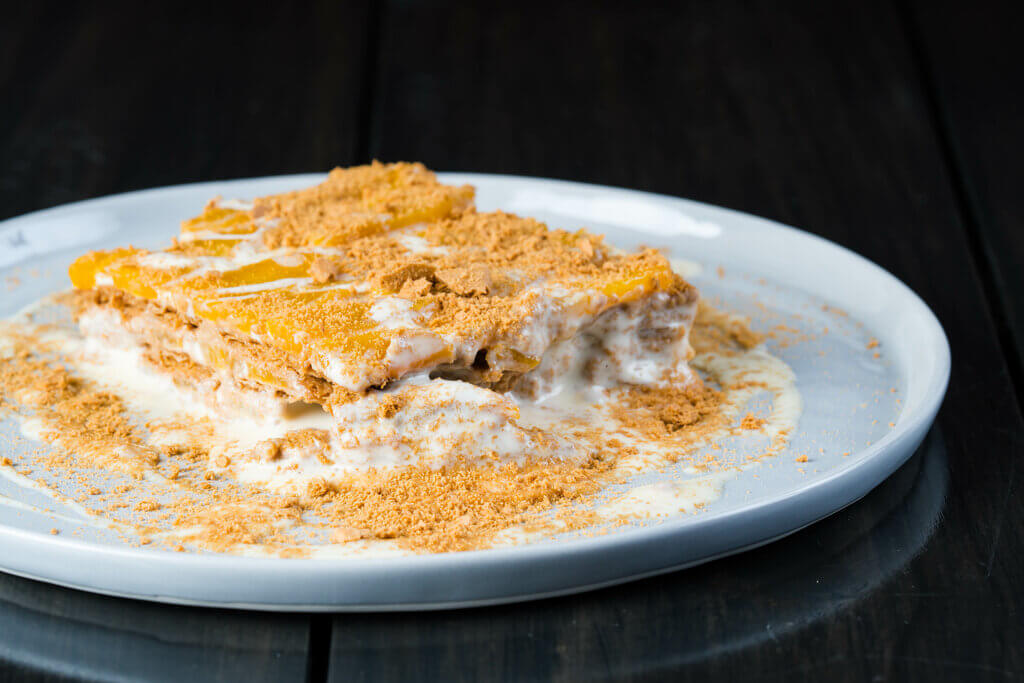 17 of 23
Mango Float
This Filipino dessert takes the cake for being effortlessly decadent. It doesn't take a lot of time and ingredients to recreate the layers in this dessert. No need to bake, cook, or add eggs to make a graham cake that looks like royalty. Trust the sweet golden mangoes and your fridge to give you a slice of something special!

Try Recipe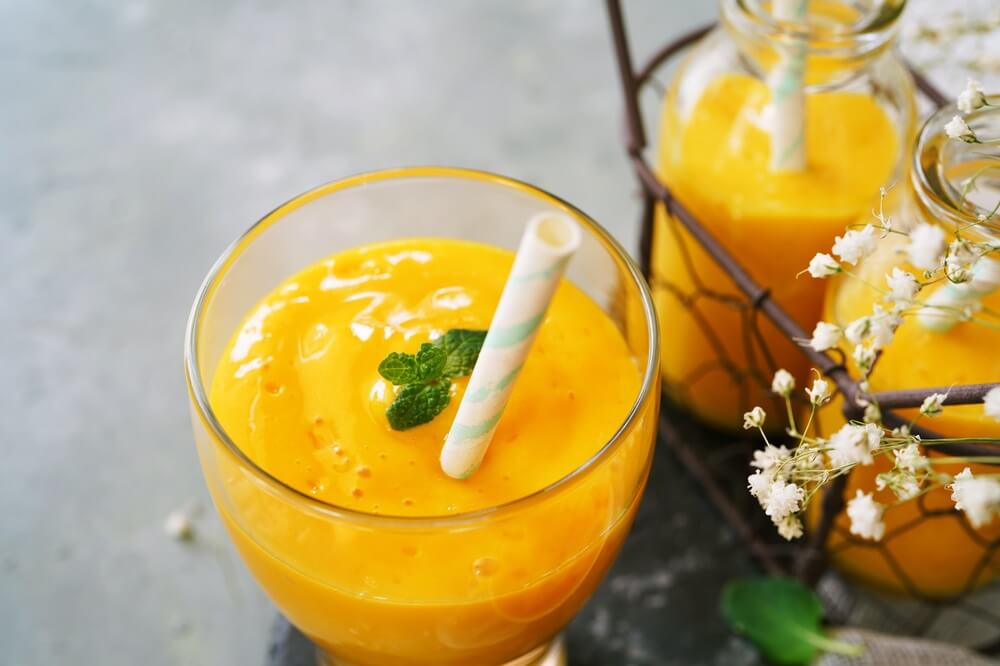 18 of 23
Mango Lassi
This Indian summer drink will likely climb the top of your favorite smoothies for its refreshing taste of combined ripe mangoes and yogurt. Some recipes add a sprinkle of special spices like saffron or cardamom to this cooling drink.

Try Recipe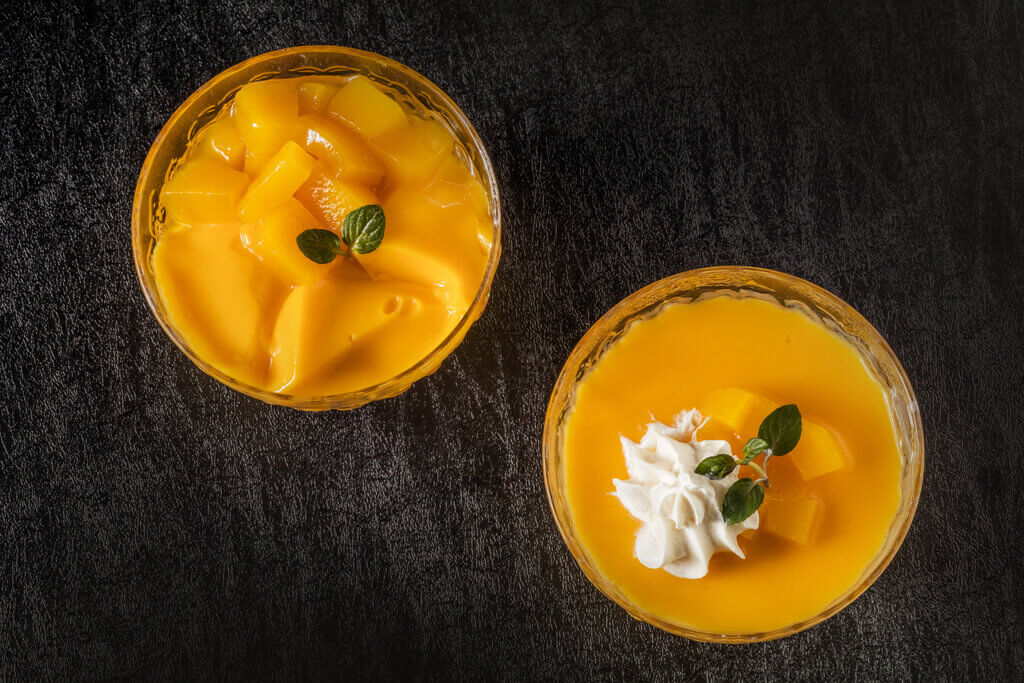 19 of 23
Chinese Mango Pudding
Do you love ending your dim sum restaurant trips on a fruity note? Then you can replicate this classic mango pudding at home with the freshest ingredients. Make a big batch because this will certainly put a smile on your face and will have you reaching for seconds.

Try Recipe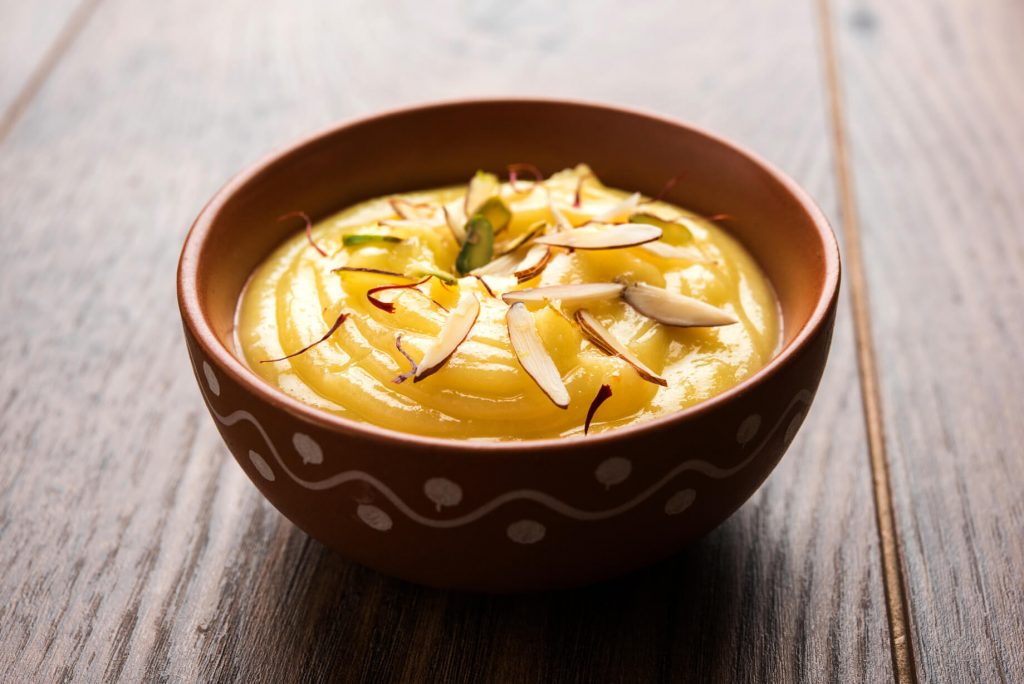 20 of 23
Mango Shrikhand
Simple is best. This mango dessert recipe is certainly easy but doesn't disappoint. Making plain yogurt sweeter with the addition of sugar makes for a perfect vessel for different fruits. Sprinkling a few toasted coconut shreds also adds nuttiness to the bowl that you won't be able to resist!

Try Recipe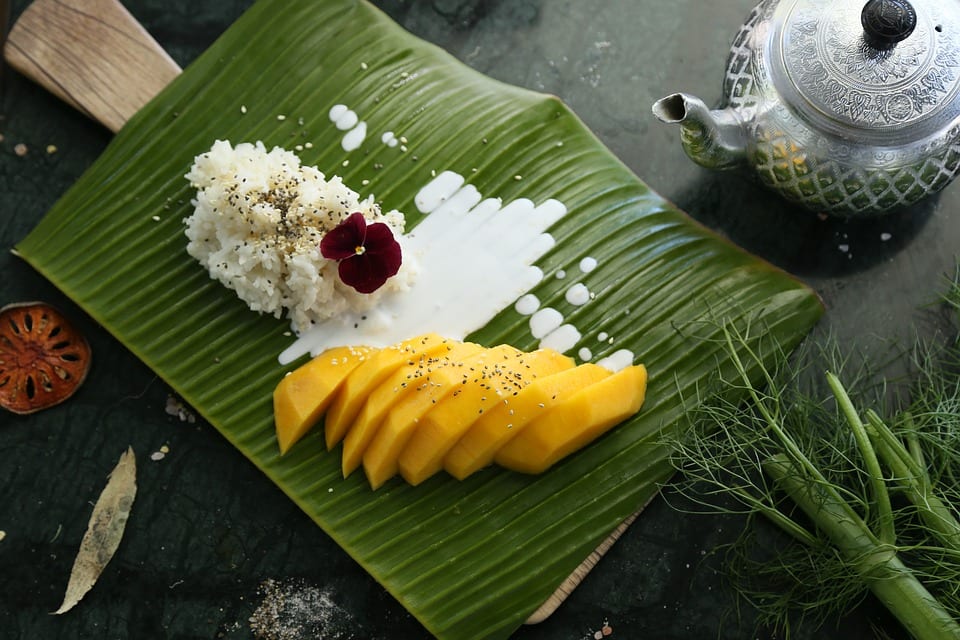 21 of 23
Thai Mango Sticky Rice
How could we miss out on this classic Asian dessert that puts mangoes in the spotlight? Employing the typical flavors of Thai cuisine, the filling glutinous rice is enveloped by the creaminess of coconut milk that pairs well with mango slices. It's truly simple but it makes so much sense to put them together all in one yummy bite!  

Try Recipe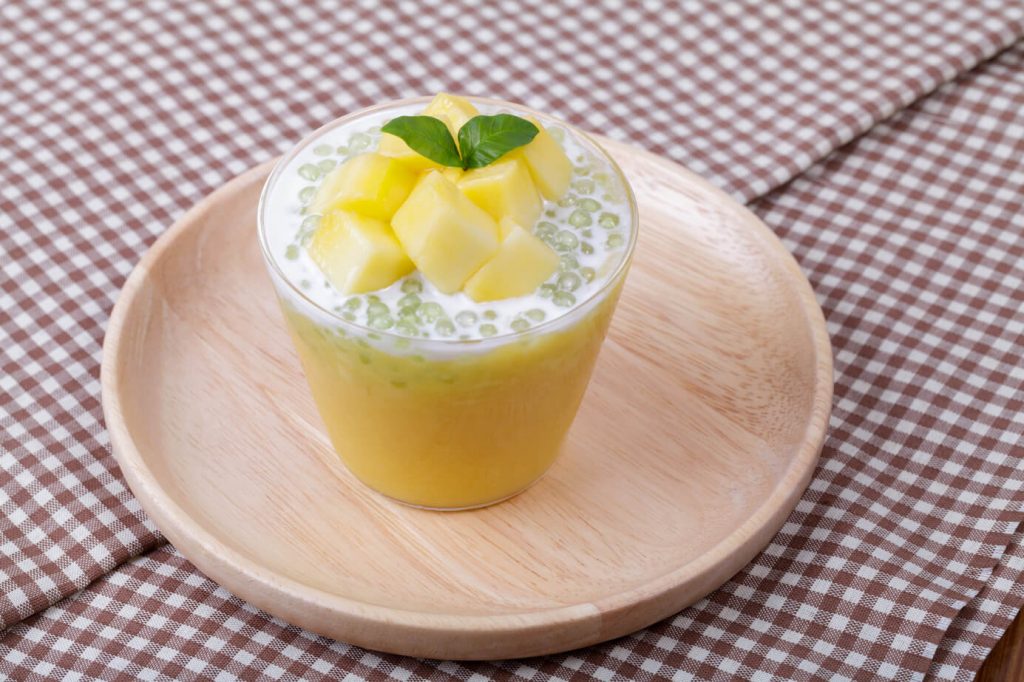 22 of 23
Mango Sago
Get yourself a packet of mini tapioca pearls from your go-to Asian supermarket and whip up this lovely mango dessert. The fresh sweetness of these little balls of sunshine is mind-blowingly delicious and will certainly be the highlight of your day!

Try Recipe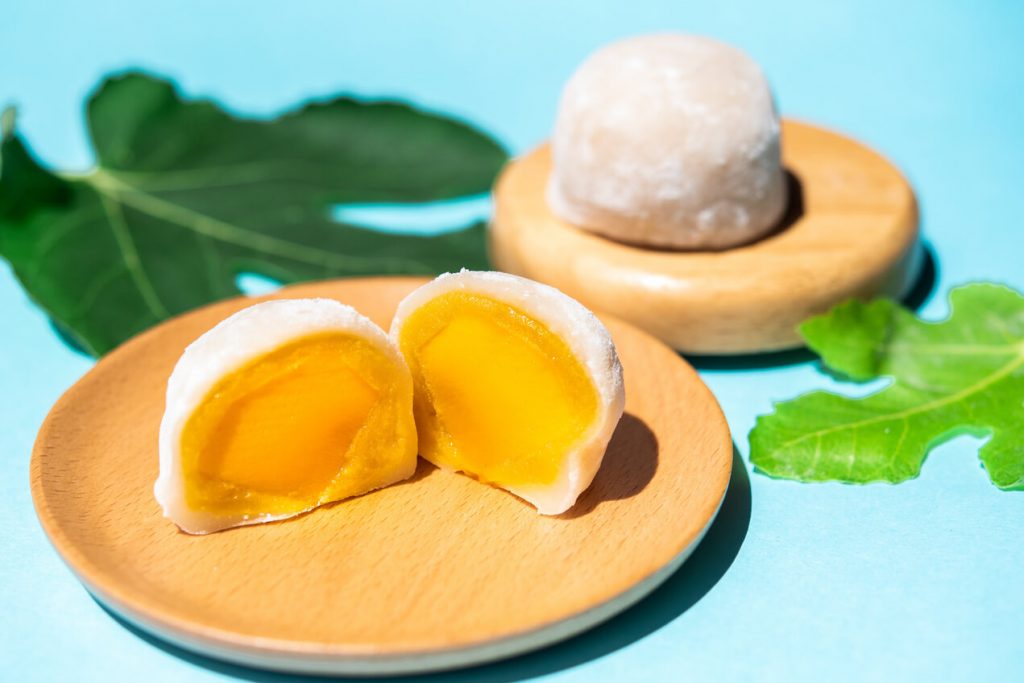 23 of 23
Mango Mochi
You'll definitely be on a roll with this mango dessert recipe if you decide to make it yourself. The sweet softness of the chewy mochi with the bursting juices of mango is delicately delicious. It can seem intimidating to make a bundle of these, but it's actually quite easy to prepare. It's always fun to learn new techniques in cooking and it will all be absolutely worth it when you finally get a bite of this ball of goodness.

Try Recipe