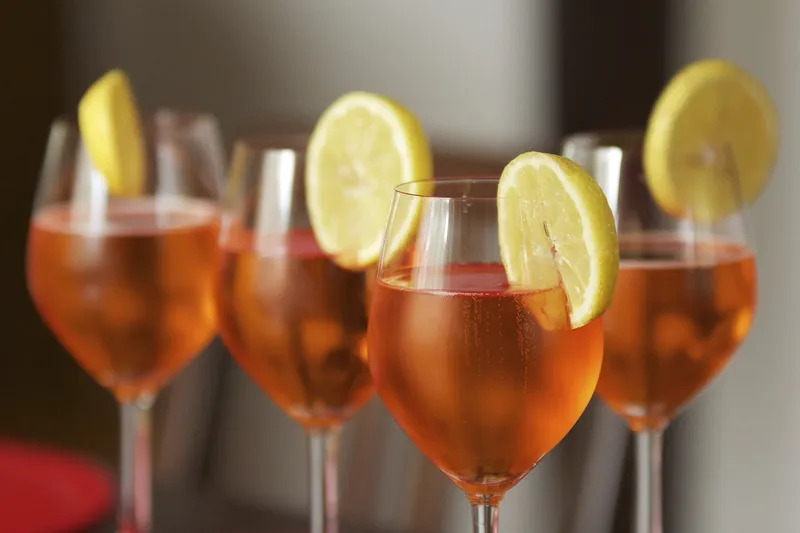 19 Classic Italian Cocktails Worth Making
Highly acclaimed for its rich food culture, Italy is home to iconic cheeses and well-loved authentic Italian dishes from pizza to lasagna. But Italy takes its drinks as seriously as its food! After all, they even have a tradition for a pre-meal drink, aperitivo, which is said to rouse your appetite before dinner. This naturally makes it home to plenty of great Italian cocktails, from the fizzy bellini to the classic Sgroppino.
Whether you're simply craving bar drinks or looking for cocktails to complement your pasta and charcuterie board, this list of boozy and delicious Italian cocktails will surely transport you to Italy.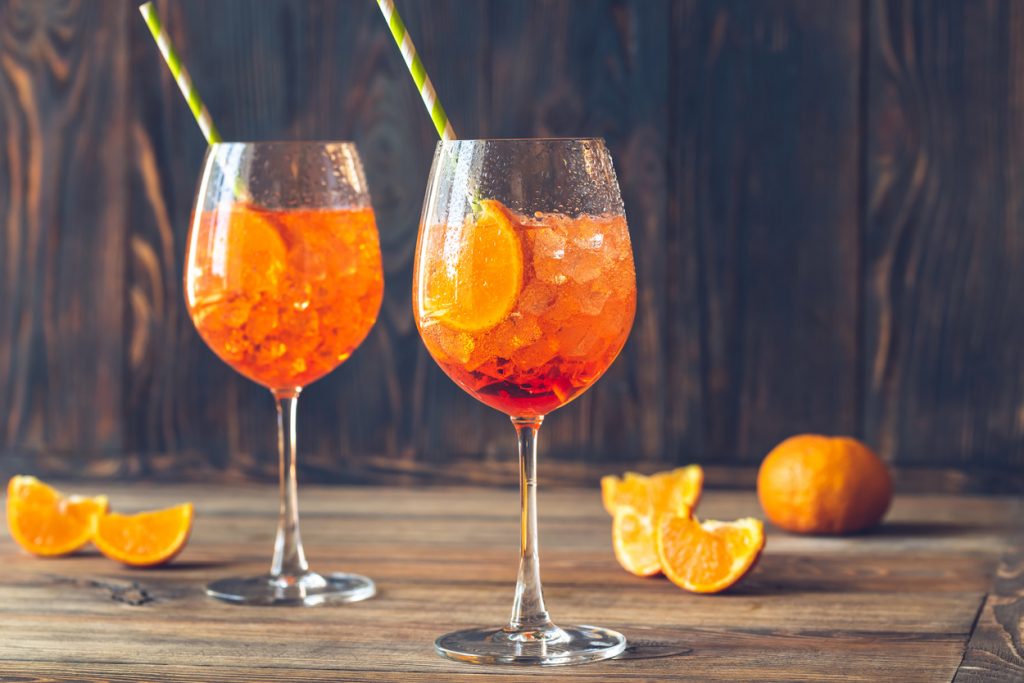 A long-standing tradition in Milan and Venice and one of the famous Italian cocktails on this list, Aperol Spritz can be enjoyed before a meal, but more so during after-work hours. Now, what makes it an ideal after-work treat? Associated with Italian summers, Aperol Spritz is lauded for its refreshing taste that creates a party of tingling bubbles in your mouth. With its low alcohol content, you'll have no trouble making it at home for dinner. Now, its home might be Italy but you can easily replicate this in your own kitchen with just Aperol, Prosecco, and sparkling water.
Ingredients: 
Ice

3 oz Aperol

3 oz dry Prosecco

1 oz club soda or unflavored sparkling water

Orange slice, for garnish
Instructions: 
Add ice to a wine glass until it is nearly full. 

Pour in equal amounts of Aperol and Prosecco. 

Top with a splash of club soda.

Add a slice of orange, and serve.
Bellini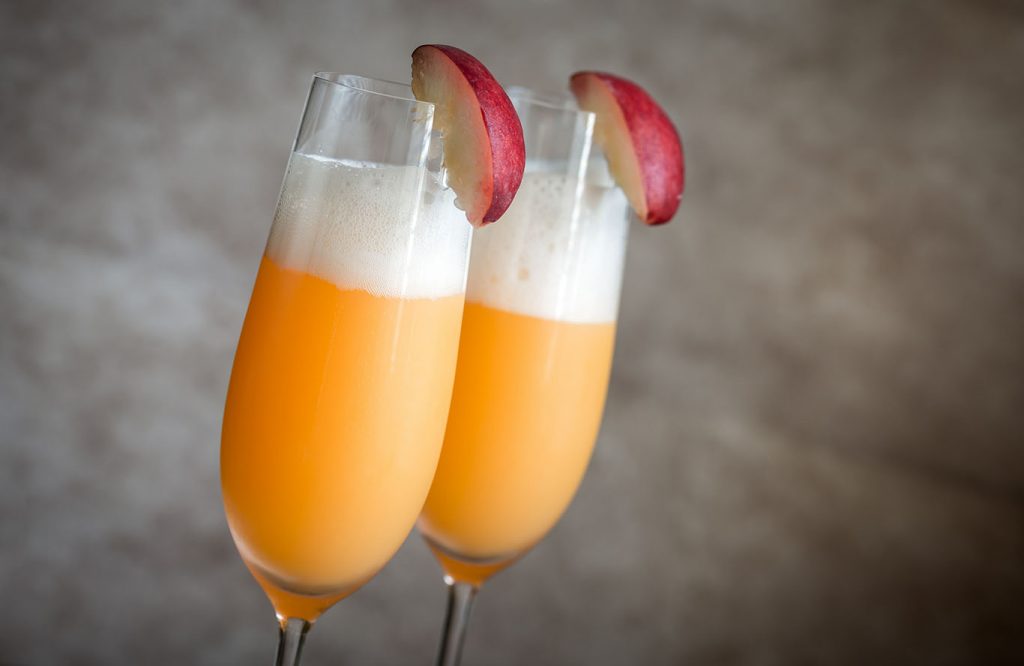 Combining the flavor of sweet peaches and the bubbly texture of Prosecco, fresh bellini is just as refreshing as it looks! What's more, blending peaches will give you the foamy top this drink is known for. All in all, this famous Italian cocktail is light and fruity. It's perfect for brunch and even for a girls' night in. 
Ingredients: 
2 oz peach purée, chilled

1 bottle of Prosecco, chilled

Peach slices, for garnish (optional)
Instructions:
Pour chilled peach purée into a champagne flute.

Pour in some chilled Prosecco and stir to combine.

Then, top off the drink with another splash of Prosecco. 

Finish with a peach slice and serve.
Limoncello Martini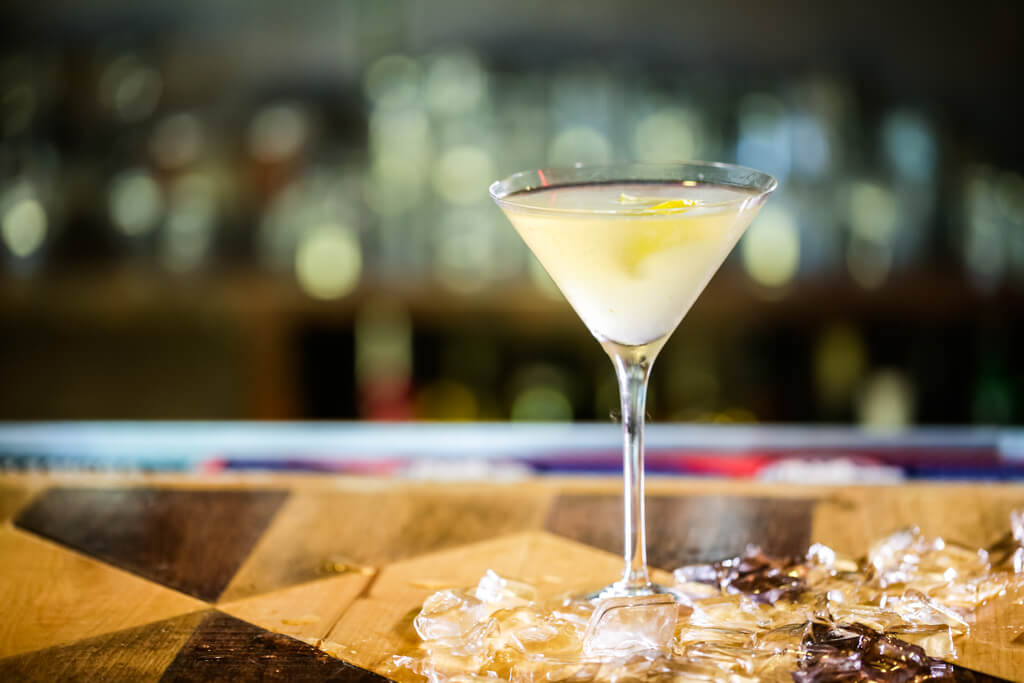 This zingy aperativo ("appetizer" in English) has citrus lovers' names on it. Limoncello Martini has an invigorating strong tart flavor that bursts in your mouth. With that, many point out its strong similarities with a lemon drop. If you're asking what ingredient is responsible for its puckering bite, it uses the popular Italian liqueur known as limoncello, hence its name.
Ingredients: 
1 oz limoncello

1 oz vodka

Ice

1 oz simple syrup

1 tbsp fresh lemon juice

Lemon peel, for garnish (optional)
Instructions: 
Add ice to a cocktail shaker. 

Fill the cocktail shaker with limoncello, vodka, simple syrup, and fresh lemon juice.

Give it a thorough shaking and pour it into a martini glass. 

Garnish with lemon peel.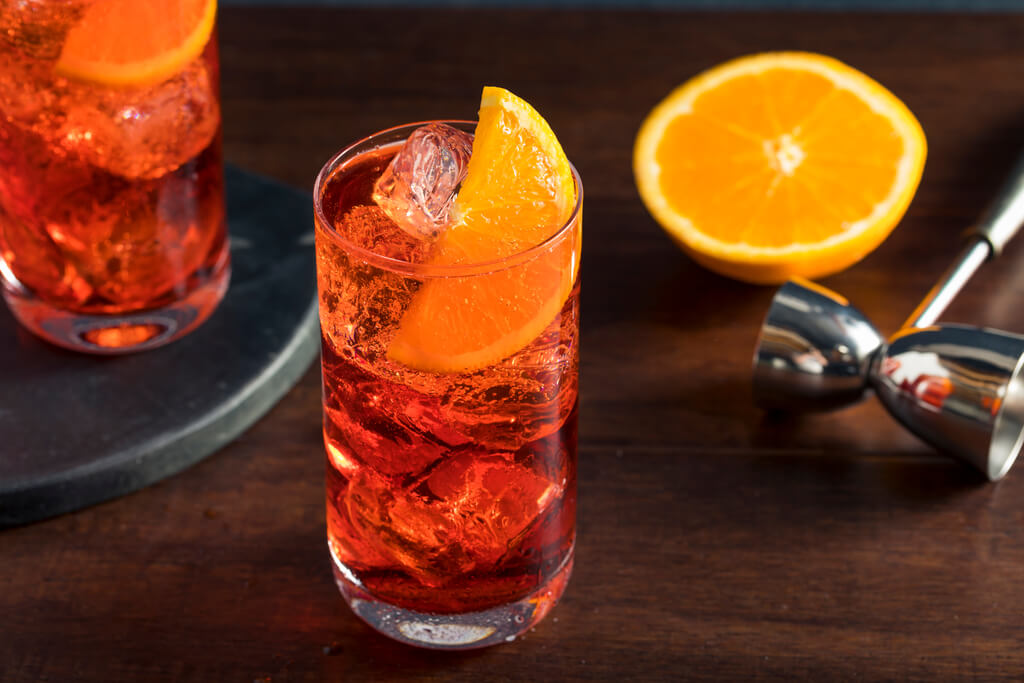 The Americano cocktail was first created around the 1860s in Milan, Italy. It got its name from its supposed popularity among American tourists. The cocktail only has three ingredients, so the quality of the spirits is important. Undeniably though, Campari is the highlight of this drink. As one of the bitter liqueurs, everything Campari touches turns bitter. That is when orange peel and sweet vermouth come into play. They balance the flavor by adding sweetness and notes of spices like vanilla and caramel.
Ingredients: 
1½ oz Campari

1½  oz sweet vermouth

Chilled soda water, to top

Orange twist, for garnish
Instructions:
Add ice in a highball glass.

Fill with Campri, sweet vermouth, and soda water. 

Stir ingredients to combine. 

Garnish with an orange twist.
Classic Negroni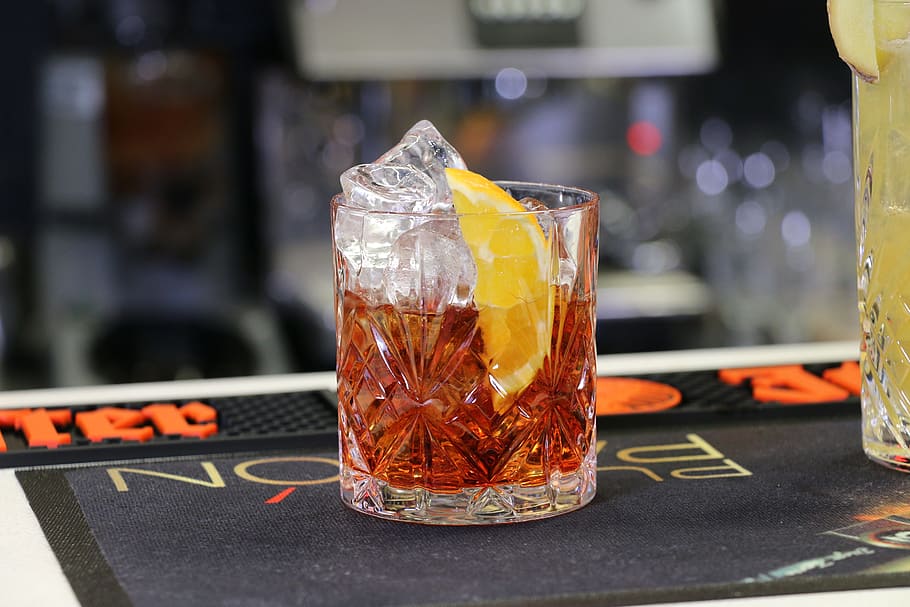 Negroni is considered one of the best cocktails for a reason. It's straightforward, simple, and has a well-balanced flavor that many can replicate because of its no-brainer concoction. The flavor is achieved by combining equal amounts of each ingredient, making it the ideal grownup drink.
Ingredients: 
2 large ice cubes

2 oz dry gin

Orange peels without pith, for garnish

2 oz bitter red liqueur such as Campari

2 oz sweet vermouth
Instructions:
Place a large ice cube in 2 lowball glasses.

To each glass, add 1 oz gin, 1 oz bitter red liqueur, and 1 oz vermouth. 

Stir until chilled, about 15 seconds.

Garnish each glass with an orange peel and serve immediately.
Campari Spritz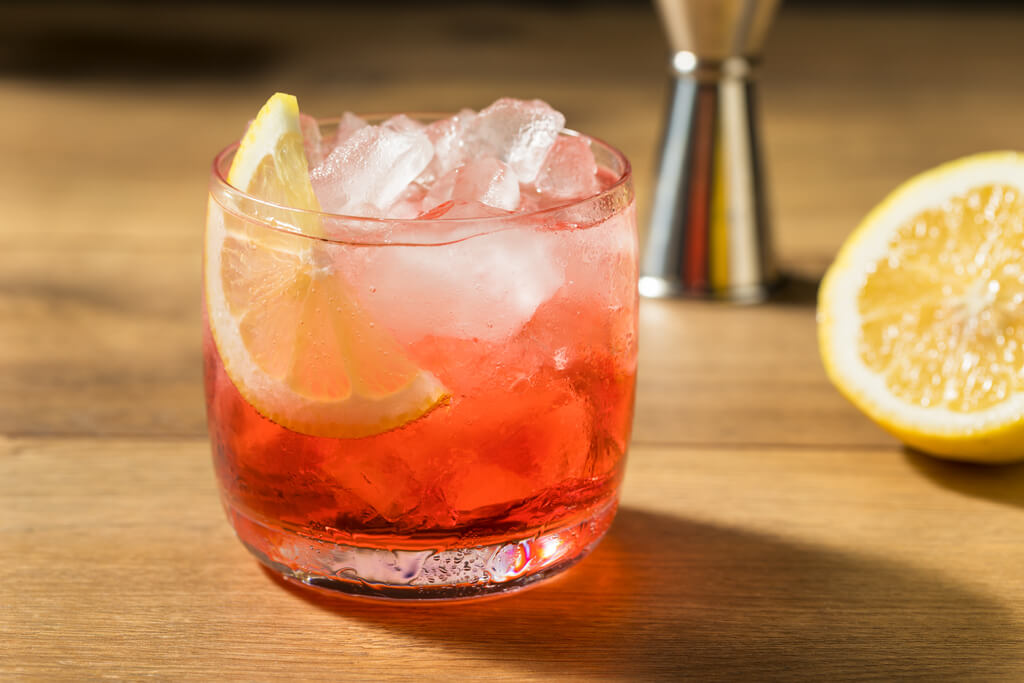 Have a love for the bitter Campari? Then give the Campari spritz a spin! This light-mixed drink features the bittersweet flavor Campari is known for. But it's also surprisingly bubbly and refreshing thanks to ingredients such as Prosecco and soda water. If you love Negroni and Americano, this will suit you right up. Garnish the glass with a lemon wedge for a more invigorating drink!
Ingredients:
2 oz Campari, chilled

2 oz sparkling wine, preferably Prosecco, champagne, or sparkling rosé

1 oz soda water

Clear ice

Lemon wedge, for garnish
Instructions:
Fill a glass with ice and add Campari.

Pour sparkling wine and soda water.

Garnish with a lemon wedge and stir before serving.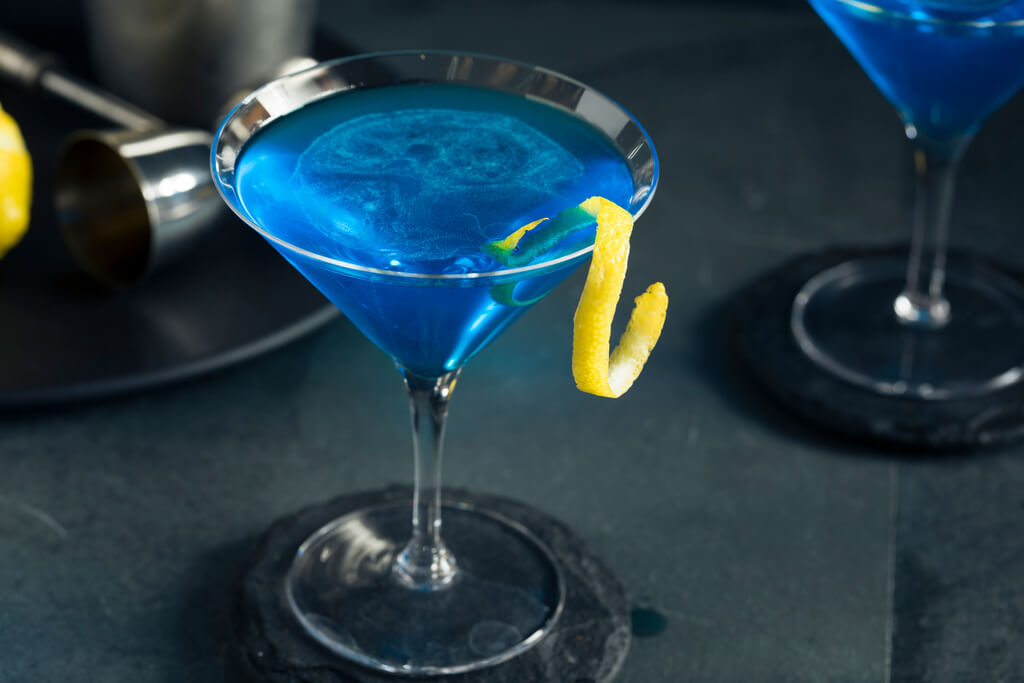 Priced for its breathtaking color similar to the blue grotto in Capri, Italy, Angelo Azzuro gets its color by combining blue curaçao and triple sec. This sophisticated drink has a lot more going on besides its appearance. It has a distinct citrusy flavor from triple sec and blue curaçao and the botanical flavor of gin. Serve on the rocks, in a coupe, or in a sophisticated cocktail glass if you're feeling extra fancy! 
Ingredients:
2 oz London dry gin

1¼ oz Luxardo Bitter Bianco

1¼ oz triple sec

½ oz blue curacao

Lemon twist, for garnish
Instructions:
Fill a cocktail shaker with ice.

Combine all ingredients in the shaker. 

Shake for a few seconds or until chilled. 

Lastly, strain into a chilled glass and garnish with a lemon twist

.
READ ALSO: 12 Best Blue Curacao Drinks You Just Have to Try
Milano Torino
Meet Negroni's predecessor — the Milano Torino or Mi-To. From its name you're probably wondering why it sounds so familiar. Well, it got its name from the birthplaces of its ingredients: Campari (Milan) and Vermouth di Torino (Turin). Compared to Negroni, Milano Torino is more bitter and syrupy in taste. If you're not a fan of strong alcoholic drinks yet, this might suit you better as it has low alcoholic content.
Ingredients: 
Ice

1 oz Campari

1 oz Vermouth di Torino

Orange slice, for garnish
Instructions:
Fill an old-fashioned glass with ice. 

Pour all ingredients and then stir. 

Serve with an orange slice.
Rossini Cocktail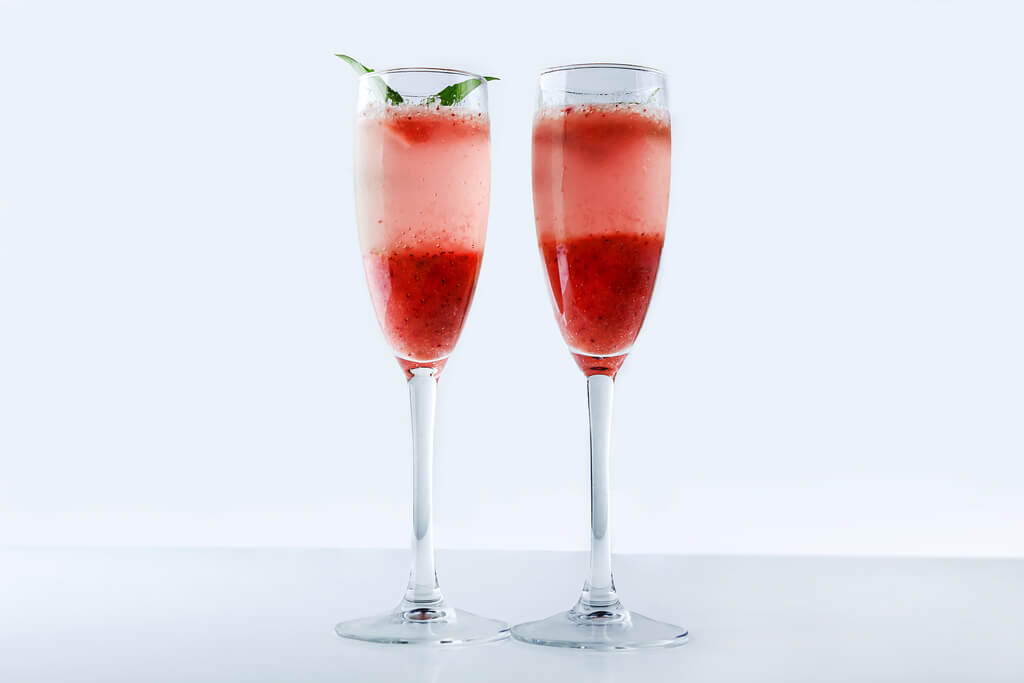 Tired of your usual bellini and Mimosa? Swap them with another famous brunch cocktail: the Rossini. Named after the Italian composer Gioachino Rossini, this drink is made with strawberry puree, sparkling wine, and simple syrup! To make it even more invigorating, lemon juice and fresh strawberries are added. It's easy, fresh, and highly refreshing, perfect for brunch and lovers of pink alcoholic drinks.
Ingredients: 
1 lb fresh or frozen strawberries

2 oz simple syrup or granulated sugar

1 tablespoon fresh lemon juice

1 bottle sparkling white wine or champagne (750 ml), chilled

Strawberries, to garnish
Ingredients:
First, puree strawberries together with simple syrup and lemon juice until smooth. 

Remove seeds and excess pulp by running the mixture through a fine-mesh sieve.

Fill champagne flutes with puree until a third of the way. 

Pour sparkling wine and stir to combine. 

Before serving, top with sliced strawberries. Enjoy!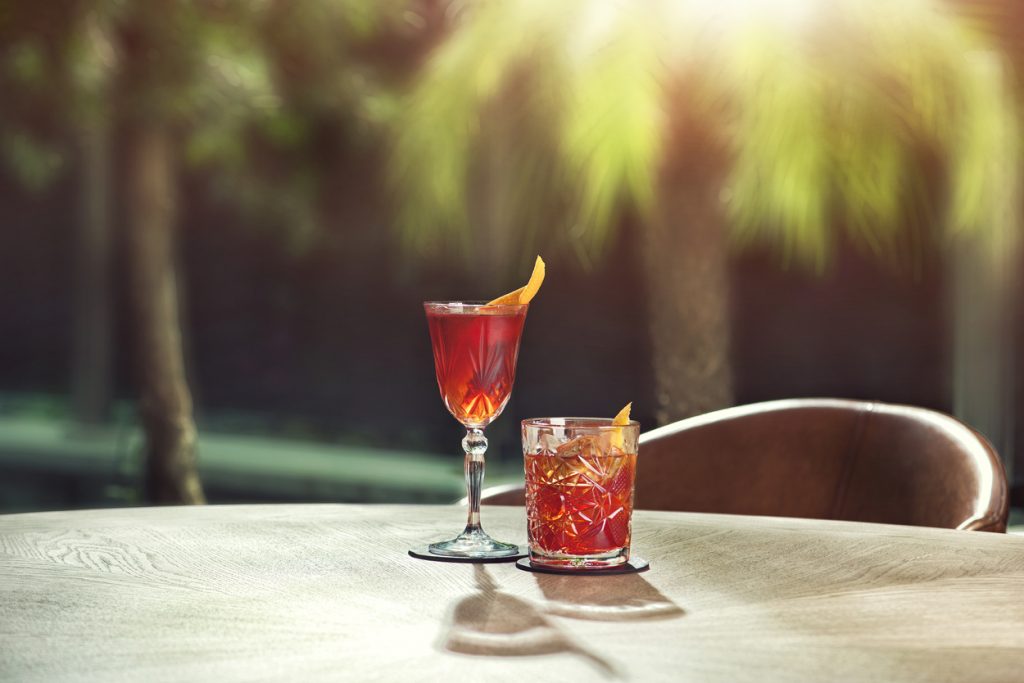 A mix of sweet vermouth, Campari, and sparkling wine instead of the usual gin, this cocktail is actually a 'bungled-up' Negroni. In fact, the name itself translates to "wrong Negroni". An Italian bartender accidentally grabbed a bottle of Prosecco instead of gin, and the rest was history. It's definitely not the original cocktail he was going for, but that's all the difference you need to give Negroni sbagliato a character of its own. This version just leans more on the sweeter and fruity side, while the original is bitter. If you like fruity alcoholic drinks, this might suit your fancy!
Ingredients:
1½ fl oz sweet vermouth

1½ fl oz Campari

Ice

1½ fl oz Prosecco, or other sparkling wine

Orange slice, for garnish
Instructions:
Fill an old-fashioned glass with ice.

Add vermouth and Campari and stir.

Top with Prosecco and stir again.

Garnish with an orange slice.
Spritz Veneziano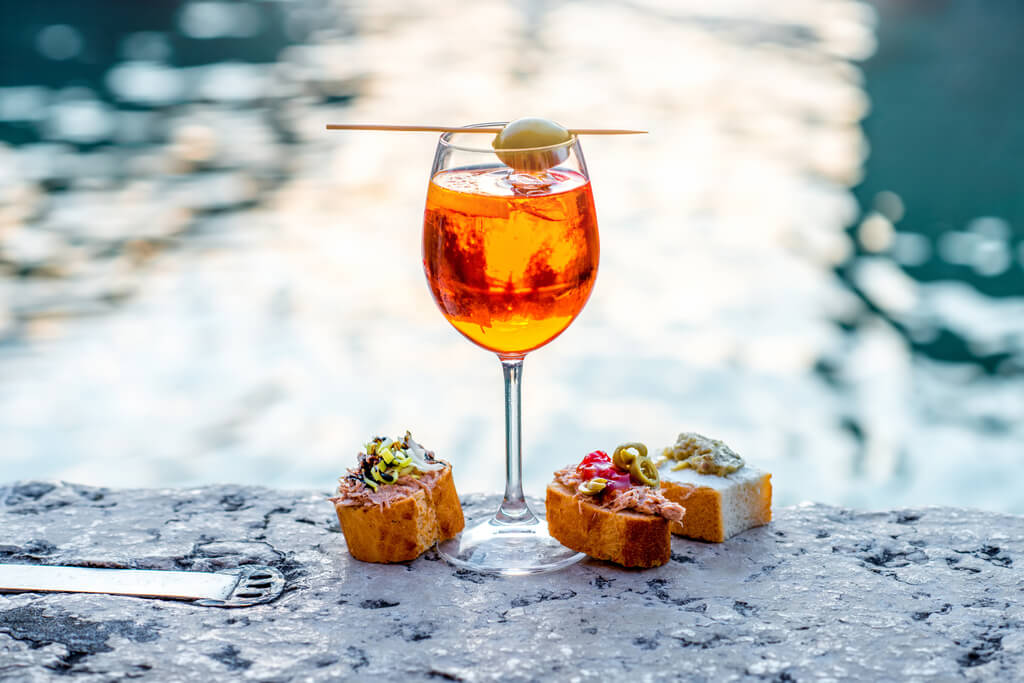 Next on our list of Italian cocktails is Spritz Veneziano — the original spritz created in Venice, Italy. Sweet, bubbly, and light but with a bitter finish, this cocktail is best when garnished with an orange slice to offset the bitterness. Because it's highly regarded as a classic, it can be enjoyed in any season!
Ingredients:
2 oz Aperol, Campari, or Cynar

3 oz Prosecco or other sparkling wine, chilled

1 splash of soda water

Orange wedge

Skewer with green olives, for garnish

Clear ice
Instructions: 
Fill glass with ice and pour Aperol. 

Stir and top with Prosecco and soda water. 

Squeeze the orange wedge in the glass and stir. 

Garnish with skewered olives then serve.
Garibaldi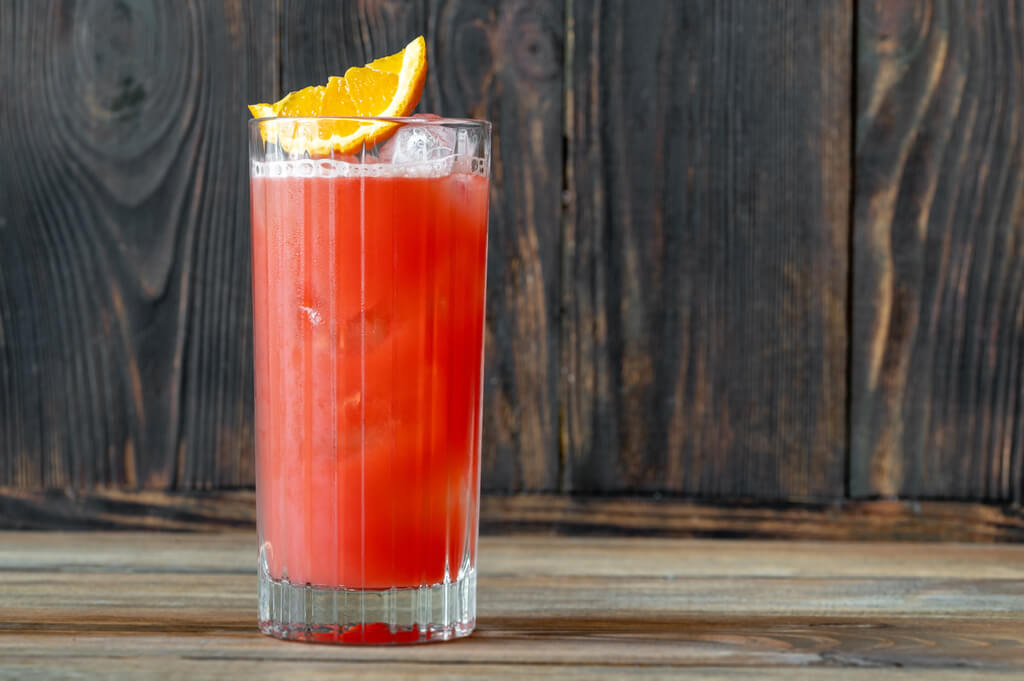 Looking for more classic Italian cocktails to try? Introducing the Garibaldi! Though not the most famous, it is praised for its straightforward blend that consists of only two ingredients: Campari and orange juice. However, perfecting it is another story. To make the perfect Garibaldi, you need fresh and fluffy aerated orange juice. You can do that using a juicer or hand-held frother. Basically, the aerated juice dilutes Campari's bitterness, resulting in a perfectly balanced citrusy cocktail drink.
Ingredients:
Ice cubes

1 ½ oz Campari

4 oz fluffy orange juice, fresh

Orange wedge, for garnish
Instructions:
In a highball glass, add ice, Campari, and orange juice. 

Gently stir until well combined. 

Top with an orange wedge for garnish.
Sgroppino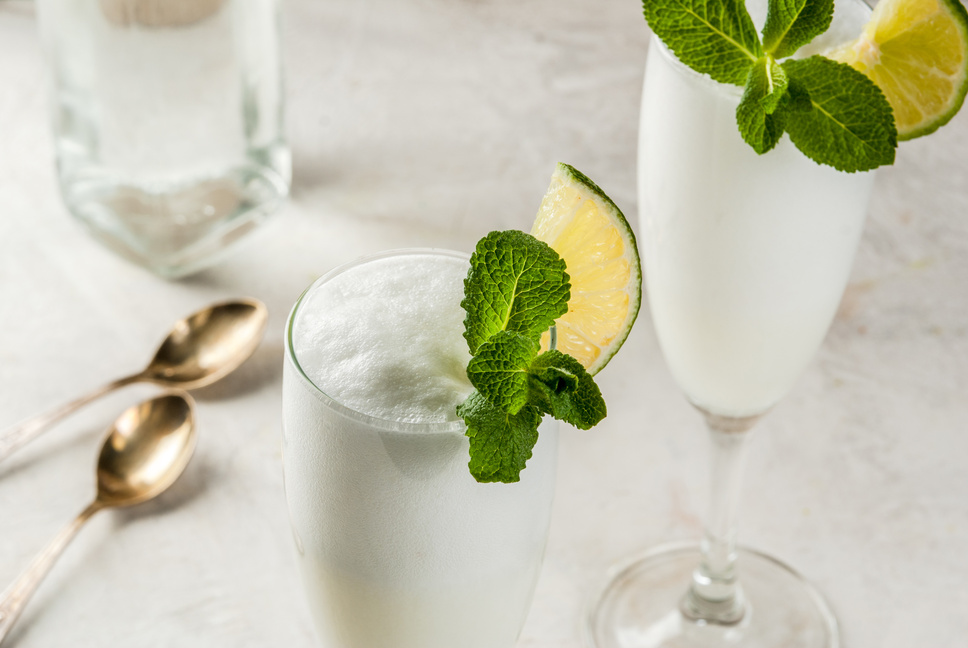 Limoncello Martini, Rossini, Aperol, and Campari Spritz are just some of the Italian cocktails that look as good as they taste. To add to the impressive list, we also have the Sgroppino. Made for the summer, it's a refreshing ensemble of light and vibrant Prosecco, citrusy vodka, and the tart and sweet lemon sorbet. Add mint leaves to complete the summer look! 
Ingredients: 
1 cup Prosecco (Italian sparkling white wine), chilled

2 tbsp vodka, chilled

⅓ cup lemon sorbet, frozen

¼ tsp fresh mint leaves, chopped
Instructions:
Pour the Prosecco and vodka into two champagne flutes, dividing equally.

Spoon a scoop of sorbet into each flute.

Sprinkle with mint before serving immediately.
READ ALSO: 13 Elegant Prosecco Cocktails To Make at Home
Hugo Cocktail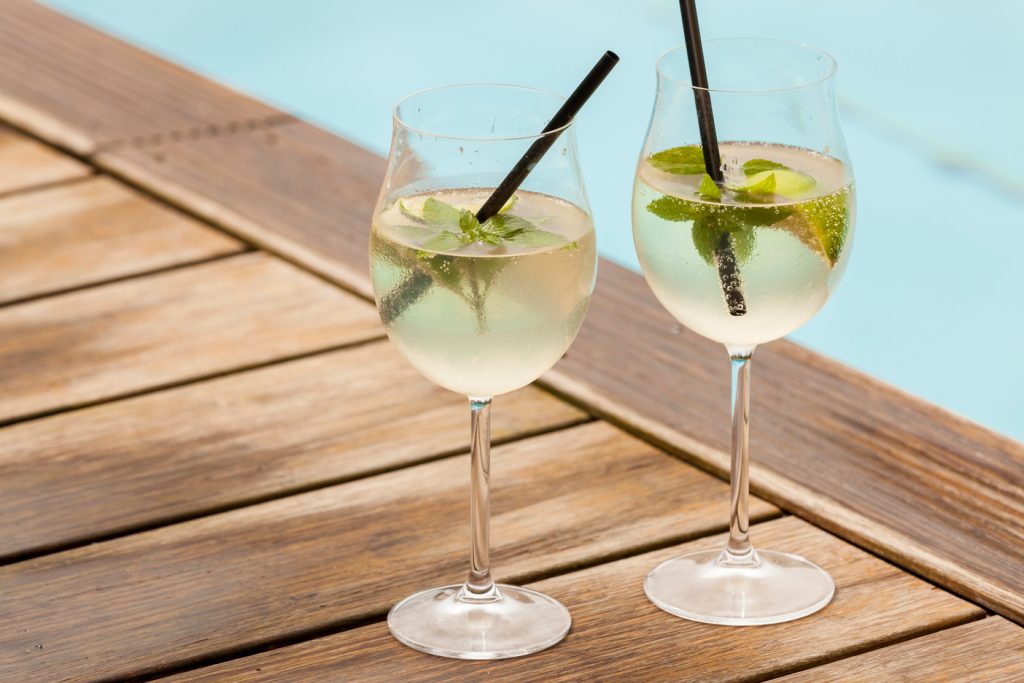 There's no need to endure the summer heat when you have Italian cocktails to keep you fresh and energized. Hugo cocktail would do just that, and in style no less! A simple of mixture bubbly Prosecco, slightly bitter soda water, cool mint leaves, and citrusy gin should keep you out of the heat. 
Ingredients: 
20 ml elderflower cordial

20 ml gin

Ice

25 ml soda water

120 ml Prosecco
For Garnish:
a small handful of mint leaves
1 mint sprig

1 lime wedge
Instructions:
Firstly, scrunch mint in your hands to lightly bruise it. 

Then, place it in the bottom of a large wine glass.

Pour over the elderflower cordial and gin. Infuse for 1 to 2 mins.

Fill the glass with ice, soda water, and Prosecco. Stir to combine. 

Garnish with a lime wedge and mint sprig before serving.
Limoncello Spritz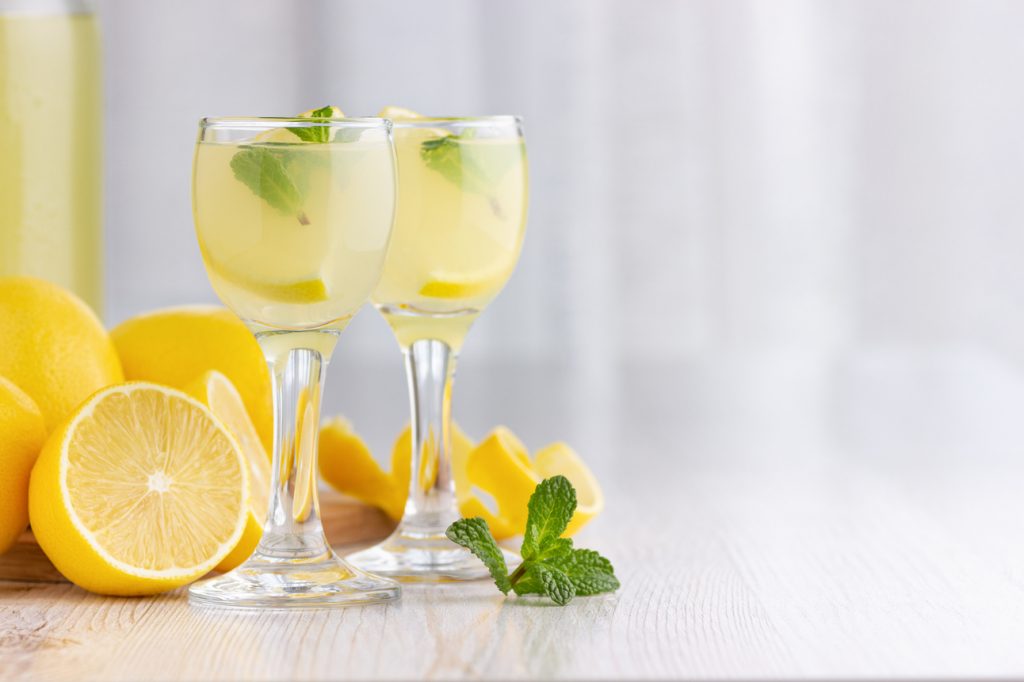 By now, it's no longer news that spritzes are the Italian cocktails to serve before a meal. They're refreshing, not heavy in alcohol, and they're not very sweet. This cocktail takes after the Aperol spritz which has a strong bitter orange taste. However, limoncello spritz swaps Aperol with limoncello liqueur. So, this version has a more concentrated citrus flavor that tastes like lemon candies.
Ingredients: 
2 fl oz limoncello, chilled if possible

3 fl oz Prosecco, or other sparkling wine, chilled

1 fl oz soda water

Ice

Mint and lemon rounds, for garnish
Instructions:
Add the limoncello to a glass filled with ice and stir.

Top with sparkling wine and soda water. 

Before serving, garnish with mint. Enjoy!
Amaretto Sour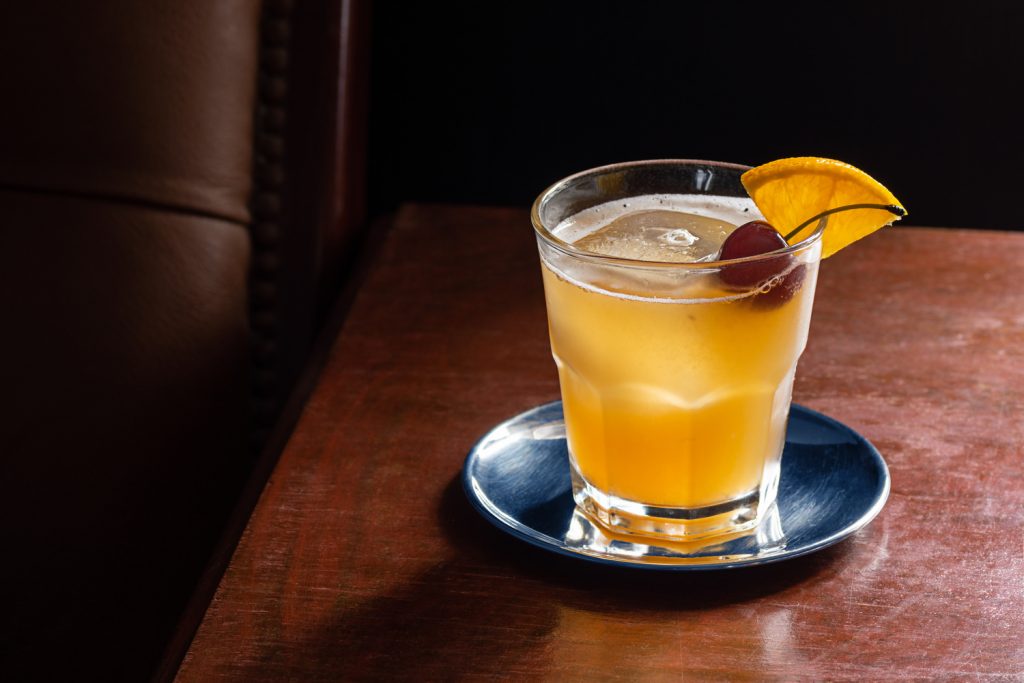 Flavored with almonds or apricot stones from amaretto, this is one of the classic Italian cocktails that features a sweet and sour flavor that's incredibly reminiscent of lemonade. Garnishing it with an orange slice will give it a more nuanced taste and a sophisticated appearance too.
Ingredients: 
1 ½ oz amaretto

¾ oz lemon juice

1 cup ice

1 orange slice
Instructions:
Combine the amaretto and lemon juice in a cocktail shaker. 

Add the ice and shake until chilled.

Strain into a chilled sour glass.

Lastly, garnish with a slice of orange and serve.
READ ALSO: 21 Best Amaretto Cocktails To Make At Your Next Home Party
Gin and It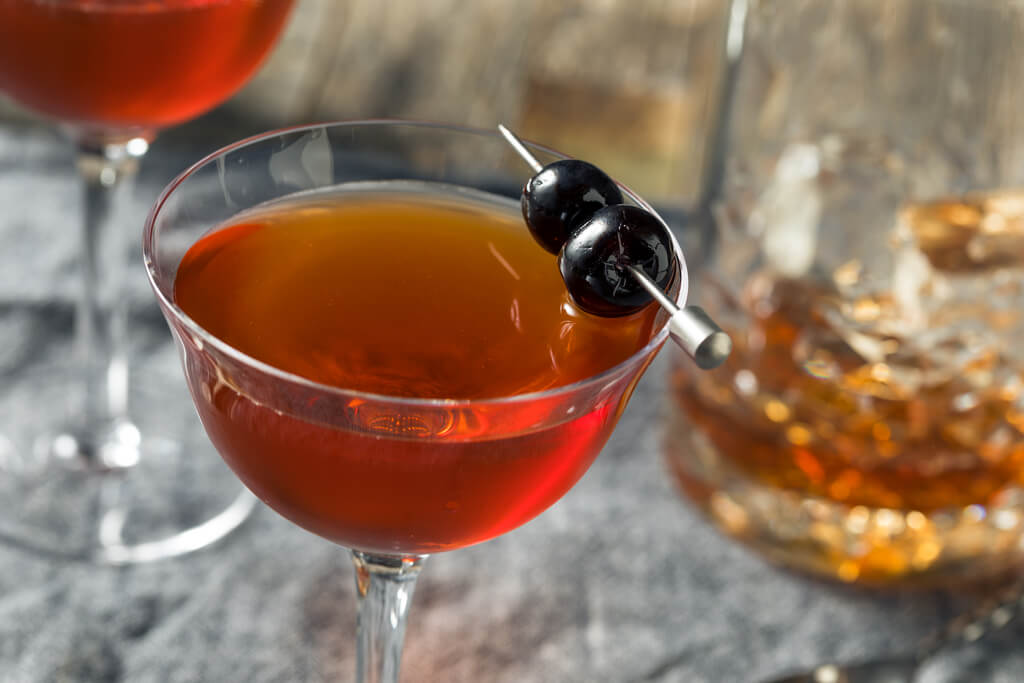 Originally called "Sweet Martini", this Italian-inspired cocktail was eventually renamed Gin and It where the "it" is short for Italy since this drink used sweet vermouth (which was usually Italian, in contrast with dry vermouth which was commonly French). While it may taste sweet, Gin and It is not a light cocktail as both its ingredients have high alcohol volume. Gin alone has about 40 percent alcohol, while sweet vermouth has 15 percent ABV. That said, you can try this sweet concoction and see for yourself if it's enough to make you tipsy.
Ingredients: 
¾ oz sweet vermouth

1 ½ oz gin

1-3 maraschino cherries, for garnish
Instructions:
Fill a cocktail glass with

sweet vermouth and gin.

Add maraschino cherries then serve.
Holiday Aperol Spritz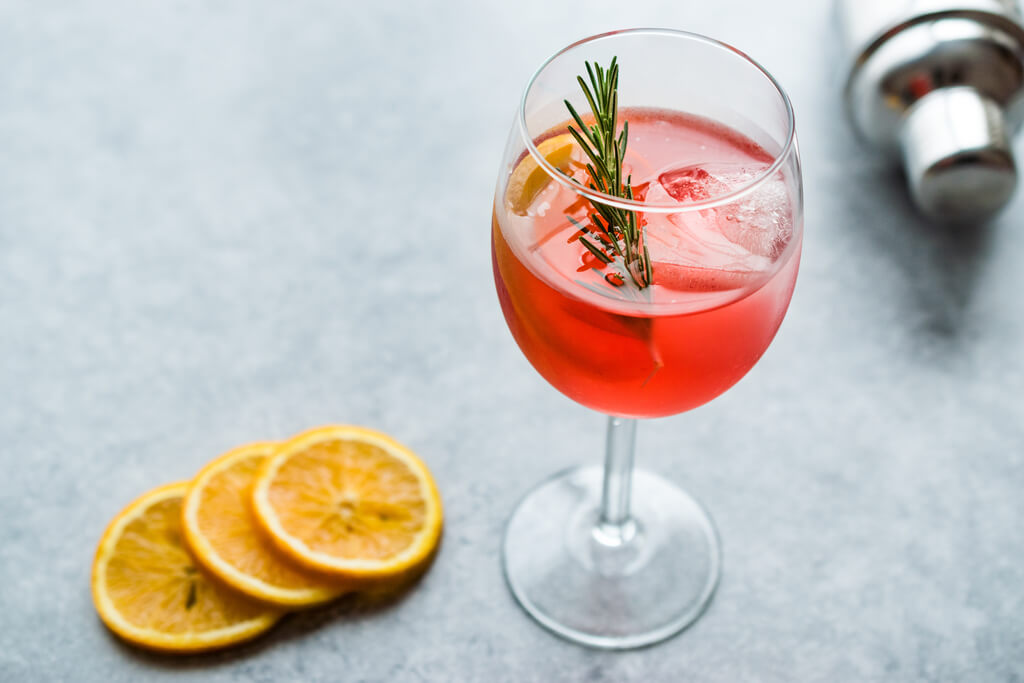 With just a couple of seasonal ingredients, you can turn the well-loved Aperol Spritz into a winter cocktail treat. Introducing the winter Aperol spritz. Again, the traditional Italian cocktail is made with Aperol, Prosecco, club soda, and an orange wedge. To make it wintery, simply add the festive color and flavor of cranberry juice and the minty taste and eucalyptus aroma of rosemary sprig! 
Ingredients: 
3 oz Aperol

3 oz Prosecco

1 oz cranberry juice

1 orange twist

2 oz club soda

1 orange wedge

1 rosemary sprig
Instructions:
Fill the glass with ice.

Then pour Aperol, Prosecco, and cranberry juice. 

Finally, top with an orange wedge, twist, and rosemary sprig. 
Sicilian Kiss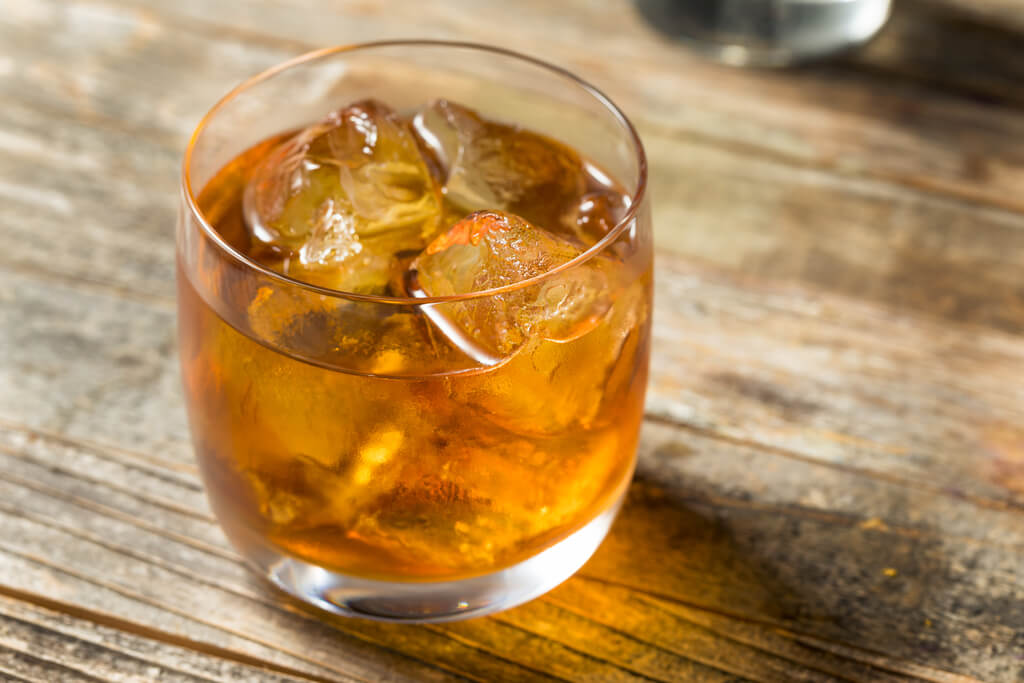 Last on our list of Italian cocktails is the Sicillian Kiss. Served in a shot glass, the Sicilian Kiss is a straightforward drink made from a combination of amaretto and Southern Comfort, a smooth whiskey. With such a short ingredient list, you'd think this cocktail will taste anything but sweet. However, both ingredients are incredibly fruity. Amaretto brings in almond flavor, while Southern Comfort gives a strong apricot taste.
Ingredients: 
½ oz amaretto 

½ oz Southern Comfort
Instructions: 
Combine amaretto and Southern Comfort in a shot glass.

Serve with a beer chaser.