How To Make Frozen Mango Fruit Pops
Summer is tastier when you try these mango popsicles made with the popular tropical fruit, the mango.  It's easy and a great activity with the kids!
Ingredients
3 cup

mango chunks, fresh or frozen (thaw first if using frozen)
1/3 cup

 water or coconut water
1/4 cup

 honey (or to taste)
Instructions
Blend:  Place all the ingredients into a blender and blend until smooth
Fill popsicle molds:  Pour mixture into popsicle molds.
Freeze:  Freeze for at least 4 hours (preferably overnight) and enjoy!
Notes
This is the popsicle mold that I used – my favourite!  The recipe makes 6 popsicles using this mold (quantity will vary depending on size of mold used).  Check out all my picks for the Best Popsicle Molds.
Thaw frozen mango:  If using frozen mango chunks, it is important to let them thaw first.  This allows them to blend up easily into a smooth mixture.
Storage:  Store in freezer for 1 to 2 months.  Keep popsicles stored in the popsicle mold or unmold and wrap each individually in plastic wrap or reusable beeswax food wrap and store in a freezer bag or airtight container.
Nutrition
Monounsaturated Fat: 

0.10g
Polyunsaturated Fat: 

0.29g
Topics:
Related Recipes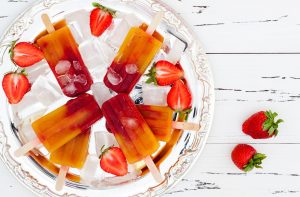 Popsicle
Strawberry Peach Vodka Popsicles Recipe
These strawberry peach vodka popsicles would be the highlight of your pool parties. With the sweet and citrusy taste of the two-fruit combination, you will almost forget that you're consuming booze.