Indulge in an after meal dessert with this homemade mango sorbet recipe. It's a quick and easy dessert recipe that uses simple ingredients like fresh chopped mangoes, lime juice, and simple syrup. Combine all of these and you get a delicious serving of a soft and creamy mango sorbet ice cream treat that's perfect for a hot summer day. Pair it with some sweet snacks like coconut cookies or chocolate lava cakes. 
What is Sorbet?
Sorbet is usually made with fresh fruit purees mixed with sweeteners like simple syrup. It's a sugar syrup made of sugar and water, and commonly known as liquified sugar water. The sugar is essential to the overall taste, texture, and structure of a sorbet. It gives it that smooth and soft texture that melts in your mouth. In addition, a sorbet doesn't contain any dairy products. It's purely made from churning these ingredients inside an ice cream maker. 
Alternatively, you can still make a mango sorbet without an ice cream maker. Pour the mixture into a 12 x 12-inch cake pan and put it inside the freezer. Stir every 15 minutes until slushy. Then, transfer the mango sorbet to a freezer safe loaf pan and freeze for at least 4 hours. 
Tips on Making Mango Sorbet
Enjoy a scoop of this delicious sweet and fruity dessert that's soft and light to eat. This mango sorbet recipe is easy to make, especially if you have an ice cream maker on hand. We listed some tips to make your sorbet experience even more delightful. 
Use fresh and ripe mangoes.

When making a sorbet, it's ideal to use fresh and ripe fruits rather than a

frozen mango

. It's more flavorful and refreshing when mixed with the other ingredients. 
Adding simple syrup makes it rich and smooth.

Since a sorbet's main ingredient is sugar, the simple syrup is important. Make sure to add the right amount of simple syrup so that it achieves a perfect light slush. 
Soften sorbet lightly before serving.

A sorbet, in general, should not be too frozen or icy. Temperature is another essential factor so it's best to freeze sorbet for a minimum of 3 to 4 hours. When ready to consume, let it thaw slightly.  
Add toppings.

Lastly, like any other cold treats, it's even more delicious with toppings. Complete the dessert with some added fruits, wafers, or nuts.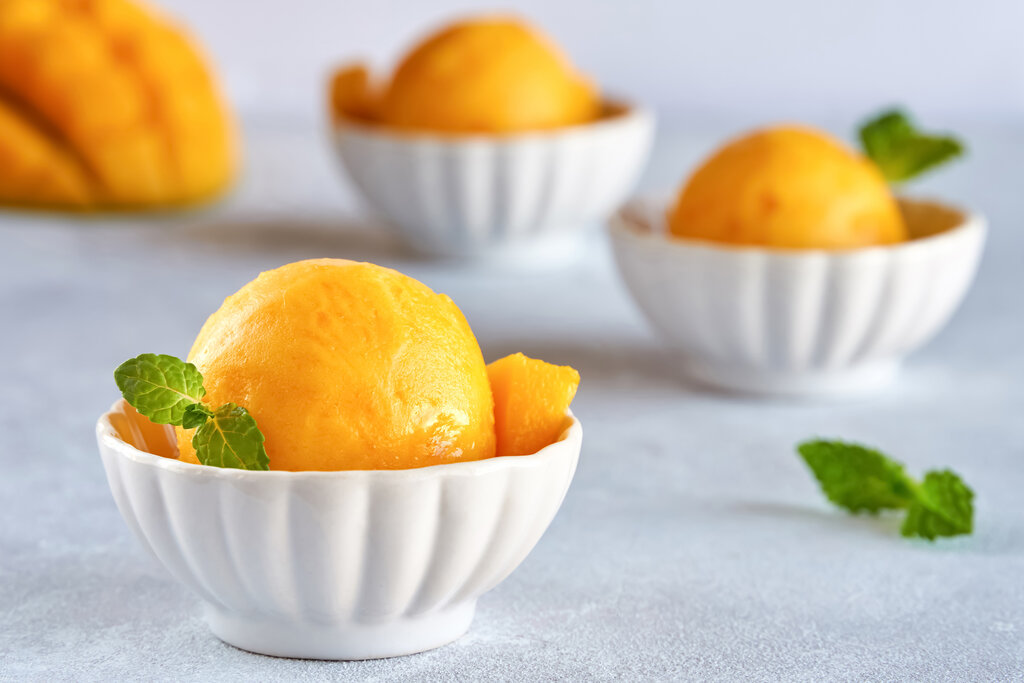 Fruity Mango Sorbet Recipe
Transform your fresh mangoes into a tasty mango sorbet dessert that's bursting with sweet and fruity flavors. It's a refreshingly thick and smooth treat that tastes better with every bite.
Ingredients
4

medium

mangoes,

washed

2

cups

simple syrup

3

tbsp

fresh lime juice

1

cup

water
Instructions
With a sharp knife, slice each mango in half lengthwise, cutting as close to the pit as you can.

Scoop flesh out and put in blender or food processor.

Cut remaining flesh from the pit and add to blender, along with simple syrup, lime juice, and water.

Puree ingredients on high in the blender until smooth.

Pour mixture into an ice cream maker and follow directions for the machine.

Scoop into serving dishes.
Nutrition
Sugar:

101g

:

Calcium:

30mg

Calories:

387kcal

Carbohydrates:

103g

Fat:

1g

Fiber:

2g

Iron:

4mg

Potassium:

311mg

Protein:

1g

Saturated Fat:

1g

Sodium:

69mg

Vitamin A:

1493IU

Vitamin C:

52mg
Nutrition Disclaimer
Frequently Asked Questions
Is sorbet healthier than ice cream?
Yes and no. It's true that sorbet is dairy free which means that it is lower in fat and calories than your typical ice cream made with dairy. A sorbet is also considered healthy since it's a fruit based dessert so it has its accompanying nutritional benefits. However, since sorbet is made from sugar and water, it has a higher sugar content than ice cream. In conclusion, a sorbet can be healthier than ice cream if you want a fat-free dessert. It's also a perfect sweet treat for people who are lactose intolerant.
What can I add to sorbet to keep it soft?
There are a lot of factors that can freeze or harden your homemade mango sorbet like not churning it enough or the fruits are too big. It's important to consider these minor details when making your sorbet. To keep your sorbet soft, it's best that you alternate between freezing and chilling the sorbet in the fridge. After freezing for a few hours, transfer the sorbet into the fridge and chill for about 20 minutes before serving. Avoid freezing the sorbet for long periods of time so that it stays soft and light.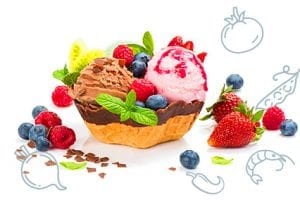 Conclusion
This mango sorbet makes use of fresh mangoes and sweeteners to give you a slushy and refreshing sweet treat. Top it off with some nuts, chocolate shavings, or wafers for an added crunch and flavoring.