Mango ice cream is just the fruit dessert you need on a scorching day. It's rich, creamy, and brimming with a sweet, natural mango flavor. This ice-cold treat will instantly let you have a taste of a breezy tropical getaway! It's made of fresh mangoes, cream, and caster sugar. The good news is, you don't need a fancy and bulky ice cream machine to make such a delightful treat! With just a few ingredients, a food processor, and a freezer, you'll have a DIY ice cream that tastes better than store-bought ones. 
Choosing the Right Mangoes for Your Mango Ice Cream
A luscious scone of mango ice cream starts with fresh mango. But the fruit should be of the best quality to produce a heavenly summer treat. There should be no black spots and blemishes on the skin, among other things. Here are more things to keep in mind when picking out mangoes for your mango ice cream:
Sweet fresh mangoes are the best choice

. When cherry-picking mangoes for your ice cream, it's best to go for sweet-tasting ones. We suggest using Alphonso mangoes as they are deemed one of the sweetest mango varieties.  

Avoid using overripe mangoes

. Overripe mangoes are not ideal for making homemade ice cream as they tend to be fibrous.

The mangoes should be ripe and firm

. Gently squeeze the fruit. If it's mushy or squishy, it's not suitable to use for your homemade ice cream. It tends to be watery when pureed. So, always pick out ripe but firm mangoes for a more delicious result.

Use mangoes that produce a thick pulp

. Keeping any water content as low as possible is the key to making a perfectly smooth no-churn mango ice cream. As such, make sure that the fruit you'll be using yields a thick pulp. Again, Alphonso mangoes fit the bill here.
Tips for Making Homemade Mango Ice Cream
We definitely couldn't get through summer without ice cream. But why rush to the nearest ice cream shop when you can make one at home? Don't worry, homemade mango ice cream is so easy and a lot of fun to make! This step-by-step mango ice cream recipe is, by far, the easiest ticket to a decadent, icy-cold dessert. It only calls for six easy-to-find ingredients and requires 35 minutes of preparation.
Even better, you can make a mango-flavored ice cream that's even more delicious than the ones you can find in ice cream shops! Just check out our helpful tips and tricks listed down below:
If the mango puree is a bit watery, reduce it in half

. Eliminating the water content in the fruit puree will possibly deliver a more intense mango flavor. Not to mention, it'll also alleviate your worries about icicles forming in your homemade ice cream. Just simmer the puree in a small saucepan until it achieves a thick consistency.

Use cold whipping cream or heavy cream

. Cold

heavy whipping cream

will whip up way quicker. Plus, using cold cream ensures that your

homemade ice cream

has a softer and creamier consistency. 

Place a plastic wrap on top of the ice cream before covering it with the lid

. Doing so will prevent ice crystals from forming. You can also use waxed paper and parchment paper to seal your ice cream and combat ice crystals. 

Use an airtight and shallow container when storing your homemade ice cream

. Instead of a deep tub, it's better to store your ice cream in a shallow container. The icy dessert will surely stay soft and creamy. Plus, it's easier to scoop out the ice cream!

Top your ice cream for a more delectable visual presentation. Mango cubes and slices of fresh fruits will be delicious toppers. Or, you can sweeten the ice cream more by topping it with honey, maple syrup, and caramel sauce.
Are you looking for the best summer desserts? The intense tropical flavor of smooth and creamy mango sorbet will surely please your taste buds, all while cooling you down. Meanwhile, this sweet mango cake is one of the most refreshing and stunning mango recipes to round out your summer meal!
How To Make Mango Ice Cream
This homemade mango ice cream is deliciously rich, smooth, and downright refreshing. Bursting with a strong mango flavor, it's the perfect reminiscent of a tropical vacation!
Ingredients
14

oz

mango,

if fresh mango is available, it is preferable

1½

cups

cream

½

cup

caster sugar

¼

cup

mango,

or apricot nectar

mango slices,

to garnish

fresh mint sprigs,

to garnish
Instructions
Defrost the mango until it is soft enough to mash but still icy.

If fresh, puree the flesh of 3 to 4 large ones in a food processor.

Place the mango in a medium bowl and add the sugar and nectar.

Stir for 1 to 2 minutes or until the sugar has dissolved.

Beat the cream in a small bowl until stiff peaks form.

Gently fold the cream through the mango mixture.

Spoon the mixture into a lamington tray; cover and freeze for about 1½ hours or until half-frozen.

Quickly spoon the mixture into a food processor bowl.

Process for 30 seconds or until smooth.

Return to the tray or plastic container; cover and freeze completely.

Remove the ice cream from the freezer for 15 minutes before serving to allow it to soften a little. Note: Freeze the ice cream for at least 8 hours before serving. It can be kept frozen for up to three weeks.

Serve the ice cream in scoops with mango slices and sprigs of mint.
Recipe Notes
If you don't have fresh mangoes, you can also use packaged mango pulp for your

mango ice cream dessert

. 

Apart from sugar, you can also use other sweeteners, such as maple syrup and jaggery.

To make a

vegan mango ice cream

, just use coconut cream instead of regular cream and coconut sugar rather than caster sugar. 

Add liquor to make an adult version of your homemade ice cream mango!

Add a higher proportion of milk and use less cream to turn your ice cream into a creamy mango gelato!
Nutrition
Sugar:

40g

:

Calcium:

69mg

Calories:

470kcal

Carbohydrates:

44g

Cholesterol:

122mg

Fat:

33g

Fiber:

2g

Iron:

1mg

Potassium:

251mg

Protein:

3g

Saturated Fat:

21g

Sodium:

35mg

Vitamin A:

2497IU

Vitamin C:

40mg
Nutrition Disclaimer
Frequently Asked Questions
How to prepare the mangoes for my homemade ice cream?
If using fresh mangoes, rinse them first under running water. Wipe them dry with a clean paper towel. Using a sharp knife, slice the fruit on both sides. Then, make lengthwise and crosswise slices. Scoop out the mango cubes and add them to the food processor. Then, proceed to the pureeing step.
Can I make this mango ice cream recipe with an ice cream maker?
Yes, you can totally make your ice cream mango using an ice cream maker. First, whip together the cream and the sugar, then fold in the mango pulp. Add the mango mixture and the remaining ingredients to the ice cream chine. Then, churn until your mango-flavored ice cream achieves a thick consistency. Add the toppings you prefer and freeze until ready to serve. Enjoy!
Can I use sweetened condensed milk for my homemade ice cream mango?
Yes, you can also use sweetened condensed milk. Mango ice cream with condensed milk is actually creamier! Just blend it together with the chopped mangoes. If using condensed milk, you can skip out on sugar as it will be sweet enough.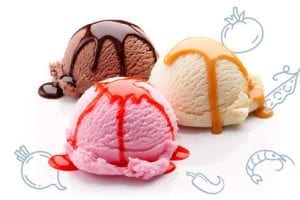 Conclusion
Learn how to make mango ice cream at home without an ice cream maker. It's oh-so-easy and super fun! This recipe yields a smooth and creamy ice-cold dessert that's perfect on a hot day.
Topics: