Naked Juice has many popular fruit smoothie flavors, and one of their most beloved is Mighty Mango, for its creamy texture that's just like that of a smoothie. Naked Juice may have been marketed as healthy juice that help cleanse your system, but is Naked Juice truly healthy? Unfortunately, there has been damning evidence that these smoothies are not as healthy as they seem. Instead of nutritional benefits, you're more likely to be ingesting tons of calories, sugar, and even chemical preservatives. So instead of grabbing another Naked smoothie from the grocery, why not make your own healthy smoothie with our copycat Naked mango juice recipe?
You must be wondering, why is Mighty Mango so creamy? The secret in Mighty Mango Naked recipe lies in two ingredients. Banana, and it's titular fruit, mango. Both fruits will give you the rich and thick consistency you're love in the Mighty Mango. It's easy to get the right kind of banana for a smoothie, you just need it to be ripe and you'll get a sweet, creamy banana perfect for a smoothie. But what about mango?
Mango, the King of Fruits, is everyone's go-to tropical fruit in summer. But do you know that you can actually get great tasting mangoes almost all year? There are seven varieties of mangoes, and they ripen at different times of the year. Most varieties have a rich and sweet taste, though you may find some to have more of a sour note. Depending on the type of mango, some are good for drying, and others for pickling. And of course, there are those that are perfect either to be eaten fresh or for your mango juice recipe, and we've listed the very best for you!

Tip: Honey mango and Francis mango are the best type of mangoes to make a mango juice.
Honey mango or Ataulfo mango has very small seeds so you'll have more flesh to blend. It has a vibrant yellow color that will turn into deep gold when fully ripe. Francis mango, a bright yellow mango with a greenish hue, has a sweet and fruity flavor. With its soft and juicy flesh, it is a great mango to juice. When it ripens, it will lose some of the green overtones and turn more golden. Mangoes are not just good in taste, they are good for your health too! Above many other things, it can boost your immune system, control your cholesterol level, and is good for your eyes and skin.
For your mango fix, you should try this copycat Mighty Mango Naked Juice. This mango juice recipe requires no sugar at all. You get all the sweetness and flavor from the fruits you will use. Prepare your lemon, apple, and orange juice together with your cut mango and mashed banana. Put all of it in your blender and voila! You have your healthy mango juice. If you're looking for another refreshing mango recipe to make, our mango ice cream recipe will definitely send you too a tropical paradise.
How To Make Copycat Mighty Mango Naked Juice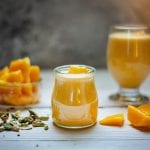 Enjoy this copycat Mighty Mango Naked Juice made even healthier with no added sugar.
1 cup orange juice
2 cups mangoes (peeled and cut)
1 1/2 tbsp lemon juice
1/2 cup apple juice
1 mashed banana
Add all of the ingredients into a blender.
Blend until it becomes smooth.
How To Make Copycat Mighty Mango Naked Juice
Enjoy this copycat Mighty Mango Naked Juice made even healthier with no added sugar.
Ingredients
1

cup

orange juice

2

cups

mangoes,

peeled and cut

1½

tbsp

lemon juice

¼

cup

orange juice

½

cup

apple juice

1

mashed banana
Instructions
Add all of the ingredients into a blender.

Blend until it becomes smooth.
Nutrition
Calcium:

64mg

Calories:

505kcal

Carbohydrates:

124g

Fat:

2g

Fiber:

9g

Iron:

1mg

Potassium:

1722mg

Protein:

6g

Saturated Fat:

1g

Sodium:

13mg

Sugar:

98g

Vitamin A:

4266IU

Vitamin C:

295mg
Nutrition Disclaimer
Commonly Asked Questions
What is the sugar content of mango?
For every ¾ cup of mango, it contains 17 grams of total sugar with 0 added sugar. The sugar that mangoes have is naturally occurring sugar so this means this is a good sweet. Mangoes may taste deliciously sweet, but no need to worry since it offers a great number of nutrients.
Can you eat mangoes if you're diabetic?
Yes! According to research, mangoes help maintain normal blood sugar levels of the body. With just the proper serving portion, mangoes will do good for people with diabetes since this fruit is nutrient-dense.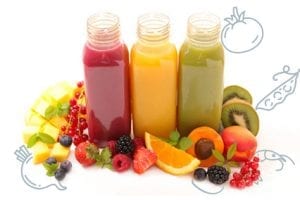 Conclusion
With all its health benefits and aside from the fact that it's available in just about every season, what else is keeping you from trying this copycat Mighty Mango Naked Juice? We're sure this mango juice will be your newest go-to drink once you taste it.