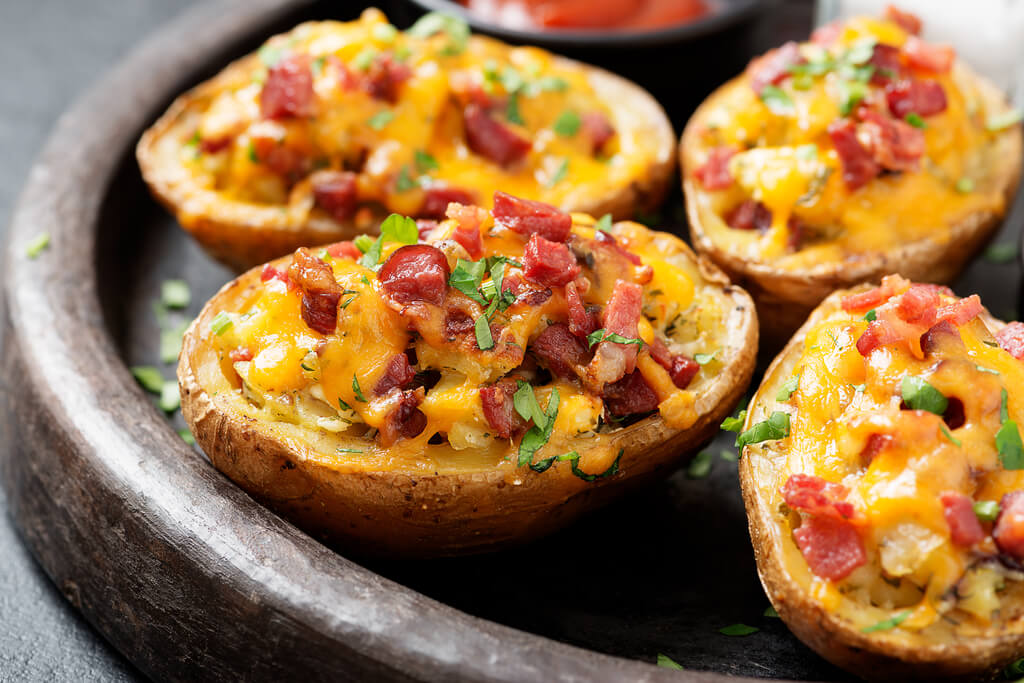 17 Baked Potato Toppings For Your Potato Bar
Because of their promised versatility, baked potatoes (also known as jacket and potato skins) are a perfect vehicle for lots of toppings. Popular toppings include sour cream, bacon, and a combination of different types of cheeses like cheddar and parmesan. Other favorites include caramelized onions and even broccoli and chopped chives. This dish is even great with creative baked potato toppings from chicken alfredo, buffalo chicken to chickpeas, and beans! Even vegans love experimenting with healthier alternative versions.
Indeed, for this dish, your skill in the kitchen is your limit. With the variety of options, it can be hard to decide where to begin. But don't worry, just view our list of baked potato bar toppings and you can find the best combinations for your potato bar.
---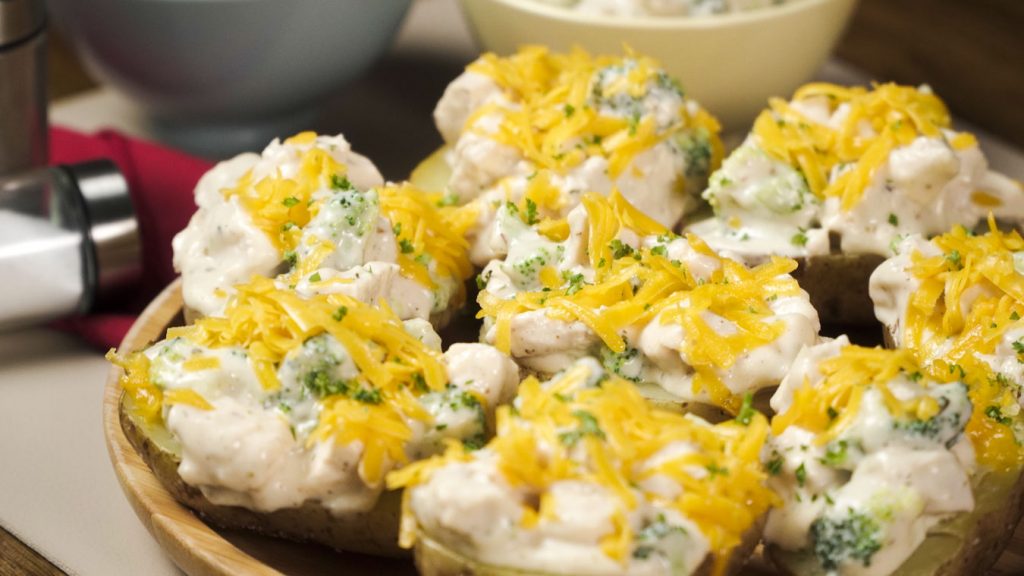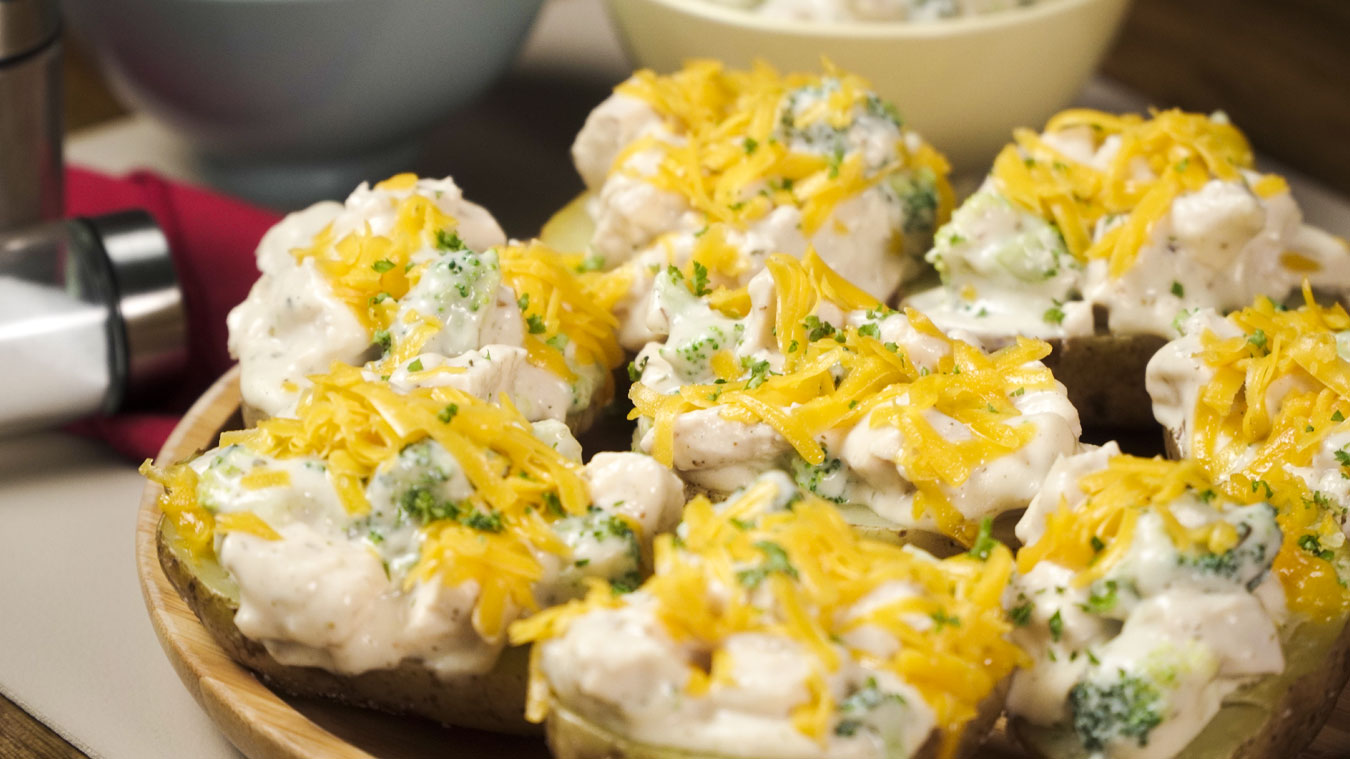 01 of 17
Chicken Alfredo
This out-of-the-box topping idea combines fluffy baked potatoes with rich and creamy chicken alfredo sauce. Some like to make their chicken alfredo topping with leftover rotisserie chicken and a jar of alfredo sauce, but feel free to start from scratch if that suits your fancy, or if you're serving it for a party.

Additionally, loaded spuds are naturally absorbent of butter and cream. Not to mention, they're already savory on their own. Chicken alfredo complements them while also not stripping it off its natural potato taste.

Try Recipe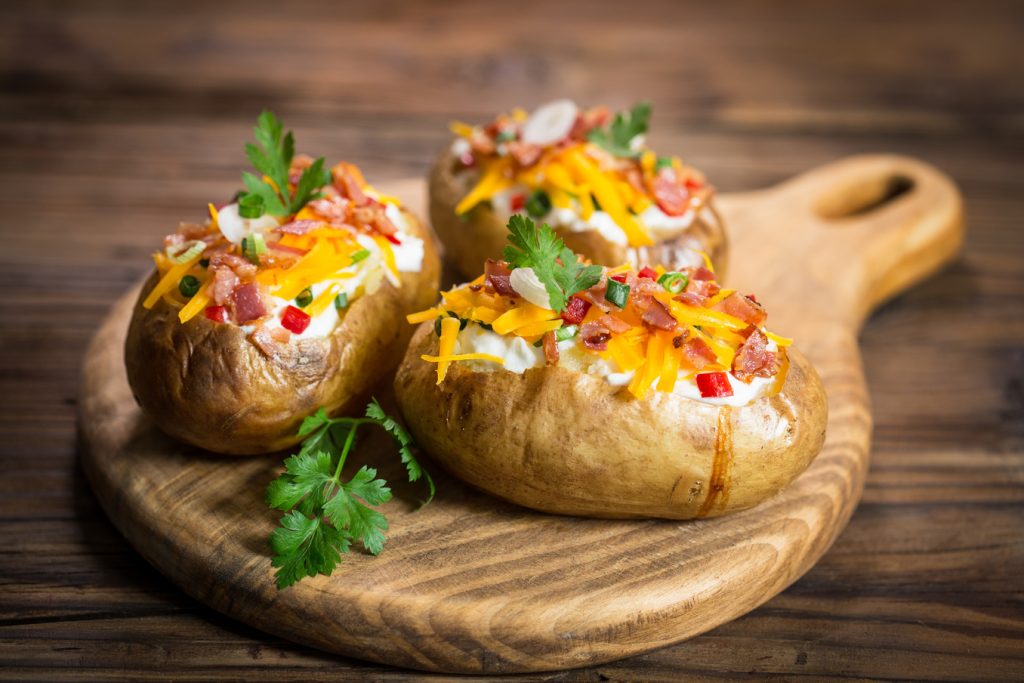 02 of 17
Bacon Bits, Cheddar Cheese, and Sour Cream
For the first-timers in the baked potato game, try one of the classic baked potato toppings: bacon bits, cheddar, and sour cream. People have this on their menu rotation as it's also known to be one of the perfect combinations for ideal comfort food. What's more, this recipe lets you combine the best cheeses your pantry and a local grocery store can offer. Basically speaking, this one's cheese heaven with the savory taste of bacon!

Try Recipe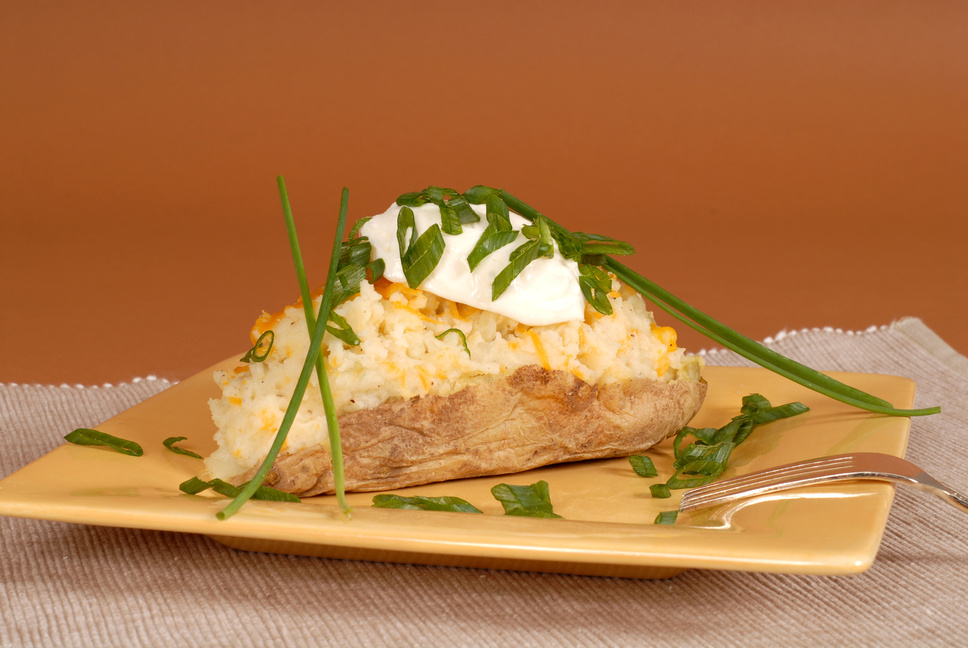 03 of 17
Parmesan, Cheddar Cheese, and Sour Cream
Another cheesy combination on our list of baked potato toppings is a fusion of parmesan, cheddar, and sour cream. It's also one of the classic pairings, albeit less popular because of the absence of savory bacon bits. For this reason, vegetarians also favor this topping more than the version that has the addicting protein. Though, of course, you're still free to add bacon to this combo if you ever miss it. But if you want it to be vegetarian-friendly, you can settle with adding butter instead, as its salty and savory flavor can make up for what bacon usually brings to the table.

Try Recipe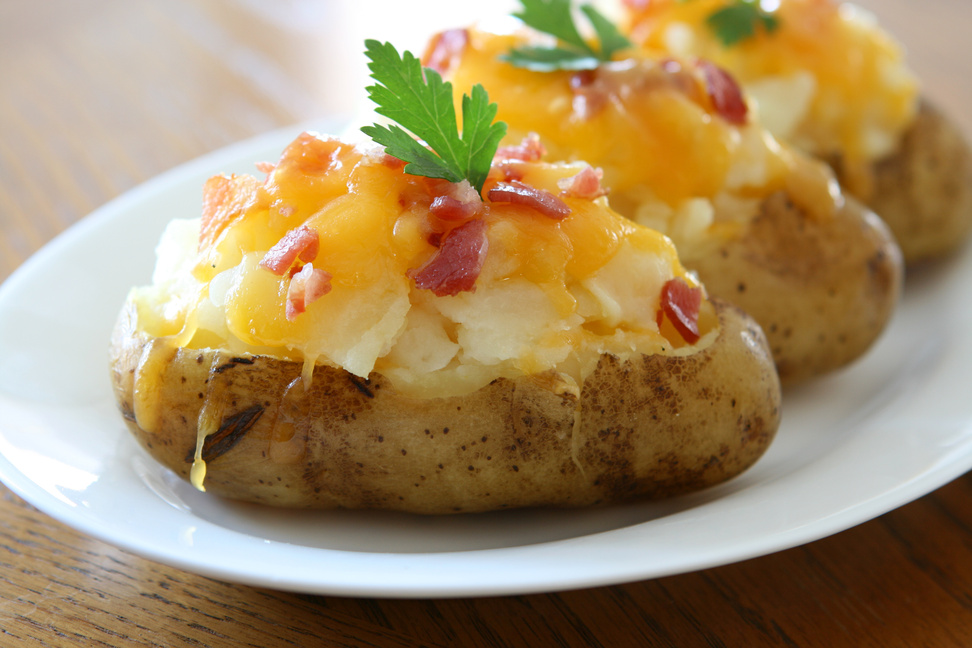 04 of 17
Blue Cheese
Like most jacket and potato skin recipes, this dish starts with baked potatoes, butter, salt, and pepper. The ingredient that makes the difference? Blue cheese. Most people don't like blue cheese because of its pungent taste and strange appearance. But before you back out of this particular topping, we have to tell you, you almost won't notice it's there. It's not overpowering and the aroma won't linger either.

This baked potato topping has the perfect touch of tangy and sharp flavor with the salty nuance of cheddar. Added with sour cream and crispy turkey bacon, you can't (and won't) put this one down until you finish the whole plate.

Try Recipe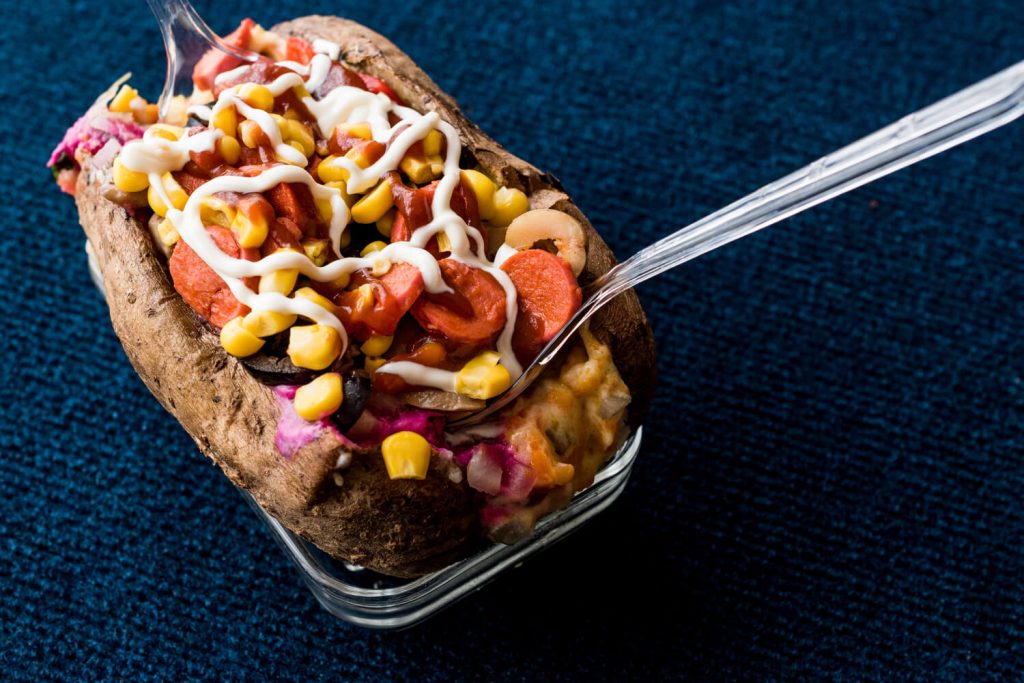 05 of 17
Kumpir
Kumpir (pronounced as khum-phir) is an extremely popular Turkish-style loaded potato with sweetcorn, sausage, tuna, roasted eggplant, kisir (a type of Bulgarian salad), and loads more. The selection is really up to you. But like the Western version, butter and grated cheddar cheese are also staple ingredients and should not be left out.

Sold as a sort of street food in Istanbul, it's mostly served in a plastic box with disposable utensils. Because of its numerous toppings, it can be hard to zero in on what combinations taste delicious. But you're in luck! Just try this recipe we have here for you.

Try Recipe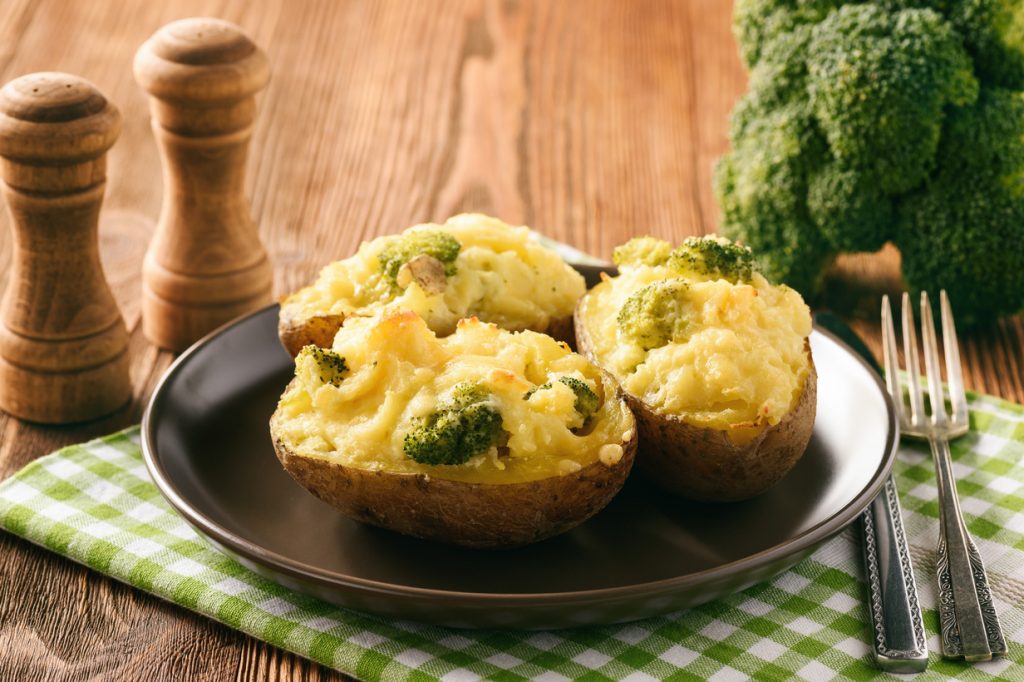 06 of 17
Cauliflower, Broccoli, and Cheese
Cauliflower, broccoli, and cheese make an amazing combination no matter the kind of dish — quiche, soup, and even pasta. Baked potatoes are yet another perfect base for this fantastic combo! Enjoy the tangy flavor of buttermilk, the cheesy and creamy cheddar cheese, and the clean taste of veggies, all in one.

Now, moms, hear this one out. This topping is the perfect way to sneak in some veggies for your kids. That is if you know how to do it: hide them behind a good mound of cheddar cheese at the top.

Try Recipe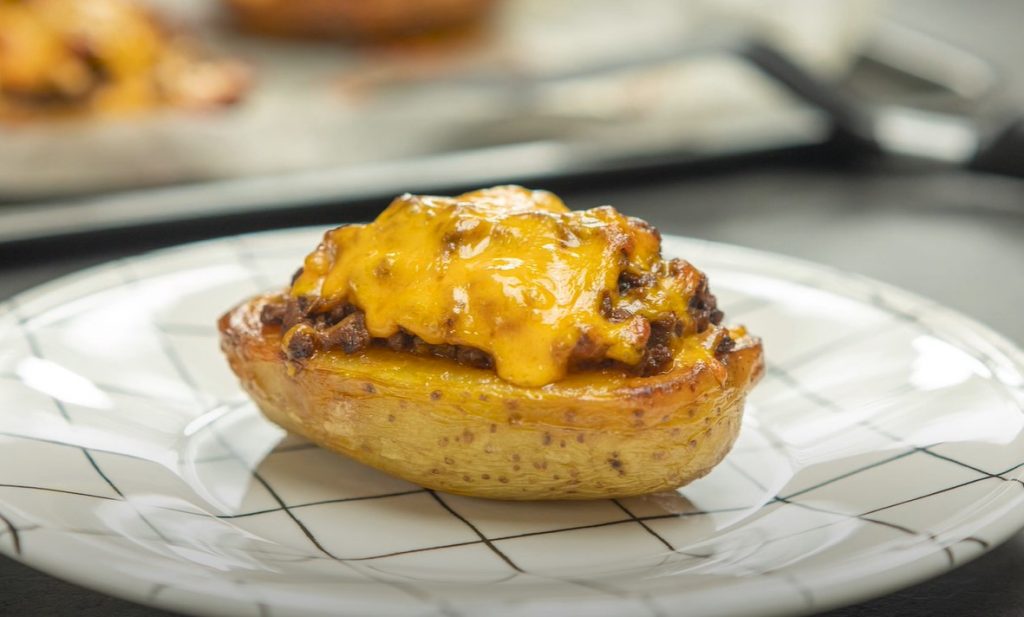 07 of 17
Ground Beef, Sour Cream, and Cheese
When it comes to baked potato toppings, ground beef should definitely be on your list of must-tries!  Imagine smooth, melt-in-your-mouth potatoes adorned with savory beef. Topped with sour cream and gooey cheese, it becomes a hearty meal that's as delicious as any of the combinations on this list.

Try Recipe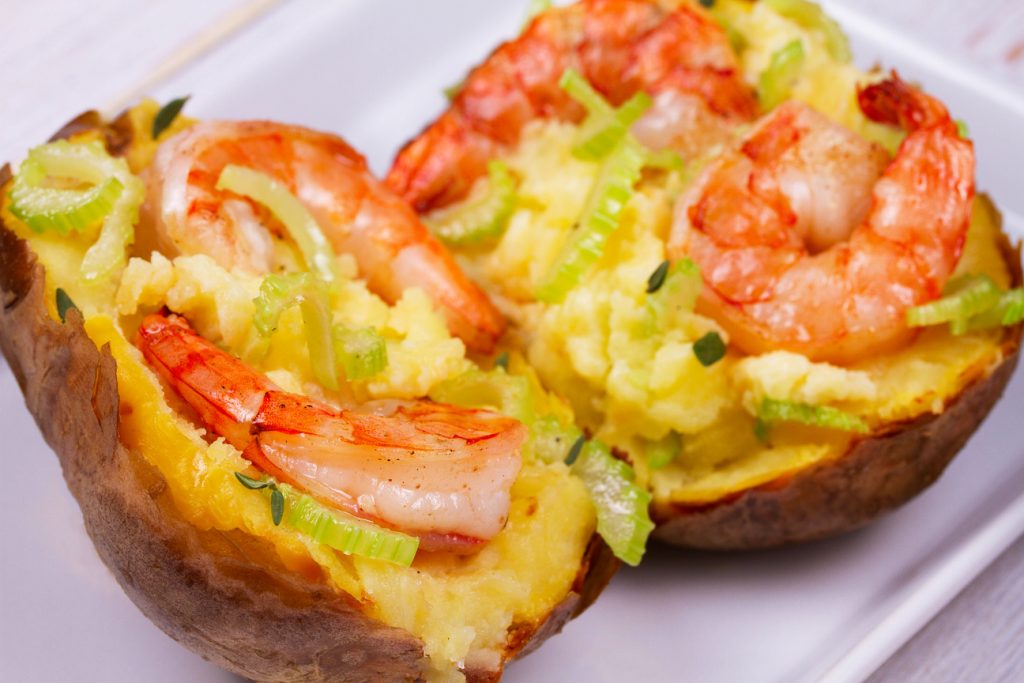 08 of 17
Shrimp
Beyond toppings like chicken alfredo, bacon, and ham, shrimp is another meat you can add to your baked potato toppings. Introducing shrimp baked potato! Here, the shrimp is cooked in crème fraiche seasoned with garlic powder, salt, and pepper.

For those who don't know what crème fraiche is, it is actually a French soured cream with cultured bacteria. If you don't have it, sour cream is the closest substitute you can use. Judging by its appearance, it will be a pity to serve this as a snack when it looks and tastes like the main course!

Try Recipe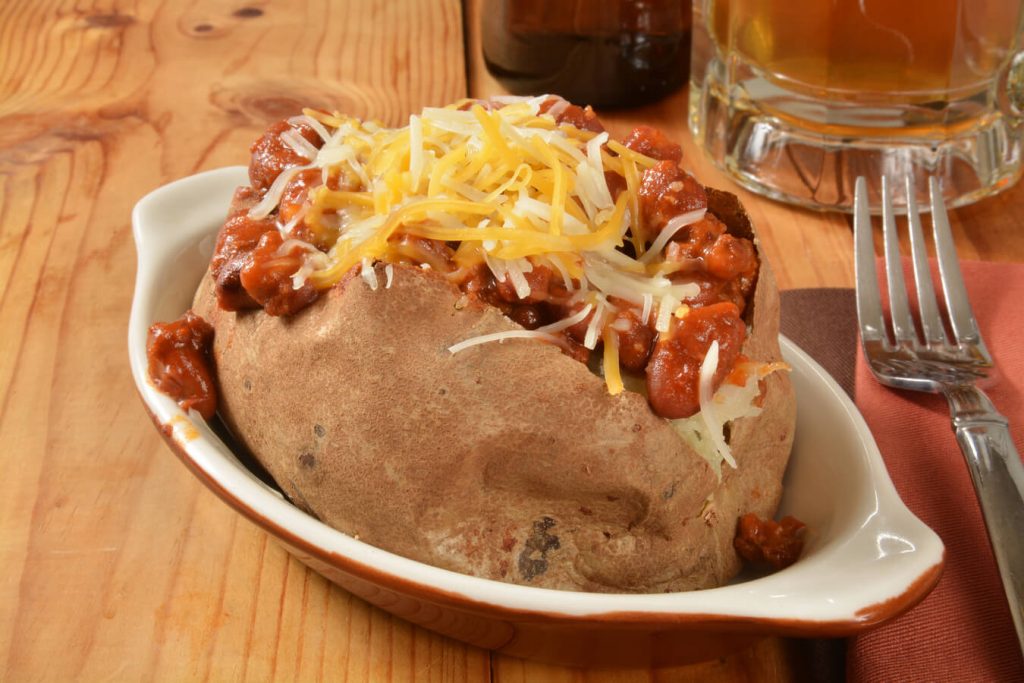 09 of 17
Chili
Chili is a hearty dish you can eat on its own. But isn't it better if you pair or combine it with delicious side dishes? Here's an idea: how about you use this favorite dish to top your buttery baked potato? After all, most home cooks make a big batch where it's served alongside either rice, nachos, or cornbread. Now's the time to try it with baked potato and see how you like it.

To make a beautiful plate, top it with more cheese and hot pepper. If you put too much, don't worry! The potato is the perfect ingredient to mellow all the heat.

Try Recipe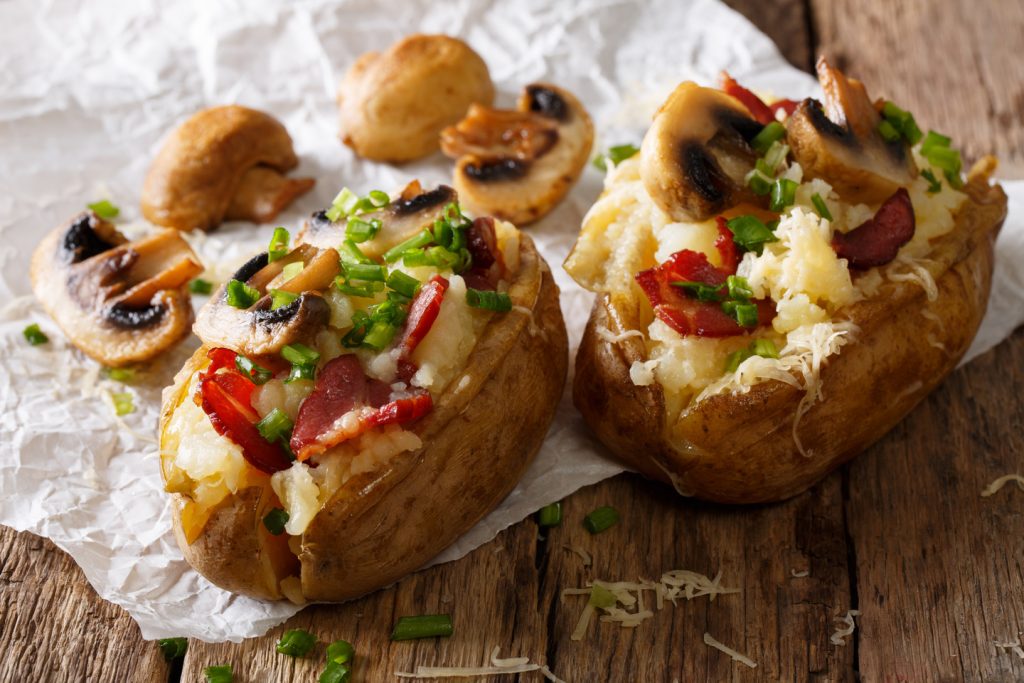 10 of 17
Ham, Mushrooms, and Cheese
If you run out of bacon, top your baked potatoes with some mushrooms, ham, and cheese for a delightful union of ingredients that's full of texture and flavor. This one in particular mixes all the flavors of extra virgin olive oil, sour cream, and cheese.

Try Recipe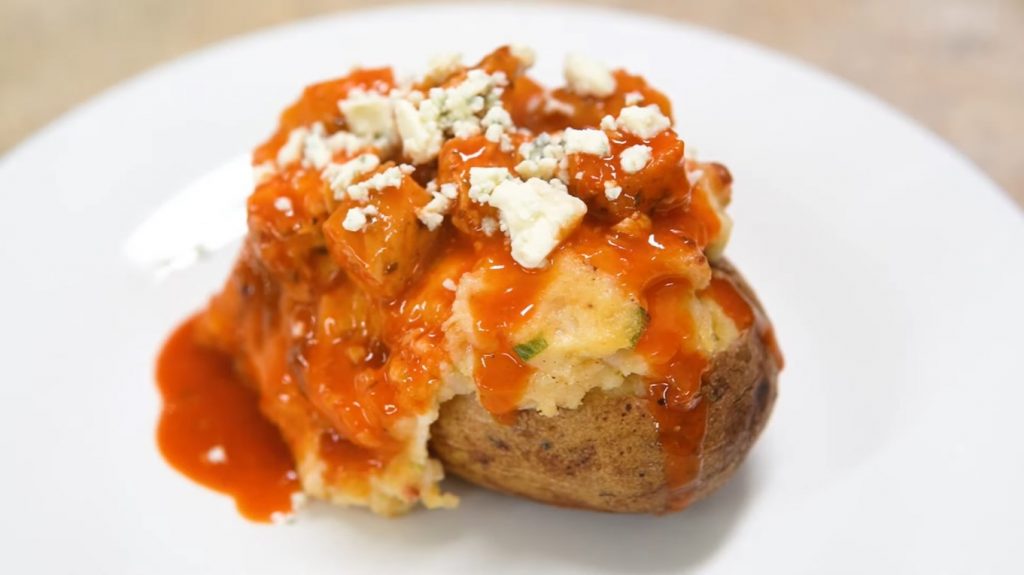 11 of 17
Buffalo Chicken
For some, baked potato has always been described as cheesy and creamy. Well, it's time to shake things up by adding some heat. Top your potatoes with buffalo chicken made from a combination of hot sauce and fat such as butter for a colorful, spicy kick to this side dish.

Needless to say, buffalo sauce makes everything better and this topping is another proof. What's even better is that the whole thing can be garnished with your favorite cheese mixture and ranch dressing too.

Try Recipe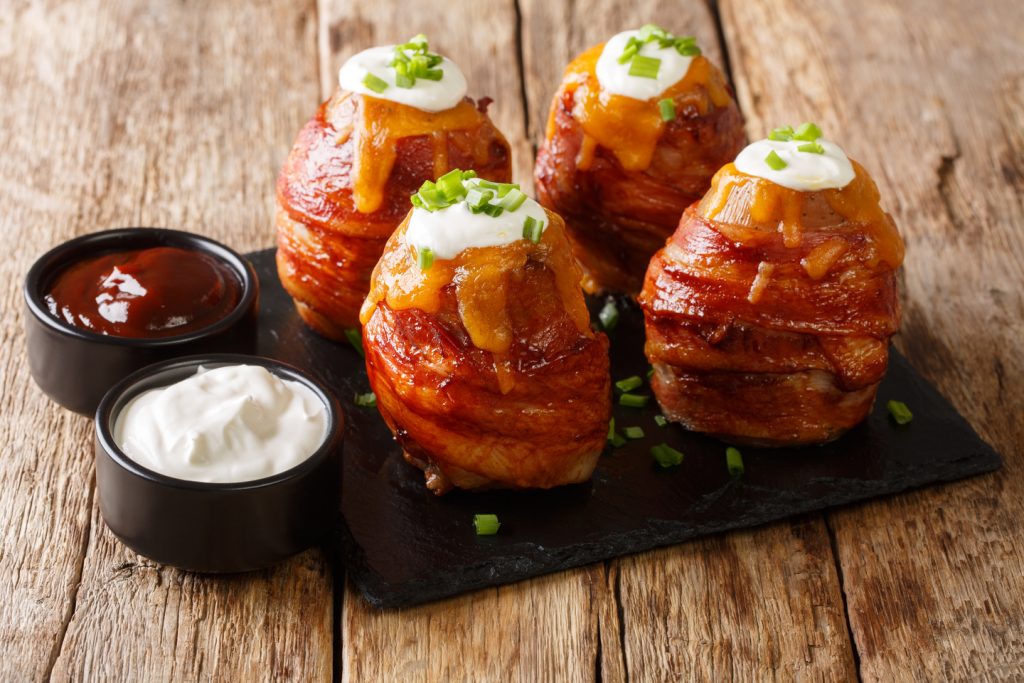 12 of 17
Cheese and Cream
Cheese and cream don't sound that exciting, especially when mentioned next to buffalo chicken. But before you think it's underwhelming, think potato volcano: light and fluffy mashed potato formed into a cone-shape with a creamy center. More importantly, cheesy "lava" made of cheese and cream decorate this special treat.

We believe all baked potatoes (with their tasty toppings) are special. But even more so with potato volcano. It's not only delicious but this potato dish will also please you in a visual sense. After all, an attractive plate makes for a tastier meal! You can eat this on its own, but to make it look more realistic, serve with greens on its base. Try broccoli perhaps?

Try Recipe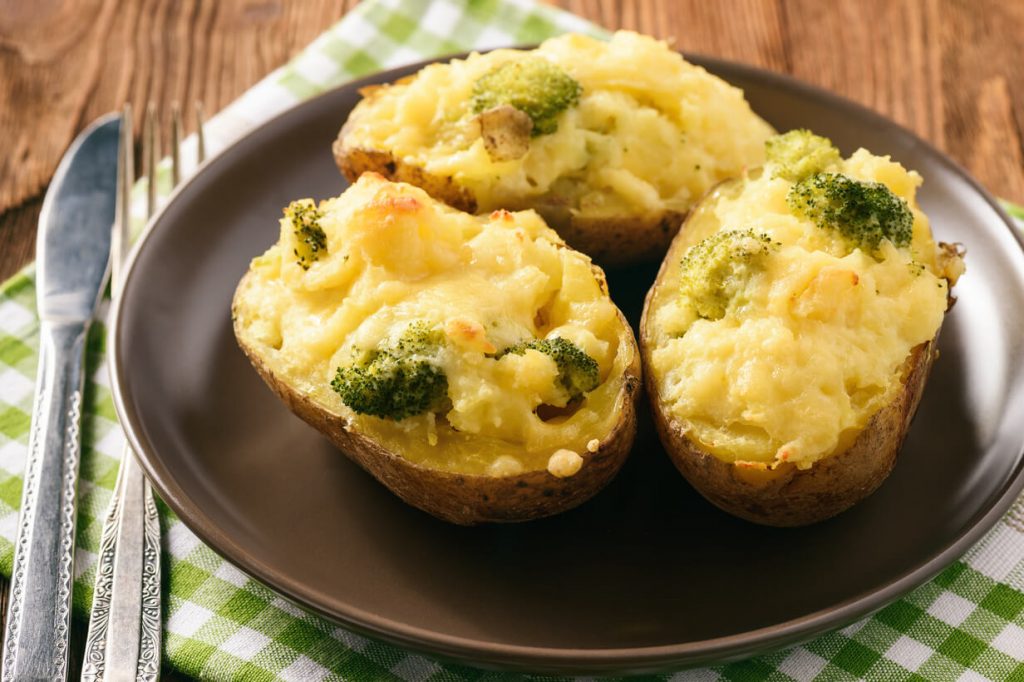 13 of 17
Chickpeas and Broccoli
To make an appetizing baked potato, you don't necessarily need an incredible amount of fat and meat like ham and bacon. Some start with healthy ingredients such as chickpeas and broccoli like this topping! We know chickpeas aren't exactly the most popular ingredient around, but if you know your way around the kitchen, you can make it flavorful. If that doesn't do the trick, you can always swap it with another type of bean. We recommend black beans as an alternative.

By now. you'll notice that this recipe uses healthy alternatives to create a healthy yet delicious topping. But if you have vegan counterparts for bacon and sour cream, that would be good as well.

Try Recipe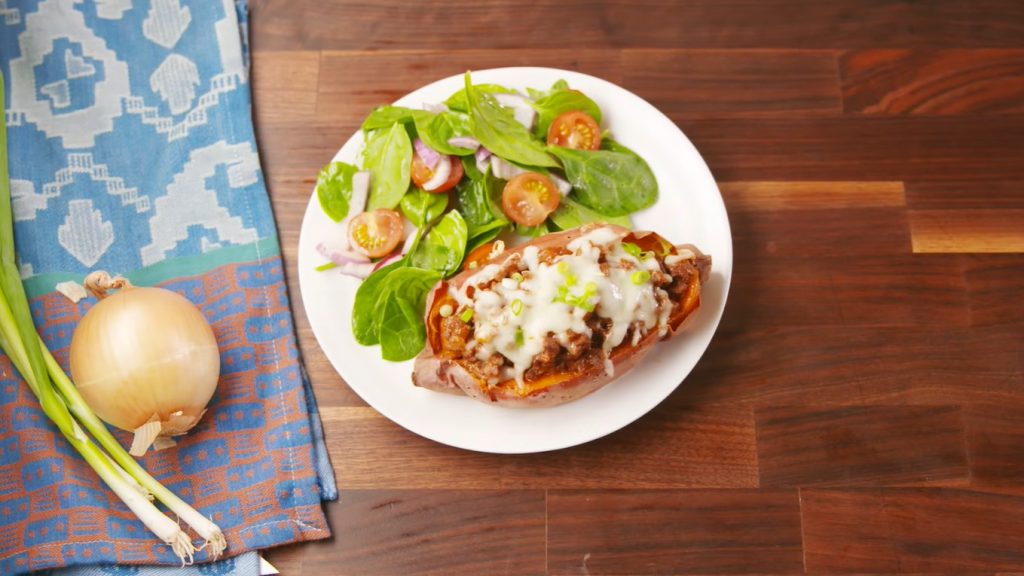 14 of 17
Sloppy Joes
Next on our list of baked potato toppings is sloppy joes. Your favorite filling made of ground beef, onions, tomato sauce, Worcestershire sauce, and other seasonings is now stuffed into baked sweet potatoes! This starchy base is a healthier, gluten-free alternative to the usual potatoes. You might be thinking they're a hassle to make. But try this one first and see for yourself how easy it is to whip up using pantry staples too.

Try Recipe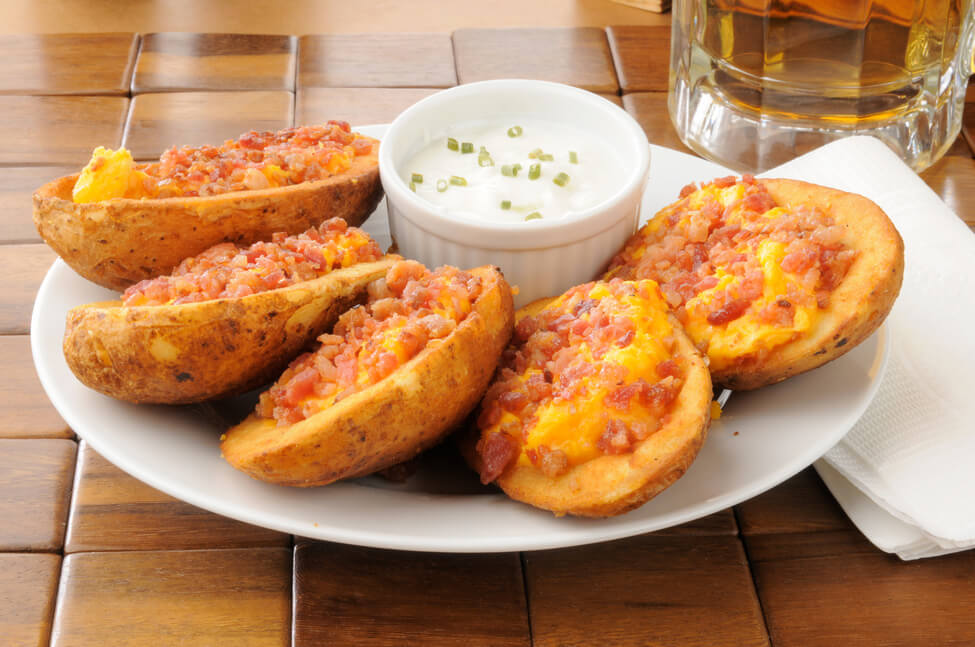 15 of 17
Eggs
Potato skins for breakfast, why not? This topping combines some of the breakfast staples such as scrambled eggs, cheese, and ham. Then, they're stuffed in buttery potato skins and topped with cheese for a gooey and creamy dish.

Before you back out and think it's too much work for breakfast, this particular topping only needs 15 minutes for prepping and another 15 minutes for cooking. However, we recommend you prepare your russet potatoes the day before to save some time.

Try Recipe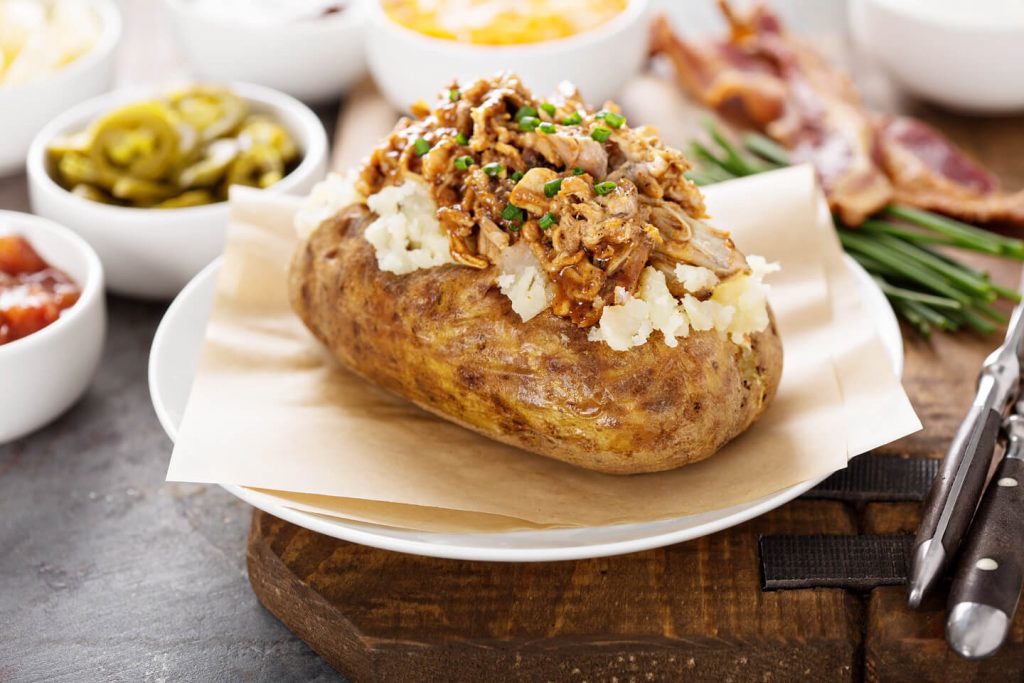 16 of 17
Pulled Pork
Got leftover barbecue pulled pork? Loading your spuds is the perfect way to use up that extra protein! Now, picture this: smoky, savory flavor in contrast with the melt-in-your-mouth smooth texture of potatoes. Pile it high on some starchy potato and garnish it with a dollop of sour cream and barbecue sauce for a creamier and heartier dish. By the looks of it, these tasty treats will be gone in a flash.

Try Recipe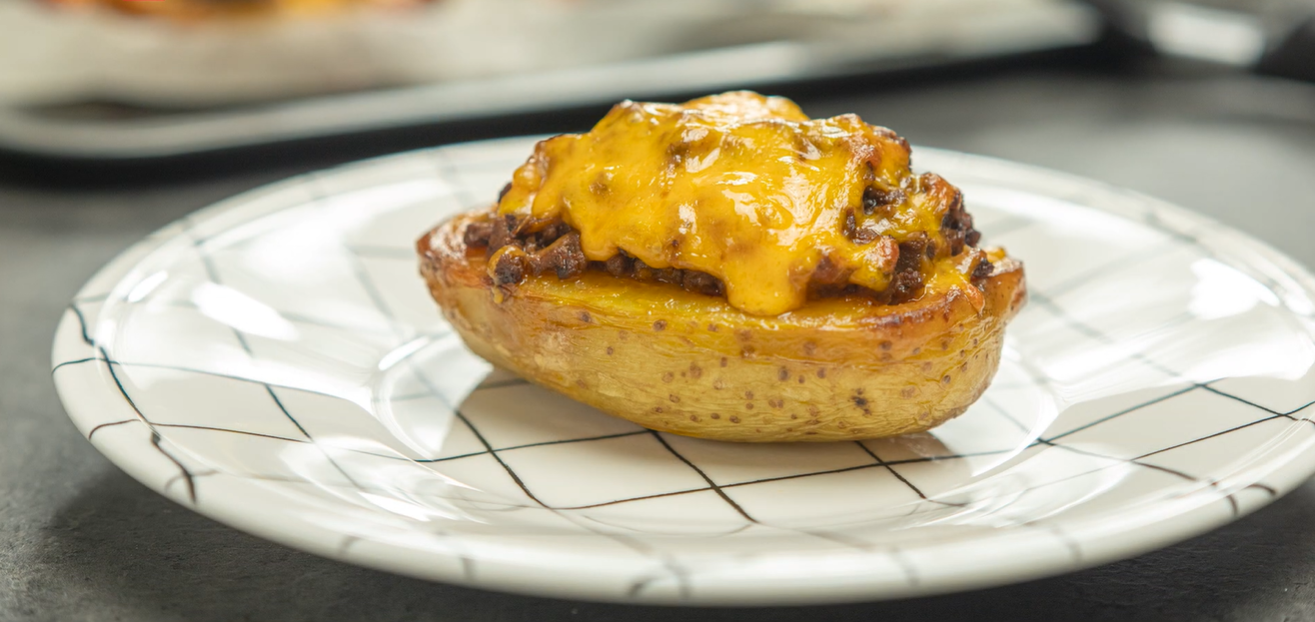 17 of 17
Beef Stroganoff
Last but definitely not the least on our list of baked potato toppings is beef stroganoff. Beef stroganoff (also known as beef stroganov in Russia) are sauteed juicy beef strips bathed in creamy mushroom gravy. Who would have imagined using this as a topping? Now that we think about it, it makes perfect sense as the creamy sauce makes an impeccable combination for the buttery, smooth texture of potato.

Try Recipe