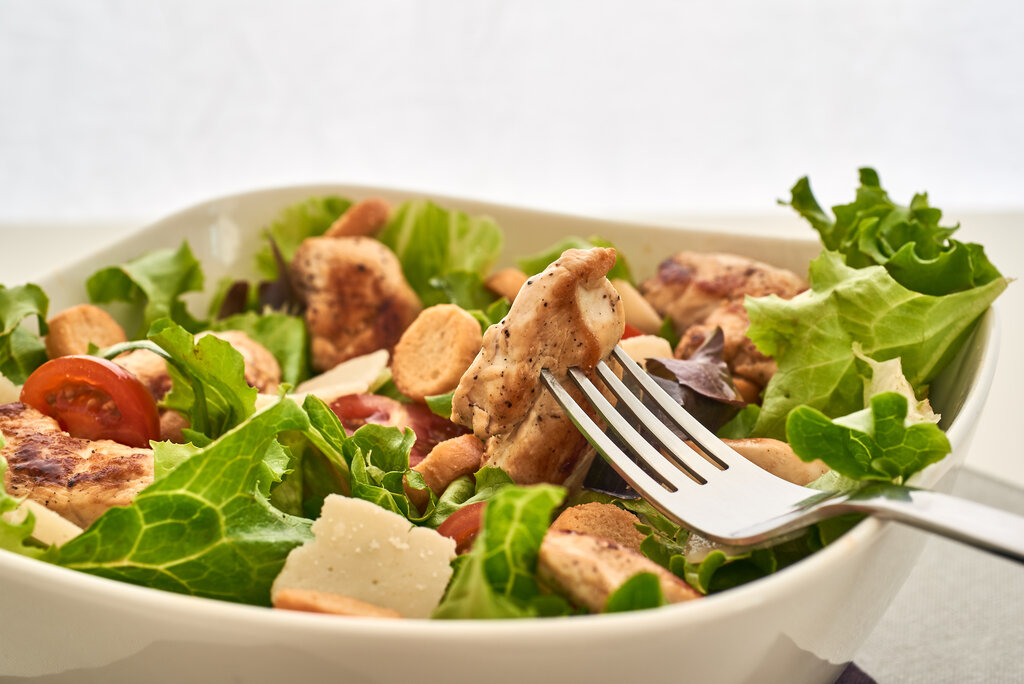 27 Easy Canned Chicken Recipes You Should Try At Home
You're looking forward to making this sumptuous peanut butter chicken breast for dinner. But like most days, you've been busy and forgot to take the poultry out of the freezer! Don't worry. If you have some canned chicken in your pantry, then you don't have to ditch your dinner plans. This canned food is a wonderful substitute for cooked, shredded, or cubed chicken in many dishes. Plus, most canned chicken recipes are easy to prepare and oh-so-delicious too. 
Before all else, is canned chicken even healthy? The simple answer is yes! In fact, it's an excellent source of protein. Even better is the meal prep which is way faster, given that canned meat is already cooked! 
At its heart, canned chicken is precooked, nutritious, and can be transformed into a slew of delicious dishes such as salads and stews. So, if you want to get dinner on the table as fast as possible, while not sacrificing the flavors, try your hands at these recipes with canned chicken. 
27 Easy and Delicious Canned Chicken Recipes
Thinking about what meal to prepare next can be a daunting task. Allow us to make things easier for you! Here are 27 quick chicken ideas that'll surely get you out of your cooking rut instantly. 
Chicken Nacho Tacos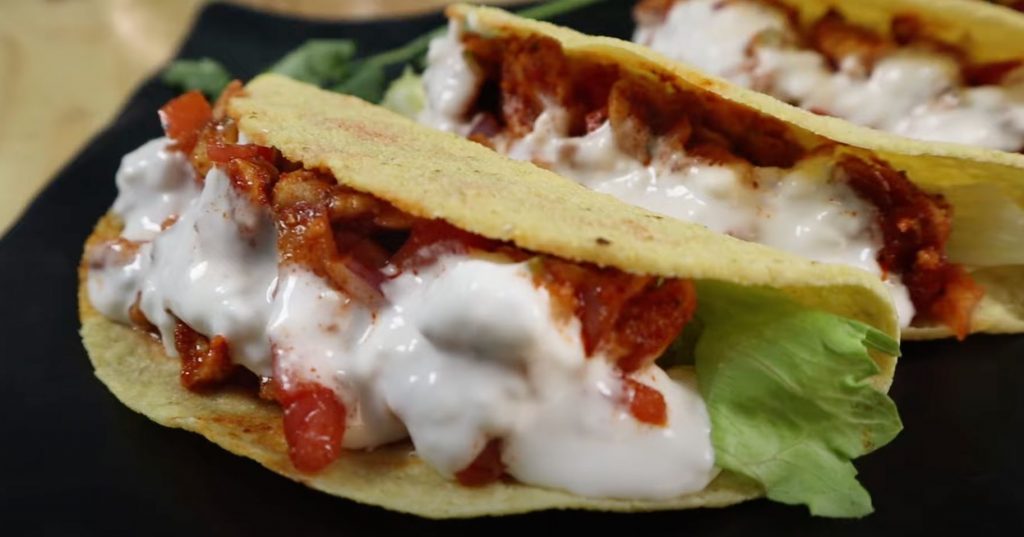 This delish canned chicken recipe couldn't be any easier to prepare! To start, you only need a handful of ingredients that you can find in your pantry. The nacho cheese soup delivers a nice spicy kick since it's simmered in onion and chili powder. As for the canned chicken, you can make use of any brand of your choice. 
What's even better is that it only takes 25 minutes to make these nacho tacos! So, you can whip up batches of this cheesy-spicy delight with no fuss for your next party.
Recipe for Inspiration: Chicken Nacho Tacos
Buffalo Chicken Dip
Sure, adding one type of cheese should be enough to elevate any chicken dip (and to satisfy your cheese craving). But three types of cheese? Your stomach would rumble just thinking about it! This buffalo chicken dip, aside from the cheesy palate, also has a kick of spice coming thanks to the hot sauce. 
This chicken dip is tangy and creamy, almost akin to the flavors of buffalo chicken wings. With that, this dip pairs well with tortilla chips, celery, carrots, and crackers. And you can have it in just about 30 minutes!
Recipe for Inspiration: #1 Buffalo Chicken Dip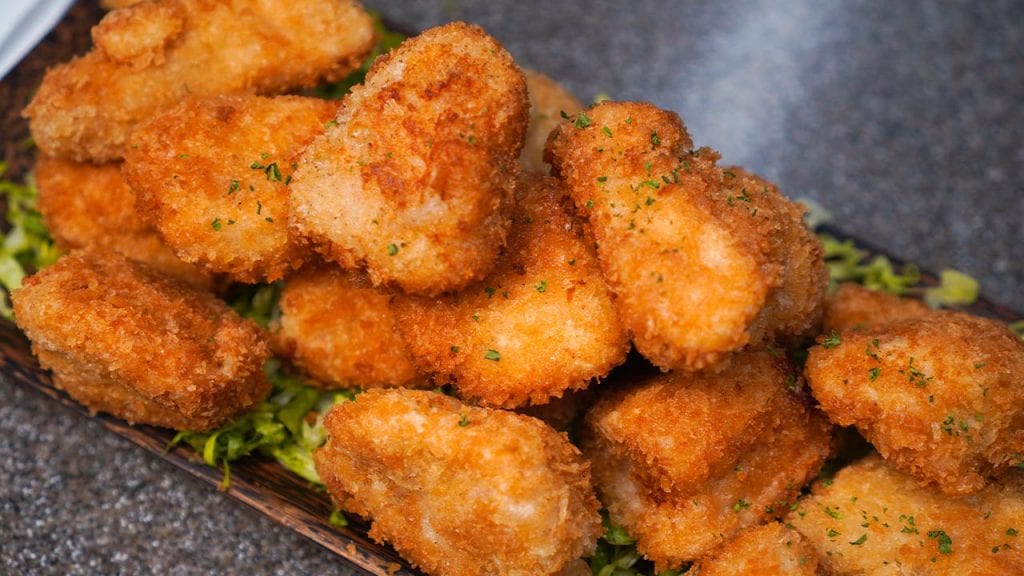 Do you love chicken nuggets? When it comes to these tasty snacks, perhaps Burger King's chicken nuggets tops your list. Lucky for you, you can make some for yourself any time you want! All you need are a few ingredients and you'll be done in around 25 minutes. 
This recipe lists chicken breasts cut into 1½-inch pieces, but you can just as easily use canned chicken as well. Also, we all want an extra crispy nugget coating, no doubt. So, we suggest you toast your breadcrumbs to have a crunchy exterior. Of course, your meal won't be as satisfying with your favorite sauce on the side. 
Recipe for Inspiration: Burger King Chicken Nuggets
Chicken Quesadillas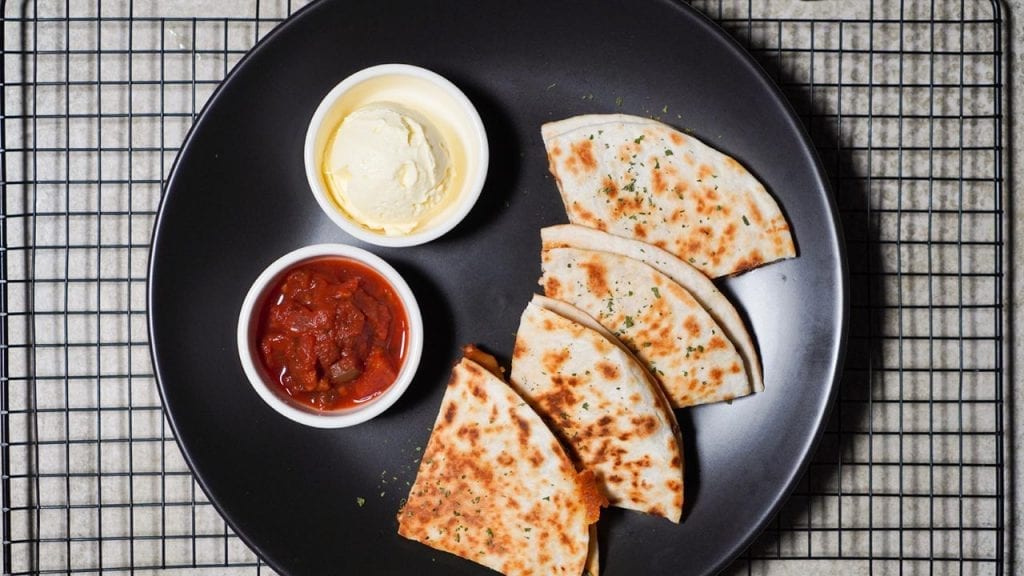 Who can say no to tortillas filled generously with cheese, chicken meat, beans, and various spices? If you love such an appetizing meal as much as we do, then here's an easy chicken quesadillas recipe!
Overflowing Mexican flavors combine with melted cheesy bliss in this easy recipe. Moreover, in place of the regular chicken breast strips, you can also use the canned one for much quicker meal prep. To complete the Mexican vibe, serve with classic salsa on the side. 
Recipe for Inspiration: Quick Chicken Quesadillas Recipe
Thai Chicken Wrap

Here's an easy Thai chicken wrap recipe whenever your craving strikes! One bite and you know it's bound to be one of your favorite chicken meals ever. Come snack or dinner time, you can whip up this scrumptious chicken wrap with no trouble at all. 
Now, the trick here is to use tasty burrito-sized tortillas, although you can also go for grain-free or gluten-free options. Packed with proteins, canned chicken can substitute for the chicken breast used in this recipe. And let's not forget about the other star ingredient, peanut butter! Once done, you'll see the peanut sauce creamily dripping all over the chicken meat.
Recipe for Inspiration: Thai Chicken Wrap
Chicken Patties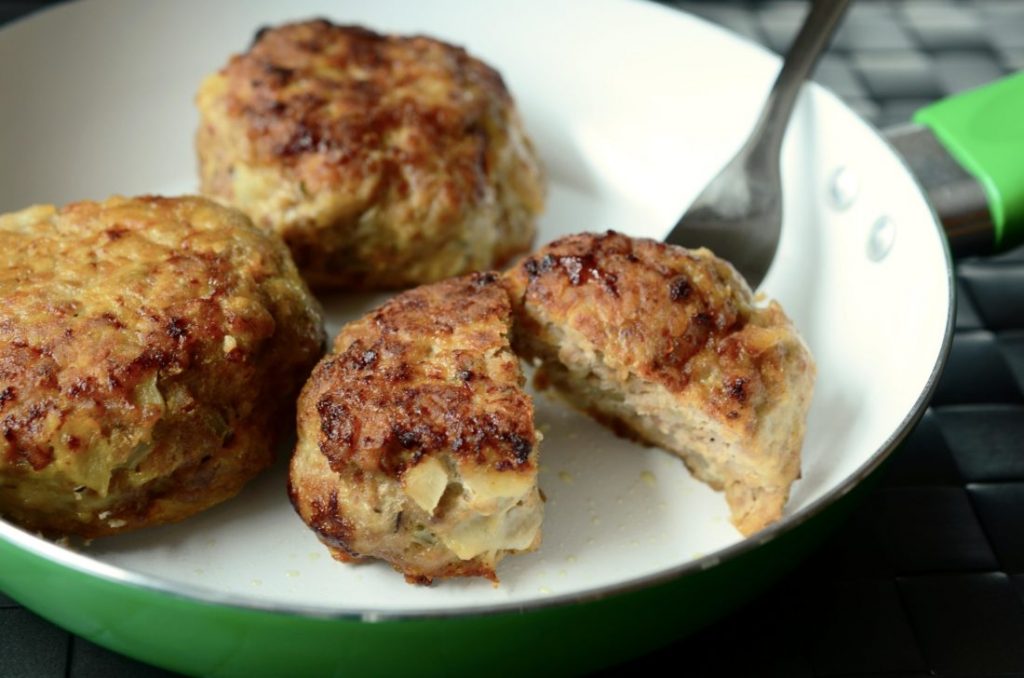 Now, we don't know about you, but there are days when we crave chicken patties. We can't blame you. Most chicken or turkey patties have all the delicious texture and rich flavor we want in a dish! If you want things spicy, here's a spicy chicken patties recipe for you. 
Each bite gives off a hot punch, making it your go-to patties if you wish to spice up dinner. And there's no need for a mile-long list when you go grocery shopping as it only requires a few ingredients. Speaking of ingredients, chipotle powder and cilantro all add up to the piquancy of these patties. The bell peppers and onions, meanwhile, provide a nice crunch. Moreover, you can make use of canned chicken just as you would ground chicken in this recipe. All in all, this recipe goes really well with rice or burger buns.
Recipe for Inspiration: Spicy Chicken Patties Recipe
Pesto Chicken Sandwich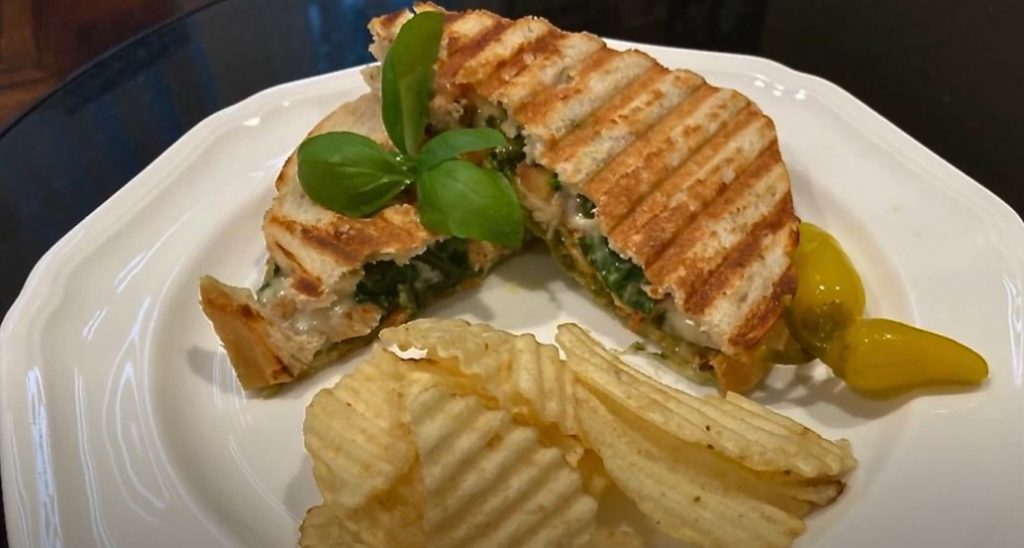 Made in just 10 minutes, this chicken pesto sandwich makes for a great weeknight meal standby. After all, this simple recipe comes together so quickly! Plus, you can share this filling meal with your loved ones, given that it's made for at least six people. 
As for the pesto, you can use the prepared one to make things easy for you. But making your own pesto for this chicken sandwich is a cinch, provided you follow the simple steps in the recipe. Overall, the fresh and creamy palate of this sandwich is all thanks to it plus mayonnaise. 
Recipe for Inspiration: Basil Pesto Chicken Sandwich
Canned Chicken Salad Recipes
A bright plate of chicken salad is everyone's summer potluck favorite. This dish and its base recipe might seem simple but there are many ways you can spruce it up. Below are some chicken salad recipes that are equally delicious. Remember, you can make use of canned chicken in the following recipes.
Chicken Salad Wrap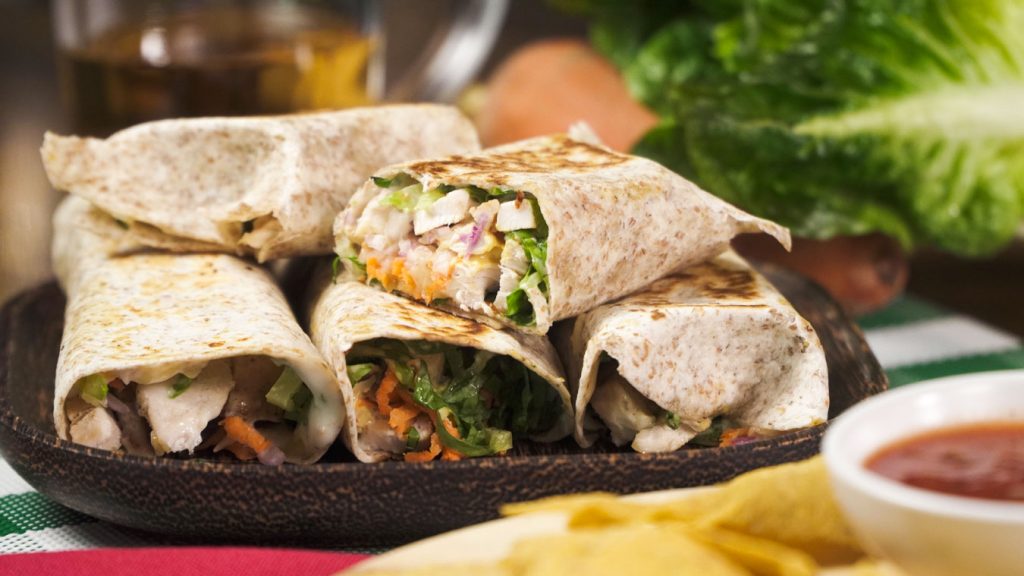 In search of a quick and filling lunch wrap? Then try this easy-to-make grilled chicken salad wrap. It's all about the flavorful ranch dressing (of your choice) and the underlying lemon taste. You can enjoy this chicken wrap with nacho chips or tomato salsa. Note that while the recipe uses chicken breasts, they'll be cut into strips anyway. Hence, why you can use canned chicken as well!
Recipe for Inspiration: Grilled Chicken Salad Wrap
Barbecue Chicken Salad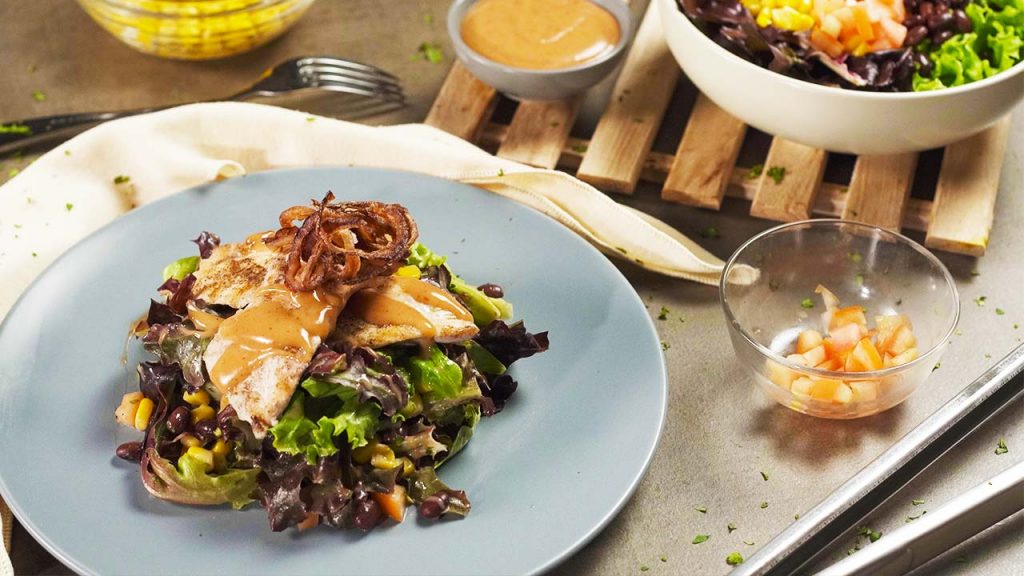 Healthy and delicious, this barbecue chicken salad recipe is about to be your new favorite among the many barbecue chicken variations. The best thing about this sumptuous recipe is you can customize the mixture, depending on your preference. And let's not forget about the key ingredient, the delicious sauce to slather your smokey and tender chicken barbeque with. To make it all the more refreshing, make sure the lettuce you'll be using is fresh and crisp.
Recipe for Inspiration: Barbecue Chicken Salad
Chicken Avocado Taco Salad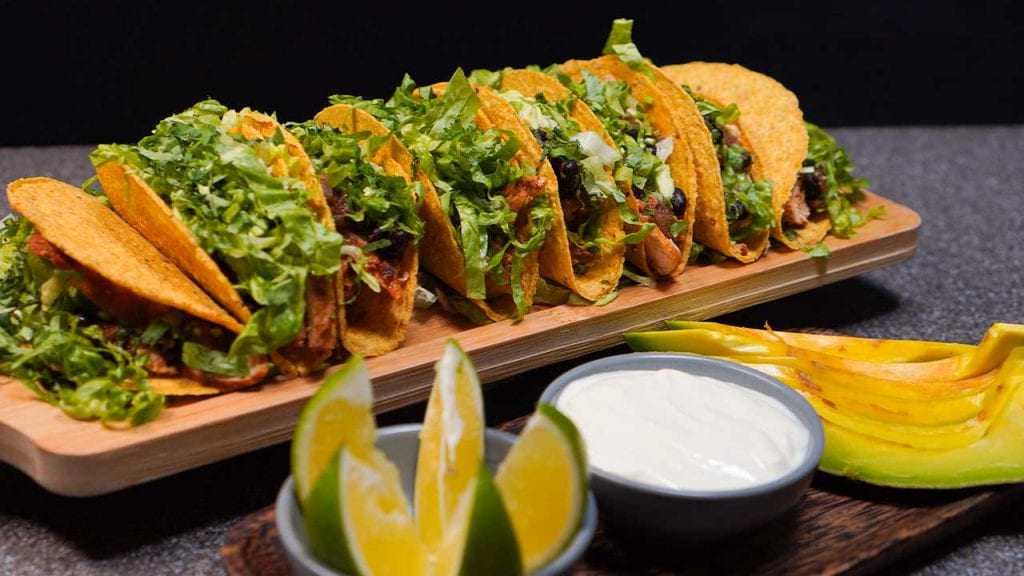 Are you getting tired of the regular taco salad? Then it's high time to explore other tasty variations just like this chicken taco salad! Not only is this chicken salad flavorful, but it's healthy as well! Know that there's a hint of piquancy from the paste, which contrasts the freshness of the vegetables. Lastly, we recommend that you soak the canned chicken in the spice paste marinade for at least four hours before firing up that grill.
Recipe for Inspiration: Copycat Pollo Loco Double Chicken Avocado Taco Salad
Canned Chicken Pasta Recipes
It's almost time for dinner but you're still on the brainstorming stage. Chicken or pasta? Why not combine the two and elevate your weeknight dinners? With that, here are some pasta recipes with canned chicken for you. 
Chicken Penne Primavera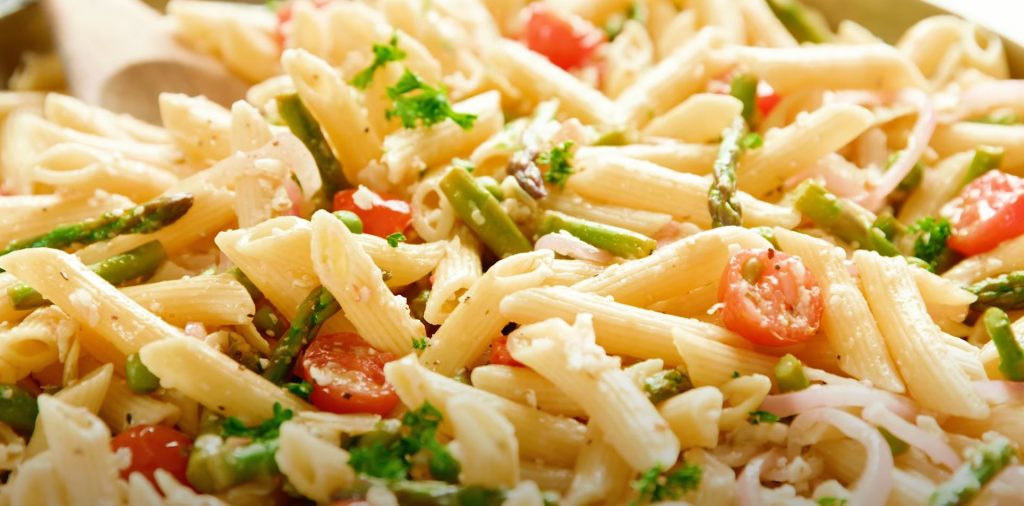 An Italian classic, this Penne primavera is a delicious option if you're looking for an easy pasta recipe with chicken. Normally, Italian dishes take time to whip up, but this canned chicken pasta recipe proves us wrong as it's ready to serve in just 30 minutes. Now you can bring Italian flavors to your dinner table even though you're in a time crunch!
Recipe for Inspiration: Chicken Penne Primavera
Chicken Spaghetti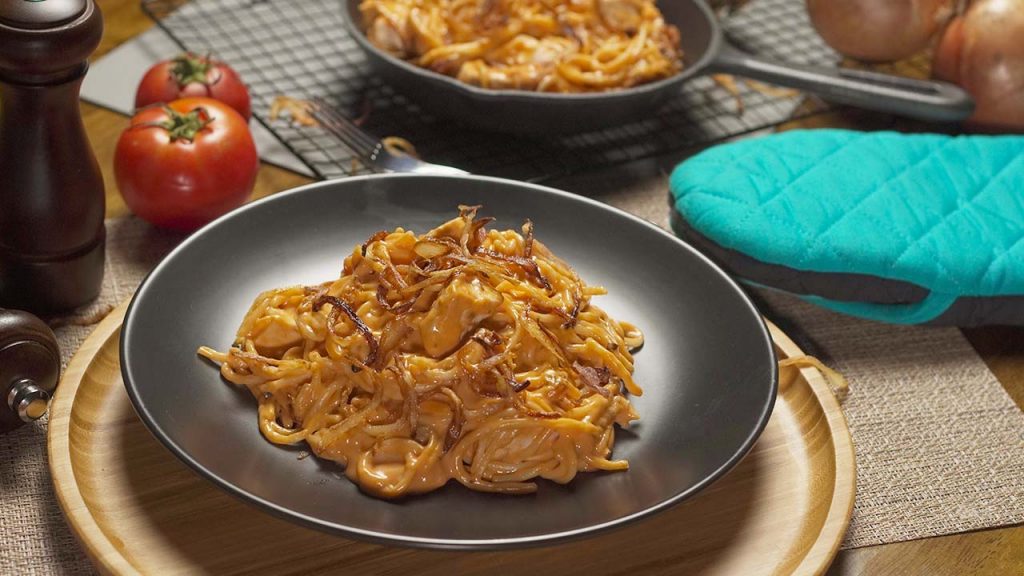 Chicken spaghetti is delicious and all, but if you want to take your pasta dinner to the next level, try giving it a creamy spin. After all, you can't go wrong with such a delicious chicken pasta recipe. And it only takes about 35 minutes to prep this cheesy and creamy spaghetti. Replace the chicken breasts used in this recipe with the canned ones and you won't even taste the difference. 
Recipe for Inspiration: Creamy Chicken Spaghetti
Cajun Chicken Pasta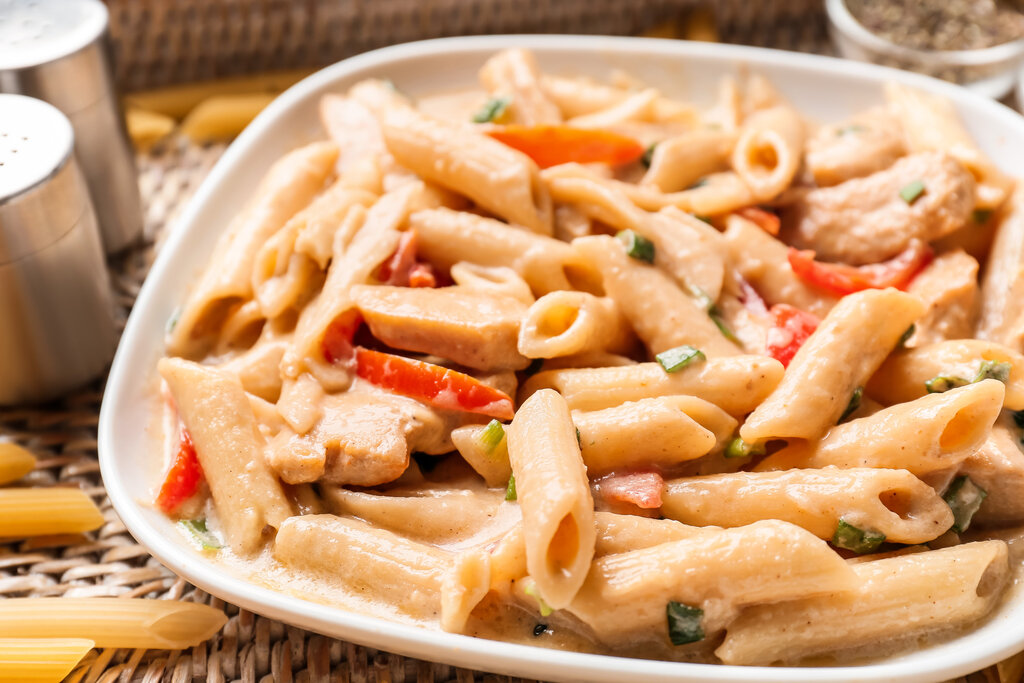 Cajun seasoning does wonder to many recipes, including chicken and pasta ones. In this recipe, the chicken strips are slathered with the seasoning before being sautéed with the linguine-vegetable mixture. That way, the result will be more flavorful and satisfying. Now, this recipe calls for chicken breast strips, but you can also use canned chicken instead. The result will be as delicious!
Recipe for Inspiration: Cajun Chicken Pasta
Chicken Pasta Bake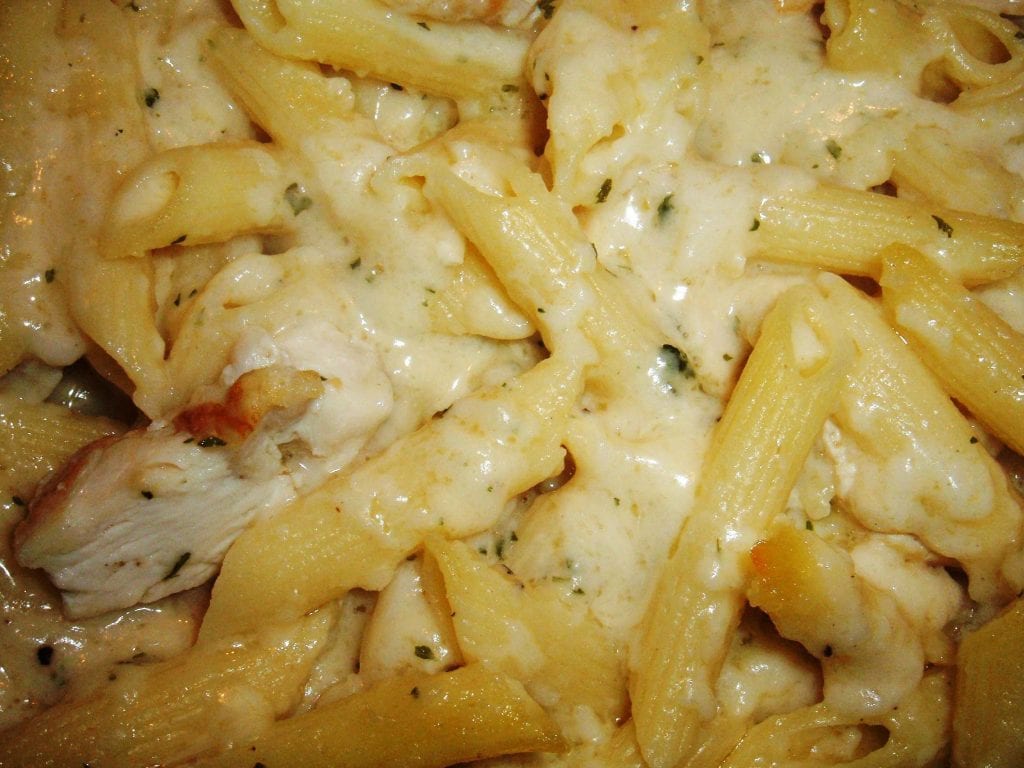 Chicken pasta recipes, without a doubt, are oh-so-satisfying. And this particular chicken pasta recipe is no exception. It's all about the mascarpone and lemon mixture, chicken, tomato, and cheese. Good for eight people, this recipe is a perfect meal of choice for a weekend dinner with the family. 
Recipe for Inspiration: Mascarpone Chicken Pasta Bake
Sonoran Chicken Pasta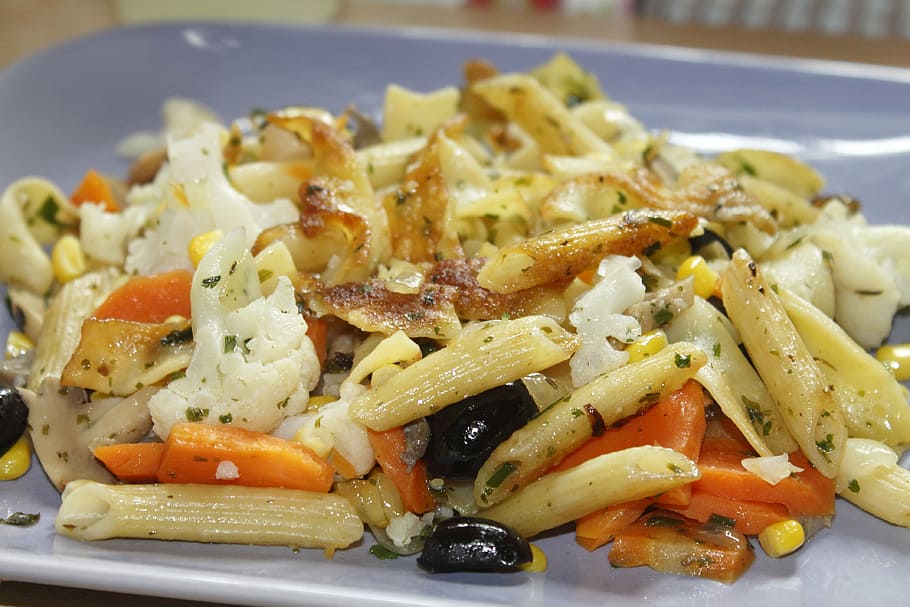 Perhaps we can agree on one thing: chicken pasta recipes are a surefire way to impress your dinner guests. So, if you have planned on inviting some friends over this weekend, feel free to check out this sumptuous chicken pasta recipe inspired by Ruby Tuesday's. The spicy sauce, specifically, gives the dish a taste almost akin to Ruby Tuesday's recipe. 
Recipe for Inspiration: Copycat Ruby Tuesday's Sonoran Chicken Pasta
Canned Chicken Soups and Stews Recipes
When the weather is cold, soup recipes take over our kitchens. Sure, store-bought ones are tasty and easy to make, but nothing compares to homemade stuff! Now, there are many cozy weather soups out there, but chicken soup and stew recipes are absolute favorites. Here are a few canned chicken recipes that are all easy to whip up:
Chicken Taco Soup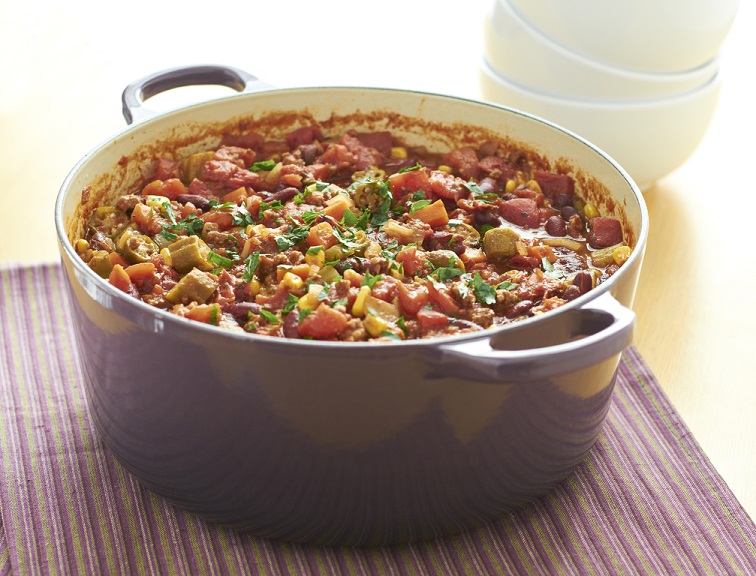 Ever tried chicken taco soup, or in other words, tacos but in soup form? Well, if you haven't, look no further than this recipe! First of all, this chicken soup is easy and quick to prepare. In just 30 minutes, you'll be enjoying a bowl of rich and creamy goodness. As for the ingredients, this recipe calls for easy-to-find foodstuffs including corn, beans, and more. It also packs a nice punch, all thanks to the jalapeño and bell peppers. Even better, you can swap the bite-sized chicken breasts with canned chicken easily.
Recipe for Inspiration: Easy Chicken Taco Soup
Chicken Noodle Soup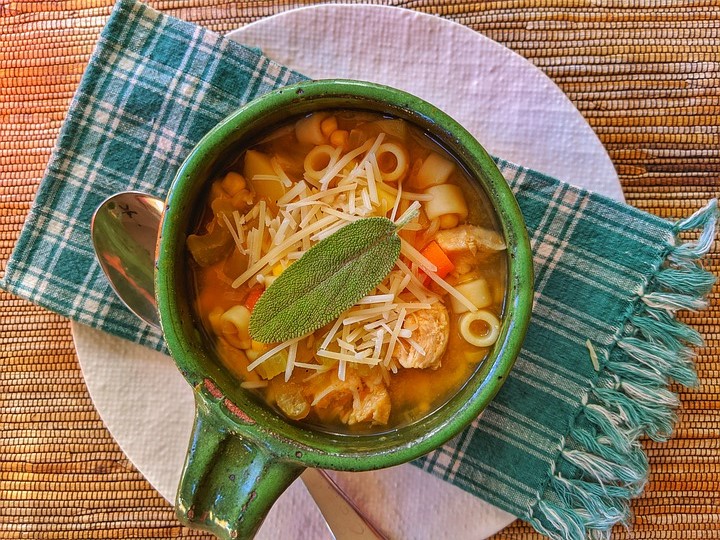 Some nights all you want is to curl up on the couch with a comforting meal like this chicken noodle soup. This recipe makes a filling soup with flat-leaf parsley, carrots, celery, ribs, egg noodles, and more. While it calls for regular chicken pieces, you can also use canned chicken. Simple and easy to prepare, this soup is ready in one hour and 30 minutes. 
Recipe for Inspiration: Homestyle Chicken Noodle Soup
Chicken Stew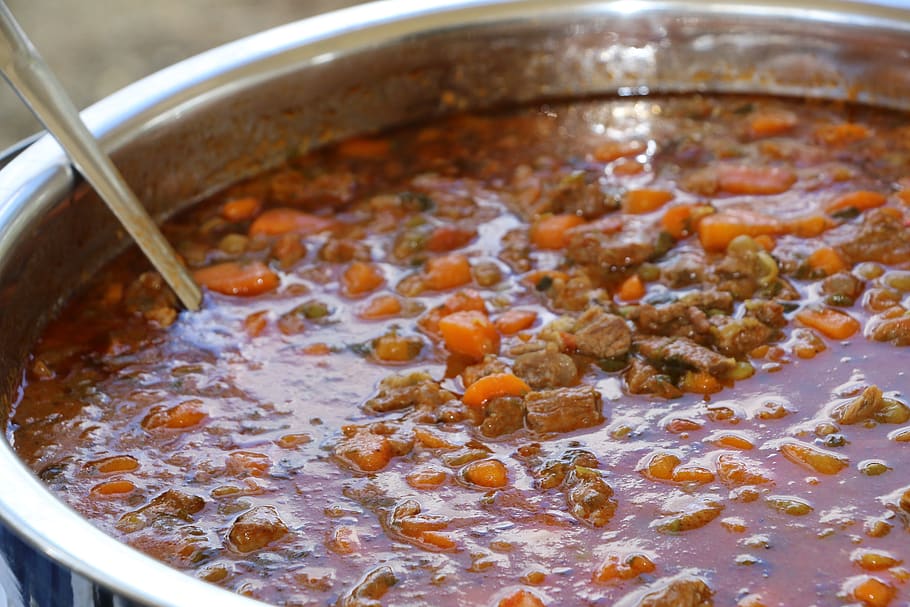 What better way to warm up during cold nights than with a warm bowl of chicken stew? Now if you're too busy to prepare a comforting meal, here's a chicken stew that should require no extreme effort on your part. All you need to do is toss the ingredients in the crockpot and wait until it's ready to serve! This soup, bursting with Italian flavors, makes a perfect family meal. It's quick to prepare, all while being palatable and healthy.
Recipe for Inspiration: Crockpot Italian Chicken Stew
Canned Chicken Dinner Ideas
Grabbing a frozen chicken from the freezer and just popping it in the oven doesn't sound that exciting. We mean, dinners should be special and not bland and repetitive. So, to help you make noteworthy meals, here are quick and easy dinner recipes using canned chicken.
Chicken Casserole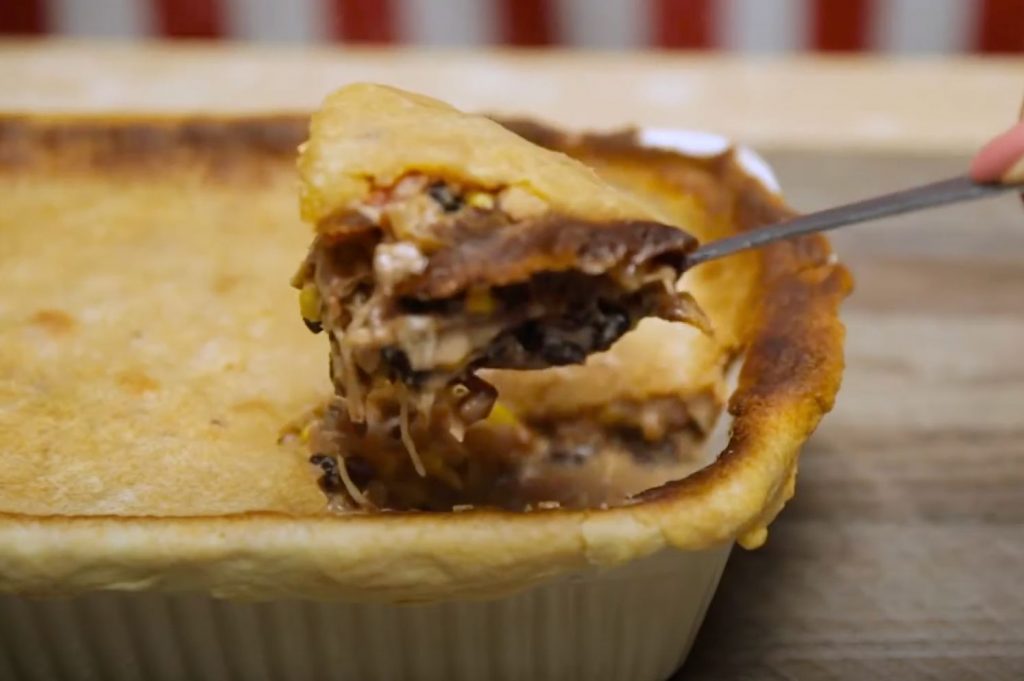 It's always nice to serve something that'll make the family look forward to dinner. Enter this satisfying chicken casserole. The flavorful filling consists of canned chicken breast, salsa, soup, sour cream, cheese, and more. On top of all that, and quite literally, is the crispy golden crust! Not only is this casserole rich and delicious, but it's also quick and easy to prepare. This chicken dish should grace your dinner tables in less than an hour.
Recipe for Inspiration: Fiesta Chicken Casserole
Chicken and Bean Burritos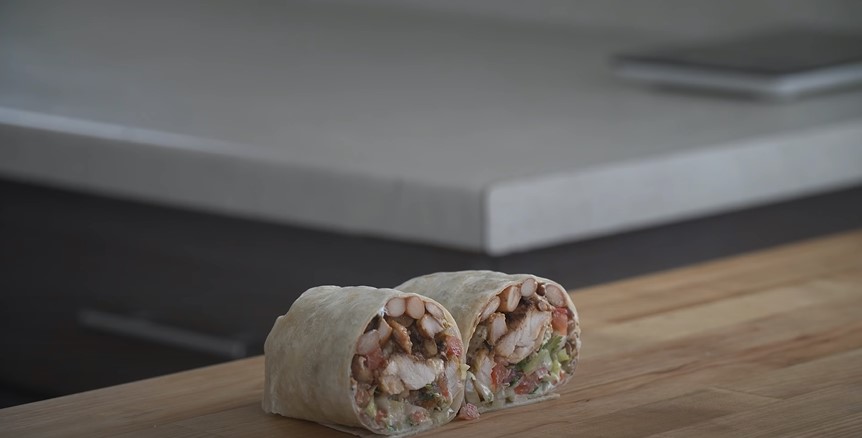 Picture this: you're enjoying a flavorful chicken burrito and the filling isn't falling out! What a dream! We mean, who doesn't want less mess on the hands while munching on these tasty snacks? Now, here's a recipe we're sure won't fall out. Chunky salsa, condensed Bean with Bacon Soup, and canned chicken breast team up in these chicken and bean burritos. In 20 minutes, you'll be savoring warm Mexican flavors straight away! 
Recipe for Inspiration: Chicken and Bean Burritos
Chicken Pot Pie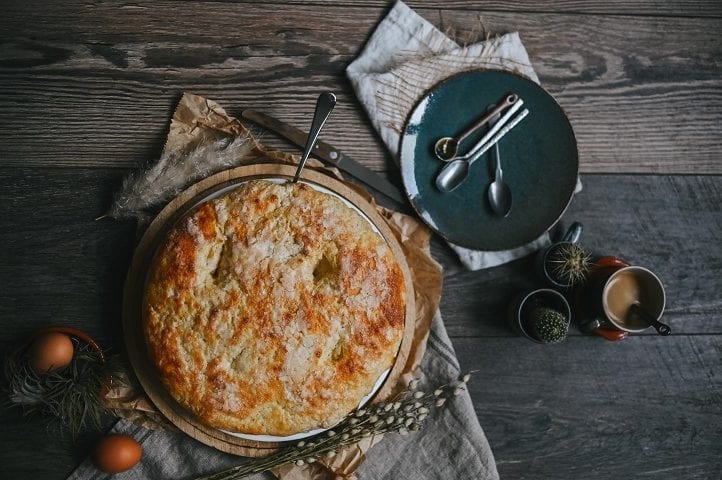 Who says you can't enjoy a rich chicken pot pie when you're trying to cut back on carbs, calories, or fat? Here's a much healthier take on the classic chicken casserole. This recipe, for one thing, makes use of fat-free and low-sodium chicken broth. And even with that, this dish still has all the richness and deliciousness of the traditional version. 
Recipe for Inspiration: Healthy Diabetic-Friendly Chicken Pot Pie
Chicken Enchilada Casserole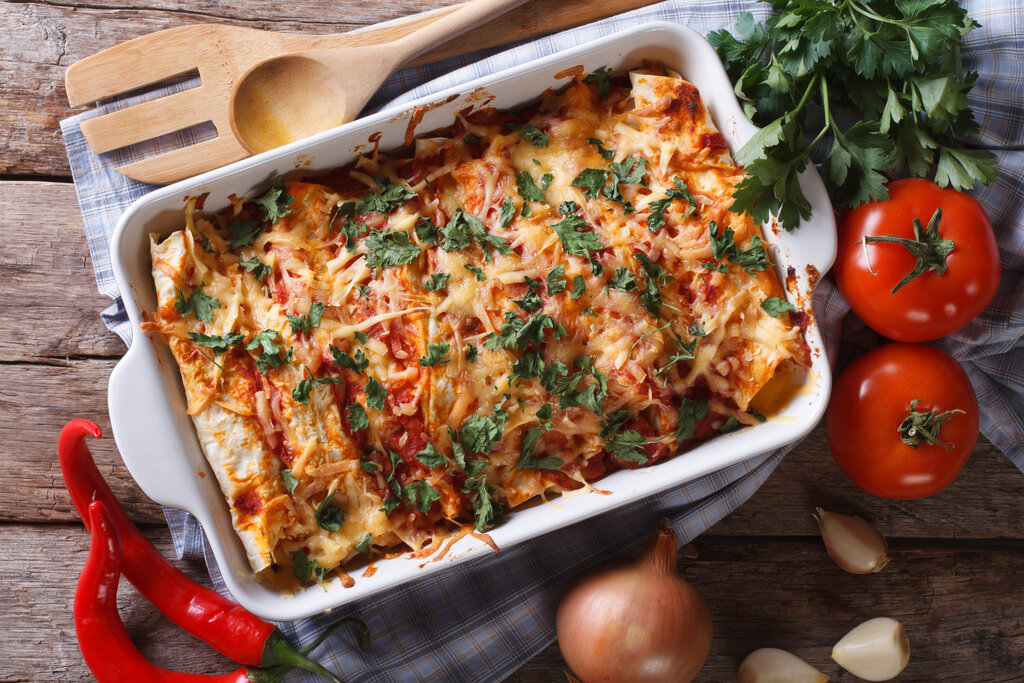 Craving chicken enchilada? You're in the right place! Here's an easy chicken enchilada casserole recipe, all with the stacked layers and staple Mexican flavors. This recipe needs only a handful of ingredients, which most are probably in your pantry already. Ready in just an hour and five minutes, this Mexican dish couldn't be any easier to prepare! Of course, it has that spicy kick which most Mexican recipes are known for. 
Recipe for Inspiration: Chicken Enchilada Casserole
Chicken Fried Rice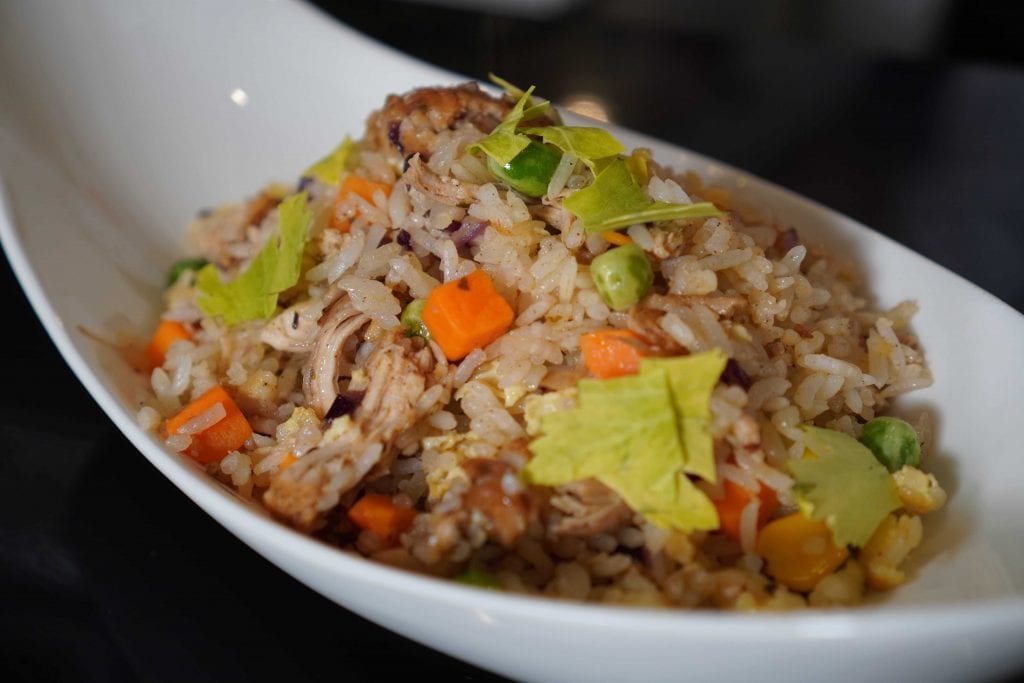 Fried rice. It's such a filling dish we can eat all day, right? The only downside is that whipping this carb-loaded dish, even the usual Chinese takeout, might take more work than others would like. Takeouts can be a bit expensive, too. So, why not just fry away with your own version? Incorporate vegetable oil, cooked and shredded chicken, and mixed veggies for a change. This chicken fried rice is just as tasty, plus you're all set for dinner in just 20 minutes.
Recipe for Inspiration: Shredded Chicken Fried Rice
Chicken Sandwich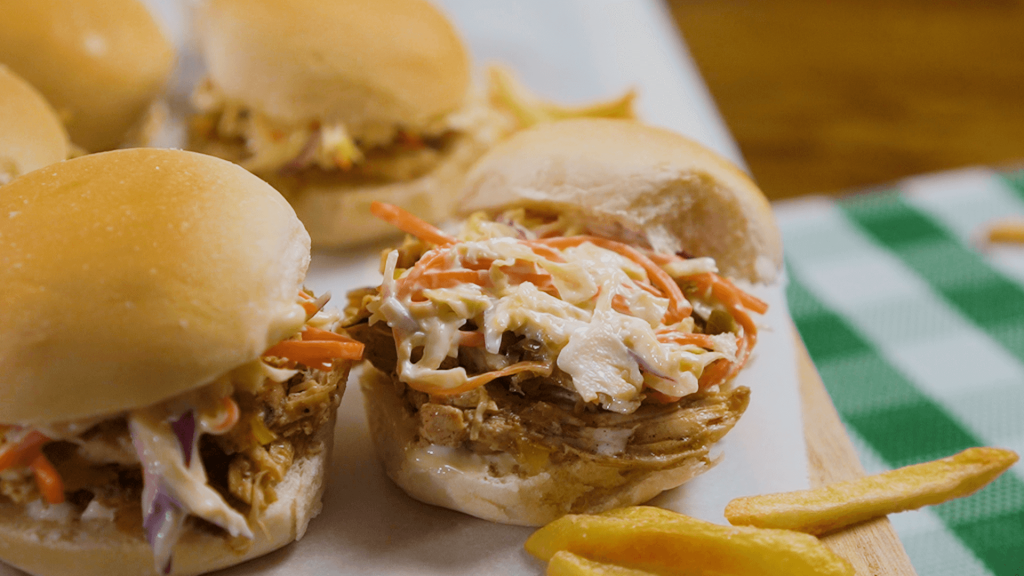 Wondering what else to make with canned chicken? If you want to go for something totally easy, make a chicken sandwich! This makes for a great meal if you're looking for a quick snack or an easy and filling dinner. Aside from securing savory flavors, we use chicken breasts because it's way faster to cook. Plus, it contains a lesser amount of fat too. This recipe, moreover, also bursts with different flavors thanks to various herbs and spices.
Recipe for Inspiration: Black Pepper Shredded Chicken Sandwich 
Chicken Noodle Casserole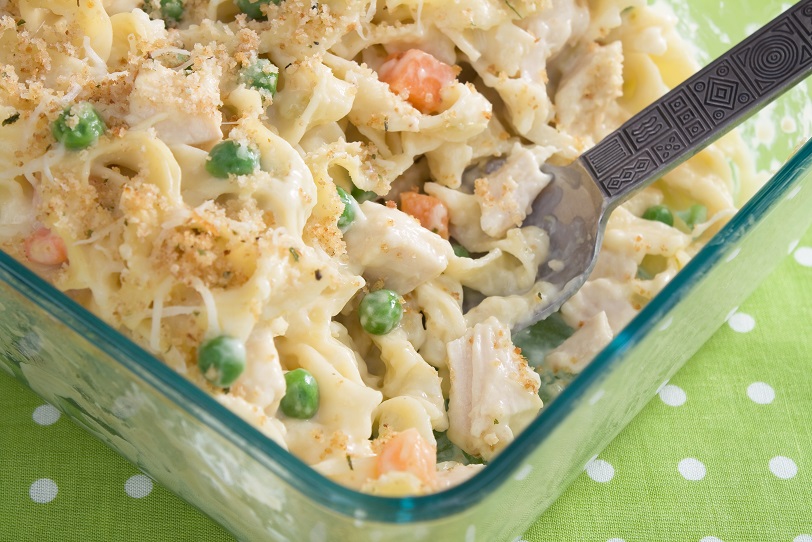 Who doesn't love a rich and creamy meal for dinner? This noodle casserole, slathered with creamy sauce, will please everyone in the family. Even better is that this filling chicken dish comes together in just 45 minutes. It's easy to prepare and just mouthwatering, and the leftovers are just as filling the next day!
Recipe for Inspiration: Chicken Noodle Casserole
Chicken and Rice Casserole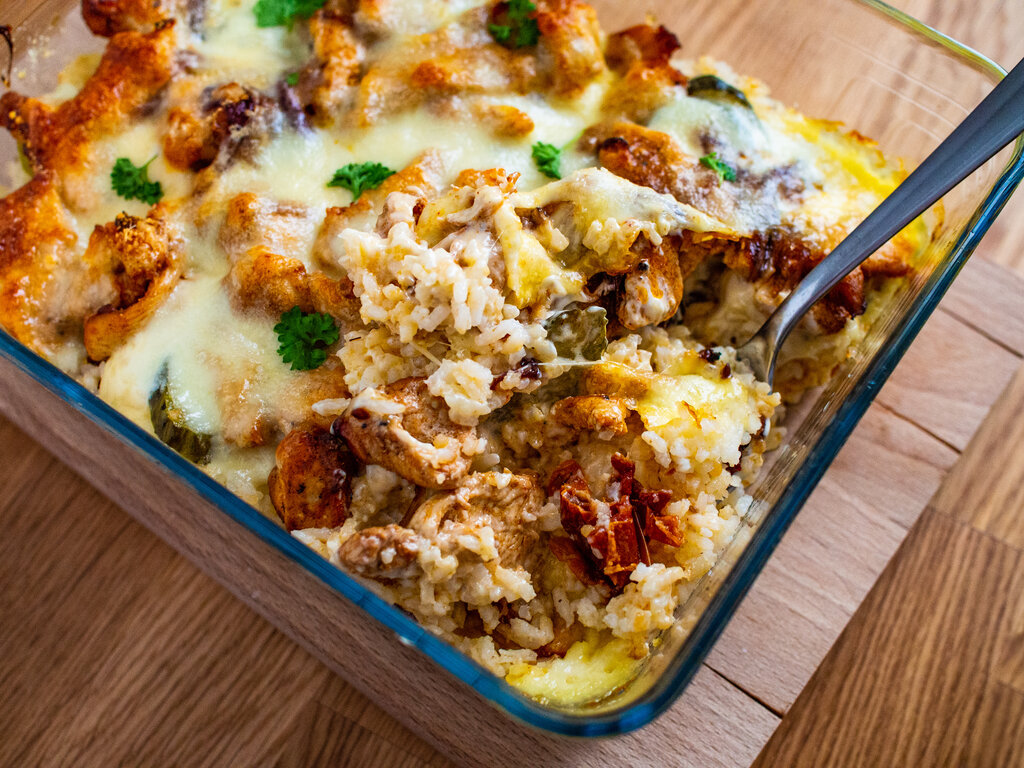 Any rice or chicken leftovers from last night? Lucky for you, there are ways to make use of their deliciousness the following day. Take this chicken and rice for example. Off the bat, it's the kind of dish you turn to time after time. And you don't have to spend much as you can just use leftover rice. As for the chicken, the canned one can also do wonders on this recipe. This casserole, with all its deliciousness, will save you from your dinner-planning woes straight away! 
Recipe for Inspiration: Chicken and Rice Casserole
Chicken Cordon Bleu Roll-Ups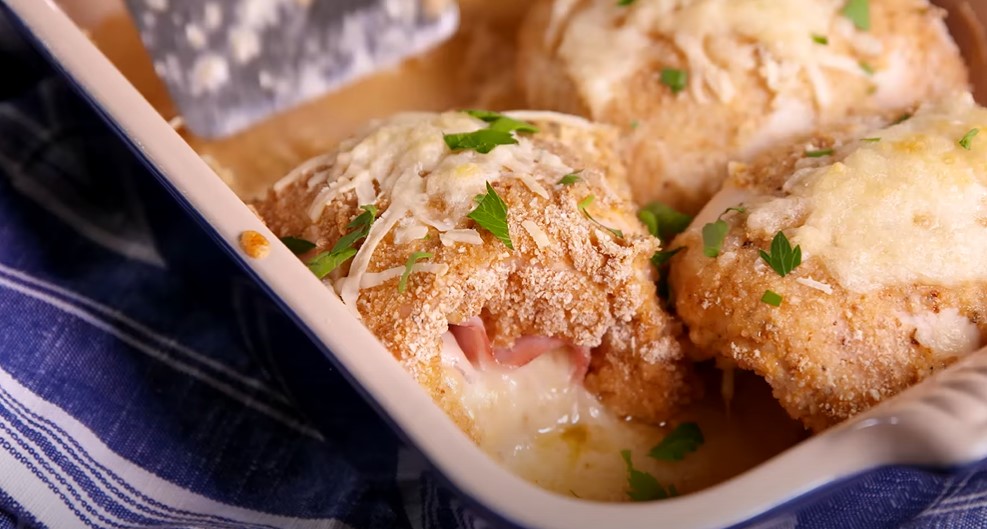 A filling and creamy baked recipe after a long day at work is truly a godsend. More creamy goodness with underlying cheesiness, you say? Then you'll love this one. In this recipe, we use cream of chicken soup, cream cheese, and heavy cream to unravel the wonderful flavors of this baked dish. Not to mention, the combination of Alfredo pasta and chicken cordon bleu takes your weeknight dinners to another level. Fill the lasagna noodles with chicken, bacon, and ham, roll them up, and pop them in the oven. The best part? This recipe only takes less than an hour! 
Recipe for Inspiration: Chicken Cordon Bleu Roll-Ups