This peanut butter chicken breast recipe is an Asian-inspired dish. It is cooked with a delicious spicy peanut sauce. Additionally, the chopped peanuts add to its crunchy and creamy texture. As an Asian-inspired recipe, we prefer this dish served over a steaming bowl of brown rice. But, you can have it on top of mashed potatoes as well. Also, this peanut butter chicken reminds us that eating healthy isn't limited to fruits and vegetables. After all, this dish is a great way to have lean protein while in a pinch. 
Moreover, this peanut butter chicken recipe is too ideal for busy bees with little time to cook. And though it doesn't require much preparation, the end result will taste like you worked on it all day. In fact, it's truly a simple recipe to make but the flavors are rich and nutty. With this recipe, the chicken absorbs the flavors of its sauce all while providing a nutty crunch. The sauce is made up of thickened chicken broth mixed with honey and butter, which creates a smooth and velvety texture. It's a recipe that continues to impress even as leftovers. By that, we mean any extras can be placed in air-tight containers and kept in the fridge for 3 days.
The ingredients of this peanut butter chicken recipe complement and enhance each flavor rather than overpower each other, creating a harmony of flavors. If you wish to try another easy chicken recipe, we have Easy Orange Chicken, a beloved Asian recipe for generations. So, if you're ready, let's head right into the kitchen and make ourselves some delicious peanut butter chicken breast.
Peanut Chicken Breast Recipe
How to Make Peanut Chicken Breast
This Peanut Butter Chicken Breast is a quick, nutty, and creamy dish that adds a little spice to your regular chicken recipe.
Ingredients
For Chicken Filling:
2

tsp

tabasco

2

tbsp

peanuts,

chopped and unsalted

1

tbsp

white onion,

minced

1

tbsp

parsley

1

tbsp

garlic,

minced

¼

cup

peanut butter

½

tsp

pepper

2

tbsp

soy sauce
For Sauce:
2

tbsp

soy sauce

1 ⅓

cups

chicken broth

1

tbsp

butter,

melted

2

tbsp

honey

1

tbsp

cornstarch

3

tbsp

olive oil

2

tbsp

green onions,

for garnish
Instructions
Slice the chicken breasts into halves, resulting in 4 thinner pieces to work with.

To make Chicken Filling: Combine the tabasco, peanuts, onion, parsley, garlic, peanut butter, pepper, and soy sauce in a bowl and stir well.

Spread across on the inner sides of each chicken breast. Fold in half and secure with a small skewer.

To make Sauce: In a separate bowl, mix the chicken broth, soy sauce, melted butter, honey, and cornstarch until well combined.

Heat olive oil in a pan before adding the stuffed chicken breast pieces. Sear until golden brown on each side. Set aside.

Add broth mixture to the same pan and simmer until it reduces by half. This would take about 15 minutes.

Add chicken pieces back into the sauce and cook for another 5 to 8 minutes or until chicken is cooked through but still tender.

Remove the chicken and continue to reduce sauce until nicely thickened.

Remove skewers from the chicken and serve with the sauce. Garnish with chopped spring onions and Enjoy!
Nutrition
Sugar:

11g

:

Calcium:

21mg

Calories:

302kcal

Carbohydrates:

17g

Fat:

24g

Fiber:

2g

Iron:

1mg

Potassium:

243mg

Protein:

8g

Saturated Fat:

4g

Sodium:

1465mg

Vitamin A:

235IU

Vitamin C:

10mg
Nutrition Disclaimer
Frequently Asked Questions
Can I use other chicken parts aside from chicken breasts?
Absolutely! You can use whichever chicken part you prefer. We believe chicken breast is a great base for the recipe but any chicken part available will do. You can also try to increase the amount of filling and slather it over a whole chicken before popping it into the oven for a larger serving.
 Alternatively, can I use walnuts, almonds, or pistachios?
Yes, you may. Using walnuts or almonds can be a healthier option compared to regular peanuts. Additionally, you may want to chop them in tinier pieces as other nuts such as walnuts come in rougher and larger sizes.
What is pan-searing?
Pan-searing is a technique used for creating a browned crust on the meat using high heat in a shallow pan. The most popular example of this is browning steaks in a cast iron pan. Searing builds a deep flavor and crunchy texture for a caramelized chicken breast.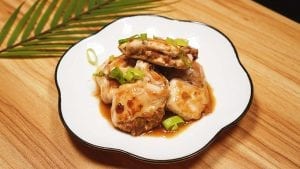 Conclusion
This peanut butter chicken recipe is a perfect weeknight meal, especially when you've grown tired of baked vegetables or meatless dishes. The chicken absorbs all the flavors of the tasty filling and rich broth, resulting in a tasty dish packed with nutty and creamy flavors. Despite calling for more preparation than usual compared to other chicken recipes, this peanut butter chicken promises moist and juicy chicken breasts.