Don't be discouraged from trying food from other countries! Mexican food may look complicated, but it's actually easy to make. And no dish proves that more than quesadillas. If you have some leftover chicken stored in your fridge, then get ready to make yourself some chicken quesadillas! With our Quick Chicken Quesadillas Recipe, we'll show you how making one of the most popular Mexican food in the world is child's play. All you'll need is a handful of ingredients you can easily get from any grocery store and you're set to making this classic Mexican dish!
Not many people know that quesadillas are actually a type of taco. It's made of tortillas, a thin flatbread, and filled with signature ingredients like cheese, meat, beans, and various spices. Full quesadillas have two tortillas sandwiched together with cheese in the middle. It has a long history in its origin country, dating all the way back to when Mexico was still under Spain. It has now evolved, with many different variations enjoyed all over the globe. Other countries have experimented with this dish by using different ingredients. Some have used goat cheese, black beans, and even tofu! In the United States, it's mostly served as an appetizer or a snack.
It's become a staple Mexican dish that's loved by most people, from kids to even grandparents. With our Quick Chicken Quesadillas Recipe, we'll show you how effortless it is to make at home with simple ingredients and just a few minutes time. It's so easy to make, you can even ask your kids to come and help you make this delicious snack. And when you're done, how about pairing this dish with our Fresh Tomato Salsa?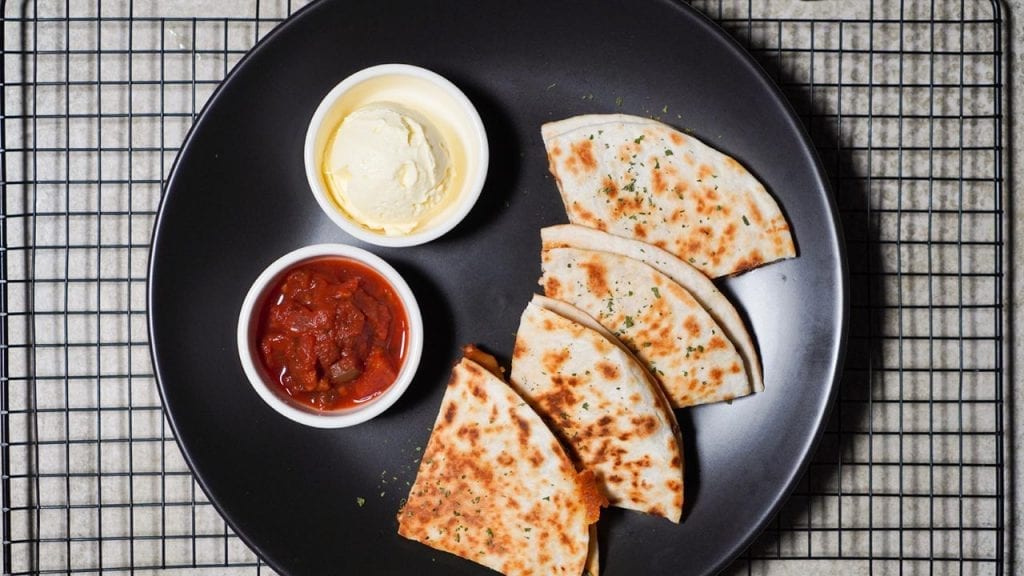 Quick Chicken Quesadillas Recipe
How to Make Quick Chicken Quesadillas
Bursting with cheese and strips of chicken breast, make your taste buds and tummy happy with a quick and easy-to-make chicken quesadillas recipe. Pair it with classic salsa and you're all set!
Ingredients
6

oz

pre-cooked chicken breast strips,

refrigerated, southwest-flavored

½

cup

Mexican salsa

6

tortillas

1 ½

cups

cheese blend,

finely shredded

cooking spray

2

tbsp

sour cream,

for serving

2

tbsp

salsa,

for serving
Instructions
Cut chicken breast into bite-size pieces.

Add salsa sauce and mix thoroughly.

Spritz one side of tortilla with cooking spray.

Put a layer of cheese on the tortilla, followed by chicken, and then another layer of cheese.

Spritz another tortilla with cooking spray. Place over filling.

Grease pan with cooking spray. Cook tortillas over medium heat, uncovered for 4 to 6 minutes.

Flip over after about 2 minutes and continue cooking until both sides are golden brown.

Cut quesadillas into triangles.

Serve with sour cream and salsa. Enjoy!
Recipe Notes
This recipe allows for flexibility in terms of ingredients, as you can use either a corn or flour tortilla, or other kinds of cheeses. Replacing the ingredients with your preferred type won't affect the desired outcome.
Nutrition
Sugar:

3g

:

Calcium:

104mg

Calories:

225kcal

Carbohydrates:

19g

Cholesterol:

22mg

Fat:

11g

Fiber:

1g

Iron:

1mg

Potassium:

234mg

Protein:

15g

Saturated Fat:

2g

Sodium:

742mg

Vitamin A:

158IU

Vitamin C:

1mg
Nutrition Disclaimer
Frequently Asked Questions
Does quesadilla need to have cheese in its ingredients?
The popular version of quesadilla we know uses cheese, but other variations of this dish don't actually use cheese as an ingredient. So no, quesadillas don't actually need cheese for it to be one.
Can you make quesadillas healthy?
Homemade quesadillas are definitely healthier than ones bought at fast-food restaurants, if you decide to use healthy ingredients. You can swap your corn or flour tortilla with a kind that's made with whole grain. You can also use low-fat cheese and replace the meat with vegetables.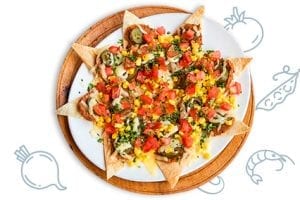 Conclusion
Our Quick Chicken Quesadillas Recipe proves that you don't need to be a chef to serve up delicious meals. Throwing together some pre-packed ingredients and cooking it in a grill is magical on its own. Especially if you end up making delicious quesadillas!