Whenever we think of fast-food chicken nuggets, it would be impossible not to mention Burger King's. Burger king chicken nuggets are made entirely from fresh lean chicken meat, always served hot from the pan and with the right dip. In this easy copycat recipe, we'll help you recreate this addicting snack at home.
Also, if you're interested in making more Burger King inspired dishes, they're all waiting for your visit in our list of Burger King copycat recipes.
Delicious Ways to Enjoy Homemade Chicken Nuggets
Chicken nuggets are the perfect tasty snacks that are very simple to make. They're everyone's favorite and you can have them whenever you're craving addicting finger food. You can have them while movie binging, or you could simply serve them to kids during family picnics! These are some ways to enjoy eating these easy-to-do chicken nuggets recipe.
Toast your breadcrumbs.

This will make your nugget coating so crispy, and with the right amount of seasoning, it will boost the fresh lean flavor of the chicken.

Pair this snack with a deliciously creamy dish

. Have a mac n cheese or a potato salad on the side and get ready to fill even the biggest appetite.

Serve this with a dipping sauce of your choice.

We have a pile of dipping sauces on our site for you to experiment on, but keep on reading because we'll lay the best ones for you.
Aside from recreating burger king chicken nuggets, you can also try our Baked Chicken Nuggets served with apricot dipping sauce. Learn how to make air fryer nuggets by checking out our CAQs section below!
Must-Try Dipping Sauces for Crispy Nuggets
The best chicken nuggets are served with the right dipping sauce. No matter which way you choose to cook your nuggets, dipping sauces will surely take your fried chicken nuggets to another satisfying level.
The famous

Smoky-Sweet Barbecue Sauce

is a must in every store-bought ready nuggets. Make your own barbecue flavored dip to go with your homemade nuggets.

A low-calorie

Light Ranch Dip

is also a perfect dipping sauce for nuggets. It's creamy, rich, loaded with protein, and can be your go-to healthy dip.
With the perfect deep-fried nuggets and your choice of dipping sauces, you'll have the perfect snack to serve at any time of the day. Try making homemade chicken nuggets in your own kitchen now!
What To Serve With Burger King Chicken Nuggets
Pair your homemade chicken nuggets with these appetizing sides. Fried nuggets will surely taste amazing with these options. You can munch on these sides with different dipping sauces, too.
Baked Sweet Potato Fries

– Sweet and earthy sweet potato fries are a healthy side for your deep-fried nuggets. This side goes well with ketchup too.

Cheesy Potato Wedges

– Toss some russet potatoes for cheesy and starchy wedges on the side. 

Mashed Cauliflower

– Pair your nuggets with these low-carb and creamy mashed cauliflower for a tasty main dish with a healthy side.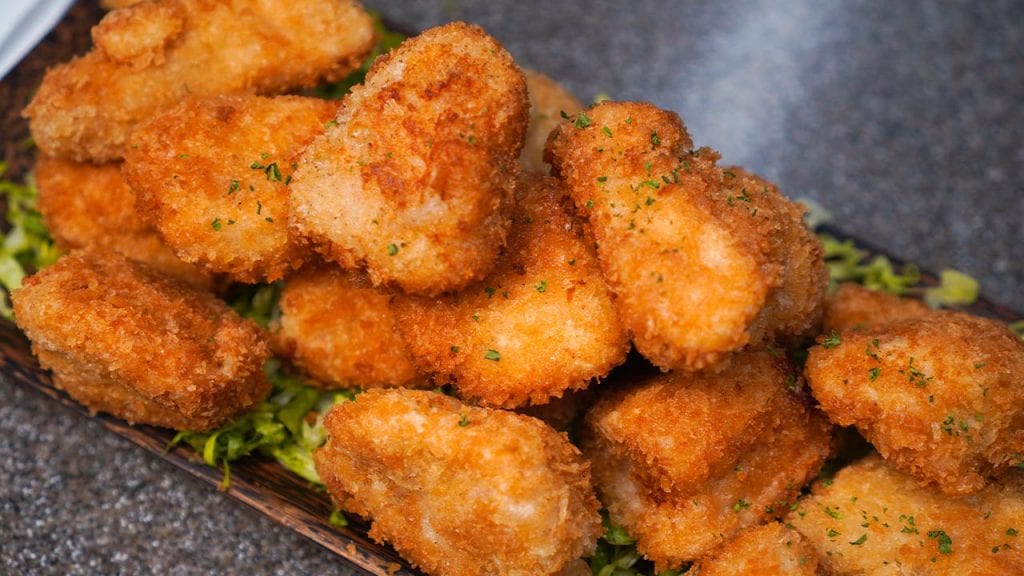 Burger King Chicken Nuggets Recipe
How To Make Copycat Burger King Chicken Nuggets
Dip these crunchy yet tender Burger King inspired chicken nuggets to your choice of sauce and you're good to go! Heat up your skillet 'cause you'll be munching on this addicting appetizer in less than half an hour.
Ingredients
½

cup

all-purpose flour

1

tsp

garlic,

granulated

pinch

kosher salt

pinch

black pepper,

freshly ground

12

oz

chicken breasts,

boneless, skinless, and cut in 1 ½-inch piece

1

cup

breadcrumbs

1

large egg

1

cup

vegetable oil

1

tbsp

water
Instructions
Combine the flour, granulated garlic, salt, and pepper in a large resealable bag.

Add your chicken pieces and then seal and shake the bag to fully coat each piece. Massage the seasoning unto the chicken through the resealable bag.

Next, add the breadcrumbs in a bowl and then add a bit of salt and pepper to season. Set it aside.

In a medium-sized bowl, whisk the egg and water together.

In a large frying pan, heat your vegetable oil over medium-high.

While the oil is heating up, take out the chicken pieces from the bag and dip it on the egg mixture before finally coating it with the breadcrumbs.

Using your tongs, gently add in the chicken pieces into the hot oil and let them cook for about 4 minutes until they turn golden brown and are cooked through.

Once the chicken pieces are cooked, let them drain on paper towels and serve warm.
Recipe Notes
It's better to have your chicken hand deboned before making it into a nugget so you wouldn't have to worry about eating your snack with bones in it. 

In

coating

your chicken

with

your deep fry batter, make sure that

it is completely dredged before moving on to the next batter piece

.
Nutrition
Sugar:

2g

:

Calcium:

87mg

Calories:

1062kcal

Carbohydrates:

42g

Cholesterol:

127mg

Fat:

87g

Fiber:

2g

Iron:

4mg

Potassium:

363mg

Protein:

33g

Saturated Fat:

63g

Sodium:

357mg

Vitamin A:

173IU

Vitamin C:

1mg
Nutrition Disclaimer
Commonly Asked Questions
How do I cut chicken breast and into nuggets?
Remove the fat and the skin of your chicken breast. Then, cut the meat into shapes of your liking. If you're serving chicken nuggets to the kids, you can try making fun dinosaur nuggets.

How do I cook air fryer chicken nuggets?

If you're going to use frozen nuggets in air fryer, take note that you have to thaw them first to make them crispier. To air fry your nuggets, place them into your air fryer basket and cook them for 12 to 15 minutes at 400 degrees F. Serve them immediately with your dipping sauce

How do I store chicken nuggets?
To store cooked nuggets, keep them in airtight containers, or wrap them in with heavy-duty aluminum foil or plastic wrap. You can store them in the fridge for 1 to 2 days. You can also freeze your cooked nuggets by storing them in airtight containers or heavy-duty freezer bags and they will last for 2 to 3 months. Reheat them in the air fryer before serving it with your dipping sauce. Chicken nuggets taste amazing when warm so remember to serve them right after reheating.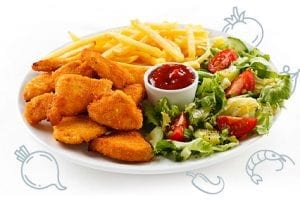 Conclusion
There are so many ways to cook and enjoy your chicken nuggets, but frying is the easiest way to ensure they're nice and crispy. Serve these delicious bites any time of the day as a side, appetizer, or snack. The kids love these and so do the adults. It's perfect for picnics, or making lunch packs for school. Lastly, don't forget to enjoy them with your favorite different dipping sauces.
Comments
great recipe but it seems there's a mistaken step : you wrote two times about the flour so it ends up being misleading , also there's not specified amount of salt. I tried myself it seems it's 1.5 tsp of salt. TIA

Comment is awaiting moderation.