Craving for some nuggets a la Burger King? No worries. We are going to show you our copycat Burger King chicken nuggets recipe.
Nowadays, we know this protein-packed snack as comfort food. However, it has a rather interesting origin story. The credit for developing these tiny treats goes to Robert C. Baker, a professor at Cornell University and a chicken sage. In 1963, Baker and his graduate students developed the blueprints for processed chicken foods such as hotdogs, meatballs, and nuggets. By the 1980s, nuggets started to become widely popular in the US. So much so that every fast-food joint has its own version of this dish!
Burger King's recipe is special in that it uses all white meat, which means the nuggets are made entirely from fresh chicken meat. And in this copycat recipe, we are going to guide you through the process of recreating this undoubtedly enjoyable finger food. It's easy, simple, and absolutely delicious! Read on and discover how you can recreate it in the comfort of your kitchen.
And if you are looking for more Burger King inspired dishes, we have them all lined up for you in our evergrowing list of Burger King Recipes!
Copycat Burger King Chicken Nuggets Recipe
Ingredients
½

cup

all-purpose flour

1

tsp

granulated garlic

1

tsp

kosher salt

¼

tsp

freshly ground black pepper

2

boneless skinless chicken breasts

cut in 1 ½-inch pieces

1

cup

breadcrumbs

1

large egg

1

cup

vegetable oil
Instructions
To begin, combine flour, granulated garlic, salt, and pepper in a large resealable bag.

Add your chicken pieces and then seal and shake the bag to fully coat each piece. Massage the seasoning unto the chicken through the resealable bag.

Next, add the breadcrumbs in a bowl and then add a bit of salt and pepper to season. Set it aside.

In a medium-sized bowl, whisk the egg and 1 tablespoon of water together.

In a large frying pan, heat your vegetable oil over medium-high.

While the oil is heating up, take out the chicken pieces from the bag and dip it on the egg mixture before finally coating it with the breadcrumbs.

Using your tongs, gently add in the chicken pieces into the hot oil and brown it for 2 to 3 minutes on each side.

Once the chicken pieces are cooked, let drain on paper towels and serve warm.
Commonly Asked Questions
What temperature do you cook chicken nuggets?
Since you'll be cooking your nuggets on a skillet pan, just make sure that the oil is hot enough before frying the chicken. If you decide to bake them, heat the oven to 375 degrees Fahrenheit and cook them for 25 to 30 minutes. 
How do you cut chicken breast into nuggets?
First, trim off the fat and the skin of the chicken breast. Second, chop the meat into nugget-sized pieces – preferably an inch or so.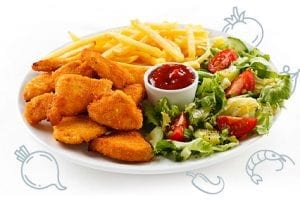 Conclusion
Finally, you now have a platter of juicy golden chicken nuggets without having to walk all the way to the Burger King joint. Plus, it's fresh and still piping hot to keep that oh so crispy texture. Don't wait around and have yourself a piece from our very own Copycat Burger King Chicken Nuggets recipe.