Have you ever taken a short pause during baking because you're not sure how many cups are there in a stick of butter? Maybe during this time, you're also silently praying butter measurements are written in tablespoons.
You're not alone. If you're still wondering about butter measurements, it's high time you find precise answers. This is most essential now that some recipes ask for a cup of butter, while others ask for grams and other measurements. You can't exactly guess proportions when baking a delicious Oreo cookie pie now, can you? With that, you should know why it's important to know butter measurements in cups, grams, tablespoons, and more!
If you love baking and you happen to be living in the United States, then butter measurements and conversions might be easier for you than some. After all, you're more likely used to tablespoon measurements and cup conversions written on the wrapper. And that's absolutely genius! If you're not, well, the good thing is we got butter conversion charts you can trust every time you bake.
How to Measure a Stick of Butter (All Conversions)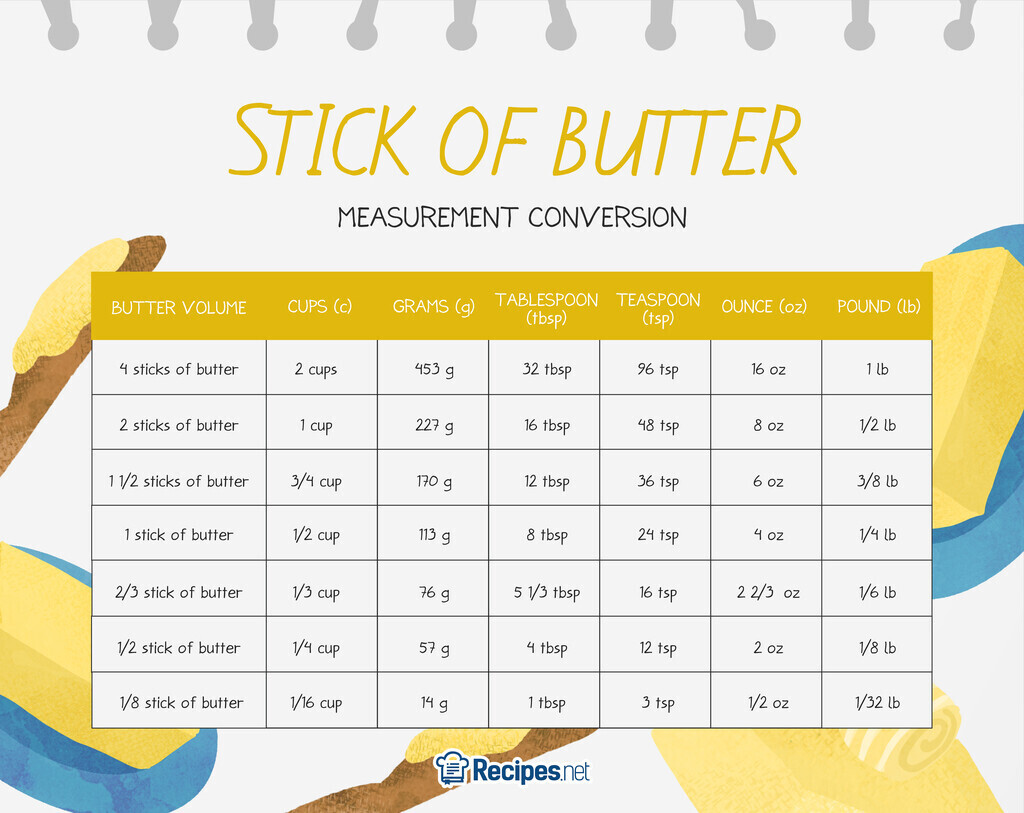 You don't have to guess your way to butter measurements anymore. Just download or print our butter measurement conversion chart below, including the more comprehensive one above. Here's a good idea: you can pin them on the wall opposite your workspace!
Stick of Butter to Cups and Grams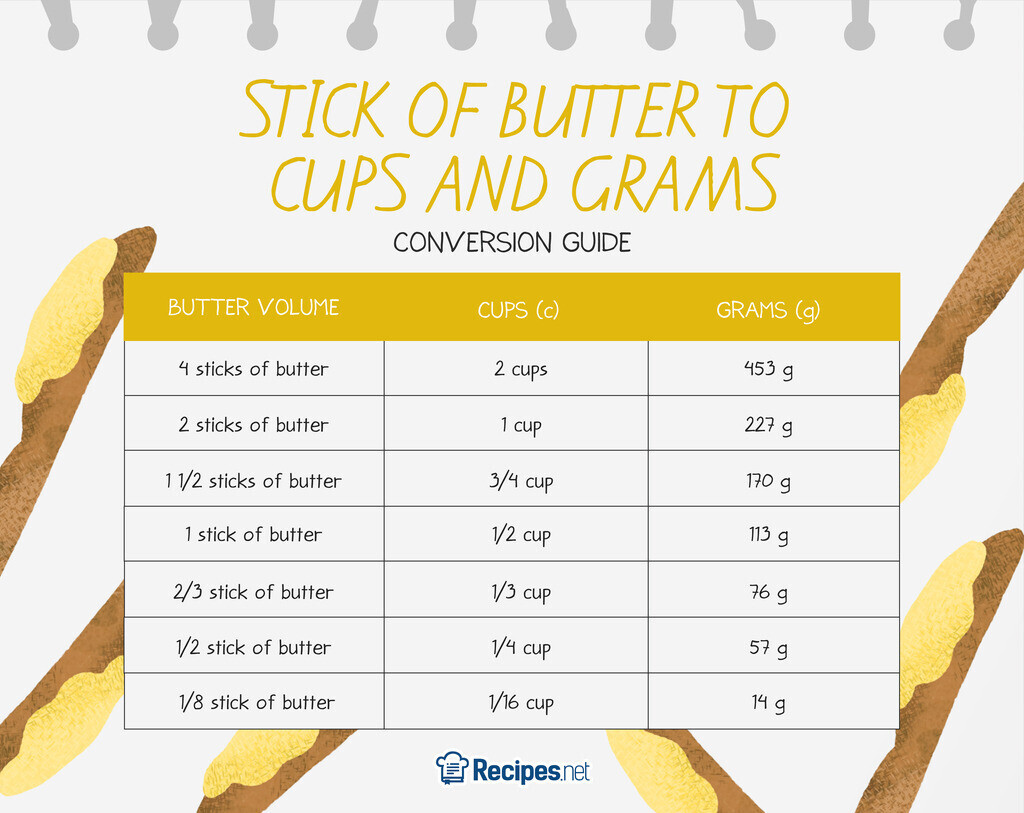 Like we said, if you're living in the U.S. (East Coast or West Coast), then those butter wrappers actually come in handy.  Now, if you're living outside of the United States, you might be envious of their convenience since the stores near you are selling one-pound butter instead. But don't worry! All you have to do is to cut these in quarters to produce four sticks.
Now, let's talk about cups and grams. At one point, you probably wondered how many cups is a stick of butter. To curb your curiosity, the answer is ½. So you'll need exactly two sticks for one cup of butter.
READ ALSO: Grams to Cups / Cups to Grams Conversion Guide For Baking
Stick of Butter to Tablespoons and Teaspoons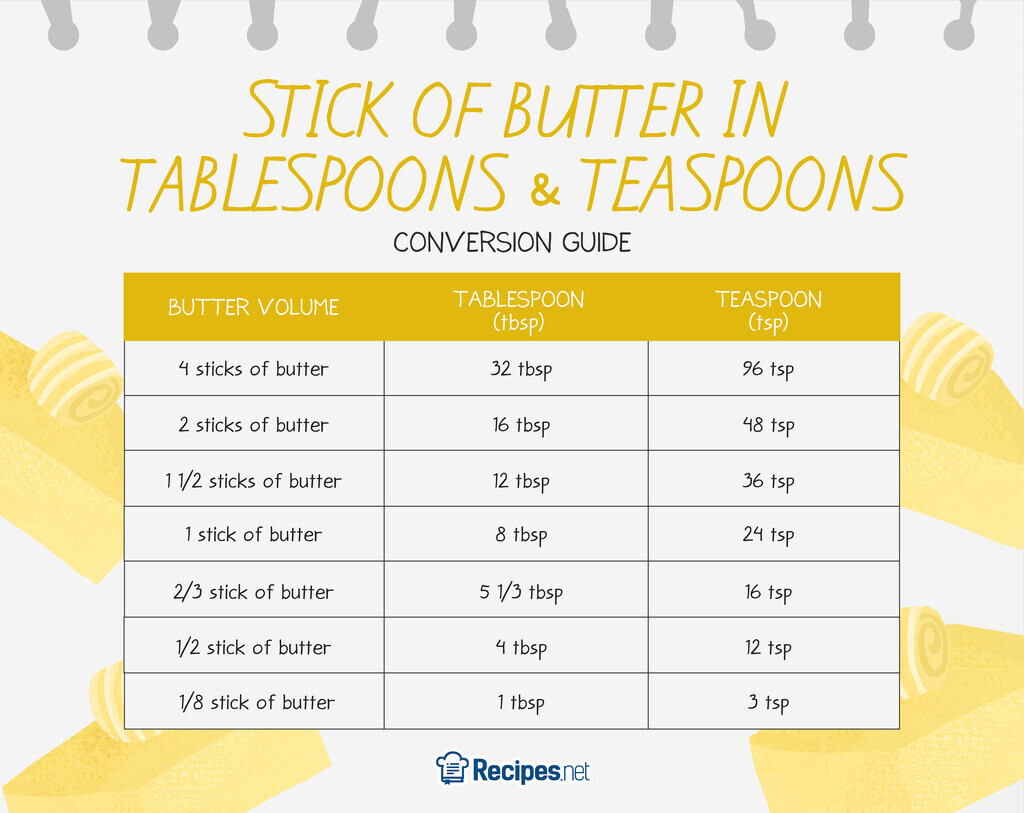 Like any cheesecake recipe, this caramel-pecan turtle cheesecake needs butter. Now if you look at the list of ingredients, you'll discover that it asks for ten tablespoons, not sticks and not cups nor grams either. And to answer the question, there are eight tablespoons of butter in a stick.
However, to make things a lot easier for you, you can just refer to the chart above for a detailed conversion guide for tablespoons and teaspoons.
READ ALSO: How Many Teaspoons in a Tablespoon? (With Conversion Chart!)
Stick of Butter to Ounces and Pounds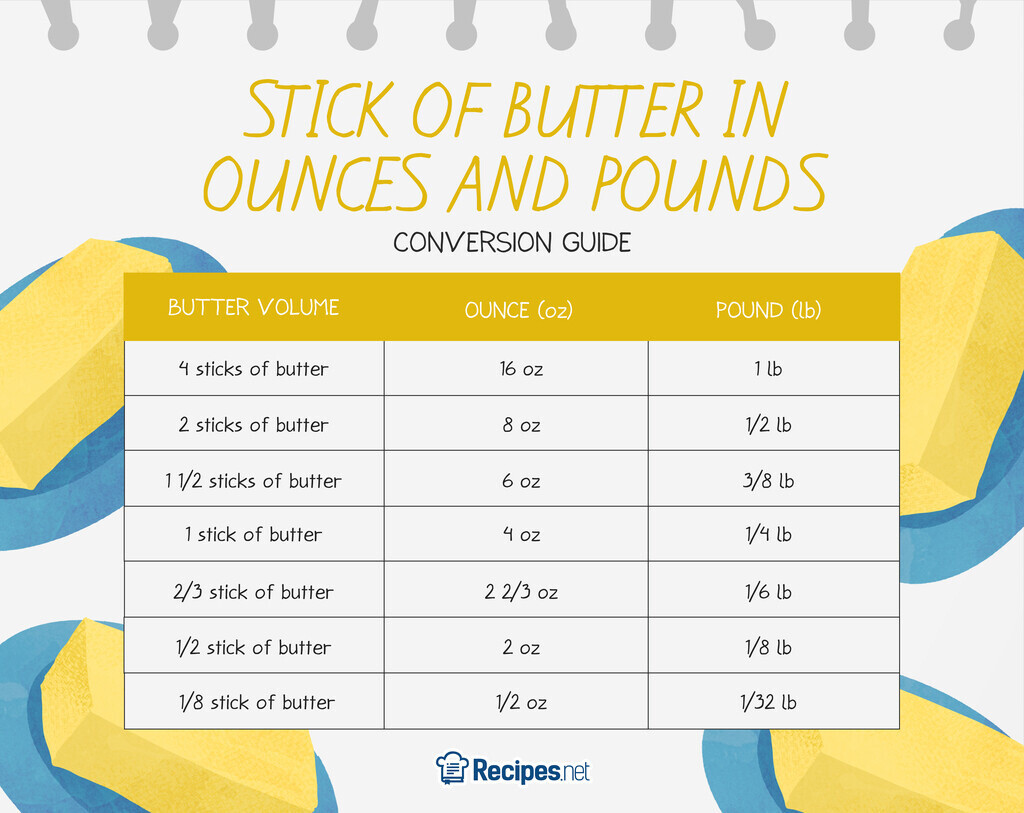 We mentioned earlier how you can cut a pound of butter in quarters to produce four sticks. So now, you just have to keep in mind that there are 16 ounces of butter in a pound. But you can also check our measurement conversion chart to make things easier for you.
Now, here's what you have to remember when measuring melted butter: it's different from measuring solid volume. Solid butter has air, so it's highly likely that you will need more than a stick to produce an equal amount of melted butter. That's why knowing the answer to this query is very important.
READ ALSO: 15 Top Butter Dishes To Keep Your Butter Fresh
Get Precise Butter Measurements Using Our Baking Conversion Charts
On the occasion you want to be extra careful with finicky desserts like the French macaron, you can find using a kitchen scale very helpful. After all, baking is science, so you want to be as accurate as possible. This is why many prefer to measure butter (and other ingredients) by weight — although there's nothing wrong with US customary units. Just follow our helpful guides and you'll surely wield excellent results!