Upgrade your usual sandwich recipe with this easy Philly cheesesteak sliders recipe. It's fully-loaded with thinly sliced steak and cheese with diced green pepper and onion. These homemade Philly cheesesteak sliders are an absolute delight to eat, and a great party food for big crowds. You can easily make these cheesesteak sandwiches with simple ingredients you can find in your local grocery store. All of these ingredients come together in just a single casserole dish. 
To make this THE best Philly cheesesteak recipe ever, you'll need good quality slider rolls, steak, and cheese. I went out and bought some soft and tasty slider buns. You can try other kinds of buns as well like Hawaiian buns or brioche buns. The next ingredient I bought was the steak, and there was a lot to choose from. 
In general, Philly cheesesteak sliders use thinly sliced ribeye steak or a shaved steak for a rich tasting Philly steak sandwich. I went ahead and bought a ribeye steak and kindly asked the butcher to slice it for me. When cooking the shaved ribeye steak, feel free to add in garlic powder and dried thyme for a more flavorful meat. 
The last step was choosing the best cheese for Philly cheesesteak, and I had my eyes on the provolone cheese. This is the traditional Philly cheese for this sandwich recipe. It melts perfectly and blends well with the soft sweet bread, delicious thinly sliced steak, and caramelized onions and peppers. I made sure to place a generous amount of sliced provolone cheese on top of the onions and peppers so that each bun had an even layer of melted cheese. 
I enjoyed making these Philly cheesesteak sandwiches because of how convenient they are. Instead of assembling individual sandwiches for my guests, I was able to make these flavorful sliders in one go and in just under an hour. I'm definitely going to make more of these next time. Each bite was really cheesy, tender, and oh-so delicious! It's really the perfect appetizer to serve to your family and friends.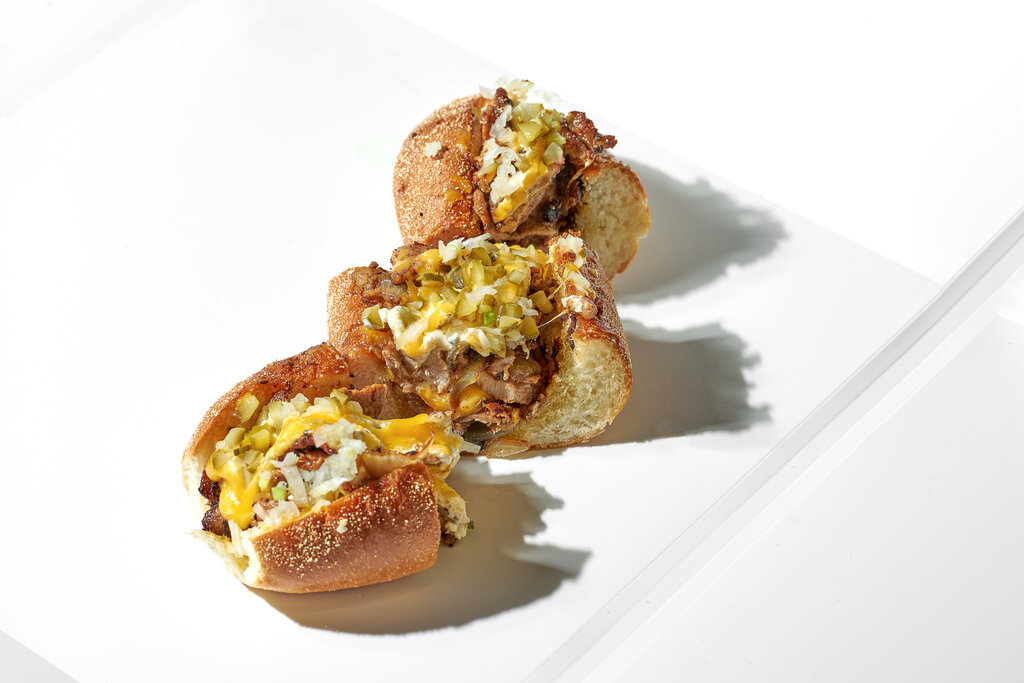 Philly Cheesesteak Sliders Recipe
How To Make Philly Cheesesteak Sliders
Loaded with thinly sliced steak and provolone cheese, enjoy a flavor-packed bite in these Philly cheesesteak sliders made in under an hour.
Ingredients
12

slider rolls

1

lb

steak,

thinly sliced

1

green pepper,

diced

1

onion,

diced, plus additional finely diced 1 tbsp for the butter mixture

6

provolone cheese

2

tbsp

mayonnaise

3

tbsp

butter,

melted

salt and pepper,

to taste
Instructions
Preheat oven to 350 degrees F.

Separate the tops and bottoms of the rolls and place the bottoms in an 11x7-inch baking dish, casserole dish, or on a baking sheet.

Cook the steak meat in a skillet, adding salt and pepper to taste. When done cooking, set aside.

Saute the pepper and 1 diced onion until they are tender.

Prep the bread by spreading a thin layer of mayo on the tops and bottoms of the rolls.

When the meat, onions, and peppers have finished cooking, spread the steak, then peppers, and onions evenly over the bottom pieces of bread in the baking dish.

Place a layer of provolone cheese over the peppers and onions.

In a small bowl, combine melted butter and remaining finely diced raw onions.

Place the top pieces of bread on top of the cheese and then brush the tops of the bread with the butter mixture.

Cover with foil and bake for 10 minutes, then remove foil and continue baking for another 10 minutes or until cheese is melted).

Cut and serve. Enjoy!