These are not your ordinary pita sandwiches, or what we like to call pork pockets. Though it instantly reminds you of snacks from a small food stand selling falafels and hummus, this version of the Greek-inspired pita sandwich is a revelation. The versatility of pita bread allows us to seal different ingredients in its pockets creating mouthwatering flavors and textures in one bite. We stuffed this Mediterranean snack favorite with juicy, roasted pork soaked overnight in a garlicky and tangy marinate. Refreshing cucumber and onions give it the crunch that everyone seems to rave about when having these snacks. And finally, yogurts are added for a creamy bonus on this already amazing lunch treat.
Tips On Making Pita Sandwich
Pita sandwiches are not only tasty, but they're also so convenient when you're on the go. It is comfort food that'll take you back to your childhood. It's filling, quick to assemble, and will make you nostalgic once you have a bite of it. Read on to get some tips to get you started.
Marinate the vegetables. Although you can eat your pita sandwich right away, you'll get the best flavors if you give the vegetables at least 30 minutes to marinate in the vinaigrette. Although our recipe doesn't call for it, feel free to add in some cherry tomatoes and use kalamata olives. They'll add more texture and pops of color.
Drain the vegetables before filling the sandwich pockets. Use a slotted spoon to drain the vegetables before placing them inside the gyro bread. You'll be able to prevent it from getting soggy and tearing apart.
Serve it with ground beef, or even ham and cheese if aiming for different pita sandwich ideas.
Turn it into a chicken pita sandwich. Thinly sliced chicken can be used as a substitute for the pork in this recipe. Cook for 5 to 6 minutes or until the chicken is no longer pink in the center. These chicken pita pockets will be as tasty as the pork version.
To turn this into a vegetarian pocket sandwich, replace the pork loin with crunchy bell peppers. Make sure to use all three colors of bell peppers (green, red, and yellow).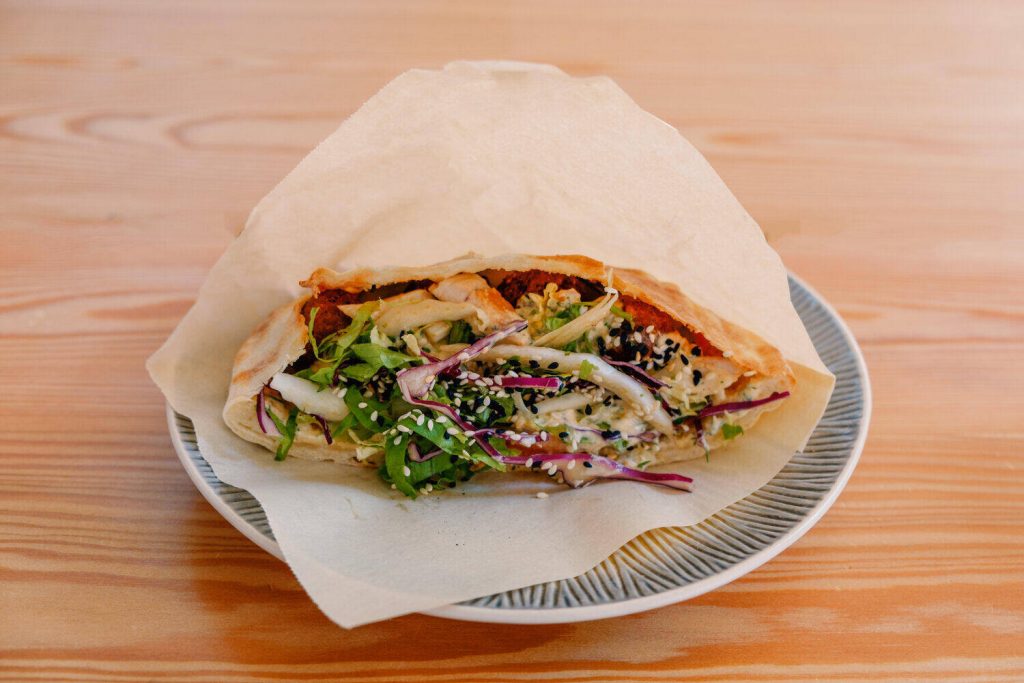 Pita Sandwich (Pork Pockets) Recipe
How To Make Pita Sandwich (Pork Pockets)
Juicy herb-marinated pork-stuffed pita sandwiches ready in 20 minutes. The perfect choice for busy lunchtimes.
Ingredients
1

lb

boneless pork loin

½

cup

olive oil

1

tbsp

mustard

½

cup

lemon juice

2

cloves

garlic,

minced

1

tsp

dried oregano

1

cup

plain yogurt

½

cup

cucumber,

peeled and chopped

½

tsp

garlic,

crushed

½

tsp

dill weed

2

pitas,

halved

1

small red onion,

peeled and thinly sliced
Instructions
Cut the pork crosswise into thin slices measuring 5 by ½ inches.

In a bowl, combine the oil, mustard, lemon juice, garlic, and oregano.

Pour the mixture over the pork slices then cover. Refrigerate for at least 1 hour.

Drain the marinade from the pork.

Roast slices in a preheated 450 degrees F oven for 10 minutes until they turn crispy.

Open each pita half to form a pocket.

Divide the pork among the four halves.

Combine yogurt, cucumber, red onions, crushed garlic, and dill weed.

Use the mixture as stuffing for the sandwiches.

Serve and enjoy!
Nutrition
Sugar:

10g

:

Calcium:

256mg

Calories:

1058kcal

Carbohydrates:

49g

Cholesterol:

159mg

Fat:

68g

Fiber:

3g

Iron:

3mg

Monounsaturated Fat:

44g

Polyunsaturated Fat:

7g

Potassium:

1332mg

Protein:

62g

Saturated Fat:

13g

Sodium:

558mg

Vitamin A:

175IU

Vitamin C:

31mg
Nutrition Disclaimer
Frequently Asked Questions
What causes the pocket in pita bread?
Yeast leavens pita bread, then the bread goes into a very hot oven. The yeast in the pita dough generates gas when it's in very high temperatures. Ultimately, this results in the pita puffing, which creates a hollow center. After they've finished baking, the pita bread will be sliced into halves, which creates pockets. You can then fill your pita sandwiches with whatever you like or turn it into a tuna melt pocket sandwich. 
What is the best way to warm pita bread?
Warm pita bread by first wrapping it in a moist kitchen towel, Then microwave it for 10 seconds or use the oven. If you use the oven, make sure to preheat the oven to 200 degrees F for 10 minutes.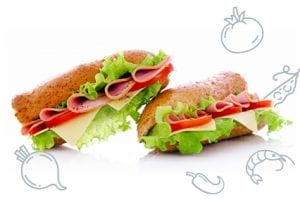 Conclusion
Our pork pita sandwich recipe is filled with nutritious and distinctive tasting ingredients! Each serving is loaded with a good amount of veggies and protein. These sandwiches are perfect for a long, tiring day because they're easy to make and easy to eat. There are various pita pocket recipes, so you can switch up your filling easily.