A classic subway staple, this Copycat Subway BMT Sandwich recipe recreates a delicious crowd favorite. Sandwiches are great ideas for lunch even if it's typically known for being an afternoon snack. The best part when making sandwiches is the freedom to throw in any type of fillings you want. Stack layer upon layer of meats, vegetables, and sauces, eventually creating a tower! Jokes aside, we'll be recreating a sandwich inspired by a famous sandwich franchise.
Subway is popular for its scrumptious sandwiches and mouthwatering cookies like its Oatmeal Raisin Cookies. They're dedicated to serving nutritious food with complete transparency of what's on their menu. Like them, we want to help you recreate their classic sandwich. For this recipe, we'll be focusing on making an easy and effortless delicious subway BMT.
BMT Sandwich
While the Subway BMT is better known as 'Biggest, Meatiest, Tastiest' now, interestingly, this Italian sub was originally named after a train system called the Brooklyn-Manhattan Transit. The original subway BMT consists of Black Forest ham, spicy pepperoni, Genoa salami, and your veggies of choice. For this sandwich recipe, we've handpicked the vegetables for you to create the perfect combination of flavors.
Onions are an aromatic vegetable that packs a sweet yet spicy taste. The lettuce, though mild in flavor, has crisp frills that help trap the sauce. Roasted Jalapeno is slightly smokey but adds heat that goes great with the sandwich. A sweet and flavorful touch from the tomato helps offset the spiciness in the sandwich. Slices of pepperoni, salami, and ham are the meaty elements of the BMT. Top it off with some mayonnaise and sandwich spread for a slight tang!
This recipe can be served warm after being baked in the oven at 350 degrees F for 10 minutes or you plate a mouth-watering cold sandwich to retain the fresh flavors. There are different possibilities of fillings for this sandwich. You can throw in some chicken or pickles too but we want to stick with the authenticity of a BMT sandwich.
Sandwich Bread Recipe
Now, let's talk about bread. Subway uses hoagie bread and so does this recipe. However, if you don't have one on-hand, ciabatta bread also makes a great alternative. We also have a Homemade Subway Bread recipe if you plan to serve freshly-baked slices of bread. For a healthier meal, our Low-Calorie Italian Bread offers a great soy-based, corn-meal packed solution. Together with our BMT sandwich recipe, you won't have to go out of your way and, instead, be feasting at home with a delicious copycat recipe.
Pair this subway BMT sandwich with our Mango Apricot Strawberry Smoothie for a cool and refreshing drink. Both are tasty recipes you can make especially when summer rolls around. So, let's get right to the kitchen and make yourself the best subway sandwich.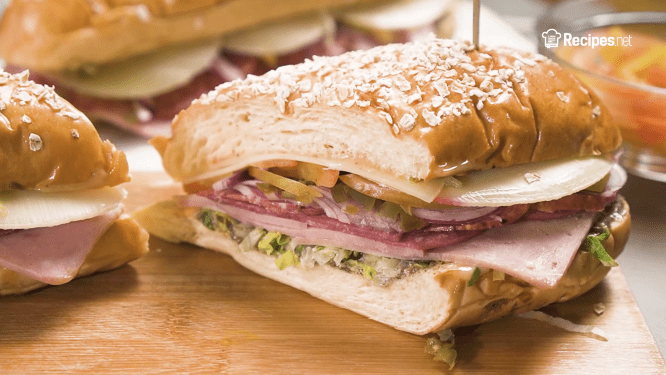 Copycat Subway BMT Sandwich Recipe
How To Make Copycat Subway BMT Sandwich
Savor each bite of a Subway BMT sandwich filled with fresh lettuce, onions, and tomatoes. Slices of smoky pepperoni, salami, and ham add a meaty flavor to the dish topped with some tangy mayonnaise.
Ingredients
20

slices

pepperoni,

divided

10

slices

salami,

divided

6

slices

ham,

divided

6

slices

provolone cheese,

divided

1

cups

Romaine lettuce,

or salad lettuce of your choice, preferably Romaine or Iceberg, shredded & divided

1

cups

red onions,

thinly sliced & divided

1

cup

pickled Jalapeno peppers,

chopped & divided

10

oz

tomatoes,

sliced

½

tbsp

black pepper

⅓

tbsp

mayonnaise

⅓

cup

sandwich spread,

of your choice

2

pcs

hoagie roll,

or ciabatta or baguette

potato chips,

to serve
Instructions
Combine black pepper and mayonnaise. Set aside.

Take the bread and slice it ¾'s lengthwise.

Spread the mayonnaise mixture on the bottom slice of the bread, and the top slice with the sandwich spread.

On one bread, Layer half of the following ingredients in this order: shredded lettuce leaves, meat slices, onions, Jalapenos, and tomatoes in between the bread slices.

Secure it with a toothpick to hold it all together, if necessary, and voila! A scrumptious subway BMT sandwich you would surely love.

Repeat with the remaining bread. Serve with potato chips.
Nutrition
Sugar:

8g

:

Calcium:

487mg

Calories:

640kcal

Carbohydrates:

18g

Cholesterol:

121mg

Fat:

44g

Fiber:

4g

Iron:

3mg

Potassium:

943mg

Protein:

43g

Saturated Fat:

19g

Sodium:

2851mg

Vitamin A:

2251IU

Vitamin C:

29mg
Nutrition Disclaimer
Commonly Asked Questions
I don't have hoagie bread. What else can I use for this sandwich recipe?
If you plan to go the long subway sandwich route, you can always use ciabatta bread or a baguette. Slice through its entire length for bigger servings or slice them individually if you plan to only have one or two sandwiches. But if you choose to use any other types of bread you might end up with something very far from a Subway sandwich.
How can I make this a vegetarian-friendly BMT sandwich?
This subway sandwich can be entirely vegetarian friendly by omitting the meat. Though, if you still want a meaty mouthfeel in your BMT sandwich, you can use tofu or tempeh, vegan ham, beans or legumes, and even mushrooms.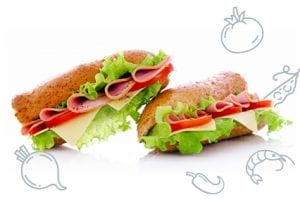 Conclusion
This recipe brings an authentic Subway sandwich recipe to the comfort of your own home. Moreover, it's not only authentic, it's a quick and easy recipe that saves you time and effort too. Filled with fresh ingredients and flavorsome spread, this Subway BMT packs a spicy and flavorful punch that would excite your taste buds. Plus, you know what goes in your food which makes it easier for you to switch out ingredients if you plan to go for a vegetarian-friendly route.