Subway's BLT sandwich makes a perfect mid-day meal that even Subway calls it their most perfect sub in existence. Indeed, it's one of the most popular items on the Subway menu because of its versatility. You can easily customize it to your liking with cheeses, flavorful sauces, and veggies. But let us first show you how to make the best BLT recipe that proves less is more.
What Is a BLT Sandwich?
The BLT stands for bacon, lettuce, and tomato, which are the basic ingredients in making this sandwich. Every substation or sandwich shop has this classic dish on its menu. A BLT sandwich makes the best base sandwich because it's simple and customizable. 
How to Make a BLT Sandwich Like Subway's
This BLT sandwich is quick and easy to prepare and assemble. Bring the flavors of Subway home by recreating this recipe. May it be for a snack or breakfast sandwich even on your days off. Here are some tips to do it:
Use freshly baked bread.

The

best bread for BLT are freshly baked

 ones. Go all-out and bake your own

homemade Subway bread

for the ultimate Subway experience!

Toast your sandwich bread

in the oven, or using a skillet for about 3 minutes for a warmer and crunchier exterior.

Crispy bacon is the way to go

, so make sure they're fried or baked well enough to provide that savory meat flavor.

Use fresh iceberg lettuce

, but lettuces like Romaine and Boston are equally tasteful.

Thick slices of red ripe tomatoes are the best choice

for making a BLT like Subway. Red ripe tomatoes like the usual vined round ones are great. You can also use Roma tomatoes that are sweet, thick-fleshed, and juicy. We perfectly eat it raw in sandwiches, salads. It can also be used for cooking and making

fresh tomato sauce

as well.
Finally, customize your sandwich freely just like how you do at Subway. If you love a good BLT sandwich then you'll also love this homemade Subway BMT sandwich.
How To Make BLT Sandwich (Subway Copycat)
Enjoy your lunch meals with the best BLT sandwich! Filled with crispy bacon, fresh lettuce, and juicy tomatoes. It's the perfect light midday meal to keep you going!
Advertisement
Continue Reading Below
Ingredients
½

lb

bacon,

about 12 slices

4

subs rolls,

sliced in half

2

cups

iceberg lettuce,

shredded

8

slices

tomatoes,

ripe

8

tbsp

Hellmann's mayonnaise
Instructions
Cook the bacon until crispy, then drain them on paper towels.

Toast the 8 slices of sub rolls.

Spread a tablespoon of mayo (more or less, to taste) on each slice of toasted bread.

Add half a cup of shredded lettuce to the bottom half of each roll.

Add 2 slices of tomato on top of the lettuce.

Arrange 3 slices of bacon evenly on top of the tomato slices. Break the bacon slices in half to fit, if needed.

Place the remaining 4 halves of toasted bread on top to finish the sandwiches.

Serve with a side of chips, and enjoy!
Recipe Notes
You can choose to brush butter over your toast slices before adding the mayo to make your BLT sandwich extra tasty!
Advertisement
Continue Reading Below
Advertisement
Continue Reading Below
Commonly Asked Questions
How do I keep my BLT sandwich fresh?
The best way to do this is to wrap it in some parchment paper or waxed paper then place it in an air-tight container. But if you're bringing this for lunch, pack your sandwich ingredients separately. Assemble your sandwich when you're ready to eat. It may be a bit of work, but it helps to keep your sandwich from becoming soggy.
How do I reheat my sandwich?
You can reheat your sandwich in the oven. To do this, preheat the oven to 350 degrees F. Since we're dealing with a sandwich filled with vegetables, set aside the vegetables and scrape off any condiments. Place the bread with the bacon in the oven for 5 to 10 minutes. Once crispy, assemble the sandwich again, and enjoy!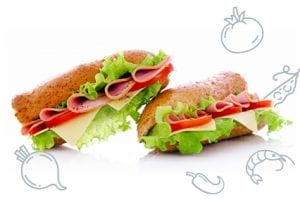 Conclusion
Skip the long lunch lines at Subway by preparing your own BLT sandwich at home. It's quick, easy, and a lot cheaper than Subway. Customizing it to your liking is easier, too. Try adding some creamy avocado or grilled cheese for a huge upgrade.
Advertisement
Continue Reading Below
Topics:
Advertisement
Continue Reading Below
Advertisement
Continue Reading Below