The Subway BLT sandwich makes a perfect mid-day meal that is even dubbed as the best sandwich on the Subway menu. It combines fresh and crisp veggies, thick cut bacon, and mayonnaise in a soft sub roll. That said, you actually get more veggies and less guilt in eating a BLT than a fast food burger. Let us show you how to make the best BLT recipe that proves less is more, and then customize it to your liking later on.
What's in a Subway BLT Sandwich?
The classic BLT sandwich ingredients are bacon, lettuce, and tomato, which are also what the initials stand for. This sandwich is known for being so simple yet so tasty on its own that you do not need to add any other condiments to enjoy it. However, you can vary it by toasting or not toasting the bread, adding mayonnaise, mustard, and as much or as little tomatoes and bacon as you like.
Tips on Making a Subway BLT Sandwich
This BLT sandwich is quick and easy to prepare. Bring the flavors of the best sandwich at Subway home by recreating this recipe. Meanwhile, here are the best tips on how to make a BLT sandwich:
Cook the bacon in the oven

for less mess and less oil splatters. We've included instructions on the recipe card below. But if you don't have an oven, you can always pan fry it. The bacon fat is like liquid gold, so be sure to save it! Use it to toast the bread for your

Subway bacon sandwich

, fry eggs, or as salad dressing.
Use freshly baked bread.

BLT bread could be challah, hoagie, brioche, or any crusty white bread, but the

best bread for BLT

will always be freshly baked ones. You can get this from your local bakery, or go all-out and bake your own

Subway bread

!
Brush the bread with butter or bacon fat

before toasting to make your sandwich extra tasty.
Use fresh iceberg lettuce.

Nothing beats its crunch! To prepare, wash it in cold running water. Drain it using a salad spinner. Make sure to drain it well to prevent making a soggy sandwich.
Add other delicious ingredients to make it your own ultimate BLT sandwich! You can add a smear of sour cream or yellow mustard to the bread for extra tang. Avocado slices go well in this, too.
How To Make Subway BLT Sandwich (Copycat)
Enjoy your lunch meals with the best Subway BLT sandwich! Filled with crispy bacon, fresh lettuce, and juicy tomatoes, it's the perfect light midday meal to keep you going!
Ingredients
½

lb

bacon,

about 12 slices, thick cut

4

sub rolls,

sliced in half

2

cups

iceberg lettuce,

shredded

8

slices

tomatoes,

ripe

8

tbsp

Hellmann's mayonnaise
Instructions
Preheat the oven to 400 degrees F. Line a rimmed baking sheet with aluminum foil. Set an oven-safe wire rack on top of it.

Lay the bacon strips on the wire rack on a single layer, making sure not to overlap.

Bake them for about 15 to 20 minutes or until crispy. Once done, lay them on paper towels to drain excess fat. Set aside.

Toast the 8 slices of sub rolls.

Spread a tablespoon of mayo (more or less, to taste) on each slice of toasted bread.

Add half a cup of shredded lettuce to the bottom half of each roll.

Add 2 slices of tomato on top of the lettuce.

Arrange 3 slices of bacon evenly on top of the tomato slices. Break the bacon slices in half to fit, if needed.

Place the remaining 4 halves of toasted bread on top to finish the sandwiches.

Serve with a side of chips, and enjoy!
Recipe Notes
You can choose to brush butter over your toast slices before adding the mayo to make your BLT sandwich extra tasty!
Nutrition
Calcium:

21mg

Calories:

581kcal

Carbohydrates:

36g

Cholesterol:

93mg

Fat:

35g

Fiber:

2g

Iron:

11mg

Monounsaturated Fat:

5g

Polyunsaturated Fat:

13g

Potassium:

184mg

Protein:

31g

Saturated Fat:

11g

Sodium:

2178mg

Sugar:

7g

Trans Fat:

1g

Vitamin A:

649IU

Vitamin C:

8mg
Nutrition Disclaimer
Frequently Asked Questions
How do I keep my BLT sandwich fresh?
If you will consume the Subway sandwiches  in a couple of hours after making them, the best way to do this is to individually wrap them in some parchment paper or waxed paper then place them in an air-tight container. But if you're bringing this for lunch, pack your BLT sauce and ingredients separately. Assemble your sandwich when you're ready to eat or serve it. It may require a bit of work, but helps in keeping it from becoming soggy.
Should a BLT be toasted?
Aside from the flavor, what makes the BLT lovely is the contrasting textures deliciously coming together in one bite. The crisp lettuce and tomato slices and crunchy bacon in between soft rolls is heaven. So, it won't hurt to add another texture by toasting the bread! We recommend doing so right before you assemble the sandwich so that it maintains its crispiness.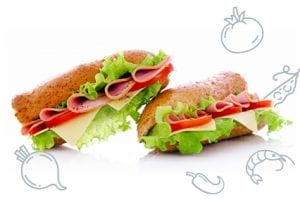 Conclusion
Skip the long lunch lines at Subway by preparing your own Subway BLT sandwich at home. It's quick, easy, and a lot cheaper than Subway. Customizing it to your liking is easy, too. Try adding some creamy avocado or grilled cheese for a huge upgrade.
Topics: