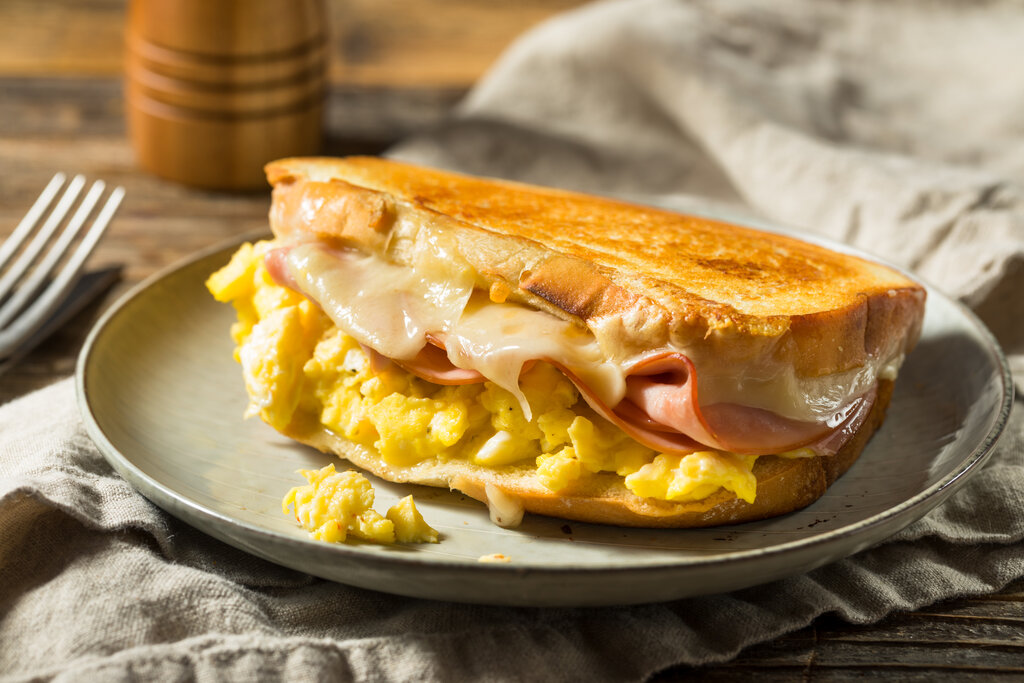 Moons Over My Hammy Recipe (Denny's Copycat)
My favorite go-to Denny's breakfast sandwich is their Moons Over My Hammy dish. It's a delicious sandwich that you can only taste at Denny's which is recognized as "America's dinner." It is a simple dish yet it promises a satisfying and filling breakfast (or lunch) meal. I love these deli-like sandwiches because they're fully packed with tasty deli ham slices, scrambled eggs, and melted cheese. These flavorful and cheesy fillings are all squeezed together in between two slices of thick and crisp .
I personally enjoy ordering these sandwiches at a Denny's near me, but then I realized that I could easily recreate these Moons Over My Hammy at home. The ingredients are not that hard to find, and I'm familiar with cooking eggs and deli ham. I also like the idea that I can adjust the amount of cheese to add in my sandwich. These breakfast sandwiches are also ideal for when I'm rushing to work since It's a great make-ahead sandwich recipe that you can simply store and reheat.
For my copycat Denny's Moons Over My Hammy recipe, I made the scrambled eggs first then cooked the deli ham. Once cooked, I prepped my sourdough bread and toasted them slightly on the skillet where I began assembling the sandwich. I used two kinds of cheese slices, American deli cheese and Swiss cheese, to place on top of the eggs and ham. And then, I topped it off with the remaining bread with butter so it's also toasted when flipped.
After a few minutes, my Moons Over My Hammy deli sandwich was ready to eat. It smelled really good and the melted cheese made it extra appetizing. It's one of those delicious breakfast recipes you have to try once in a while. I ate mine with some on the side for that Denny's diner experience. I also added a bit of tabasco sauce in my sandwich to make it extra spicy. If you prefer the mild and spicy combination, then you can also add in slices of pepper jack cheese. Either way, the sandwich would taste amazing!
How To Make How To Make Moons Over My Hammy (Denny's Copycat)
Recreate this delicious Moons Over My Hammy breakfast sandwich from Denny's that's packed with scrambled eggs with ham and cheese.
Ingredients
2

slices

sourdough bread

8

slices

deli ham,

thinly sliced

2

slices

American deli cheese

2

slices

Swiss cheese,

processed

2

large eggs

1

tbsp

milk

2

tbsp

butter,

divided

¼

tsp

salt

¼

tsp

ground black pepper
Instructions
In a small bowl combine the eggs and the milk. Whisk them together until uniform.

Heat a small non-stick skillet over low-medium heat. Add 2 teaspoons of butter to the skillet.

Once the butter has melted, add the eggs. Season eggs with salt and pepper.

Stir the eggs continually until they have set firm. Remove eggs from the skillet and set aside.

Wipe out the skillet and place the ham slices in the skillet.

Cook the sliced ham for a couple of minutes. Flip the ham and cook on the other side for an additional 2 minutes. When the ham has heated through, remove it from the skillet and set aside.

Butter 1 slice of bread and put it buttered side down into the skillet.

Top with 2 slices of American cheese, then the eggs, then ham, then Swiss cheese, then with the remaining slice of sourdough bread.

Butter the top piece of bread.

Cook on low to low-medium heat for 1 to 2 minutes on each side or until the bread is golden brown.

Cut the sandwich in half when serving. Serve and enjoy!
Nutrition
Calories: 

1918.66kcal

Protein: 

108.95g

Cholesterol: 

670.88mg