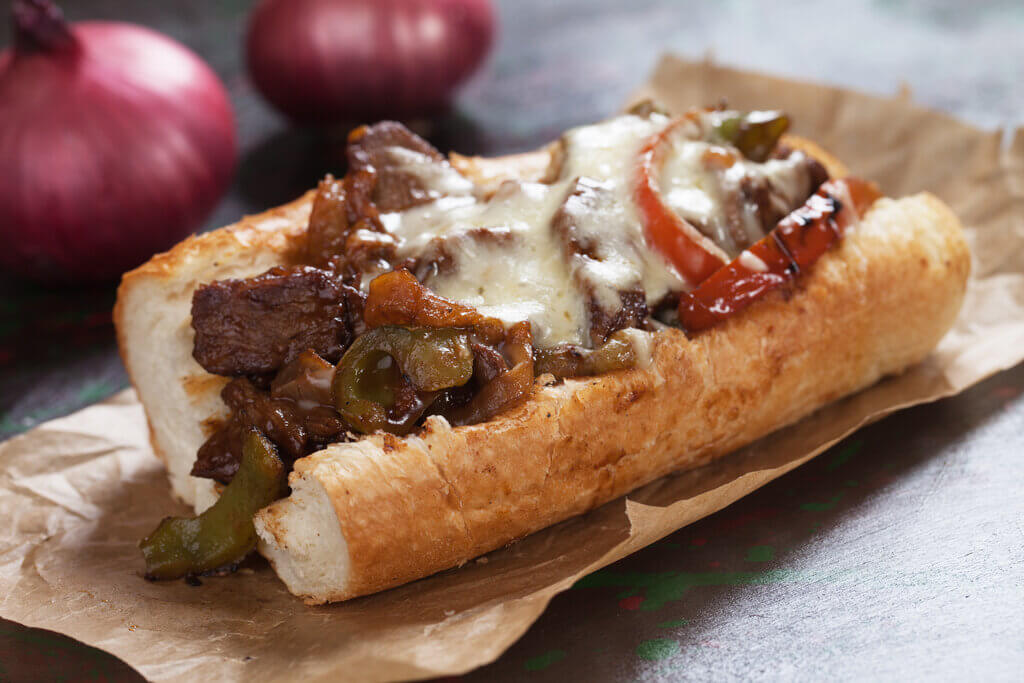 Slow Cooker Philly Cheesesteaks Recipe
This crockpot Philly cheesesteak recipe captures the flavors of the classic Philly cheesesteak sandwiches. The juicy beef filling is slowly cooked to delicious perfection, setting this sandwich apart from the rest. Stuffed with bell peppers and melted cheese, it's definitely one of the best slow cooker recipes to try. Perfect for an indulgent dinner and even on a game day with the boys!
It's no secret that crockpots and slow cookers are the best tickets to easy weeknight dinners. Chicken, pork, and even seafood–they all benefit from the fantastic magic of a crockpot. In fact, just recently, I tried cooking steak in a crock pot. And I must say, my slow-cooked version of the well-loved Philly cheesesteak is incredibly mouthwatering.
My variation of the Philly cheesesteak tastes just as appetizing as it looks. The good news is, you don't have to break the bank to make such a glorious dish. My crockpot Philly cheesesteak recipe relies on 1½ pounds of top sirloin, which is basically one of the cheapest yet oh-so-tender beef cuts. You can opt for another steak cut, though. But keep in mind that the best meat for Philly cheesesteaks is those with good marbling, especially when slow-cooked in the crockpot. You also have the option to make your crockpot steak sandwiches with roast beef.
You just know a sandwich would taste wonderful judging by the melted cheese resting atop the fillings. And for me, provolone cheese is the best option for my slow cooker Philly cheesesteak. American cheese and mozzarella also melt deliciously, so feel free to use them if you're in a pinch. You can also opt for Cheez Whiz! Meanwhile, the combination of beef broth, garlic powder, and Italian seasoning intensifies the flavor of the steak. Others even add onion powder, Worcestershire sauce, and onion soup mix to deliver a savory taste.
As for the toppings, I stayed loyal to the basics—onions and bell peppers. Some people, however, add sautéed mushrooms to their cheesesteak sandwiches. All of these mouthwatering fillings are stuffed in hoagie rolls. But if you want to mimic the authentic Philly cheese steak recipe, use Amoroso Rolls instead. Whichever rolls or buns you prefer, I suggest that you toast them before adding the fillings. If you do so, you don't have to worry about your hoagie rolls turning soggy after being stuffed with the juicy beef, caramelized onions, and bell peppers.
When preparing the beef cut for my crockpot Philly cheesesteak recipe, I made sure it was sliced into 1-inch strips. After all, the original version is made with shaved steak. And to be honest, shaving the meat very thinly is the trickiest part of making homemade Philly cheesesteak sandwiches. If you want to skip such an intricate process, it's better to ask the butcher at the meat shop to thinly slice the steak for you.
Making Philly cheesesteak in the crockpot is super easy. First, I combined the beef broth, garlic powder, Italian seasoning, salt, and pepper in a bowl. I then nestled the beef and veggies in my slow cooker, followed by the broth mixture. Then, I just let my crockpot do its job for 6 hours. Before the pile of flavorful beef and caramelized veggies went on the hoagie rolls, I toasted the bread in the oven— with two slices of cheese in between. By the end, I was welcomed with deliciously-stuffed Philly cheesesteak sandwiches smothered with melted cheese. I usually serve them with french fries or pasta salad, especially when I'm having some friends over.
How To Make Slow Cooker Philly Cheesesteaks
Savor the delicious flavors of the classic Philly cheesesteak sandwiches with this easy recipe. The steak filling is slowly cooked alongside sliced onions and bell peppers.
Total:
6 hours 10 minutes
Ingredients
1½ lb beef top sirloin, cut into 1 inch strips

1 onion, (white or yellow), chopped or sliced

1 red pepper, thinly sliced

1 green pepper, thinly sliced

2 cups beef broth

1 tsp garlic powder

1 tsp Italian seasoning

½ tsp salt

½ tsp black pepper

4 hoagie rolls, sliced lengthwise

8 slices provolone cheese
Instructions
In a small bowl, whisk together beef broth, salt, garlic powder, Italian seasoning, salt, and pepper. Set aside.

Add beef, onions, and peppers to the slow cooker. Then, pour broth mixture over the top. Cover and cook on Low for 6 to 8 hours.

Preheat the oven to 400 degrees F. Line a baking sheet with foil.

Open each hoagie roll and layer two slices of cheese in the middle. Place on a baking sheet and bake for 5 minutes or so until the cheese is melty.

Use tongs to transfer meat and peppers to the middle of each hoagie roll (on top of the cheese). Serve hot.
Recipe Notes
Freeze the steak for a few hours to make it easier to cut into thin slices. Use a sharp knife for a seamless slicing.

You can turn this recipe into Philly cheesesteak sloppy joes by using

ground beef

instead of thinly-sliced beef.

To make a

keto Philly cheesesteak

, just omit the hoagie rolls and serve your crockpot cheesesteak on its own or pair it with a side salad.

You can also serve your

slow cooker Philly cheesesteak

over

pasta

.
Nutrition
Calories: 

475.42kcal

Fat: 

27.43g

Saturated Fat: 

13.22g

Monounsaturated Fat: 

10.23g

Polyunsaturated Fat: 

1.15g

Carbohydrates: 

19.15g

Fiber: 

2.08g

Sugar: 

2.92g

Protein: 

36.61g

Cholesterol: 

114.21mg

Sodium: 

737.27mg

Calcium: 

352.82mg

Potassium: 

695.72mg

Iron: 

3.21mg

Vitamin A: 

123.12µg

Vitamin C: 

42.54mg