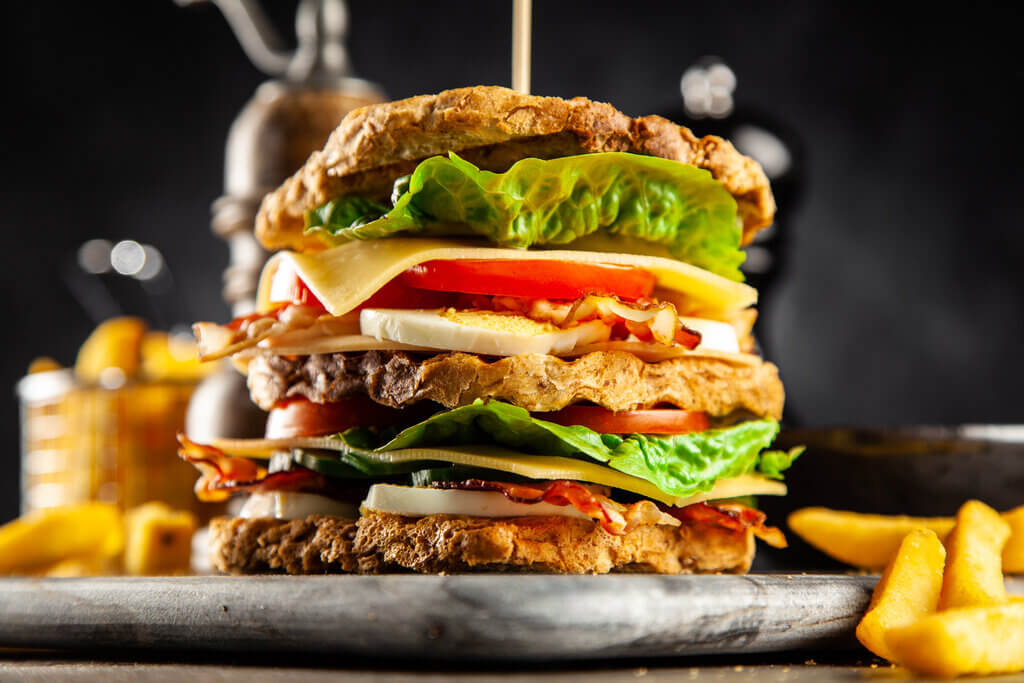 Dagwood Sandwich Recipe
A Dagwood sandwich is piled high with layers of cheeses, a variety of condiments, and lots of meat. There are only two words that best describe it: mouthwateringly irresistible! I rarely get excited over a sandwich. But this Dagwood burger really looks so deliciously gigantic that merely looking at it makes my stomach grumble already.
This iconic sandwich got its name from Dagwood Bumstead, the sandwich-loving character in the comic strip Blondie. Bumstead loved making tall and big sandwiches stuffed with various fillings, from meats to tuna fish and cheeses. That cartoon-ish sandwich became so popular that people started making their own variations. There's even a restaurant franchise named Dagwood's Sandwich Shop.
My Dagwood sandwich recipe uses sliced bacon, ham, boiled eggs, and crisp veggies. Although, you can also opt for any meat, including roast chicken, roast beef, turkey breast, and pastrami. Remember, Dagwood is more like a style of sandwich and not actually a specific sandwich. As such, there are no particular ingredients required to make this filling snack. Dagwood sandwich ingredients often vary and you can just use and mix and match the fillings you want and pile it high in between the buns!
Much like in regular sandwiches, I also put tomato slices and fresh lettuce leaves in my Bumstead sandwich. If you want your burger snack brimming with cheesy goodness, toss in two types of cheese, like Swiss cheese and American cheese or Pepper Jack cheese. Easily customizable as it is, you can even dress up your Dagwood sandwiches with tasty condiments. Dijon mustard and mayonnaise, apart from adding flavors, can also hold your sandwich together. Other Dagwood sandwich recipes, meanwhile, combine the mayo with pickle relish and cajun seasoning.
For the bread, you have an array of options as well. Whole wheat bread, white bread, milk bread, and rye bread are among my personal favorites. Just keep in mind to choose a bread that won't turn out soggy when stuffed with juicy meat fillings. Such breads are perfect for this meat-laden Dagwood recipe! For a better-tasting result, I suggest that you toast the bread of your choice.
When making my homemade Dagwood sandwich recipe, I brushed each bread slice with butter before toasting them. After toasting the bread, I spread some mayonnaise mixture on each piece. Then, l layered my chosen fillings in this order: sliced boiled eggs, meat, cucumber slices, cheese, lettuce leaves, and tomato slices. Since Dagwood is a tall sandwich, I stacked two sandwiches. But feel free to pile your sandwiches as high as you want! To prevent the tall sandwich from falling over and its fillings from falling apart, you can also skewer your Dagwood Bumstead sandwich with long toothpicks.
While this gigantic sandwich is already belly-filling itself, I'd still love to pair it with potato chips. Although, I also think enjoying such a pile-high burger with a comforting bowl of soup is also a great idea. And if you want a much healthier version of the Bumstead sandwich, you can also go for veggie fillings. I heard the combinations of grilled eggplants, marinated radishes, and grilled mushrooms are fantastic!
How To Make Dagwood Sandwich
Dig into this Dagwood sandwich stacked high with ham, bacon, crisp lettuce, fresh tomato slices, and cheese. It's incredibly mouthwatering and easy to prepare!
Ingredients
3 slices whole wheat bread

3

boiled

eggs,

sliced

2 slices bacon, cooked, excess grease drained on paper towels

3 slices ham, Deli

2 slices cheddar cheese

2 tomatoes, thin-sliced

2 whole green leaf lettuce leaves

2 tablespoons Dijon mustard

2 tablespoons mayonnaise

Butter,

for toasting the bread
Instructions
Put a medium-sized non-stick pan on the stove.

Spread butter on one side of each bread slice.

Toast the slices of bread over medium heat for one minute, or until they turn slightly brown.

Once toasted, remove them from the pan.

In a small bowl, mix Dijon mustard and mayonnaise.

Spread the top side of each bread slice with mayonnaise mixture.

Top the bread with the sliced boiled eggs, meat, cucumber slices, cheese, lettuce leaves and tomato slices.

Top with another bread slice.

Layer the ingredients again on top of the bread, forming two layered sandwiches. Cover with the top bread slice.

Secure the sandwiches with two toothpicks or bamboo skewers. Serve and enjoy!
Recipe Notes
Feel free to stack as many sandwiches as you want to make a tall Dagwood sandwich.

For best results, use fresh bread for your Dagwood Bumstead sandwich. Toast it as well for extra flavor.

Apart from toothpicks, you can also use a bamboo skewer to keep your tall Dagwood sandwich steady.
Nutrition
Calories: 

591.74kcal

Fat: 

40.14g

Saturated Fat: 

15.62g

Trans Fat: 

0.48g

Monounsaturated Fat: 

14.90g

Polyunsaturated Fat: 

5.65g

Carbohydrates: 

21.89g

Fiber: 

1.37g

Sugar: 

1.48g

Protein: 

34.04g

Cholesterol: 

334.18mg

Sodium: 

1354.95mg

Calcium: 

306.24mg

Potassium: 

407.27mg

Iron: 

3.15mg

Vitamin A: 

199.93µg

Vitamin C: 

1.68mg