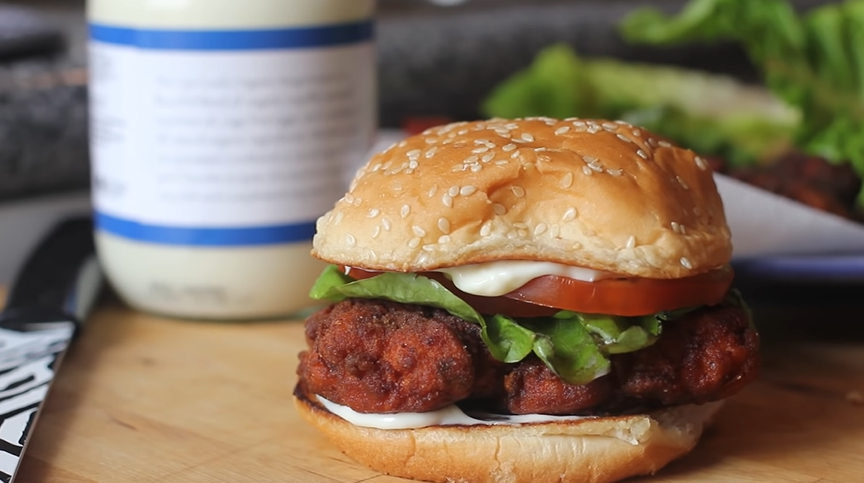 Wendy's Spicy Chicken Sandwich Recipe (Copycat)
The layers of hot sauce-marinated fried chicken, creamy mayonnaise, and crisp veggies make Wendy's spicy chicken sandwich a huge hit. Its hotness is simply irresistible, especially for someone who has a penchant for fiery foods. It's the best way to spice up your weeknight dinners— and it couldn't be easier to whip up!
Ever since the spicy chicken sandwich wars began, many fast-food chains launched their own version of a hot chicken sandwich. But if I had to choose a favorite, it would still be the spicy chicken sandwich at Wendy's. Thankfully, I've cracked the code on making this fast-food favorite! I've taken a bit of inspiration from the original recipe, although I decided to switch things up to make my version more delicious.
My favorite part of Wendy's chicken sandwich is the crispy fried chicken that's packed with a serious punch. In the original Wendy's spicy chicken sandwich recipe, the chicken is marinated in a fiery concoction of spices and peppers. But I think immersing the chicken in a mixture of pickled jalapeño juice, hot sauce, and buttermilk sends this spicy chicken sandwich recipe to the next level. If I were you, I'd let it marinate for at least an hour or so. The result is SUPER HOT, TENDER, and JUICY fried chicken cutlets!
The flavor of my homemade Wendy's spicy chicken sandwich just got spicier when I dredged it in seasoned flour. The crispy coating flavored with granulated onion, granulated garlic, and chili powder makes this fried chicken sandwich more appealing to the taste buds! But before covering the chicken pieces with the flour mixture, you can pound them with a meat mallet. It'll make your chicken even more tender!
Wendy's sandwiches feature premium buns, such as pretzel buns, brioche buns, and flatbread. But I leaned on potato buns as they also have a moist texture and can stay soft for days! My Wendy's spicy chicken sandwich recipe also has the best and the freshest toppers, including lettuce leaves and tomatoes.
So, if you're a huge fan of the tasty chicken sandwich from Wendy's just like me, then you should try your hand at this recipe. It's easily customizable! You can use Frank's hot sauce or buffalo sauce and a dash of cayenne pepper for that spicy kick. Fresh jalapeños and spicy pepper jack cheese would also be a welcome addition to spruce up your spicy chicken sandwich a la Wendy's. You can even use your air fryer, oven, or skillet when making this filling meal. To balance out the fiery flavor, I usually serve my homemade chicken sandwich with a sweet coleslaw on the side.
How To Make Wendy's Spicy Chicken Sandwich (Copycat)
This Wendy's spicy chicken sandwich copycat is stuffed with crisp veggies, creamy mayonnaise, and crispy chicken marinated in hot sauce, jalapeno juice, and buttermilk.
Ingredients
4 chicken breasts,cutlets

½ cup pickled jalapeno juice

1 cup buttermilk

½ tsp hot sauce

1 ½ cups all-purpose flour

1 tsp salt

1 tsp black pepper

1 tsp granulated onion

1 tsp granulated garlic

1 tsp chili powder

6 cups canola oil, or vegetable oil

4 potato buns

1 tbsp butter

4 tbsp mayonnaise

4 green leaf lettuce leaves

4 slices tomatoes
Instructions
Mix buttermilk, jalapeño juice, hot sauce, and chicken in a bowl. Cover with plastic wrap before placing in the fridge. Chill for at least an hour.

In a separate bowl, combine the all-purpose flour, salt, pepper, granulated onion, granulated garlic, and chili powder. Whisk until well-combined.

Then, dredge the marinated chicken into the seasoned flour. Dip the chicken cutlet into the buttermilk-hot sauce marinade again. Then, dip it back into the flour mixture once more. Do this step until the chicken pieces are all well-coated.

Place the breaded chicken on a wire rack set over a baking sheet.

Heat the vegetable oil to 365 degrees F.

Once the oil is hot enough, lower the chicken cutlets into the oil. Make sure not to overcrowd the pan.

Fry for about 4 to 6 minutes, or until both sides of the chicken are golden brown.

Remove the meat from the pan and transfer it on a wire rack set over a baking sheet to drain excess oil.

Over medium-high heat, melt the butter in a griddle. Then, toast the potato buns.
To Assemble:
Smear the toasted buns with mayonnaise and add the fried chicken cutlets on each bottom bun. Top with crisp lettuce leaves and fresh tomato slices and the top bun.

Serve immediately. Enjoy!
Recipe Notes
To keep the coating from falling off while frying, let the breaded chicken rest for at least five minutes before frying them.

If possible, use only oils with a high smoking point, such as vegetable oil or canola oil.

It's best to fry the chicken cutlets in batches, so they'll cook evenly.

Once fried, you can also place the chicken on a paper towel to remove excess oil.
Nutrition
Calories: 

3679.24kcal

Fat: 

360.11g

Saturated Fat: 

32.65g

Trans Fat: 

1.59g

Monounsaturated Fat: 

217.33g

Polyunsaturated Fat: 

102.53g

Carbohydrates: 

69.28g

Fiber: 

6.13g

Sugar: 

9.75g

Protein: 

51.07g

Cholesterol: 

127.07mg

Sodium: 

1143.61mg

Calcium: 

219.80mg

Potassium: 

1078.27mg

Iron: 

5.20mg

Vitamin A: 

124.27µg

Vitamin C: 

18.43mg