Lately, I've been preparing these Sausage Egg Mcmuffin sandwiches for breakfast. It's one of those go-to meals that's enough to keep me full and satisfied in the mornings. I make these quite often because they're so easy to make, and can be assembled ahead of time. The Sausage McMuffin with Egg is definitely an iconic American breakfast dish ever since its first introduction in the McDonald's all day breakfast menu during the 1980s.
Its main ingredients are sausage patties with cheese slices and egg in between tasty English muffins. When I made my Sausage and Egg McMuffin, I used simple ingredients like freshly toasted English muffins for the sandwich buns and cooked sausages for the patty. If you're wondering what sausage to use, I recommend Jimmy Dean sausage. I think it tastes the most similar to McDonald's sausage. You can even add crispy bacon strips on top of the sausage patties, if you want some extra meat and protein for breakfast.
Next are the cheese slices and cooked egg. I used American cheese slices so it melts deliciously over the patties and bun. Then, for the eggs, it needed to be perfectly round so it could fit the shape of the English muffins. That's why I used egg rings while I cooked them sunny side up with the yolk just a little bit runny. Once that was done, it was time to assemble the Sausage Egg and Cheese McMuffin sandwich.
Make sure you toast the English muffins so they're tastier when combined with the sausage, egg, and cheese slice. I made about four of these sausage egg mcmuffins so that I could save some for my next breakfast. If you're making for a bigger crowd, it's better to prepare each ingredient on a baking tray to avoid overcrowding.
This sausage and egg breakfast sandwich is really the perfect grab and eat meal, especially when paired with hot coffee in the morning. It's definitely one of my favorite easy breakfast recipes to make. I also realized that if ever I wanted a McDonald's Sausage McMuffin copycat, I could just remove the egg and enjoy the savory taste of the sausage meat and cheese.
How To Make How To Make Sausage Egg McMuffin
Make mornings extra delicious and savory with this homemade version of Mcdonald's Sausage Egg McMuffin made from simple ingredients.
Ingredients
4

tbsps

softened butter,

butter has divided uses

4

English muffins,

or breakfast muffin

½

lb

breakfast sausage

½

cup

water

4

eggs

4

slice

American cheese
Instructions
Divide sausage into four patties. Press out patties fairly thin. Cook sausage patties over medium heat in a skillet for 3 to 4 minutes on each side, then drain on paper towels.

Split open the English Muffins and place them into a toaster. Toast the English Muffins.

Remove the English muffins from the toaster and spread softened butter on both halves.

Place the 1 slice of cooked sausage on each English muffin bottom.

Add about 1 tablespoon of butter to the same skillet where you cooked the sausage.

Place the quart-sized canning lids screw side up (or use egg rings) into the skillet.

Spray the canning lid with non-stick spray. Crack an egg into each of the rings.

Break the yolk with a fork. Pour about half a cup of water into the skillet, and place a lid on top. Cook until the eggs are set, it should take about two minutes.

Gently remove the eggs from the rings, and place one egg on each piece of cooked sausage.

Top each egg with one slice of American cheese, then finish it off with the top of the English muffin.

Wrap each egg McMuffin with foil or parchment paper. Wait about 30 seconds before serving.
Nutrition
Calories: 

522.65kcal

Protein: 

23.32g

Cholesterol: 

243.62mg
Topics:
Related Recipes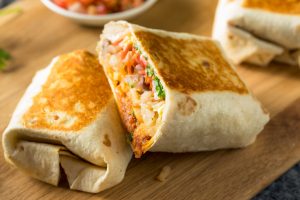 Pan-Fry & Skillet
Mcdonalds Breakfast Burrito Recipe (Copycat)
One bite of this copycat McDonald's breakfast burrito offers a burst of flavors from the sausage, green chilies, and eggs, wrapped in a tender tortilla.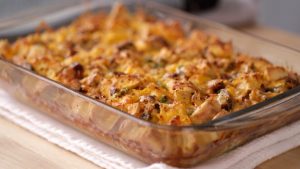 Baked
Sausage McMuffin Egg Bake Recipe
Recreate your favorite fast food breakfast with this sausage McMuffin recipe made with chewy English Muffins baked with eggs for a delicious breakfast meal.