Upgrade your usual ham sandwich with our very own Subway copycat recipe. With this quick and easy sandwich recipe, you get to enjoy a Subway inspired sandwich within the comforts of your own home! We'll show you how to recreate one of their delicious sub sandwiches: a 6-inch Cold Cut Combo Subway sandwich. This yummy dish is overflowing with the best ingredients such as cheese slices, crisp lettuce, onions, pickles, tomatoes, and of course, savory cold cut meats. Serve this tasty homemade cold cut sandwich alongside a creamy potato salad.
What Is the Cold Cut Combo at Subway?
The Subway menu has a lot of delicious food options perfect for snacking and quick lunches. Besides their salads and wraps, they are most famous for their sub sandwiches such as their well-loved Subway BMT sandwich and their delectable Subway Cold Cut Combo sandwich which we are recreating for this homemade recipe. So, what makes this sandwich different from the regular ham or bologna sandwich? Well, it uses more than one type of cold cut meat.
Cold cuts are also known as deli meats and lunch meats. These are types of pre-cooked or cured meat. There are many kinds of cold cut meats at Subway ranging from ham to salami types like pepperoni. But the three kinds of Subway meats used in their Cold Cut Combo sandwich are all turkey-based cold cuts. This is because they are richer in flavor which makes them one of the most popular cold cuts used for making sandwiches. In this Cold Cut Subway recipe, we kept the original cold cut meats used, but also changed it up a bit for an even yummier sandwich! 
What Is On A Cold Cut Combo Subway Sandwich?
The original Subway Cold Cut Combo uses salami, ham, and bologna. However, in this recipe, we swapped the bologna for mortadella for a twist in the usual Subway flavor. It's an Italian cold cut that has a silky texture made from rich, fatty pork with accents of spice and pistachios. 
Aside from the meaty ingredients, this delicious 6-inch sized cold sandwich is also jam-packed with provolone cheese, as well as crisp veggies like tomatoes, onions, pickles, and lettuce. Mayonnaise and French Dijon mustard are then added for a final touch. 
The Best Toppings for Your Subway Cold Cut Combo
Now that you know what's inside this cold sandwich, you're free to also explore other tasty combinations. That's why homemade sandwiches are so fun to make because you can always customize them to your liking! Create more mouthwatering Cold Cut Combo Subway sandwich variations with some of our filling suggestions. 
Try adding some red bell peppers, black olives, fragrant basil leaves, or fresh spinach. Other people would also add cucumber slices, avocado slices, or juicy apple slices into their sub sandwiches to amp up the flavor. Adding in walnuts also works to give it varying flavor and texture. 
You can also swap the cheeses used in this recipe for other types, like mozzarella, American cheese, or goat cheese. If you want a bit of heat in your sandwich, then add in sliced jalapeno peppers or try swapping the Dijon mustard for spicy brown mustard. Or, you can always stick with a classic hot sauce like Tabasco or Sriracha. 
You can easily prepare this sandwich for lunch, dinner, or as a heavy snack. It's so quick to put together, you won't need more than 20 minutes to make a scrumptious cold-cut meal. Enjoy this hearty and meaty sandwich on its own, or pair it with a soup just like how Subway originally serves it. Try pairing it with this loaded baked potato soup or chicken noodle soup.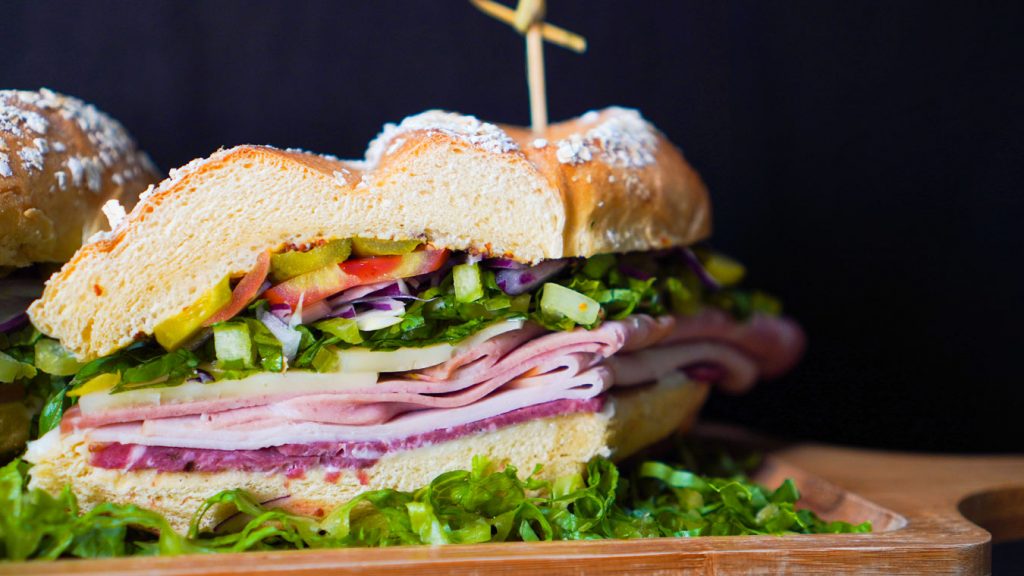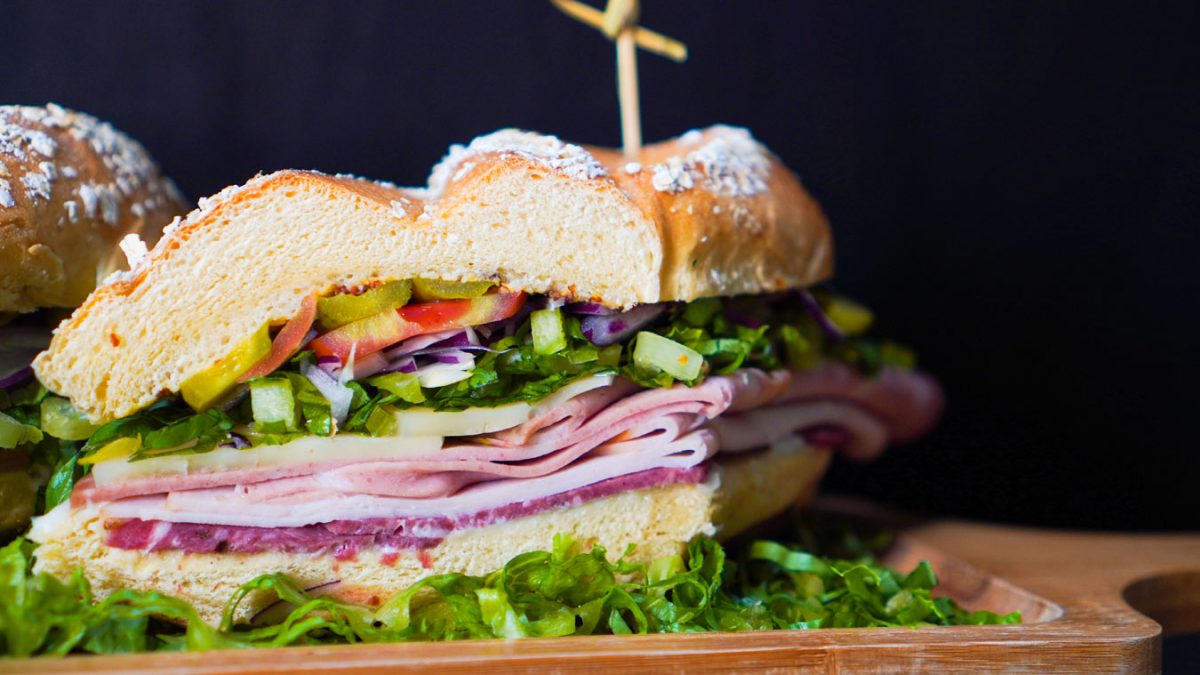 Copycat Subway Cold Cut Combo Recipe
How To Make Copycat Subway Cold Cut Combo
Enjoy smoky and filling cold cut meats like turkey ham, mortadella, and salami with our copycat Cold Cut Combo Subway sandwich recipe. You won't need to line up at Subway just to satisfy your cold cuts craving!
Ingredients
2

Italian rolls,

soft, 12-inches

8

slices salami

8

slices turkey ham

8

slices mortadella

8

slices provolone cheese

3

tbsp

mayonnaise

2

tbsp

Dijon mustard

1

cup

shredded lettuce

1

white or red onion,

thinly sliced

3

pcs tomatoes,

sliced

8

slices pickles
Instructions
Slice the bread in half and remove some of the inner fillings to make more room for the meat.

Evenly spread mayo on the bottom half of the bread.

Evenly spread Dijon mustard on the top half of the bread.

Layer slices of salami, turkey ham, mortadella, and provolone cheese along the length of the bread.

Evenly add shredded lettuce, red onions, tomatoes, and pickles on top of the mortadella cheese across the bread.

Cover the sandwich with the top bread.

Secure the ingredients with toothpicks. Then, cut the sandwich into half.

Serve to loved ones and enjoy!
Recipe Notes
In case you don't have any of the suggested ingredients listed in the recipe, there are a couple of alternative ingredients you can use as a substitute:
If you don't have Dijon mustard available, you can use pommery mustard, or any yellow mustard instead.

You can swap the salami for other Italian cold cuts such as bresaola, sopressata, or simply pepperoni.

No red onion? No problem. You can also use white onions for this sandwich.
Nutrition
Sugar:

16g

:

Calcium:

888mg

Calories:

1298kcal

Carbohydrates:

60g

Cholesterol:

193mg

Fat:

86g

Fiber:

10g

Iron:

16mg

Potassium:

1381mg

Protein:

72g

Saturated Fat:

32g

Sodium:

9581mg

Vitamin A:

1984IU

Vitamin C:

10mg
Nutrition Disclaimer
Frequently Asked Questions
Is the Subway cold cut combo sandwich healthy?
Cold cut meats like ham, pepperoni, and salami are all processed meats. Deli meats are high in salt content, as well as saturated fat, which isn't healthy. However, as with any type of food, the key is to eat cold cuts in moderation, and if possible, occasionally. One way to turn this sandwich healthy is to have your Cold Cut Combo Subway on flatbread. We have a homemade, no-bake flatbread recipe that lets you use nutritious whole wheat flour instead of the regular, less nutritious all-purpose flour. You can also swap out the cold cuts with a low-sodium deli meat for a lesser salt content. Alternatively, organic deli meats also work since they use natural, plant-based compounds.

Do you need to cook cold cuts?
Yes and no. It really depends on the person eating it, and their preferences. If you're above 50 years old or are pregnant, it is highly recommended that you heat your cold cuts first before eating them. People who fall into those categories are at most risk of getting infections due to listeria. Even though these cured meats are pre-cooked, they still contain bacteria called listeria that may grow on its surface even when refrigerated. To be safe, make sure to heat your cold cut meats at 165 degrees F, or until they're steaming, before putting them in your sandwich.
How long do cold cuts last?
A sealed package of cold cuts can last 2 weeks in the refrigerator, and up to 2 months in the freezer. When opened, your cold cuts may last for 3 to 5 days in the fridge and 2 months in the freezer. It's best to store your opened cold cuts in an airtight container to prevent spoilage, and then stow them away in the refrigerator or freezer. Be sure not to eat them beyond the expiration date!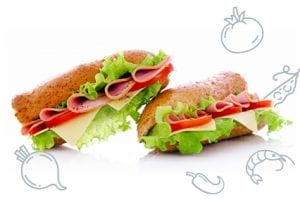 Conclusion
Make the best sandwich for lunch or dinner with this copycat Cold Cut Combo Subway sandwich recipe! If you're craving for some good 'ol cold cuts on soft bread loaded with vegetable and cheese fillings, then this copycat Subway recipe is just for you!