We feel that nothing satisfies like a well-made baguette sandwich. We followed some simple rules that you can use to feel like you are dining in a cafe in Paris, no matter where you are. There's nothing like biting into a crispy baguette and experiencing the sweetness, tartness, and smokiness of a variety of fresh ingredients. We guarantee that this ham sandwich recipe will be your new lunch favorite.
For this ham and brie baguette sandwich, all you need to prepare is fresh ham and some tomatoes. If you prefer other types of cheese (such as blue cheese) feel free and use it instead. The sour flavor of the mustard perfectly compliments the sweetness brought by the tomatoes and onions.
The preparation for this ham sandwich recipe only takes a couple of minutes. Serve this with tea or your preferred blend of coffee and you are good to go. If you're looking for a baguette sandwich that's a little more exotic than a French sandwich, why not check out this authentic Vietnamese Pork Banh Mi sandwich recipe?
How To Make Ham and Brie Baguette Sandwiches with Honey-Mustard Mayonnaise
Improve your sandwich-making skills by experimenting with complementary flavors in this Ham and Brie Baguette Sandwich.
Ingredients
For Honey-Mustard Mayonnaise:
2

tbsp

white wine vinegar or Champagne vinegar

1

large egg

1

tsp

dijon mustard

kosher salt

freshly ground black pepper

1

cup

olive oil

1

tbsp

honey
For Ham and Brie Baguette Sandwiches:
1

whole baguette loaf

½

lb

(250 g) black forest ham

thinly sliced

6

oz

(185 g) ripe brie cheese

cut into thin slices or wedges

4

leaves Romaine lettuce

preferably pale yellow inner leaves

thinly sliced tomato

optional

dill pickle chips

optional

thinly sliced red onion

optional
Instructions
Preheat the oven to 350 degrees Fahrenheit. 
Making Honey-Mustard Mayonnaise
Meanwhile, make the Honey-Mustard Mayonnaise: Put the vinegar, egg, mustard, salt and pepper in the bowl of a food processor fitted with the stainless-steel blade or whisk attachment. 

Turn the machine on and, with the motor running, slowly drizzle in the olive oil, continuing to beat the mixture until all of the oil has been added and a good thick mayonnaise has formed. 

Add the honey and pulse the machine to blend it in. You should have about 1 ½ cups (375 ml), enough for many sandwiches; use liberally to taste, reserving the rest in a covered container in the refrigerator.
Making Ham and Brie Baguette Sandwiches
Bake the baguette in the preheated oven until it is good and crisp, about 10 minutes.

With a bread knife, cut the baguette crosswise into two equal pieces; then, split each piece horizontally lengthwise in half, taking care not to cut all the way, so that it opens like a book. 

Coat the inside surfaces generously with the Honey-Mustard Mayonnaise.

Layer the ham, cheese and Romaine inside each baguette half, adding sliced tomato, pickles and onion if you like. Close each sandwich securely and enjoy! Bon Appetit!
Nutrition Facts
Calories:
322
kcal
|
Carbohydrates:
11
g
|
Protein:
1
g
|
Fat:
11
g
|
Saturated Fat:
2
g
|
Cholesterol:
55
mg
|
Sodium:
524
mg
|
Potassium:
138
mg
|
Fiber:
1
g
|
Sugar:
9
g
|
Vitamin A:
4878
IU
|
Vitamin C:
2
mg
|
Calcium:
18
mg
|
Iron:
1
mg
Commonly Asked Questions
Can I remove certain ingredients from this recipe?
You absolutely can! We put this ham sandwich recipe together to ensure that this sandwich hits all the right flavor notes. What this means is that we included some sweet, sour, salty, and creamy flavors so that one bite takes you on a flavor trip. If you're going to remove an ingredient we suggest you replace it with something similar. For example, if you're not a fan of tomatoes, take them out but replace them with a tomato salsa. So you retain the same flavors without some textures that you might not enjoy.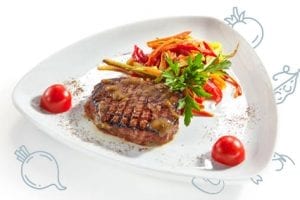 Conclusion
While a sandwich is a lazy, quick option for a meal, it doesn't mean it has to be boring or lacklustre. With this recipe, you learn how to balance different flavors to give you a more than satisfying sandwich.