This poached pears recipe is a great festive dessert for the fall. It serves tender but firm pears poached in cranberry juice, cinnamon, cloves, and honey which creates the perfect balance of sweet and spicy flavors. It's a wine-free alternative for red wine poached pears, but it doesn't fall short on that gorgeous deep red color and superb flavor. Serve it with a big scoop of vanilla ice cream, mascarpone cheese, or yogurt and voila! You have a gorgeous-looking and delicious poached pear dessert that's perfect at night as you sip a glass of moscato wine or white wine.
Tips on Making Poached Pears
You can easily make and serve this fancy French dessert in just under an hour. Here are the best tips about making it:
Core the pears.

Since its shape is not consistent, coring it will help it cook more evenly. Use a small melon baller to dig through the bottom until you are able to scrape all of the seeds out.
Drop the pears immediately into the poaching liquid to prevent them from turning brown

. The slight acidity from the cranberry juice and lemon will help them stop oxidizing.
The perfect pear to use for poaching is the Bosc variant.

Bosc pears have a firm flesh and a sweet, tart fruity flavor. Asian and Anjou are great choices, too. If there are tiny brown spots on your ripe pears, don't worry! It won't be much of a big deal once the pears are covered with cranberry sauce.
Add other delicious ingredients to your poached pears without wine.

You can add a dash of nutmeg, rosemary, star anise, as well as

vanilla bean

pod or paste.
Since pear season is usually around the later months of the year, it's the perfect reason to make this delicious dessert! For more pear recipes, check out this diabetic friendly poached pears. These healthy poached pears are cooked in orange juice and apple juice. Otherwise, try this rice pudding with pears and almonds.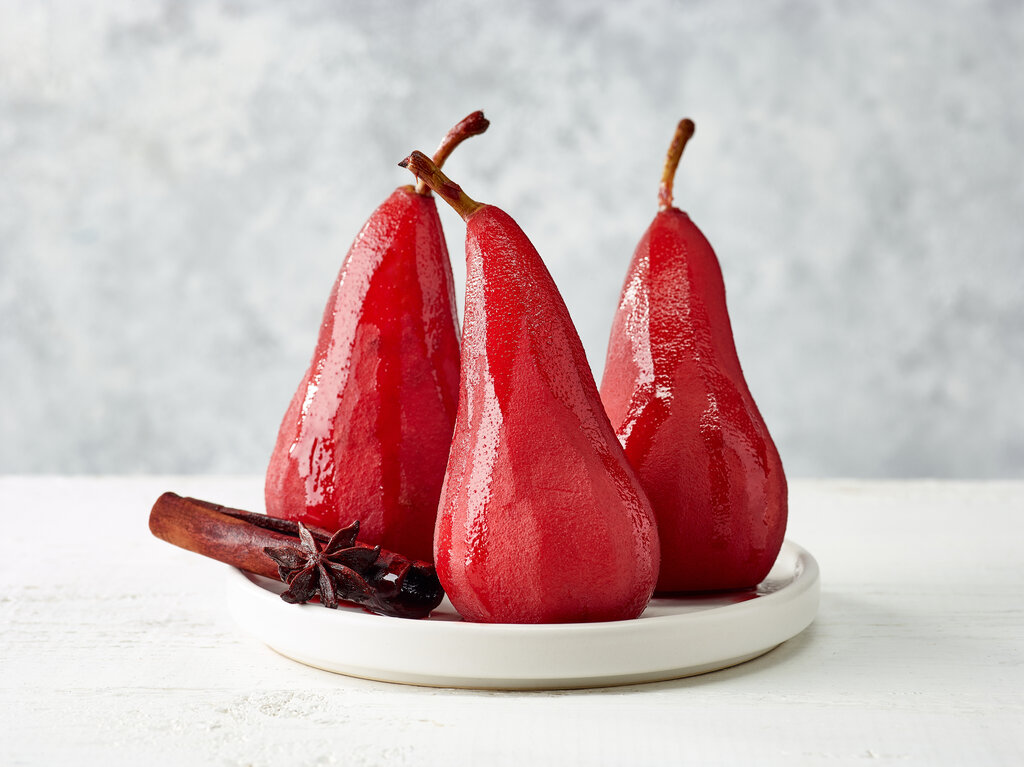 Poached Pears with Cranberry Spice Sauce Recipe
How To Make Poached Pears with Cranberry Spice Sauce
This poached pears recipe serves the tender sweet and slightly spiced poached pears for dessert. It's made with cranberry juice, lemon, cinnamon, cloves, ginger, and orange peels.
Ingredients
4

large pears,

can use up to 8 pears

1

qt

cranberry cocktail juice

2

tbsp

lemon juice,

or apple cider vinegar

1

cinnamon stick

1

large piece of orange peel

1

tbsp

fresh ginger,

finely chopped

2

cloves,

can add up to 6 cloves

¾

cup

simple syrup,

or ½ cup honey

2

tbsp

cornstarch

2

tbsp

water
For Simple Syrup:
Instructions
Prepare the simple syrup by heating up water and sugar in a saucepan. Cook until sugar is completely dissolved.

Turn the heat to the lowest. Add the cranberry juice, lemon juice, cinnamon, cloves, orange peel, and fresh ginger into the pan.

Meanwhile, core the pears using a melon baller starting from the bottom until all the seeds are scraped.

Peel pears and leave them whole with stems attached. Put them into the saucepan.

Let the pears cook until they are tender but still able to hold their shape, turning occasionally for about 15 to 20 minutes. Do not cover the pan.

Remove pears and bring syrup to a boil. Let it reduce until there are 2 cups of liquid left.

Remove spices and stir in cornstarch mixed with water. Stir over moderate heat until sauce thickens.

Spoon sauce over pears, garnish with mint leaves and serve warm.
Nutrition
Sugar:

117g

:

Calcium:

48mg

Calories:

520kcal

Carbohydrates:

136g

Fat:

1g

Fiber:

6g

Iron:

3mg

Monounsaturated Fat:

1g

Polyunsaturated Fat:

1g

Potassium:

306mg

Protein:

1g

Saturated Fat:

1g

Sodium:

46mg

Vitamin A:

79IU

Vitamin C:

115mg
Nutrition Disclaimer
Frequently Asked Questions
Do pears have to be ripe to poach?
Ideally, pears have to be just ripe in order to poach well. Overripe pears will easily turn mushy and soggy, while underripe pears might not poach well.

How long do poached pears last in the fridge?
The pears will stay good for up to 3 weeks if kept in the fridge submerged in their poaching liquid. Without the poaching liquid, the pears are best consumed within 3 days.

How do you keep poached pears from turning brown?
To keep them from turning brown, it's a must to have an acidic ingredient in its poaching liquid. Once you peel the pears, they must immediately touch an acidic mixture such as lemon water, like what we did for this recipe, or water with vinegar.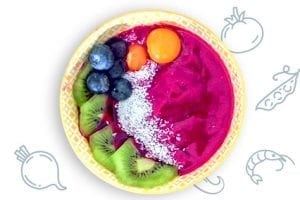 Conclusion
Whether it's for a fine classy dinner or when you're just in the mood for a good dessert, poached pears will surely satisfy. Make a batch using just a handful of ingredients!