Imagine waking up on a cold autumn day to a bunch of warm freshly baked fluffy cherry-studded muffins, and every bite is downed by a sip of hot cinnamon coffee. Now that's one cozy breakfast. Bring it home with our easy cake mix cherry muffins recipe. That's right, this recipe is easy as 1-2-3 because we're making cherry muffins with frozen cherries and cake mix.
Tips on Making Cherry Muffins
A perfect muffin always has to have a not too sweet moist crumbly interior, chunky flavor add-ons, and a lovely muffin top. Here are tips on how to achieve the perfect bakery-style look:
Don't over-stir the muffin batter.

You want everything just moistened and the batter lumpy, not smooth.

Always use paper liners.

The last thing we want to happen is to get all the yummy

cherry muffins

stuck in the tin! If paper liners are not available, you can use parchment paper. Cut squares or rounds big enough to line the muffin cups. Mold them into each cup by pushing them down using the bottom of a small jar. Then, they'll be ready for your batter to be poured into.

Use an ice cream scoop

to fill your

muffin pan

to three-fourths full. This is just enough space for them to rise. The cherry muffins look pretty when they're the same size.

Do not thaw the frozen cherries

so that their juices won't bleed into the batter. For the same reason, if you use canned cherries, make sure to drain them well. You can also use fresh cherries or

dried cherries

.

Customize your white cake mix muffins

. Instead of vanilla cake mix, use a chocolate cake mix and add mini chocolate chips to make

chocolate cherry muffins

. Or, add a teaspoon of

almond extract

and sliced almonds to make

cherry almond muffins

.

Add your flavors last.

Whether it's almonds or chocolate chips you're mixing in, add them last by giving the batter a few gentle folds.
How To Make Cake Mix Cherry Muffins
These are moist and fluffy cherry-studded muffins made using vanilla cake mix. These easy cherry muffins are ready in 30 minutes.
Advertisement
Continue Reading Below
Ingredients
18.25

oz

Duncan Hines vanilla cake mix,

(1 pkg), or any cake mix

2

tbsp

all-purpose flour

3

large eggs

⅔

cup

sour cream

⅓

cup

vegetable oil

1

tsp

baking powder

12

oz

pitted frozen cherries,

do not thaw
Instructions
In a mixing bowl, combine eggs, sour cream, and oil.

In another bowl, combine cake mix and baking powder.

Make a well in the center and pour in the wet ingredients.

Stir until just combined.

Take the cherries and toss them into the flour to coat.

Gently fold the cherries into the batter.

Fill the paper-lined muffin cups with batter to three-fourths of the way full.

Bake at 375 degrees F for 20 minutes or until the muffin tops are golden brown.

Serve your freshly baked cherry muffins and enjoy!
Advertisement
Continue Reading Below
Advertisement
Continue Reading Below
Commonly Asked Questions
What is the secret to making moist muffins?
Use oil instead of butter, and use sour cream instead of milk. Butter contains about 20% water which evaporates in the baking, while oil just gets absorbed by the batter, making it moist. Sour cream adds creaminess and its high fat content also makes the batter moister.

What can I do with ruined cherry muffins?
If your muffins came out dry and tough, it is most likely caused by overmixing. Save them by brushing the tops with lemon-infused simple syrup. Or break them altogether, mix in some Cool Whip and turn them into muffin pops instead like what we did for these cake pops.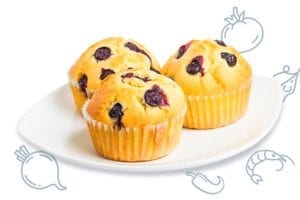 Conclusion
With this easy cake mix cherry muffin recipe, you can have freshly baked cherry muffins for breakfast or any time of the day. They're moist, tender, and oh so delicious!
Advertisement
Continue Reading Below
Topics:
Advertisement
Continue Reading Below
Advertisement
Continue Reading Below