Here's a refreshing alternative to the usual pink lemonade and iced tea drinks. This Blaze Pizza-inspired blood orange lemonade has a zesty sweet flavor with a hint of tart orange blossom water making it the perfect refreshment this summer. In only 5 minutes, you will create a bittersweet beverage that will quench your thirst. Be sure to give this a try especially when it's blood orange season! Then complete the fast food made at home by serving it with veg pizza, or this copycat build your own pizza for more fun!
Tips on Making Blood Orange Lemonade
One of the best Blaze Pizza drinks, this blood orange lemonade contains all natural ingredients, real juice, and no artificial flavors and food coloring. The blood orange flavor really shines through as it is highlighted by fresh lemon juice and orange blossom water. Here are the best tips on making it:
First and foremost, use fresh ripe blood oranges and lemons

that have a firm skin but have a slight give when pressed. This means that the fruits are zesty and contain a lot of juice! Slightly overripe oranges and lemons will do, too, while underripe ones won't give much juice.
To get the most juice out of your fruits,

they must be at room temperature. Also, roll them a few times at the kitchen counter to break down the pulp. As a result, the juice will come out easier.
Can't find orange blossom water?

 Alternatively, you can substitute it with an equal amount of orange zest, orange extract, orange bitters, or rosewater.
For more flavor,

you can use blood orange soda, San Pellegrino blood orange sparkling water, club soda, or alcoholic seltzer water as the base instead of water. Moreover, you can infuse the water with cinnamon by boiling it with a cinnamon stick. It'll add a deeper earthy flavor to the drink. Additionally, other fruits like raspberries and mandarin oranges will taste great in it, too.
Lastly, for the sweetener, you can substitute brown sugar with honey, agave nectar, liquid stevia, maple syrup, or your choice of sweetener. Liquid sweeteners are easier to mix and there's no need to dissolve. Moreover, you might need to add less or more depending on the sweetness of the oranges and the liquid base you used.
Bittersweet Blaze Pizza Copycat Blood Orange Lemonade Recipe
How To Make Bittersweet Blaze Pizza Copycat Blood Orange Lemonade
Made with freshly squeezed blood orange juice, lemon juice, and orange blossom water, this refreshing blood orange lemonade tastes just as great as it looks.
Ingredients
8

cup

water,

or soda water

1

cup

brown sugar,

or stevia

2

cups

blood orange juice,

freshly squeezed from 10-12 blood oranges

2

cups

lemon juice,

freshly squeezed from 10-12 lemons

1

tsp

orange blossom water
Optional Garnish
blood orange slices

lemon slices

fresh mint sprig
Instructions
In a pitcher, mix together the water and sugar until the sugar dissolves.

Then add the orange blossom water, blood orange and lemon juice. Stir well.

Add ice to serving glasses. Pour the lemonade, garnish with fresh lemon and blood orange slices and fresh mint. Serve and enjoy!
Nutrition
Sugar:

22g

:

Calcium:

27mg

Calories:

97kcal

Carbohydrates:

25g

Fat:

1g

Fiber:

1g

Iron:

1mg

Monounsaturated Fat:

1g

Polyunsaturated Fat:

1g

Potassium:

149mg

Protein:

1g

Saturated Fat:

1g

Sodium:

14mg

Vitamin A:

85IU

Vitamin C:

36mg
Nutrition Disclaimer
Frequently Asked Questions
Do blood oranges taste the same as regular oranges?
Blood oranges taste less citrusy than regular oranges. They taste sweeter, with hints of raspberries. Blood oranges and regular oranges have the same pulpy texture, but blood oranges are juicier and have less seeds.

Are blood oranges good for you?
Yes! Blood oranges are full of health benefits. In fact, its vibrant red-colored hue is due to the high levels of anthocyanins and chrysanthemin, antioxidants that contain cancer-fighting properties. Additionally, blood oranges contain significant amounts of vitamins and minerals like vitamin C and dietary fibers that help strengthen the body's immune system. One blood orange actually contains enough of the recommended daily intake of vitamin C for adults.

What does blood orange taste good with?
Blood orange tastes best with sweeter fruits like strawberries, peaches, apples, mango, melon, and fig, for instance. It also blends well with spices like ginger, cloves, cardamom, and cinnamon. Feel free to experiment and incorporate any of these into your drink.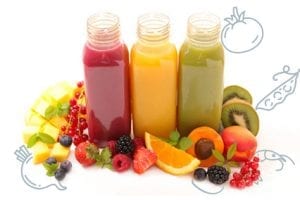 Conclusion
Level up your usual lemonades by making this Blaze Pizza-inspired blood orange lemonade instead. The fresh blood orange juice gives a perfectly sweet and tart flair on the citrusy drink.