End every meal in sweet delight with our Crispy Banana Apple Crumble Recipe. This dessert takes tasty fruits like apple and banana to a whole other level! With our recipe, we'll show you just how fun and rewarding baking can get. It's easy to follow and uses ingredients you can easily pick up from the nearby grocery store. It's also a good way to incorporate healthy fruits into a mouthwatering dessert that'll satisfy your sweet tooth.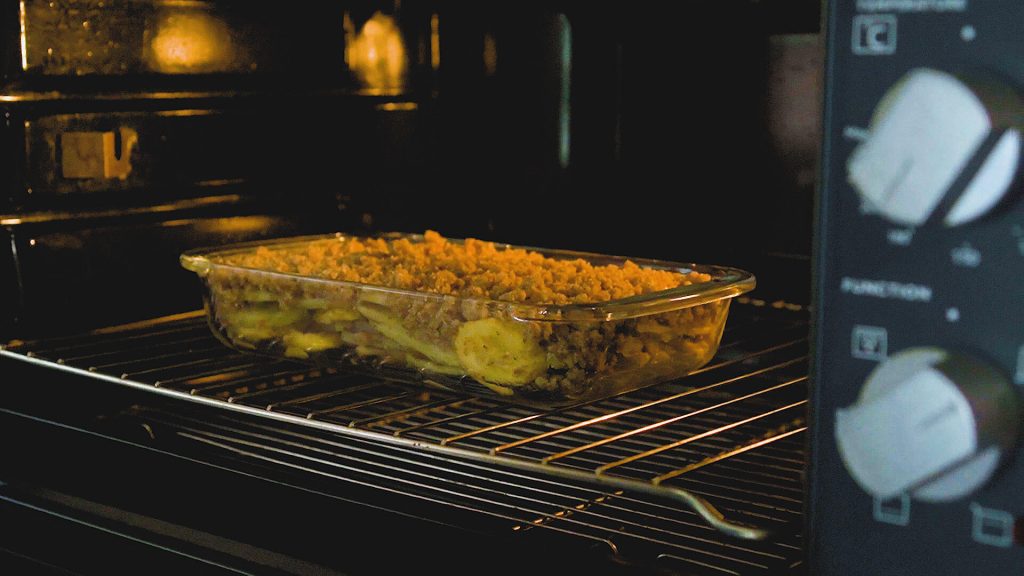 A lot of people usually confuse a crumble with a crisp. This isn't surprising since they share more similarities than differences. For those who don't know, a crumble is a dessert made with baked, chopped apples with a topping of brown sugar and rolled oats. In places like Australia, New Zealand, and even the United Kingdom, the terms crisp and crumble are used interchangeably. Some areas in the U.S. also do this. However, for other areas in the U.S. and Canada, the two are totally different dishes. From its name, crisps and crumbles' toppings are both crispy and crumbly. The only difference is that sometimes the texture is a bit different for the latter. Some versions use chopped nuts and spices like cinnamon and nutmeg. A crumbles' topping is also denser, and doesn't contain oats (which the former does).
There's no doubt that our banana and apple crumble recipe makes for a crispy and pastry dish. Food lovers, ready your taste buds as we give you a dessert with sweet apples, soft bananas, and warm cinnamon. We guarantee that our crispy banana apple crumble will taste as delicious as it smells. And if you liked this recipe, you can also try our Apple Grape Crumble Recipe.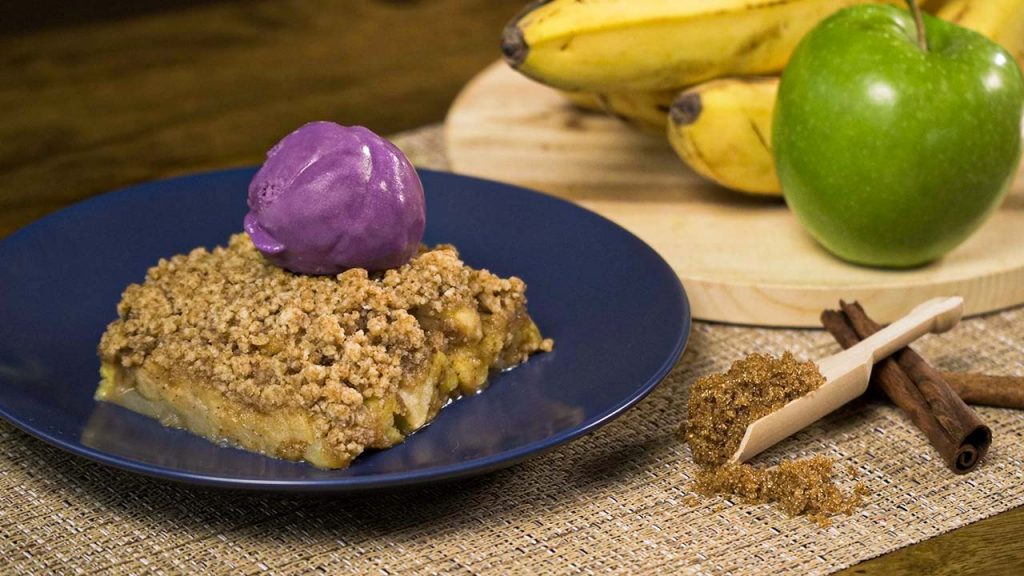 Crispy Banana Apple Crumble Recipe
How To Make Crispy Banana Apple Crumble
A crunchy, golden-brown crust with a mushy mixture of banana and apple slices underneath, our Crispy Apple Banana Crumble Recipe makes for more than a fine dessert. Adding a dollop of ice cream on top also goes really well with this freshly baked pastry.
Ingredients
2

cups

green apples,

sliced

2

cups

bananas,

sliced

1

tsp

ground cinnamon

½

cup

all-purpose flour

½

cup

brown sugar

3

tbsp

unsalted butter

1½

cups

ice cream,

to serve
Instructions
Preheat oven to 350 degrees F. Grease a baking casserole of your choice with cooking spray.

In a bowl, mix the flour, sugar, and butter together.

Using your fingers, turn the mixture into crumbs. Set aside.

In another bowl, combine ground cinnamon, apples, and banana slices. Transfer to your baking casserole.

Place the slices onto the line of the baking tray.

Pour the flour mixture on top of the layer of apple and banana slices.

Bake for about 40 to 45 minutes. Serve with ice cream and enjoy!
Nutrition
Sugar:

42g

:

Calcium:

40mg

Calories:

338kcal

Carbohydrates:

65g

Fat:

9g

Fiber:

4g

Iron:

1mg

Potassium:

389mg

Protein:

3g

Saturated Fat:

2g

Sodium:

108mg

Vitamin A:

457IU

Vitamin C:

9mg
Nutrition Disclaimer
Commonly Asked Questions
Why is my crumble topping dry?
A dry crumble topping may not have enough butter in its topping. Butter is, after all, one of the most important ingredients when making a crumble. If you followed the recipe but it still came out dry, adding a tablespoon of melted butter may just do the trick.
How long does crumble last?
Your crispy banana apple crumble can stay good for 2 days at room temperature. However, it can last longer when refrigerated, and even longer when freezed. It's good for up to 5 days when properly stored in the fridge. Covering it with a plastic wrap should be enough to keep it from spoiling. Meanwhile, storing it in the freezer in an airtight container can make it last for up to 3 to 4 months.
How to know when a crumble is done baking?
Your crispy banana apple crumble should be done cooking in 40 to 45 minutes tops, when the crust is already golden brown and the fruit is bubbling.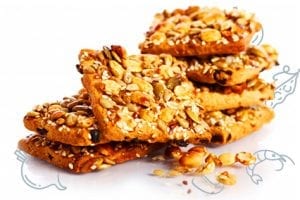 Conclusion
End your meals with a bang with our Crispy Banana Apple Crumble Recipe! Have yourself a delectable dessert using fresh apples and bananas, and sweet cinnamon spice. This recipe is easy to follow and will have you making delicious crumbles in no time.