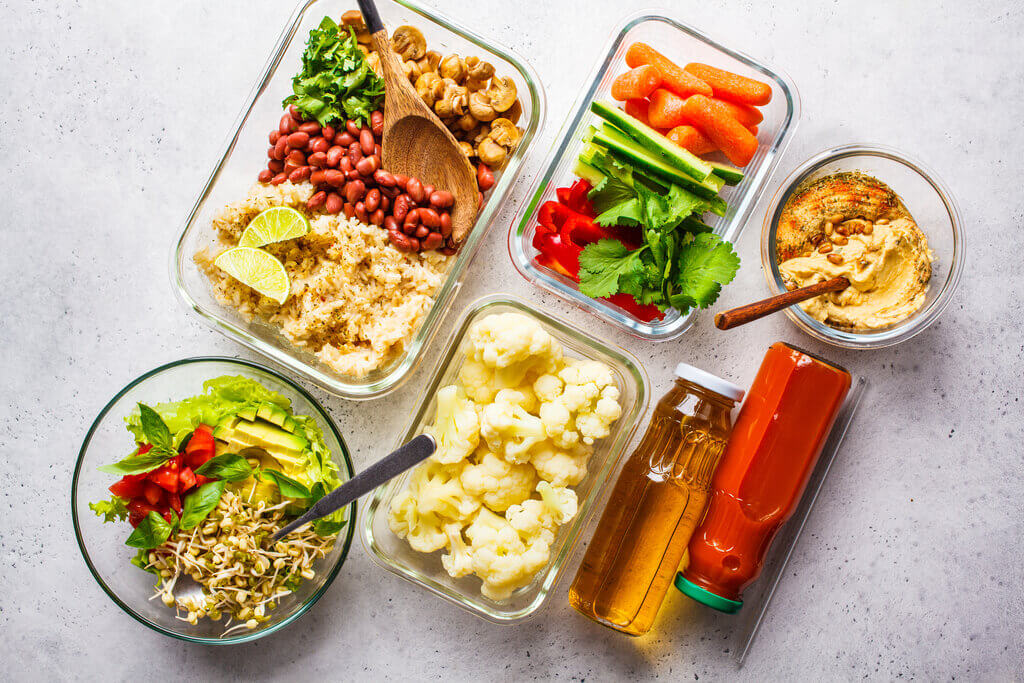 35 Easy Meal Prep Ideas For An Easy Week Ahead
Imagine getting home from work on a Thursday night, all exhausted. Like everybody else, you will most likely shun the idea of spending a few more hours in the kitchen to prepare a decent meal. Fortunately, there's a solution: plethoras of meal prep ideas that guarantee you still enjoy healthy foods even when your weeknights are hectic. 
Meal prep, or meal prepping, is a culinary concept wherein you prepare whole meals and meal components ahead of schedule. Not only does meal preparation save time, but it also helps regulate your food intake. Plus, meal prep recipes, albeit inexpensive, boasts mouthwatering flavors too!
From breakfast burritos to chicken bowls, we have you and your taste buds covered! We'll also share a few tips about meal prepping so you can easily prepare some make-ahead meals for the upcoming week.
---
Cheap Meal Prep Ideas
Who says meal prepping is tough on the wallet? You can prepare these recipes in advance without breaking the bank, and they don't skimp on flavors too!
Stuffed Bell Peppers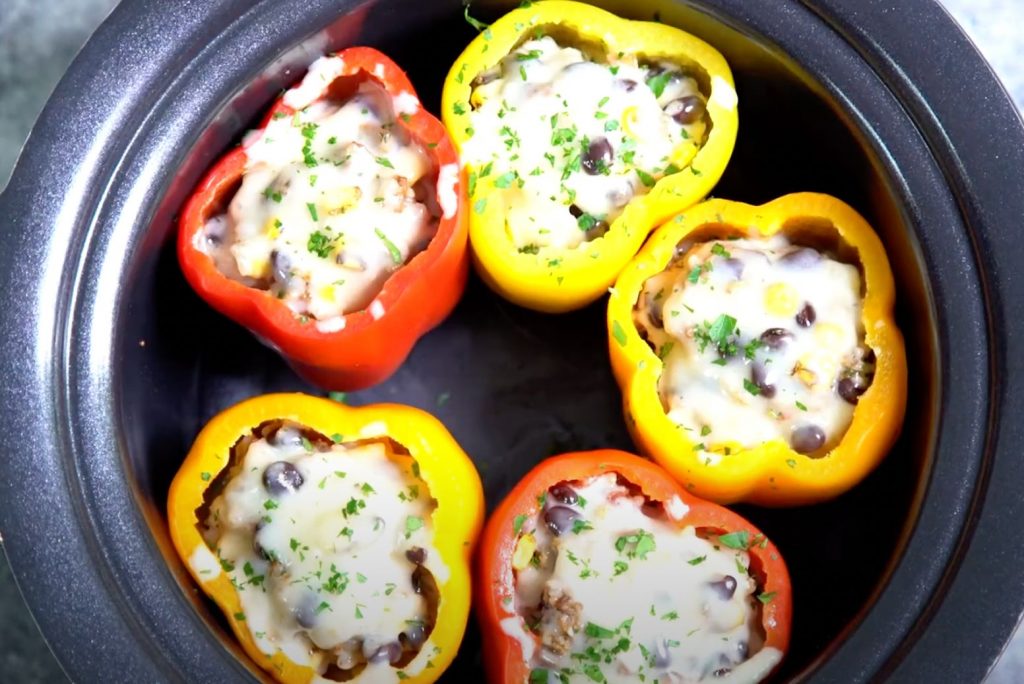 Who wouldn't be delighted with these stuffed bell peppers filled with ground beef, wild rice, and cheese? All you need for this cheap meal prep idea is your handy slow cooker and a handful of ingredients. Conveniently, with only 10 minutes of preparation, getting your dinner ready has never been easier!
Recipe for Inspiration: Slow Cooker Stuffed Bell Peppers 
Pork and Vegetable Stir-Fry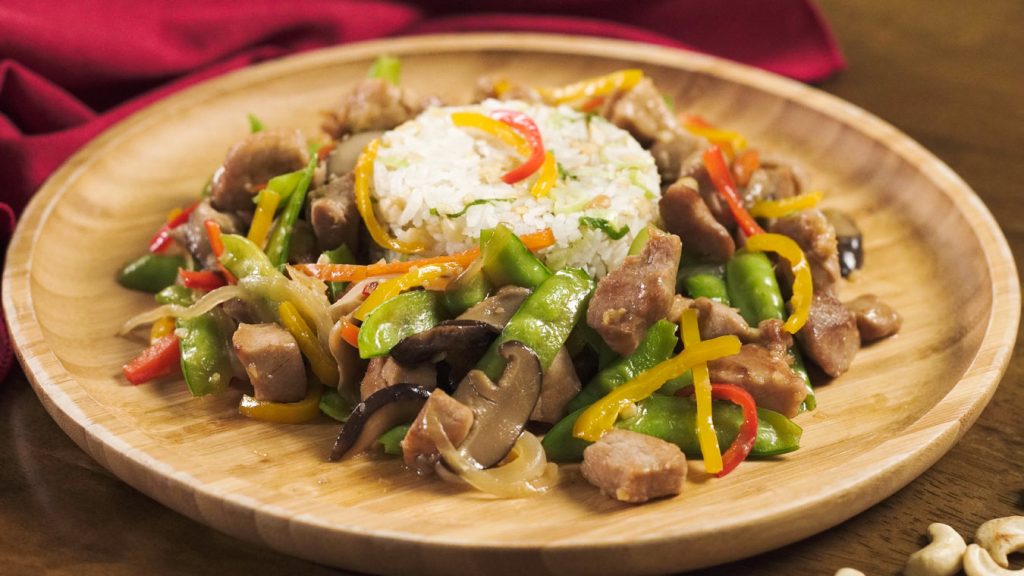 Tender pork and crisp veggies are a fantastic combo in our book, and this easy meal prep mixes them into one tasty dish. We combine the pork with cornstarch and a flavorful soy sauce before sautéing the meat alongside other ingredients. Then, it's finished with a honey-and-broth mixture that also enhances its delicious flavor. It only takes 20 minutes to prepare and cook this food prep, but the taste remains palatable after a few days.
Recipe for Inspiration: Pork and Vegetable Stir-Fry with Cashew Rice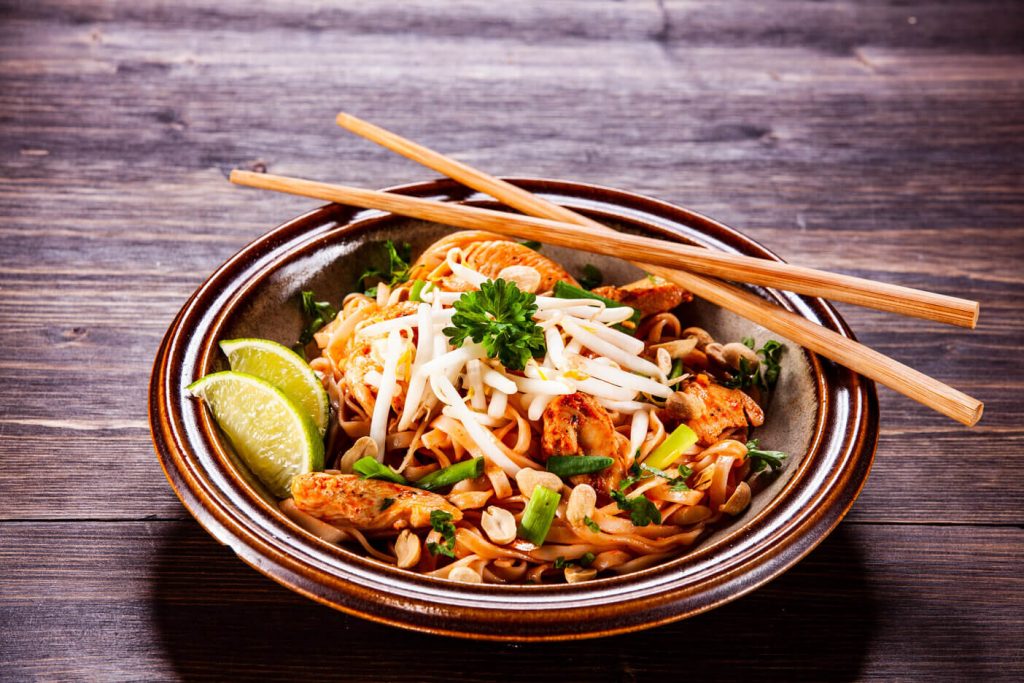 These sweet and savory Thai sesame noodles will keep you satisfied all week long. Peanut butter, sesame oil, ginger, and sriracha chili sauce create the perfect sauce for linguine noodles. And we all know everything tastes exceptional with peanut sesame sauce. Sprinkle some green onions and sesame seeds on top to elevate the taste and appearance of this Asian-inspired meal.
Recipe for Inspiration: Thai Peanut Sesame Noodles
Brown Fried Rice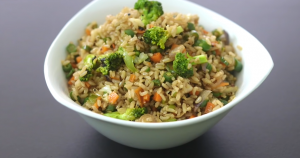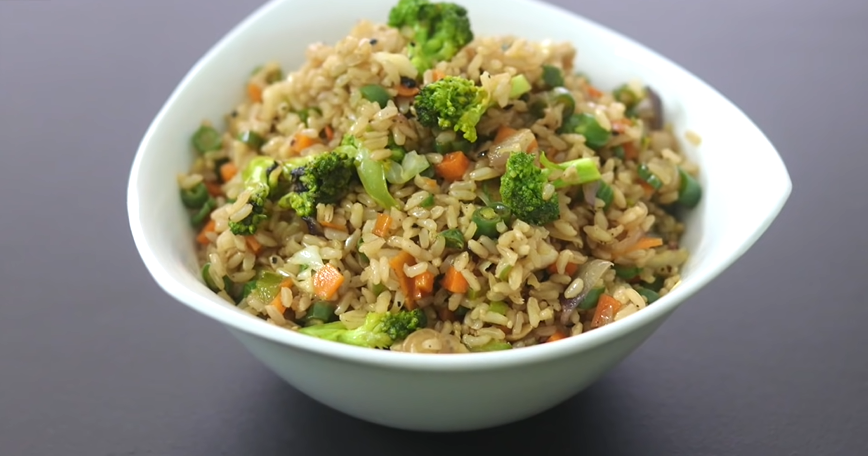 Need something healthy, inexpensive, and downright tasty to bring to work? This easy brown fried rice dish fits the bill perfectly. Brown rice (and any other whole grains), as you know, is ideal for meal preps. Adding a few extra ingredients such as soy sauce, fish sauce, and scallions livens up your usual rice routine.
Recipe for Inspiration: Brown Fried Rice
---
Healthy Meal Prep Ideas
Meal prepping, one way or another, makes sure you eat easier and healthier. So, if you're trying to lose weight, on a keto diet, or want to regulate your food intake, these nutritious meal prep ideas are definitely the way to go!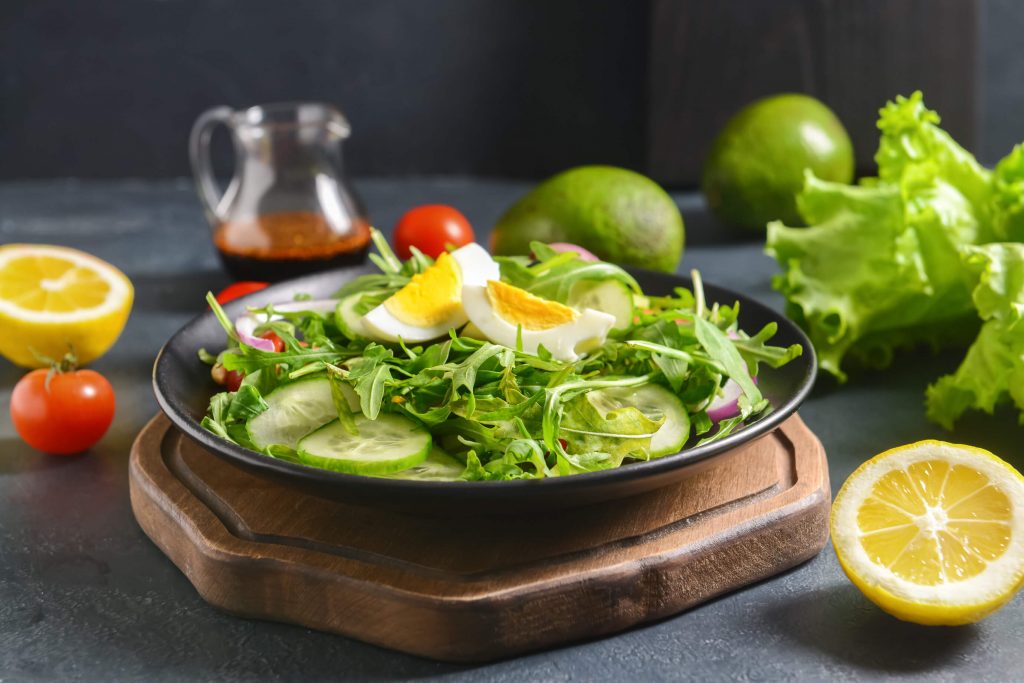 It's easy to see why hard-boiled eggs are among the best meal prep ideas for weight loss out there. This humble pantry staple boasts high protein content, keeping you full and satisfied longer. In this recipe, we pair hard-boiled eggs with a nutritious salad that consists of baby arugula, leek, radishes, and flavorful dressing. A sprinkle of bacon crumbles on top will be nice too!
Recipe for Inspiration: Perfectly Hard-Boiled Eggs and Wilted Baby Arugula and Leek Salad
Chickpea Curry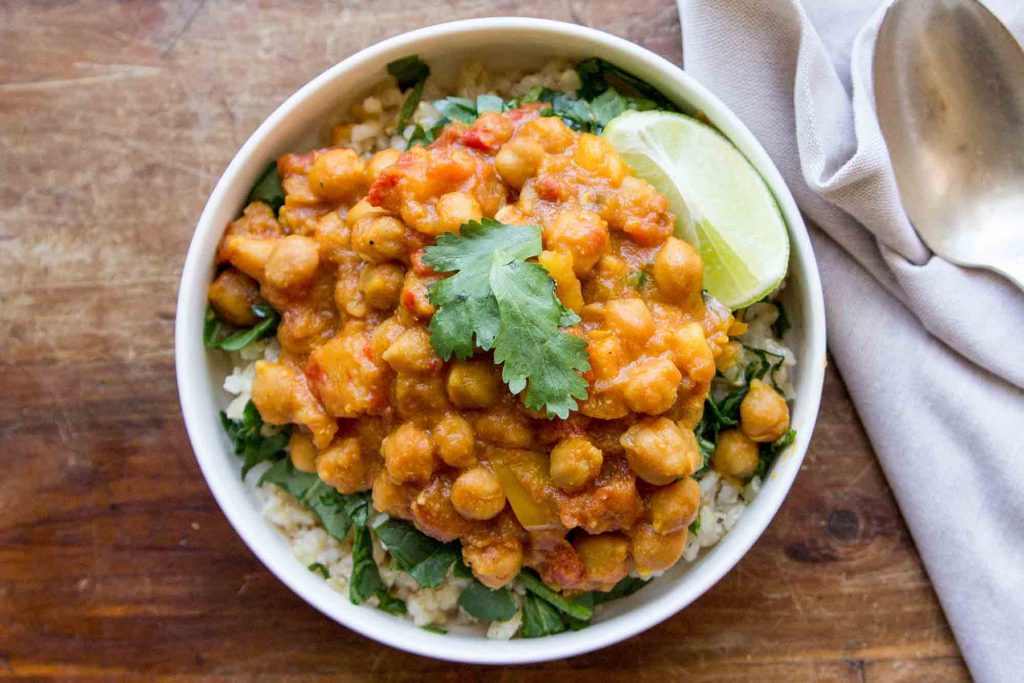 Feel like trying something new for your meal prep routine? Prepare to be astounded with this chickpea curry recipe! Flavorful, easy to cook, totally vegan, and gluten-free, this recipe deserves a place at your dinner tables this week. It also calls for sweet potato, serrano or jalapeño pepper, and coconut milk. Then, we simply toss together the ingredients in the slow cooker. Within a few hours, you will have an incredible meal to enjoy with the family. 
Recipe for Inspiration: Slow Cooker Chickpea Curry
Tuna Salad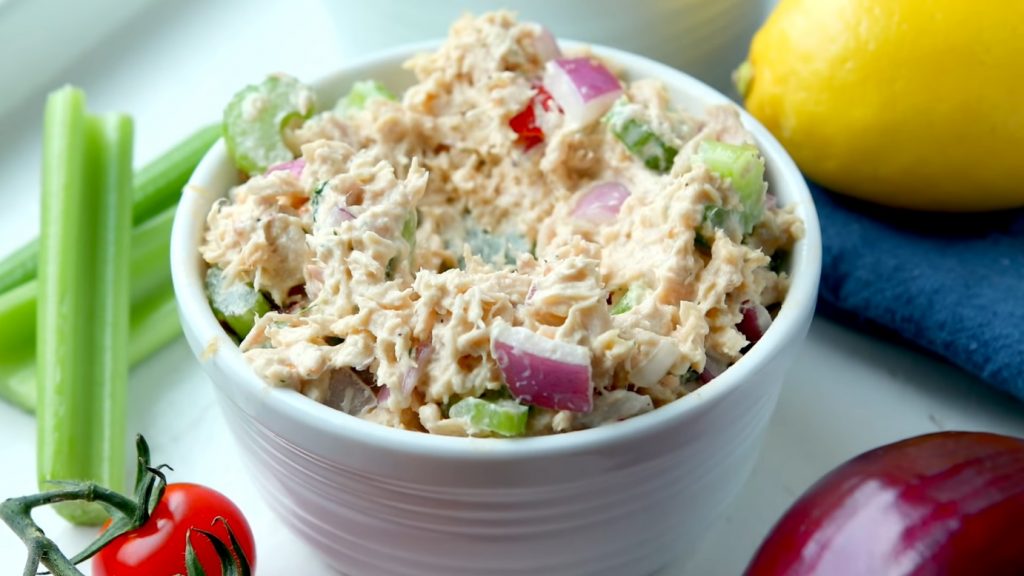 Searching for keto meal prep ideas that don't cut back on delicious flavors? We are certain that this low-carb version of the classic tuna salad will please your palate throughout the week. Delivering a creamy taste that we all love in a salad, this recipe uses reduced-fat mayonnaise and olive oil-packed tuna. Its 15-minute preparation time is just the icing on the cake.  
Recipe for Inspiration: Keto Tuna Salad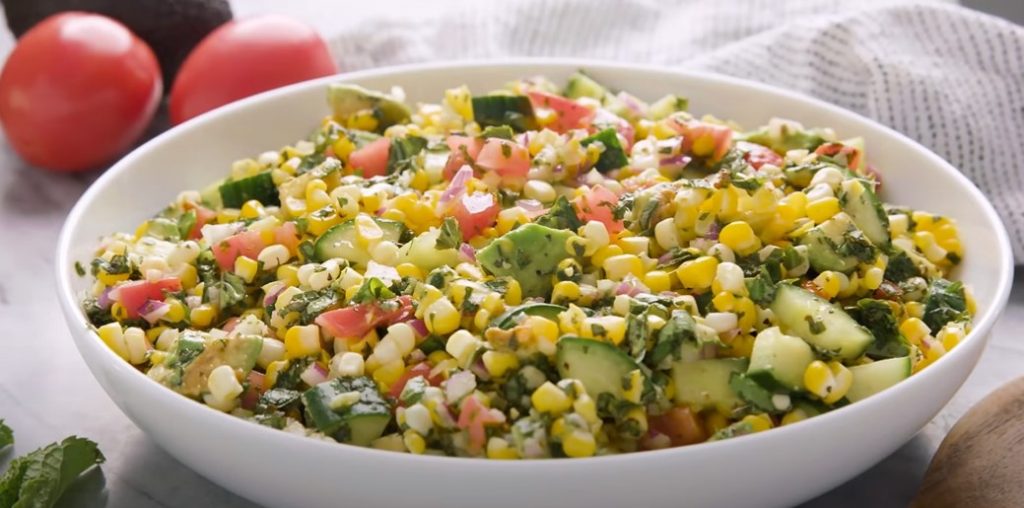 There's nothing quite like grilled corn kernels tossed in a flavorful vinaigrette. Grilling the corn first before removing the kernels from the cob results in a much deeper taste. Although boiling them is also a great option if you want them juicy and tender. This easy recipe also calls for other meal prep-friendly ingredients such as tomatoes and cucumbers.
Recipe for Inspiration: Easy Corn Salad
Roasted Cauliflower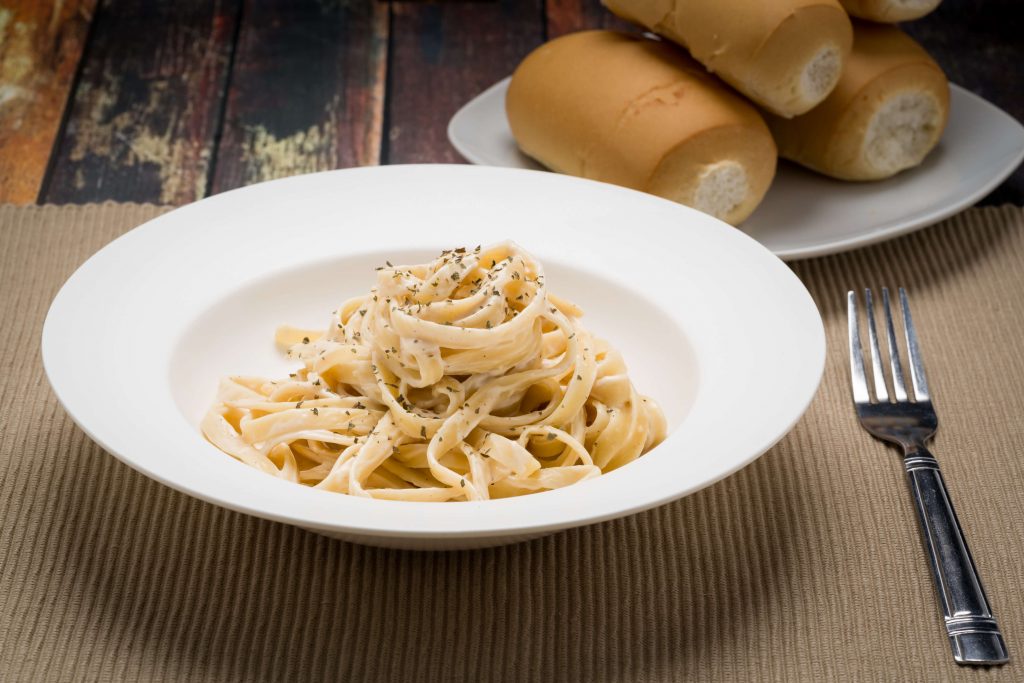 Still on the fence about whether to go for pasta or something weight-loss-friendly like roasted cauliflower? Good news! You can combine the two and have one of the best healthy meal plans ever. Here, we balance out the pasta with the roasted veggies and cover them with Alfredo sauce. Aside from its rich, cheesy goodness, this meal also has a quick prep time to boot!
Recipe for Inspiration: Roasted Cauliflower Fettuccine Alfredo
Fruity Quinoa Salad
Quinoa sits at the top of our list of favorite healthy foods, being gluten-free and high in protein. The good news is this superfood blends well in almost every meal, such as in this vibrant salad dish. We also cannot overlook the refreshing flavors that quinoa and fruits bring about. This salad recipe calls for mango, raspberries, and blueberries, but feel free to add any fresh fruit you love.
Recipe for Inspiration: Fruity Quinoa Salad 
Chickpea Salad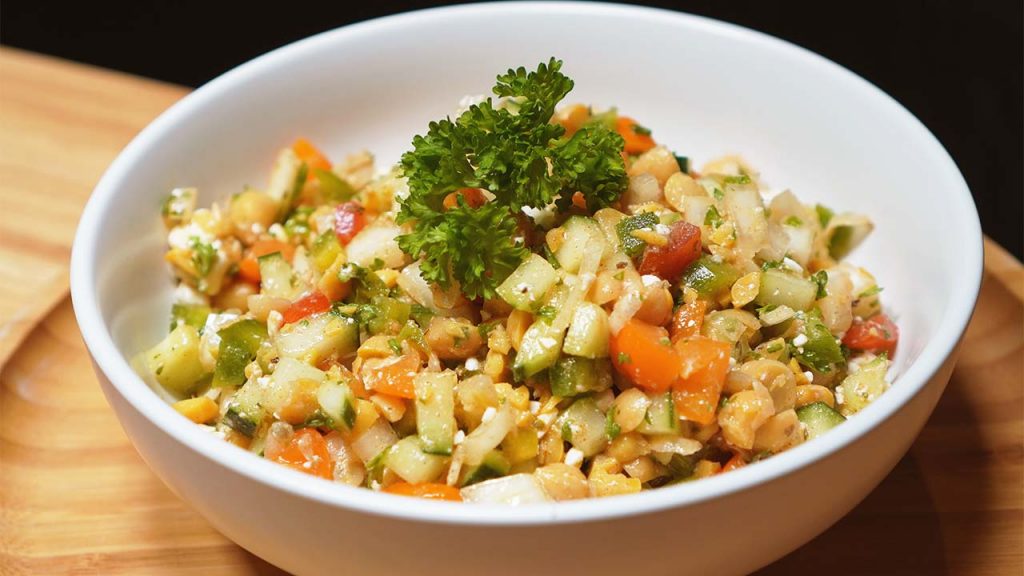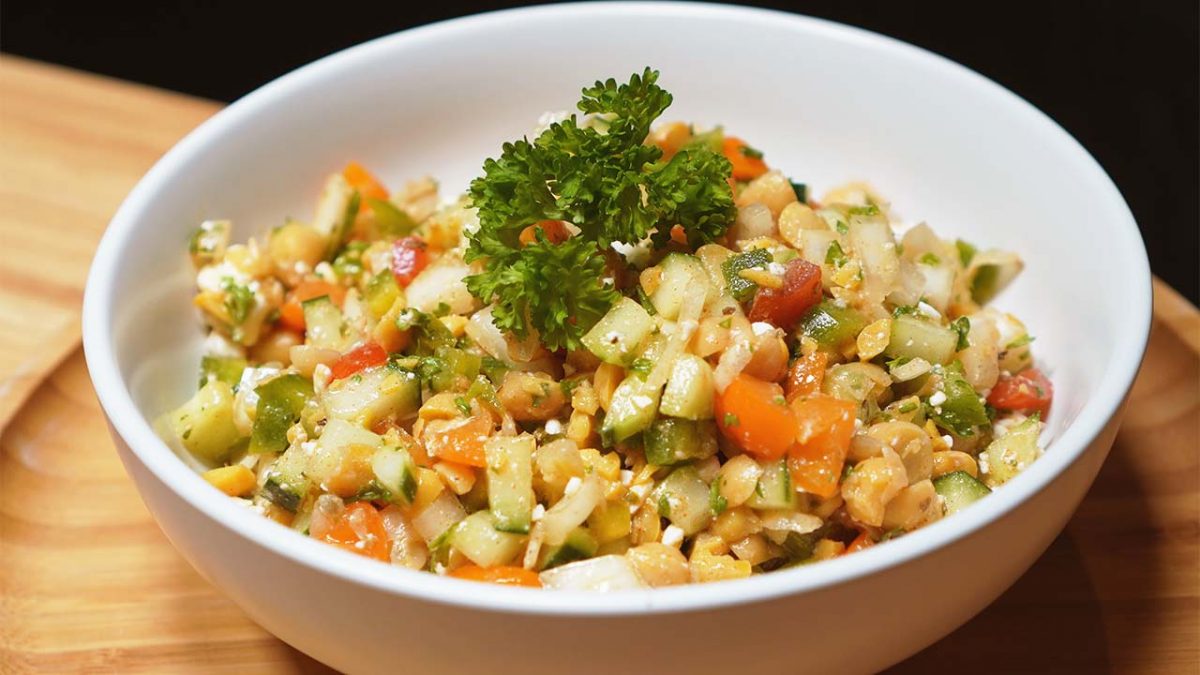 Chickpea, a type of legume, is amongst meal preppers' food of choice when preparing dishes for the week ahead. On top of their nourishing benefits, chickpeas are a cinch to cook! Just a case in point, this chopped chickpea salad only takes 10 minutes to make. We toss together some green bell peppers, cucumbers, and other tasty ingredients in an equally flavorful vinaigrette.
Recipe for Inspiration: Chopped Chickpea Salad
Zucchini Noodles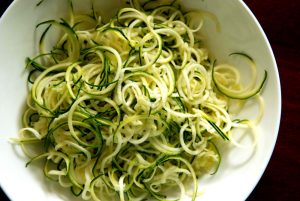 Swap your usual sweet pasta for zucchini noodles and give your meal routine a healthy spin! You won't believe just how delicious this pasta substitute can be, especially when cooked with basil and garlic. Topped with grated parmesan cheese, we can confirm that this vegan and gluten-free meal prep is on another level, flavor-wise.
Recipe for Inspiration: Healthy Zucchini Noodles
---
Chicken Meal Prep Ideas
When you're too busy to cook, it's easy to fall back on a take-out or have your favorite pizza delivered. But before you grab the phone to order, consider these chicken meal prep recipes, all of which are a breeze to prepare. 
Instant Pot Shredded Chicken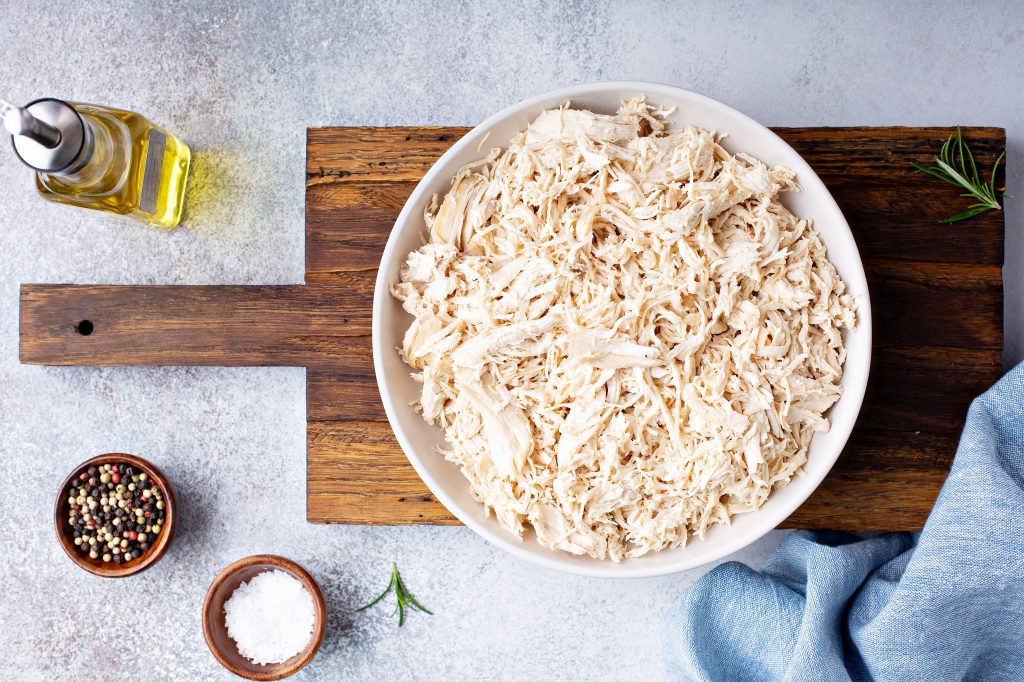 During busy weekdays, we all need something quick yet delicious to rely on. Luckily, many instant pot chicken recipes fit the bill, like this easy recipe. Simply throw together shredded chicken, seasonings, and chicken stock in the instant pot. Best of all, this chicken dish is ready to serve in just 25 minutes. 
Recipe for Inspiration: Instant Pot Shredded Chicken
Buffalo Chicken Dip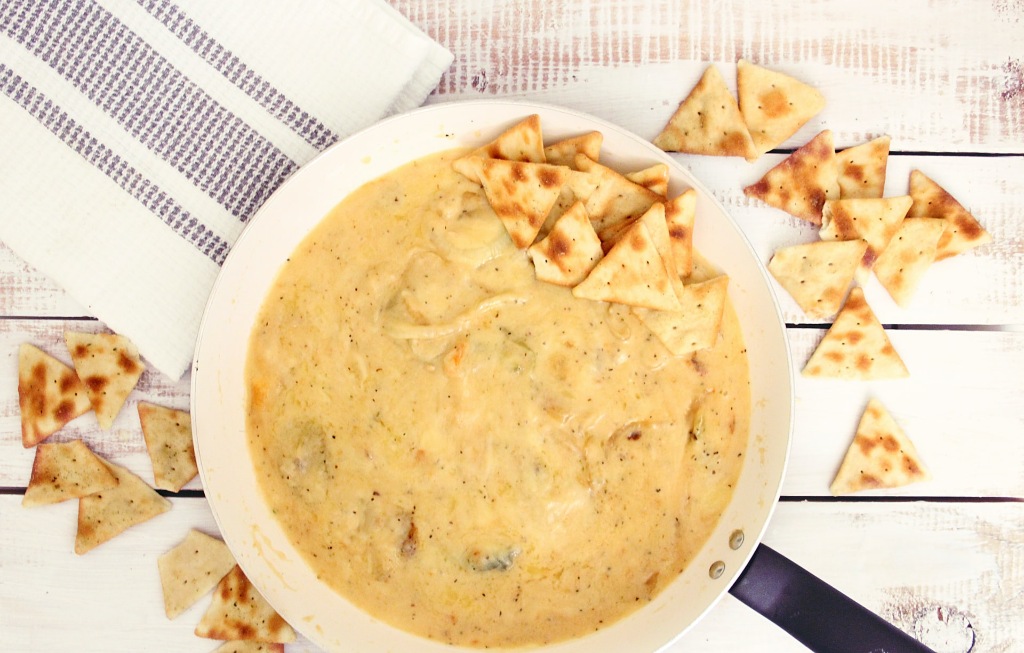 Know what will jazz up your sliced veggies and meal prep salads? This buffalo chicken dip! Just grab your canned chicken breast, cream cheese, and some blue cheese salad dressing, and you're good to go! Even better is you can enjoy its buffalo taste in just 30 minutes. 
Recipe for Inspiration: #1 Buffalo Chicken Dip
Roasted Chicken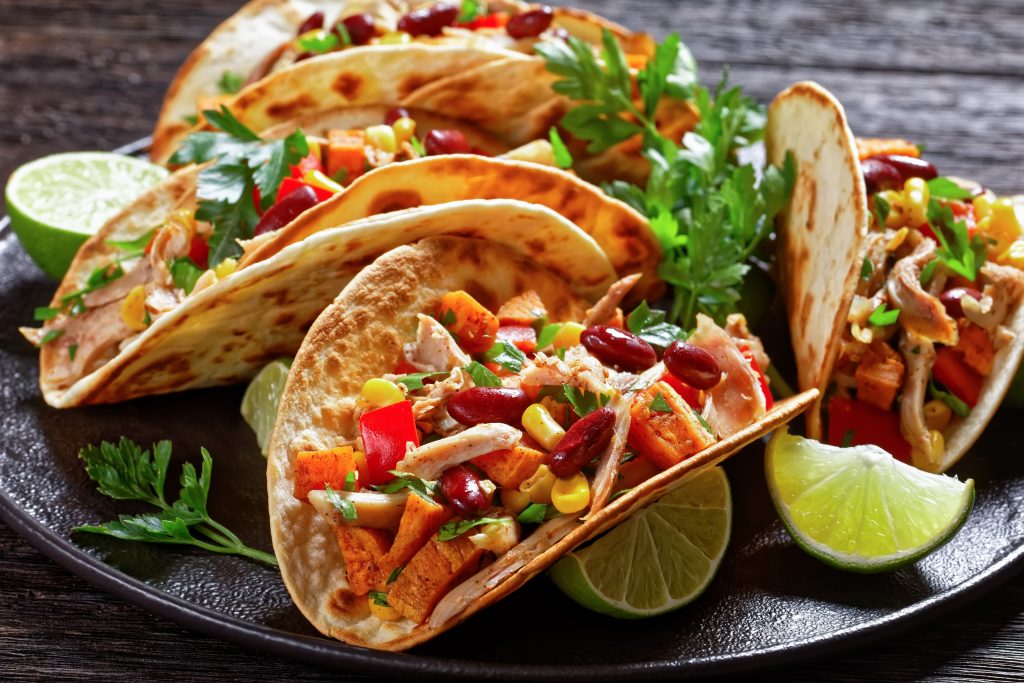 Liven up your Taco Tuesday with this roasted chicken tacos recipe! We know the flavorful chicken filling does not disappoint, but the toppings are quite a scene-stealer just as well. Serve in tortillas and incorporate your desired toppings. May we suggest avocados, guacamole, and some Mexican cream and cheese? 
Recipe for Inspiration: Oven Roasted Chicken Tacos
Baked Chicken Thighs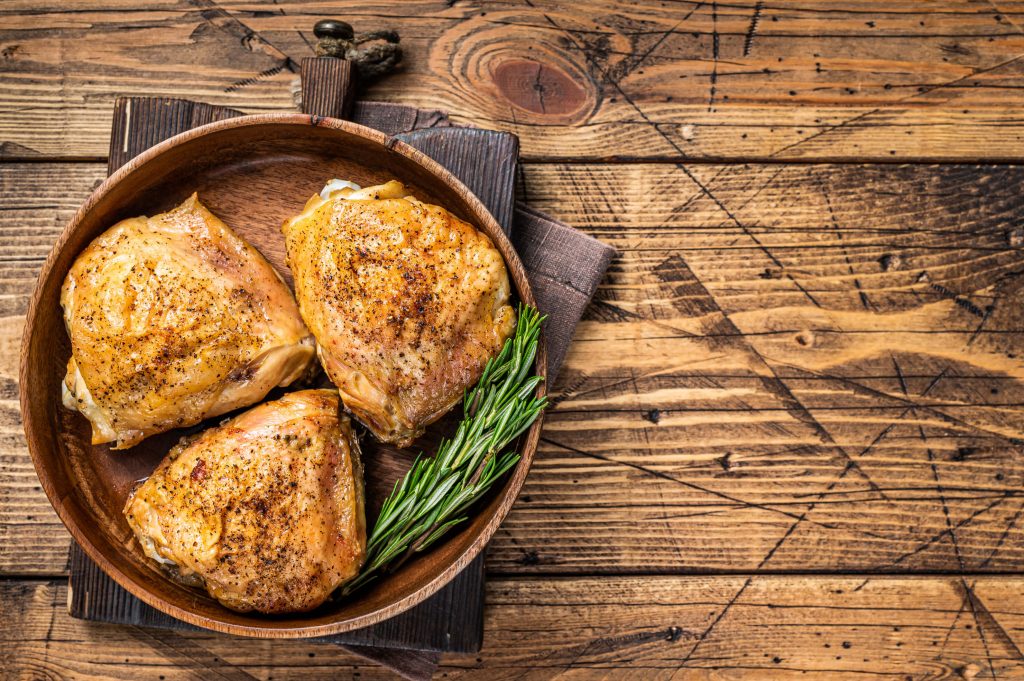 Chicken meal prep has never been this easy! All you need is a handful of ingredients to make some appetizing baked chicken thighs. The trick here is coating the chicken meat with thyme, paprika, and flavorful seasonings before popping them in the oven.
Recipe for Inspiration: Crispy Baked Chicken Thighs
Chicken Bowls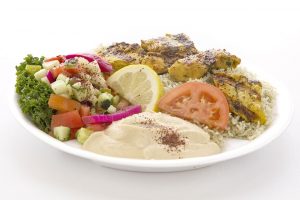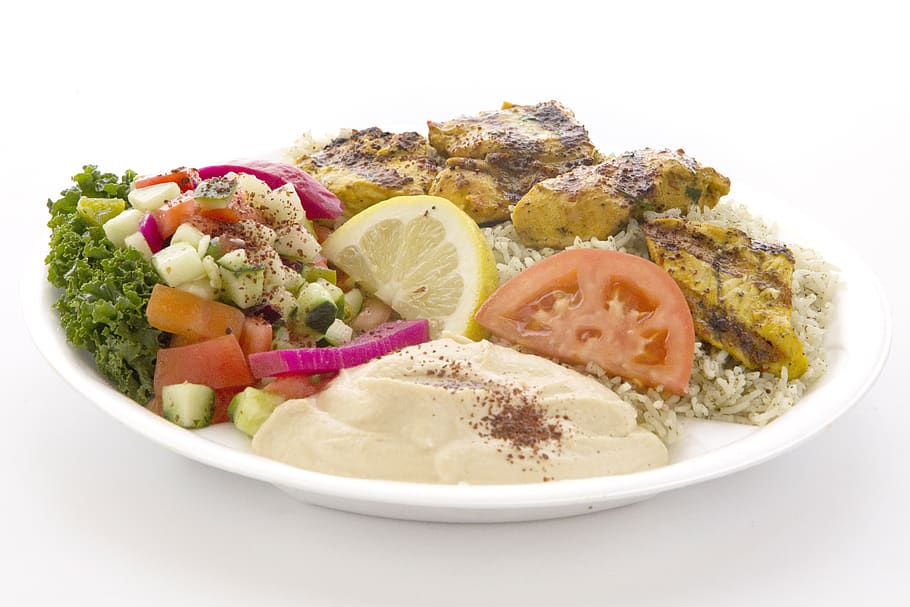 Keep your chicken meal prep interesting by marinating the meat with a citrus dressing that includes orange juice, orange zest, and vinegar. We know chicken usually goes well with regular rice, but we take it up a notch and combine rice with carrots, sugar snap peas, and scallions. With only 20 minutes of prep time and 14 minutes of cooking time, you will have a filling dinner in no time.
Recipe for Inspiration: Grilled Citrus Chicken Bowls
Sheet Pan Chicken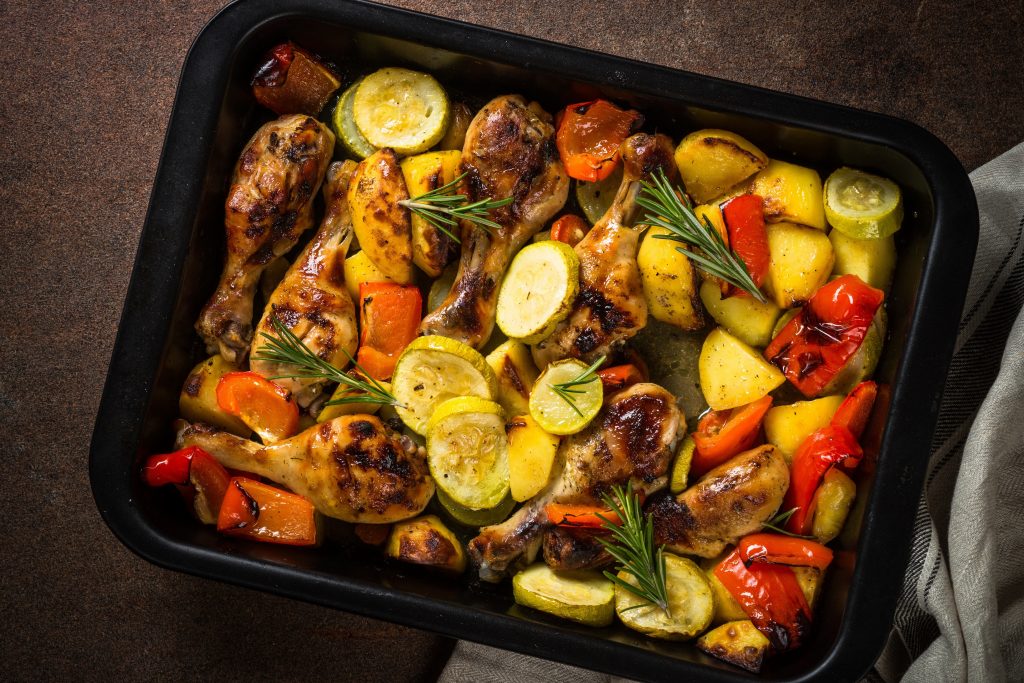 We guarantee that this sheet pan chicken will save you from a dinner rut throughout the week. In this recipe, chicken, asparagus, and potato unite to produce phenomenal flavors. Easy as it is, you can also prepare this sumptuous dish in just 20 minutes. 
Recipe for Inspiration: Sheet Pan Chicken with Asparagus and Potatoes
Baked Chicken Breast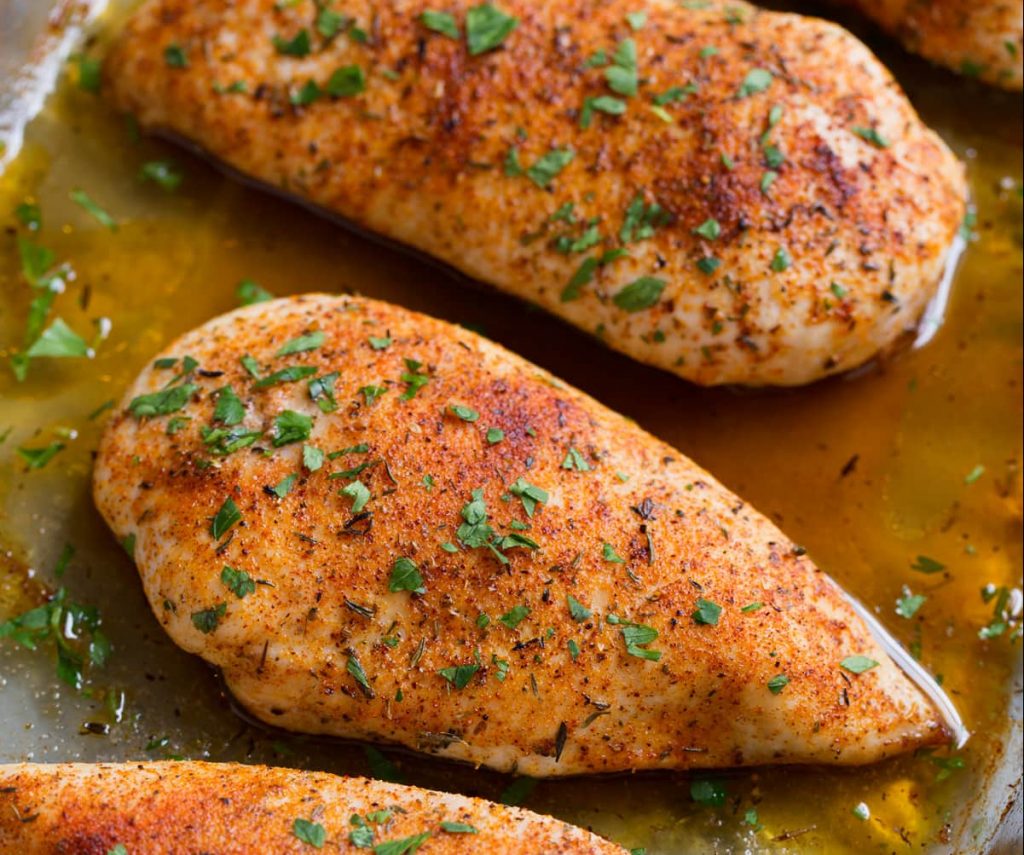 When it comes to meal prepping, we all know chicken makes for a great food choice. This time, we season the meat with oregano, paprika, and chili powder for maximum flavor. But we suggest that you pound the chicken first using a meat mallet as doing so helps tenderize the meat. In about 30 minutes, it's already on the table!
Recipe for Inspiration: Baked Chicken Breast
---
Meal Prep Ideas for Breakfast
We want you to begin your day with nutritious and filling meals, so we gathered some breakfast ideas for you! These recipes deliver delicious flavors and will surely upgrade your morning routines. 
French Toast Sticks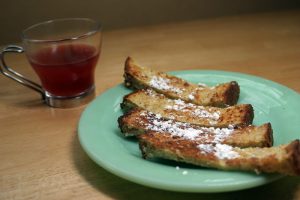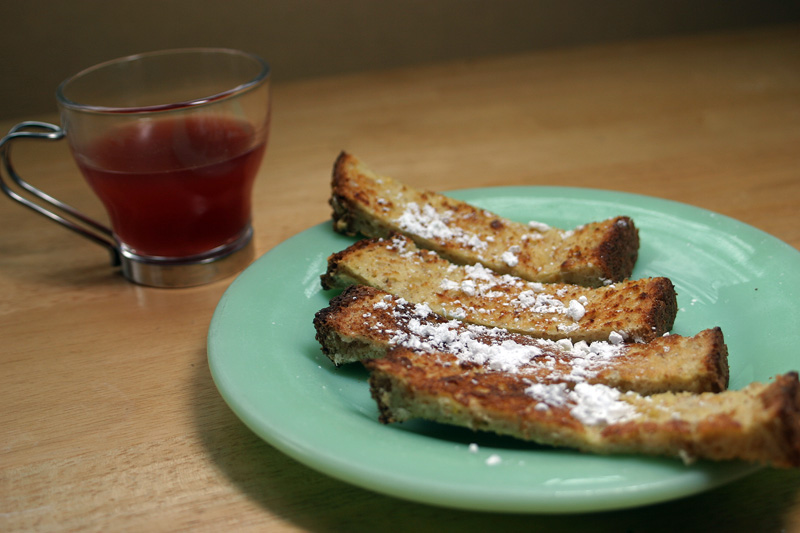 Easy and yummy, this recipe takes the stress out of making breakfasts for the whole family every morning. First, you slice the bread to make some breadsticks, then soak each slice in an egg-milk mixture of butter, vanilla, and cinnamon. And they taste even more heavenly when dipped into luscious maple syrup! So prep ahead and feel free to pop some crunchy french toast sticks in the freezer for later use.
Recipe for Inspiration: French Toast Sticks
Overnight Oats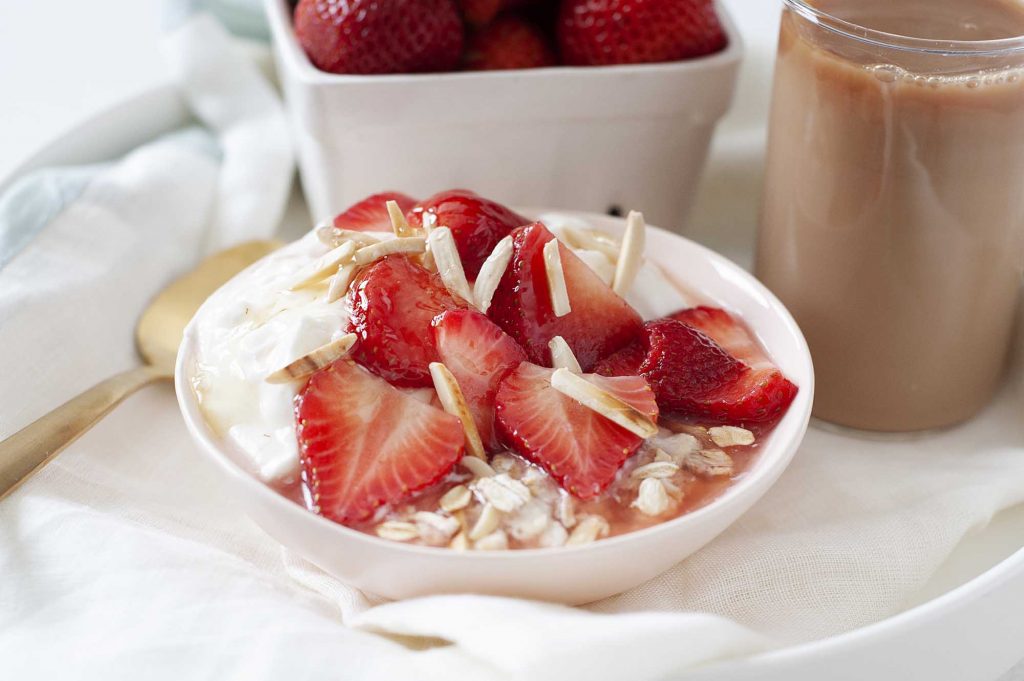 When faced with a busy week ahead, preparing breakfast in advance is the best idea. No wonder we have taken a liking to these yummy overnight oats. Here, we mix old-fashioned oats, buttermilk, and vanilla extract in a bowl and keep them in the fridge all night. When ready to eat the next day, top them with your preferred toppings. 
Recipe for Inspiration: Strawberry Buttermilk Overnight Oats
Egg Casserole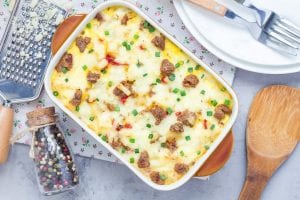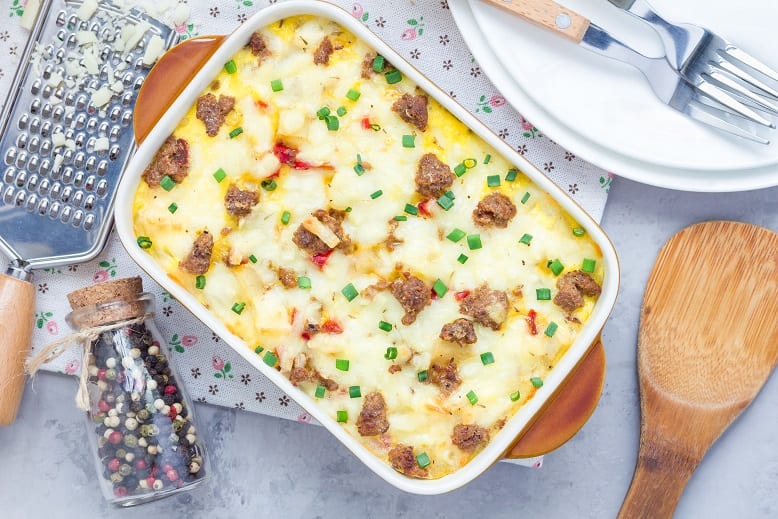 Trying to find more meal prep breakfast ideas for the entire week? Give this delish sausage and egg casserole a go! This is one of those recipes where you rely on a handy crockpot to release the delicious flavors of your meal. Plus, this filling recipe makes five days' worth of delicious breakfast! But feel free to reduce the ingredients in half when preparing this meal if you prefer smaller portions. 
Recipe for Inspiration: Crockpot Sausage & Egg Casserole
Chia Seed Pudding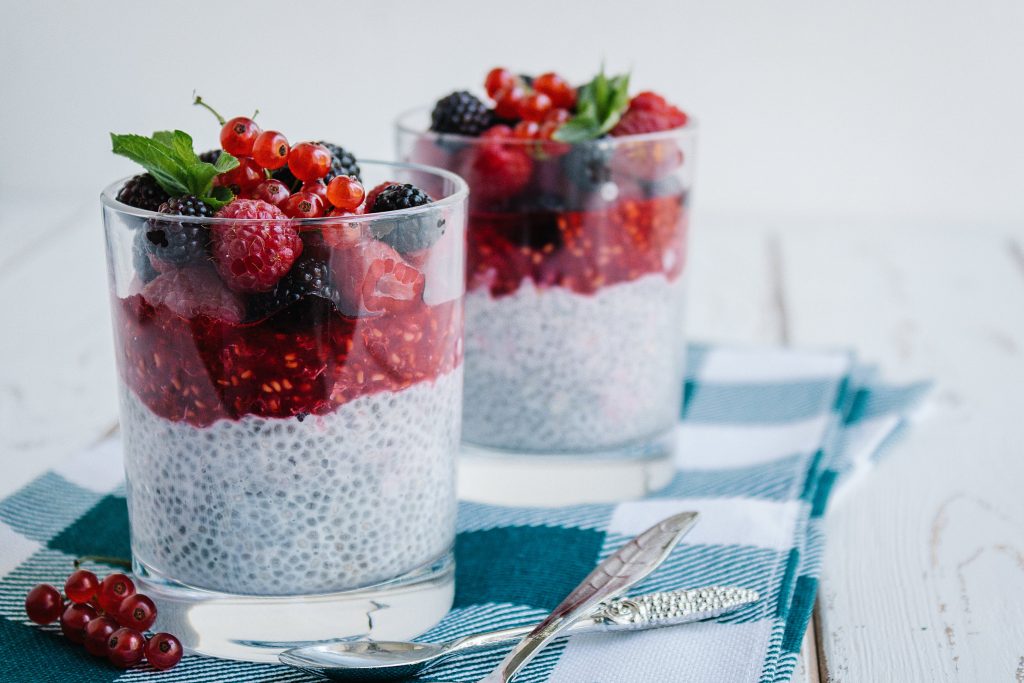 Meal prepping is a piece of cake, especially when you only need three ingredients to create make-ahead meals. Presenting this delightful chia seed pudding! This recipe only uses oat milk, chia seeds, and maple syrup. Chill the pudding the whole night, and have a heavenly breakfast the following morning!
Recipe for Inspiration: Easy Chia Pudding
Breakfast Sandwiches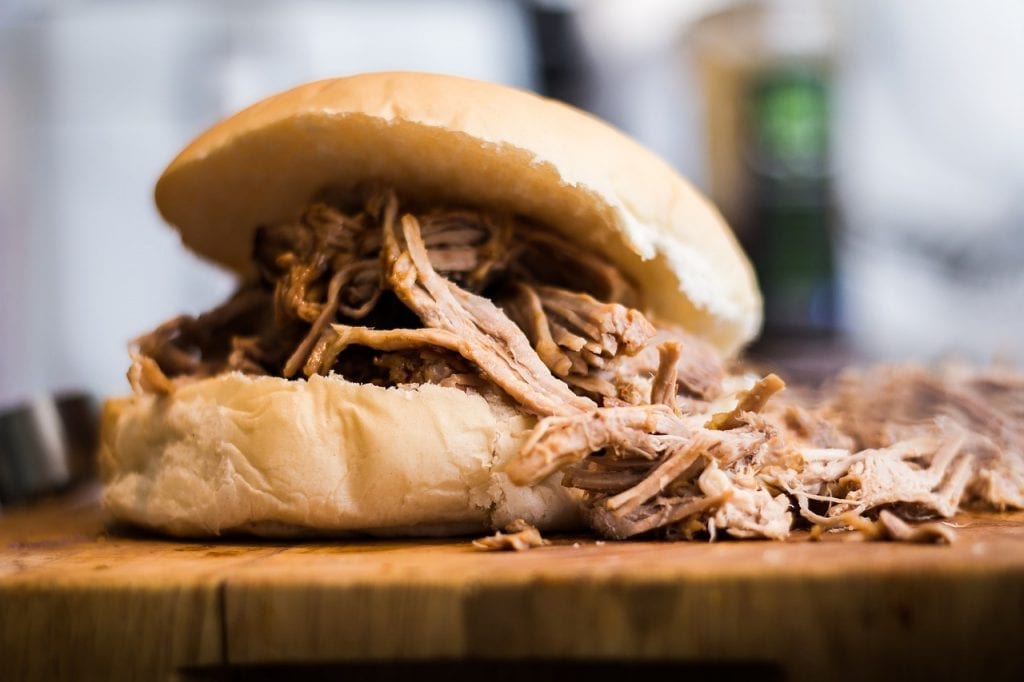 Here's a delightsome upgrade on your usual meal prep breakfast sandwiches! Set the pork shoulder in the slow cooker and slather it with barbecue sauce, apple cider vinegar, chicken Worcestershire sauce, and chicken broth. Use pickles, red cabbage, lettuce, and swiss cheese for the toppings. Batch-prep these pulled pork sandwiches on a Sunday night for filling breakfasts all week!
Recipe for Inspiration: Crockpot Pulled Pork Breakfast Sandwiches
Mexican Breakfast Burrito Bowl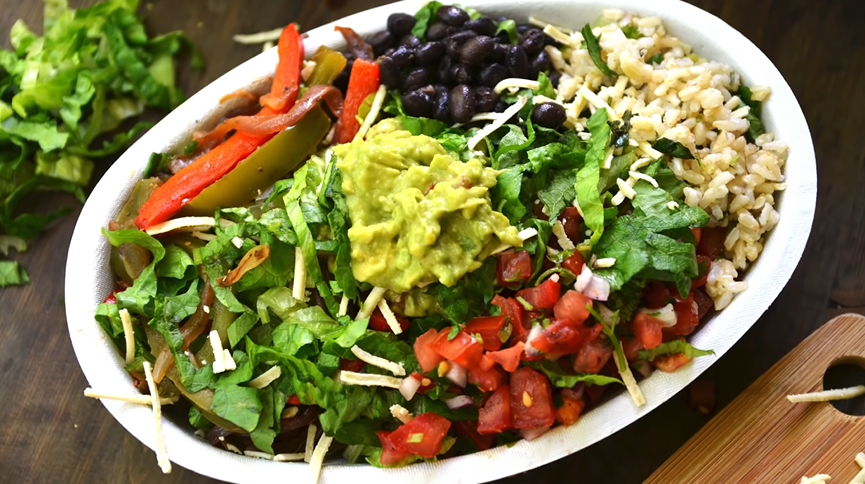 Weekday mornings are so much easier if you have these breakfast burritos in your weekly make-ahead menu. Roasted butternut squash, pico de gallo, avocado, and egg deliver the perfect burrito bowls, all in just 30 minutes! This easy Mexican-inspired dish, bursting with flavors, will be your new go-to breakfast recipe. 
Recipe for Inspiration: Mexican Breakfast Burrito Bowl 
---
Meal Prep Ideas for Lunch
Haven't figured out yet what you're going to pack for lunch? Here are some easy, tasty, and nutrient-filled lunch ideas to try. We're sure you will be looking forward to lunchtime with one of these delicious recipes on hand.
Ground Beef Tacos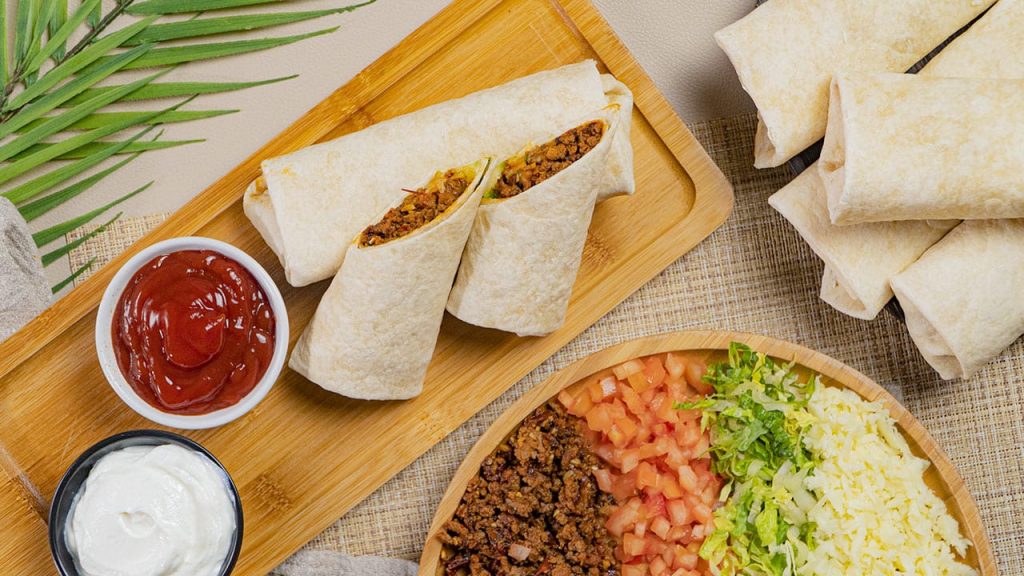 It will only take one bite for meal preppers to appreciate these ground beef tacos! Inspired by Chipotle, ground beef is smothered in adobo sauce with onion powder, oregano, and chili powder. To balance out the spicy flavors, we serve them alongside sour cream. Make sure to make a big batch of these flavorful tacos as they make for the best work lunches!
Recipe for Inspiration: Chipotle Inspired Ground Beef Soft Tacos
Black Bean Salad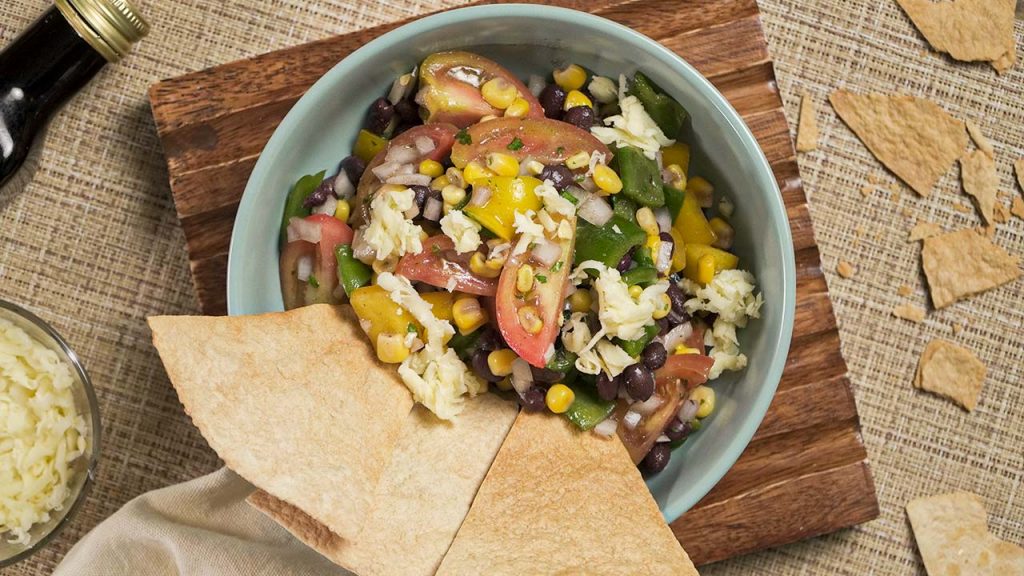 This refreshing black bean salad ticks all the boxes if you're looking for a great meal prep lunch that's easy, healthy, and full of flavors. This recipe is loaded with black beans, corn kernels, and other vibrant ingredients. Lastly, a flavorful dressing brings them all together. We love to pair this with some tortilla chips and Mexican cheese for a complete Mexican-style work lunch all week long. 
Recipe for Inspiration: Mexican Black Bean Salad
Cauliflower Rice Bowl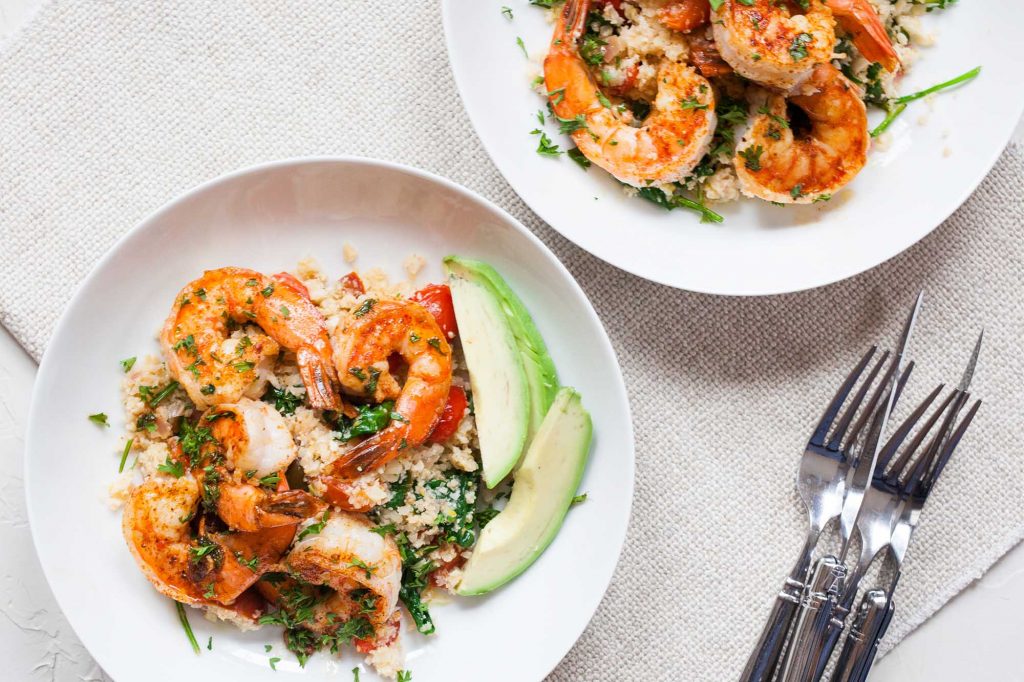 Want to be way ahead of the meal prep lunch game? Then include this cauliflower rice bowl in your meal plan this week! Not only is this meal prep bowl packed full of nutrients, but it's big on flavors as well. One trick here is to add a bit of lemon juice and lemon zest as the cauliflower rice cooks. And topping the rice with some lemon-garlic coated shrimps makes this dish next-level!
Recipe for Inspiration: Cauliflower Rice Bowl with Garlic Shrimp
Meal Prep Taco Salad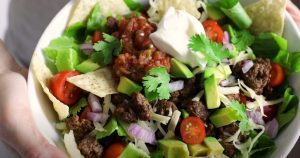 Try this make-ahead taco salad recipe if you wish to streamline your work lunch routine. This salad dish begins by quickly cooking the ground turkey with tomato sauce and flavorful spices. Once done, portion the meat and off to the small containers they go! Do the same thing with the rest of the ingredients, from the veggies to the zesty dressing made with salsa, olive oil, and lime juice. 
Recipe for Inspiration: Meal Prep Taco Salad
Meal Prep Burrito Bowls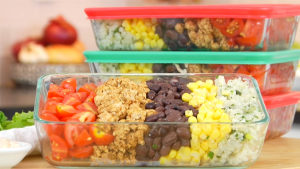 Scouring the Internet to find something easy and satisfying to pack for lunch? Then, this burrito bowl recipe is one to try. Loaded with marinated chicken, cilantro-lime rice, beans, corn, and salsa, you might want to meal prep this dish for the coming weekends!
Recipe for Inspiration: Meal Prep Burrito Bowls
Greek Couscous Salad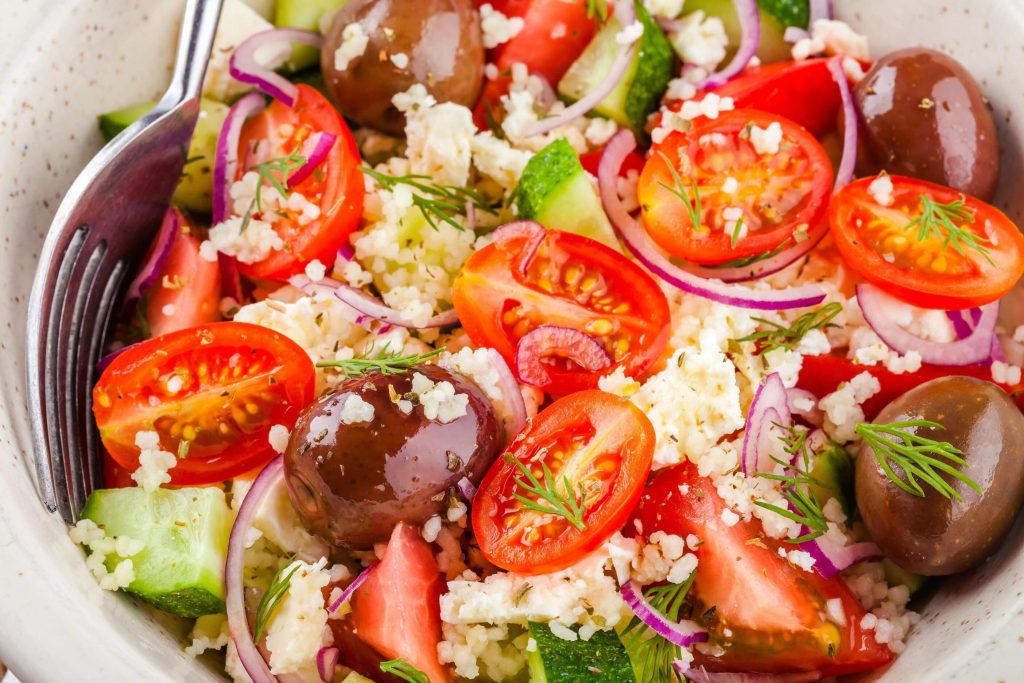 This Greek couscous salad is enough to convince you that meal prepping for the week ahead won't take up your entire Sunday. It's ready in just 35 minutes and requires minimal effort on your part. Straightforward and refreshing, this salad is made with Israeli couscous, bell peppers, cherry tomatoes, Kalamata olives, and feta cheese.
Recipe for Inspiration: Greek Couscous Salad
---
Meal Prep Ideas for Dinner
Preparing dinner night after night can be a real chore, especially if you have a lot on your plate already. So, we bring you the meal prep recipes below to save you from your dinner woes.
Greek Pasta Salad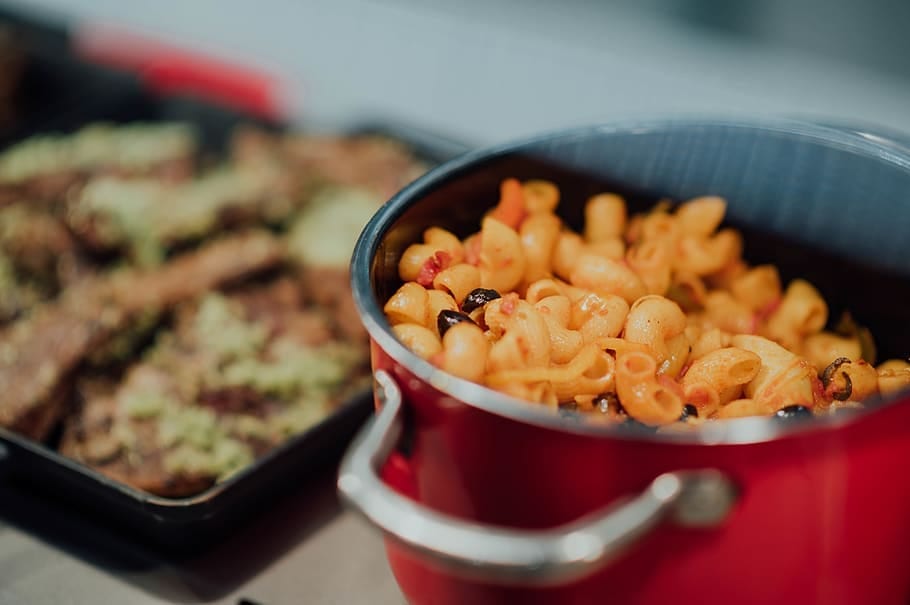 Delicious as it is, you will have this pasta salad on repeat throughout the week! Thankfully, you can easily prepare this recipe ahead of time. It only calls for elbow macaroni, mushrooms, pepperoni sausage, and black olives. Do not skip on other ingredients like dried oregano and red wine vinegar, as they also lend flavors to the dressing.
Recipe for Inspiration: Greek Pasta Salad
Sweet Potato Casserole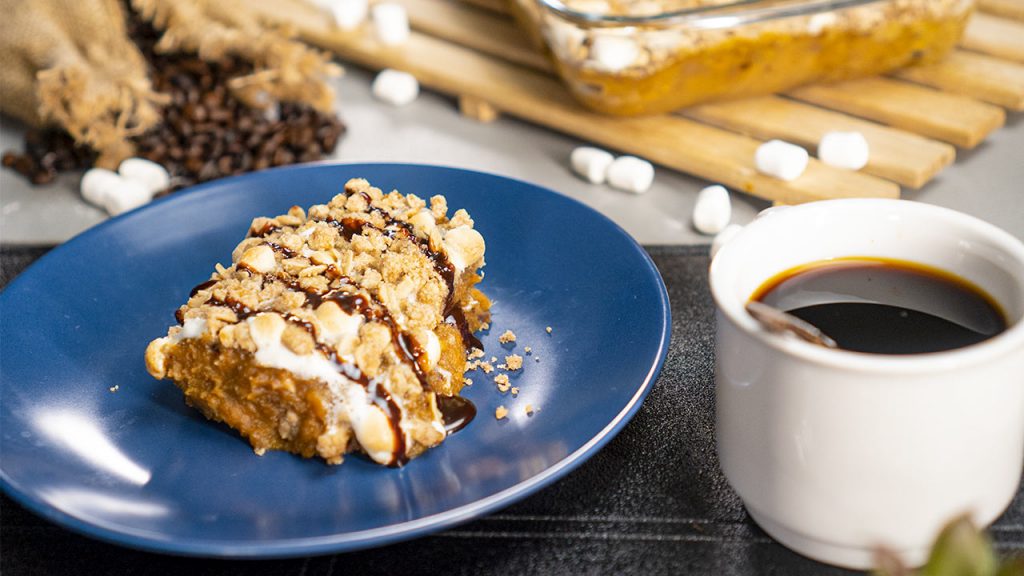 Coming home with a flavorsome dinner already waiting for you is a dream! Even more impressive if it's served alongside a luscious dessert like this sweet potato casserole. Taking cues from Boston Market, combine mashed sweet potatoes, cinnamon, brown sugar, and vanilla extract. Besides the overall creamy texture, the topping captures our attention. Here, we use rolled oats, butter, and ground cinnamon. Good thing you can adjust the recipe and prepare this in advance if you wish to have it as an after-dinner dessert the whole week.
Recipe for Inspiration: Copycat Boston Market's Sweet Potato Casserole
Chicken Salad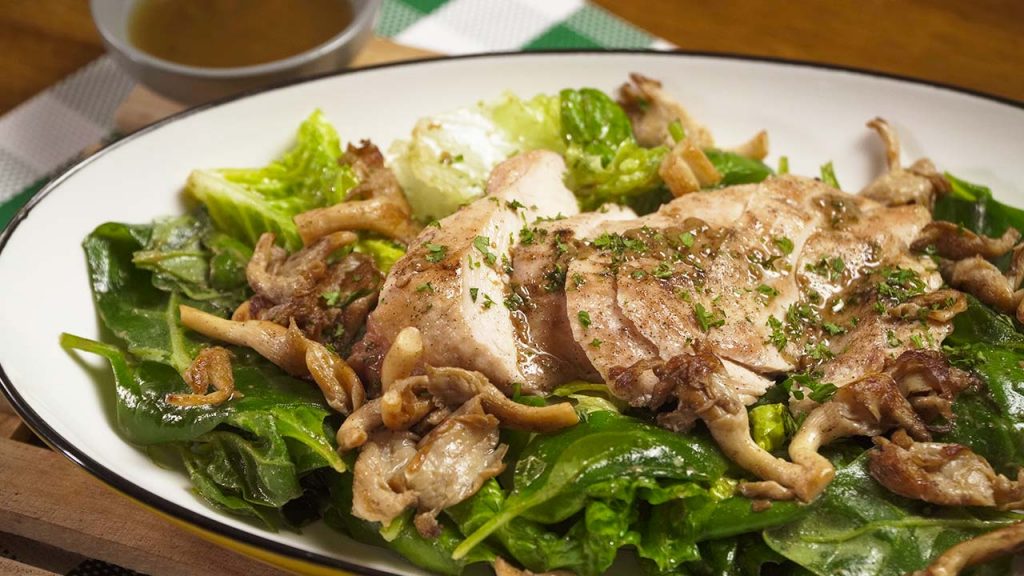 When you're swamped with work, it helps to have some make-ahead meals that you can conveniently enjoy. Lucky for you, we have on our list this palatable chicken salad. Simply roast the seasoned chicken in the oven for six to eight minutes and slice it into small parts once cooked. Meanwhile, for the dressing, we use a combination of Dijon mustard, balsamic vinegar, and parsley. You can prepare a large batch of this vinaigrette for your chicken salad as it can last for a few days. After preparing the main ingredients, divide them into your preferred portions. When ready to serve, just toss everything together in a bowl. 
Recipe for Inspiration: Warm Chicken Salad with Mustard Vinaigrette
Teriyaki Chicken and Rice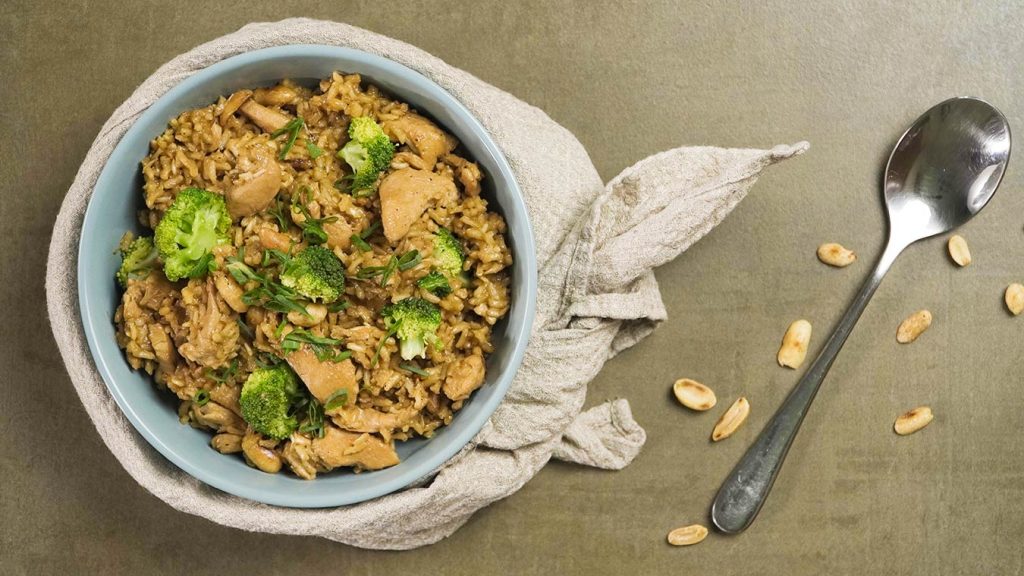 You know it's going to be an easy dinner when everything cooks in a single skillet. Just a few ingredients, including chicken breasts, brown rice, teriyaki sauce, and broccoli, are needed to make this one-skillet dinner. If you want a visually appealing plate every time, you can add bright red peppers and carrots. Feel free to whip up an entire week's worth of this teriyaki chicken and rice; they can be refrigerated for up to 5 days!
Recipe for Inspiration: Easy Teriyaki Chicken and Brown Rice Dinner
---
How to Meal Prep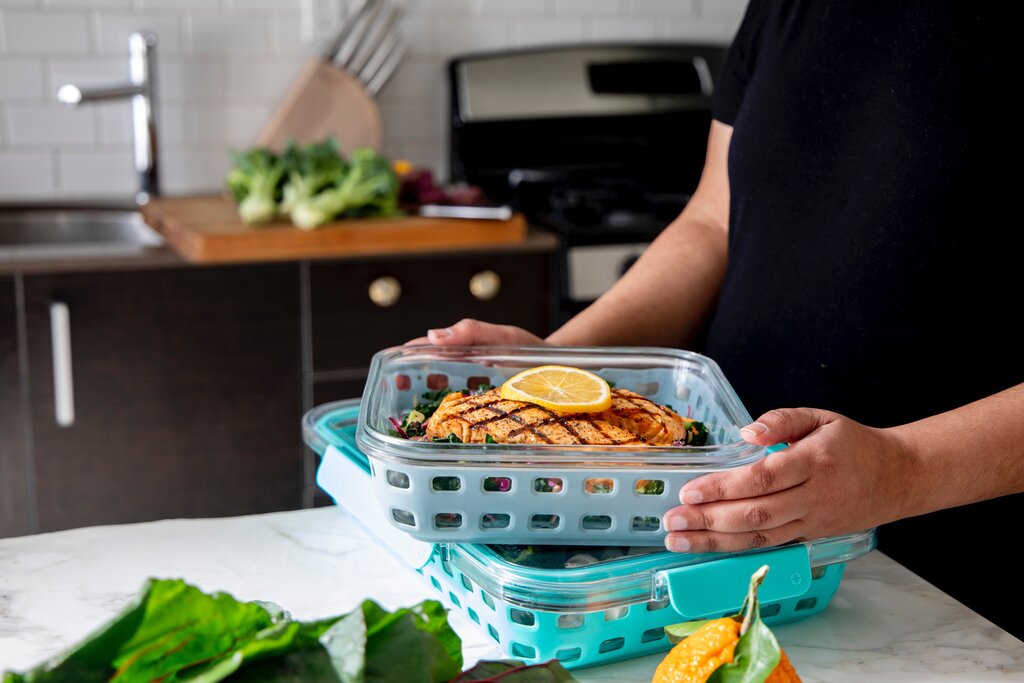 Some busy mornings you rush outside with a grumbling stomach. Some exhausting nights you don't feel like preparing home-cooked meals. Meal prepping, one way or the other, unchains you from these cooking dilemmas and so much more. Here are some things you should take note of before you hop on the meal prep bandwagon:
Choose a meal prep method.
Before all else, it's worth knowing the various ways to meal prep. You are free to follow whichever method that works best for you.
Make-ahead meals: These are the foods you prepare in advance, keep in the fridge or freezer, and reheat when ready to eat. 
Batch cooking: In this method, you prepare big batches of your preferred meal and divide it into small portions. Then, you freeze them for later. 
Ready-to-cook ingredients: Some meals have a longer cooking time, and to help reduce the whole cooking process, you prepare the ingredients beforehand. 
Create a plan.
If you want to be successful in meal prepping, you have to plan. Once you have picked the best meal prep scheme for you, develop a meal plan. Decide whether you want to simplify your breakfast routine, jazz up your work lunches, or streamline your weeknight dinners. Then, plan out your menu. You can always start with a few make-ahead meals and gradually add more when you have gotten the hang of meal prepping. Or better yet, lean on those recipes that you are familiar with to keep things easy.
Set a schedule.
Allot a specific time for meal prepping and make it your regular schedule if possible. This way, you will have separate schedules for grocery shopping and prepping your meals. Make sure that this schedule will not cause inconvenience to your weekly routine.
Stock up your pantry.
When your weekly meal plan is set out, make a grocery list, go shopping, and get what you need for your recipes. A well-stocked pantry, for the record, is necessary if you are serious about meal prepping. 
Invest in meal prep containers.
When meal prepping, you also need high-quality food storage containers. There are plenty of options to choose from, so make sure to purchase the proper container.
If you plan to freeze your meals, opt for freezer-friendly containers. Glass containers are the best choice if you want something eco-friendly. Meanwhile, BPA-free microwavable containers are safer to use. It's also worth knowing that stainless steel containers maintain the crispness and freshness of your food. On the whole, meal prep containers vary in size, materials, and purposes.