Legumes like chickpeas are one of the essential foods in the Mediterranean diet. If you want to go meatless in your diet, you can go for lean protein from Chickpeas Salad. Undoubtedly, chickpeas are also a good source of fiber and nutrients. The fresh ingredients in our chickpea salad are nutritious enough to keep a sound mind and body. Besides, chickpeas alone help in weight management while keeping your muscles intact as it is a good source of protein.
Aside from chickpeas, it also includes a lot of fruits and vegetables such as tomatoes, bell peppers, cucumbers, onion, and parsley. They all supply a great amount of nutrition individually. Therefore, tossing it together makes up a wholesome bowl of chickpea salad that's undeniably healthy and delicious! Also, we're spicing up our salad with Italian seasoning and smoked paprika. In addition, lemon and olive oil vinaigrette gives it a pungent aroma and taste.
Enjoy this appetizing chickpea salad especially if you're not into leafy vegetables. Furthermore, come up with an easy-to-make Mediterranean healthy salad, just follow the steps below. Aside from this chickpea salad, you can try another Mediterranean food from Armenia. Give this meat-free Armenian Stuffed Eggplant (Imam Bayildi) a try!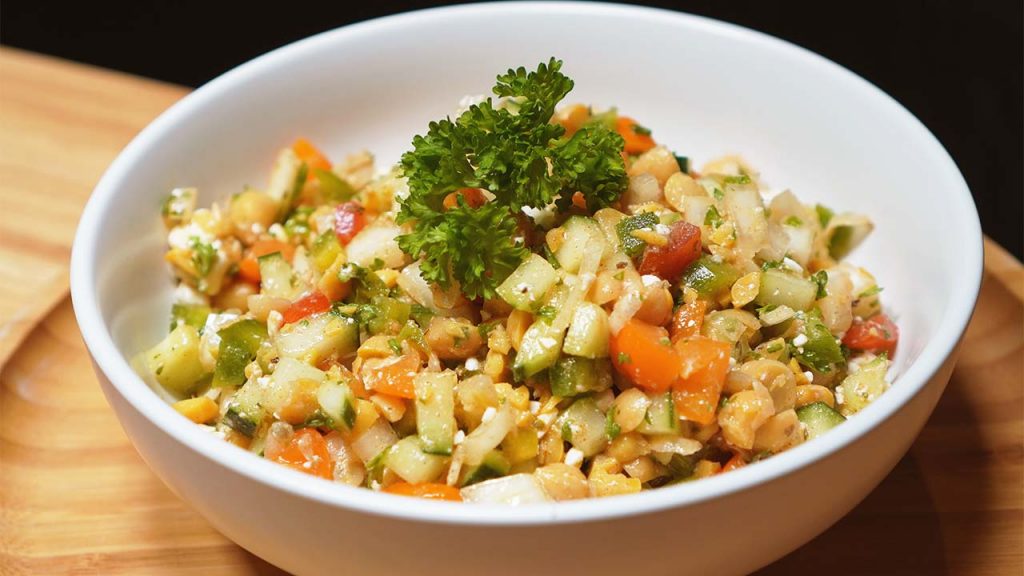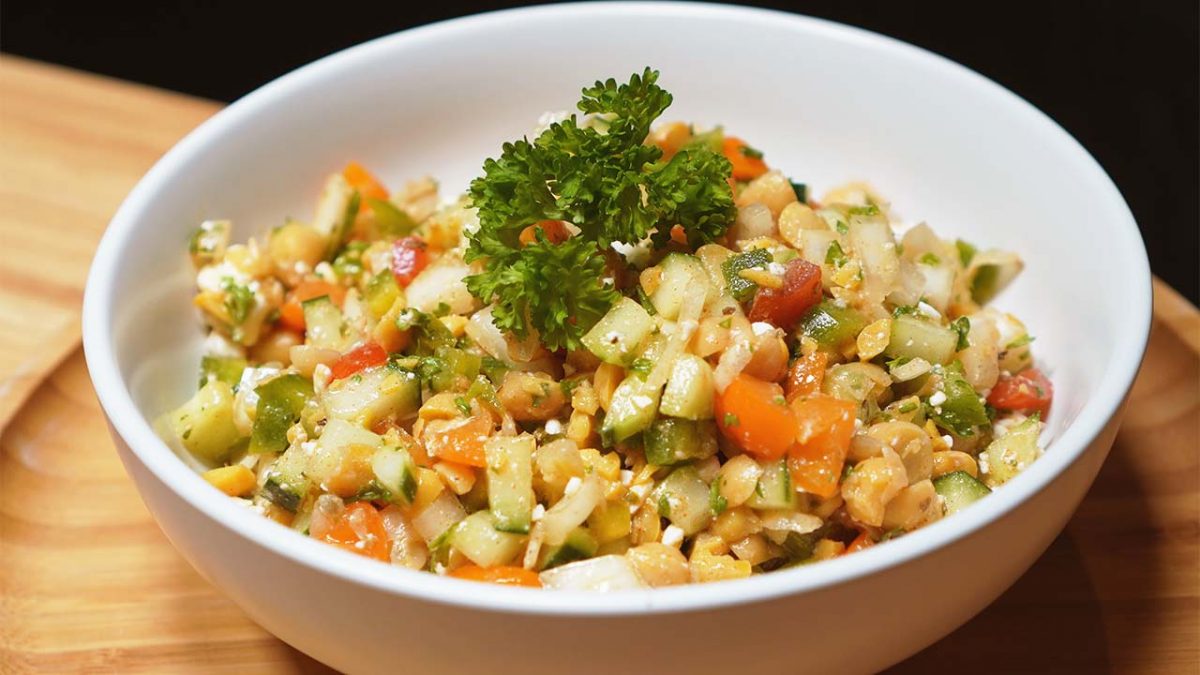 Chopped Chickpea Salad Recipe
How To Make Chopped Chickpea Salad
A healthy Mediterranean Chickpea Salad made more colorful and crunchy with cucumbers, bell peppers, and tomatoes. Have a lovely salad tossed in tasty vinaigrette.
Ingredients
½

cup

green bell pepper,

diced

½

cup

tomato,

diced

1

medium-sized cucumber,

diced

½

cup

white onion,

diced

½

cup

parsley,

finely chopped

4

tbsp

lemon juice

2

tbsp

olive oil

½

tsp

smoked paprika

½

tsp

Italian seasoning

1

cup

canned chickpeas,

chopped

⅛

tsp

salt and pepper,

to taste

⅛

cup

feta cheese,

crumbled
Instructions
In a bowl, add the green bell pepper, tomato, cucumber, white onion, parsley, lemon juice, olive oil, smoked paprika, Italian seasoning, and chickpeas.

Add salt and pepper, and feta cheese. Mix until well combined.

Serve on a plate and garnish with parsley. Enjoy!
Nutrition
Sugar:

3g

:

Calcium:

67mg

Calories:

142kcal

Carbohydrates:

13g

Cholesterol:

4mg

Fat:

9g

Fiber:

4g

Iron:

1mg

Potassium:

324mg

Protein:

4g

Saturated Fat:

2g

Sodium:

247mg

Vitamin A:

1053IU

Vitamin C:

37mg
Nutrition Disclaimer
Frequently Asked Questions
Are chickpeas healthy?
Yes! Chickpeas are a great source of vitamins, minerals, and fiber. They are high in protein which makes them a good replacement for meat. Particularly, the fiber from chickpeas keeps you full for long while its protein relieves hunger. Absolutely, eating chickpea salad takes away your cravings which is really helpful in maintaining weight.
Do canned chickpeas need to be cooked?
No. Canned chickpeas are cooked and ready to eat which makes it more convenient for this chickpea salad recipe. Besides, you don't need to worry about washing dirt off the chickpeas and cooking it which takes more time.
What can I substitute for chickpeas?
Chickpeas may taste a little different from others or they may not be widely available in some places. So substituting your salad with white kidney beans and lentils is a good option. Not only do these types of legumes taste good but also give essential nutrients to the body as chickpeas. In fact, the white kidney bean is full of dietary fiber and vegetarian protein while lentils reduce the factors of heart diseases.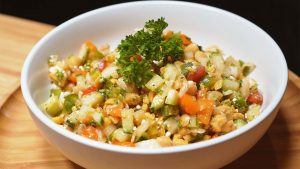 Conclusion
Kick-off your day with this easy-to-make and healthy chickpea salad! Firstly, making it is no sweat. On top of that, it's incredibly delicious. Indeed, chickpeas and cucumbers give it a crunchy texture while bell peppers and tomatoes give it a vibrant look. Therefore, this colorful salad means a bowl of goodness!