Whether canned or dried, chickpeas have got a prime spot in most of our pantries. Moreover, eating chickpeas can help with weight management, regulate blood sugar levels, and even help prevent heart disease. So, give our take on the chopped chickpea salad a try.
Although, dried chickpeas are definitely less expensive. You can always soak them overnight to cut down the cooking time, for instance. Also, there are many who insist that canned beans are terrible. But if time is not on your side, canned chickpeas can't be beat. Likewise, this recipe can be adjusted to suit your needs.
Certainly, the key to a delicious salad is to pair imagination with healthy ingredients that you'd want the flavors to shine. For instance, with this recipe, it all boils down to a few key components:
Chickpeas

: Canned chickpeas are always the best pick for convenience. However, you can also cook up a batch of dried chickpeas in the pressure cooker. 

Onion

: Either red or white onion adds the right amount of sweetness and just a little bit of bite to any salad.

At least 2 chopped vegetables

: It could be tomatoes, cucumbers, diced bell peppers, fresh corn kernels, diced zucchini, chopped celery, for instance. Likewise, they all work well to add texture to any salad.

Chopped greens

: You can choose between romaine, arugula, or red cabbage. On the other hand, you can add or substitute an assortment of sweet basil, flat leaf parsley and mint for bold flavors.

More protein

: In addition, if you'd prefer to up your protein intake, give your salad an extra boost of protein with chopped hard-boiled eggs, nuts or cheese.
Above all, with the simplicity of this dish, you change ingredients with whatever you have fresh. Similarly, you can check out other healthy recipes, such as our Herbed Egg Salad recipe.
Tip: Add diced avocado for some creaminess in your salad. It is high in monounsaturated fat that helps in reducing bad cholesterol. It has antioxidant properties which aid in boosting the immune system.
Chopped Chickpea Salad Recipe Video
How To Make Chopped Chickpea Salad
Healthy, crunchy Mediterranean chickpea salad, with cool cucumbers and juicy tomatoes is great as a side dish for lunch.
Ingredients
½

cup

tomatoes

diced

½

cup

green bell peppers

diced

1

medium-sized cucumber

diced

2

tbsp

olive oil

½

tsp

smoked paprika powder

⅛

tsp

salt and pepper

to taste

⅛

cup

feta cheese

2

tbsp

lime or lemon juice

½

cup

white onion

diced

1

cup

canned chickpeas

garbanzo beans, chopped
Instructions
To begin, prepare all the necessary ingredients you will need to create this simple healthy salad.

In a large mixing bowl, add ½ a cup each of diced tomatoes and green bell peppers.

Add one medium-sized diced cucumber to the mixture.

Throw in ½ a cup of diced white onion and ½ a cup chopped parsley.

Now, pour in 2 tablespoons of olive oil and the lemon juice.

Add in ½ teaspoon of smoked paprika and ½ a teaspoon of italian seasoning.

Add 1 cup of chopped canned chickpeas.

Throw in your seasonings of kosher salt and freshly ground black pepper.

Next, add ⅛ cup of crumbled feta cheese to your ingredients.

Now, stir all your ingredients. Combine gently ensuring not to over mix your salad.

Allow ingredients to sit for 10 minutes before serving. Plate your salad at room temperature or chilled in a bowl.
Nutrition Facts
Calories:
137
kcal
|
Carbohydrates:
12
g
|
Protein:
4
g
|
Fat:
9
g
|
Saturated Fat:
2
g
|
Cholesterol:
4
mg
|
Sodium:
243
mg
|
Potassium:
277
mg
|
Fiber:
4
g
|
Sugar:
3
g
|
Vitamin A:
421
IU
|
Vitamin C:
25
mg
|
Calcium:
53
mg
|
Iron:
1
mg
Commonly Asked Questions
Are chickpeas healthy?
Yes! Chickpeas are a great source of vitamins and nutrients. They are rich in minerals and fiber, and are high in protein. This makes them a perfect substitute for meat in vegetarian or vegan dishes.
Does canned chickpeas need to be cooked?
Canned chickpeas are already cooked and ready to serve. This makes them really convenient to have around for a quick protein salad.
I don't like chickpeas. What can I substitute it for?
If you are not a fan of chickpeas, you can always opt for canned white beans or your choice of legumes.
How do I boil chickpeas?
If you don't have canned chickpeas, you can always boil some. Cover the beans with 2 inches of water and add 1 tablespoon of salt and allow to soak overnight. (Salt improves the flavor of the beans and prevents the beans from splitting open and slipping from their skin). Boil for 1-1 ½ hours. Cut a bean in half to check for doneness, it should be soft while maintaining its shape.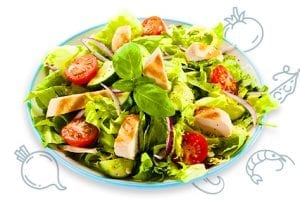 Conclusion
You could serve this salad as a side dish or as a full meal as itself. And the best thing about this salad is make-ahead friendly and actually tastes even better on day 2! So this could work for a pot luck, picnic, or work lunch.