This sweet potato casserole recipe goes great alongside your Thanksgiving meals. You can easily double this easy sweet potato casserole recipe if you're cooking this for a crowd. Boston Market houses scrumptious homestyle cooked dishes and this savory sweet potato casserole is no different. Have a spoonful of mashed sweet potato base with a layer of oats and marshmallows with flavors that would explode in your tastebuds. It's undeniably the best sweet potato casserole recipe you will ever make. 
The Classic Sweet Potato Thanksgiving Casserole
The origin of sweet potato has always been difficult to pinpoint. However, one thing's for sure, it's always been a present side dish during thanksgiving. They come in a variety of forms like Cheesy Quinoa Stuffed Potato as an appetizer or Sweet Potato Carrot Cake to serve for dessert. 
Speaking of dessert, we're sure you'll love our Spiced Sweet Potato Jumbo Cupcakes with Vanilla Frosting to top off the celebration. Amongst our sweet potato dessert recipes is a Sweet Potato Pound Cake baked in a bundt pan for a fun treat. There's always an abundance of unique sweet potato recipes during the holidays but our easy sweet potato casserole has always been a timeless classic. 
If it's your first time making a sweet potato casserole, let us paint you a picture: It's a timeless dish with a single layer of sweet potato mixed with dairies like heavy cream or milk. They're seasoned with spices, preferably cinnamon and nutmeg—a holiday classic. The rolled oats, brown sugar, and marshmallows are a must but you can also throw in some nuts like almonds, pecans, or walnuts to add a crunchy texture. A sweet, flavorful dish that just screams fall!
Making Sweet Potato Casserole Just Like Boston Market's
Boston Market is dedicated to cook and serve savory rotisserie meals in the state but chicken or prime rib isn't the only bestseller on the menu. Their sweet potato casserole is made up of the finest and freshest ingredients topped with marshmallows to boot! A recommended main dish for a sweet tooth. 
Our Southern sweet potato casserole is made up of mashed sweet potatoes seasoned with salt, cinnamon, and nutmeg. The flavorful base is mixed with heavy cream and butter giving it a smooth and creamy consistency. We also have our sweet potato toppings—marshmallows combined with oats, butter, flour, cinnamon, and brown sugar.
Once assembled and baked, you'll be met with a soft, top layer oozing with melted marshmallows and crisp oats. If you want a slice of baked sweet potatoes with a crunch we have the perfect recipe for sweet potato casserole just for you— our Crispy Sweet Potato Casserole recipe is here to save your holidays!
If you're the type of person who watches what they eat, worry not! Despite the marshmallows and oats slathered on top, you can always omit them for a healthy sweet potato casserole. Sweet potatoes are actually much healthier than regular potatoes. They're a great source of fiber and minerals. 
For this sweet potato casserole recipe, we're serving it as a main dish. But what makes a great sweet potato side dish is it's rich in flavor and works well with meat. So go ahead and pair your savory sweet potato casserole with our Copycat Applebee's House Sirloin Steak Recipe. Meanwhile, let's head right into the kitchen and bake a delicious sweet potato casserole!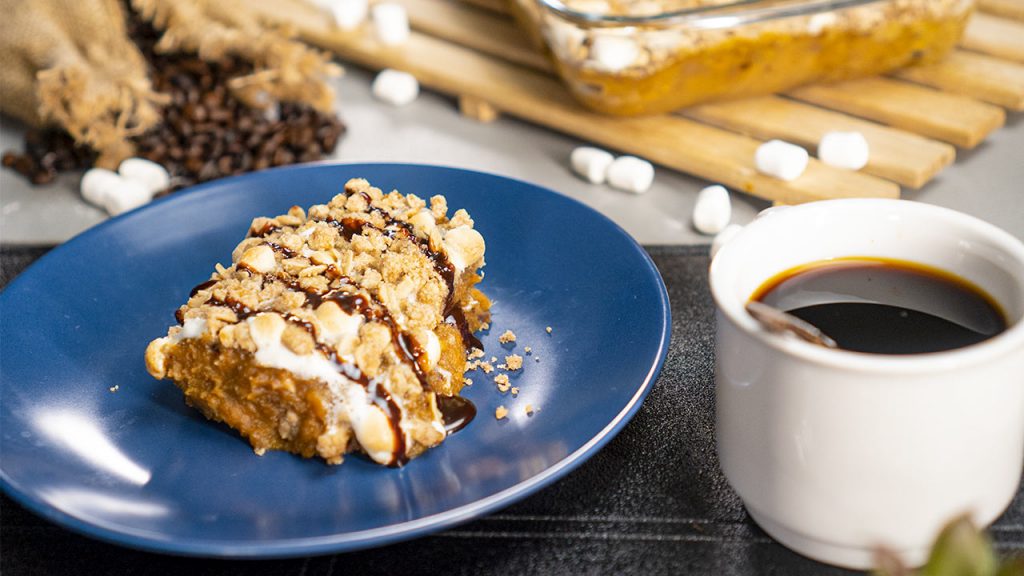 Copycat Boston Market's Sweet Potato Casserole Recipe
How To Make Copycat Boston Market's Sweet Potato Casserole
Have a merry Thanksgiving with this sweet potato casserole recipe! This savory sweet potato casserole is seasoned with all kinds of spices and has different textures you'll love in a casserole.
Ingredients
For Sweet Potatoes:
2½

lb

sweet potatoes,

washed

¾

cup

brown sugar

⅓

cup

pecans,

roasted and chopped

¼

oz

unsalted butter,

at room temperature

2

eggs

1½

tsp

salt

1

tsp

vanilla extract

¼

tsp

ground cinnamon

1½

cups

mini marshmallows

cooking spray
For Streusel Topping:
¼

cup

all-purpose flour

4½

tbsp

brown sugar

3

tbsp

unsalted butter

¼

cup

old-fashioned rolled oats

¼

tsp

ground cinnamon
For Garnish:
1

tbsp

chocolate sauce,

for the entire casserole
Instructions
Preheat the oven to 375 degrees F. Grease a baking casserole of your choice with cooking spray.
Sweet Potatoes:
Pierce all around the skin of the sweet potatoes and place these onto your baking sheet.

Roast until potatoes are tender, roughly 45 minutes.

Set aside to cool down until just warm enough to handle, then peel and discard the skins. Mash the potatoes either using a ricer or a whisk.

In the same mixing bowl with the potatoes, add the melted butter, eggs, brown sugar, vanilla extract, salt, nuts, and cinnamon. Mix until fully combined.

Transfer your sweet potato mixture onto your greased baking dish and spread out evenly.

Sprinkle marshmallows to cover the top.
Streusel Topping:
Combine the butter, flour, brown sugar, oats, and cinnamon. Mix until well-combined.

Sprinkle the mixture on top of sweet potato and marshmallows.

Bake for 20 to 25 min until the streusel is crisp and marshmallows are golden brown.

Serve a warm slice of this sweet potato casserole and enjoy! For a sweeter kick, you may drizzle chocolate sauce on top.
Nutrition
Sugar:

52g

:

Calcium:

108mg

Calories:

504kcal

Carbohydrates:

93g

Cholesterol:

72mg

Fat:

13g

Fiber:

7g

Iron:

2mg

Monounsaturated Fat:

5g

Polyunsaturated Fat:

2g

Potassium:

759mg

Protein:

7g

Saturated Fat:

5g

Sodium:

739mg

Trans Fat:

1g

Vitamin A:

27100IU

Vitamin C:

5mg
Nutrition Disclaimer
Commonly Asked Questions
Can you freeze sweet potato casserole?
Definitely! You can use this trick as a make-ahead sweet potato casserole. Cook your sweet potato casserole as directed aside from the toppings. Trust us, they don't freeze well when combined. Either store them in airtight containers or line the baking dish with aluminum foil with overhang. Use the overhang to wrap the casserole and place in the freezer, lasting you two months at the most. This will ensure easy baking the day you plan to serve.
 How to reheat sweet potato casserole?
If you froze your sweet potato casserole without the toppings, then you can easily bake them as instructed. However, if you're storing leftovers, you can use an oven or a microwave to reheat them. To reheat it in the oven, preheat it to 350 degrees F and bake for 15 to 20 minutes, while covered with foil. To reheat it in the microwave, reheat it for 5 to 10 minutes until warmed through, no covering necessary.
What is the difference between sweet potato souffle and casserole?
Despite being a common Thanksgiving dish, a sweet potato souffle is more tender, smoother, and stable when it comes to its shape. A sweet potato casserole omits the flour and eggs. A sweet potato souffle, on the other hand, has self-rising flour and eggs as its key ingredients.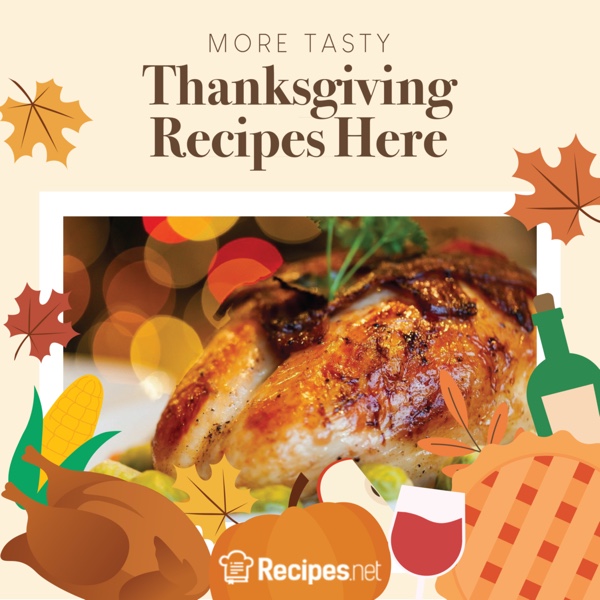 Conclusion
Truly the best sweet potato casserole ever, it's a harmony of sweet and savory your taste buds would enjoy. A definite Boston Market copycat, this dish has the homestyle flavors you crave in every bite all the while being a quick and easy make ahead sweet potato casserole.