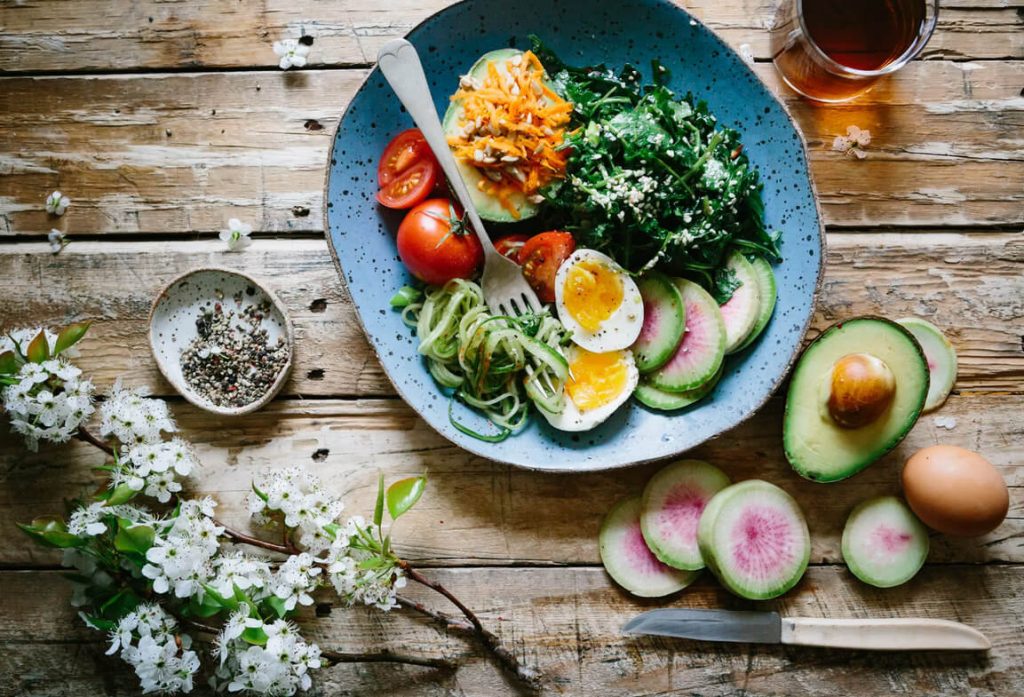 27 Best Keto Lunch Ideas for a Low-Carb Diet 
Switching from a regular diet to a ketogenic diet can be tricky especially if you have occasional cravings for doughnuts and bagels. And of course, if you have a love affair with anything pasta. But just like our list of keto chicken breast recipes, you'll find out just how delicious low-carb meals can be. But beyond chicken breasts, this time we prepared a roster of keto lunch ideas you can make at home! There's enough to get you by for a month.
To make things less intimidating, you can simply treat this diet shift as your next foodventure! By luck, maybe you'll find some of your favorites in this list of keto recipes. Some take less than ten minutes to prepare, some you'll have to devote a few more minutes to, and some you have to fumble with unfamiliar ingredients. But whether you're hell-bent on being health conscious or not, stick around and soon you'll see (and taste) how worth it this diet is!
---
27 Easy Keto Lunch Ideas to Try
Is this your first attempt at keto-friendly dishes? Nothing to worry about. Our list of keto lunch ideas will give you an idea of what to cook. This list features all-time favorites such as chicken parmesan, mac and cheese, and bacon cheeseburger. The only difference? Well, they're all keto-friendly versions of the recipe you love.
Fried Chicken Breasts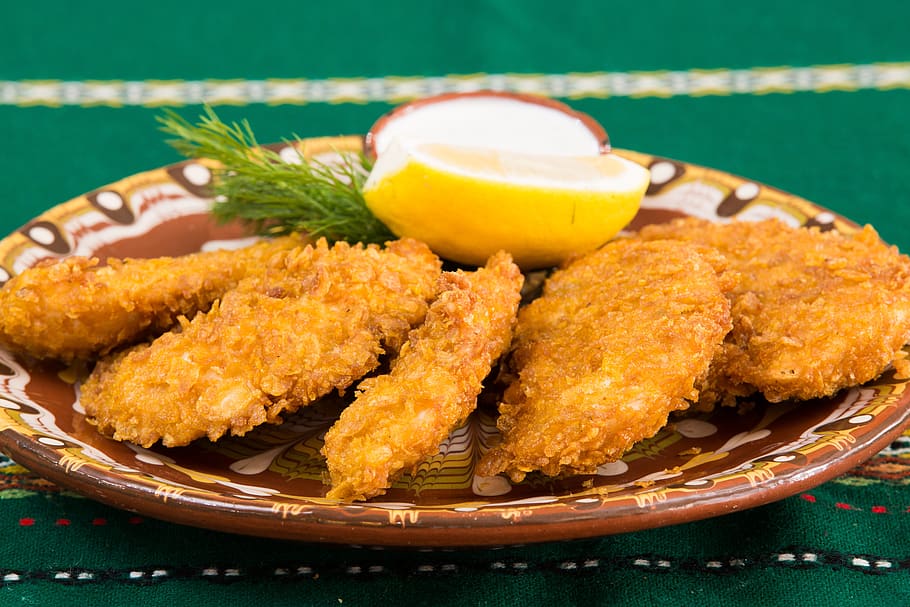 Crispy on the outside and juicy on the inside, fried chicken is usually off-limits for keto dieters. But by simply substituting flour and breadcrumbs with almond flour and pork rinds, you'll be able to mimic the crispy exterior you love taking a bite on.
This version also features an almost bacon-like taste because of the pork rinds. So if you want a bit of extra flavor, go ahead and give this recipe a shot!
Recipe for Inspiration: Keto Fried Chicken Breasts
Bacon Potato Salad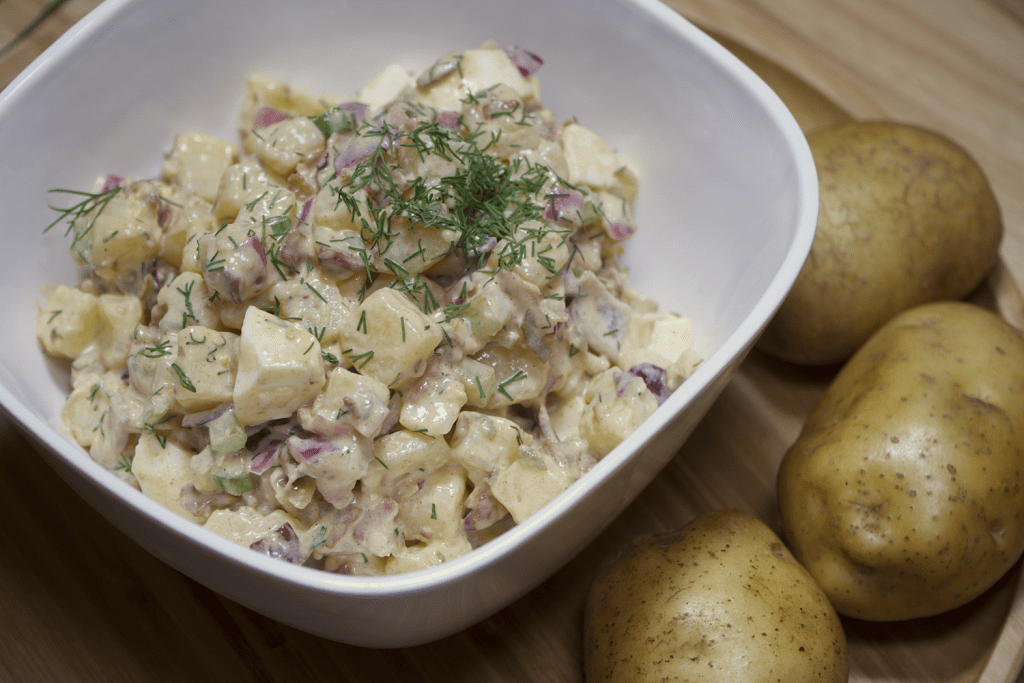 One of the common misconceptions when trying a ketogenic diet is that you can't eat potatoes. But the truth is, you can! What's important is to watch your carb intake.
To begin, you can try this bacon potato salad that's chock-full of creamy flavor thanks to ingredients such as mayonnaise and Dijon mustard. A sprinkling of bacon adds umami as well. Other ingredients include celery stalk, pickle relish, dill, and hard-boiled eggs for a delicious dish you can make in less than an hour.
Recipe for Inspiration: Bacon Potato Salad
Chicken Fried Cauliflower Rice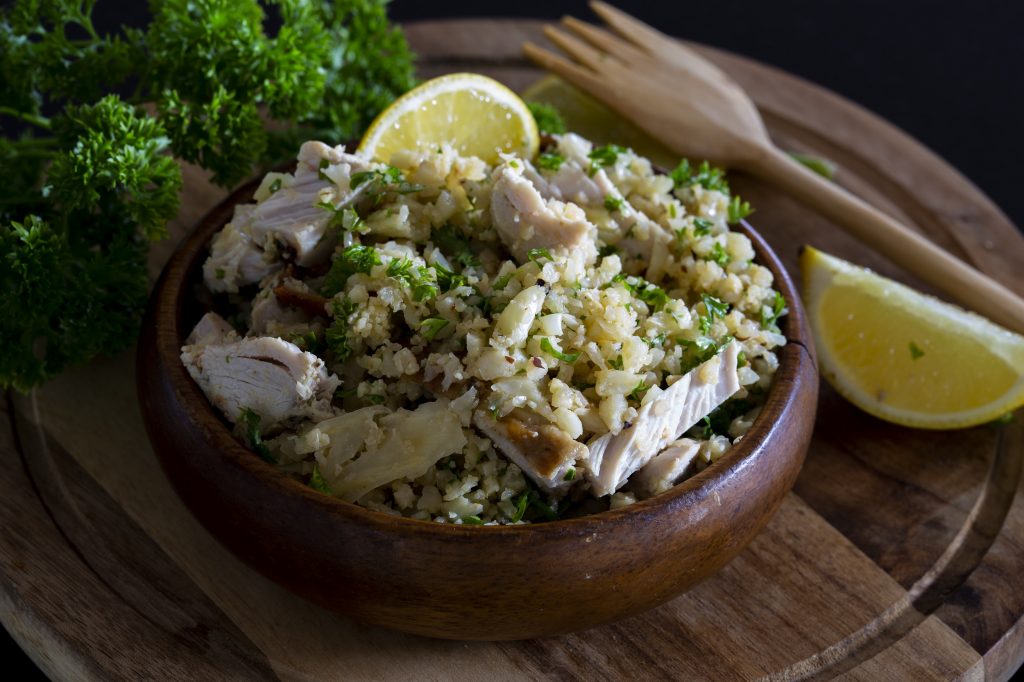 While cauliflower is not the same as rice, cauliflower rice is the closest thing you can get to it and with added flavor too! We know it sounds and looks weird, but give this cauliflower rice a shot and you'll be surprised with the savory twist. Ready in 35 minutes, all you need for this dish (aside from cauliflower) are ingredients like sriracha, broccoli, onion stalk, and sesame seeds. Mixed with sauteed chicken, this dish can easily be your main dish or your side dish!
Recipe for Inspiration: Keto Chicken Fried Cauliflower Rice
Broccoli Salad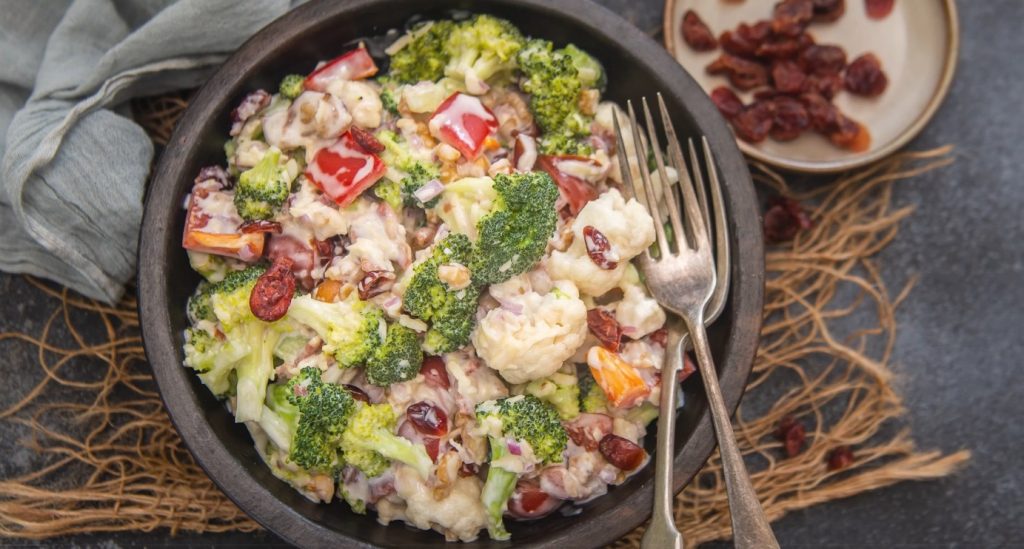 Full of healthy ingredients such as broccoli and cauliflower, this salad got even healthier thanks to the new keto twist. Now mixed with sour cream, mayonnaise, and cheddar cheese, you'll be looking for this salad on your meal plan every month, or maybe every week. This recipe can be served almost immediately after stirring ingredients together. But what we love most is that it can be served cold! Garnish with more bacon and it has your (and everyone's) name on it.
Recipe for Inspiration: Amish Broccoli Salad
Keto Chicken Parmesan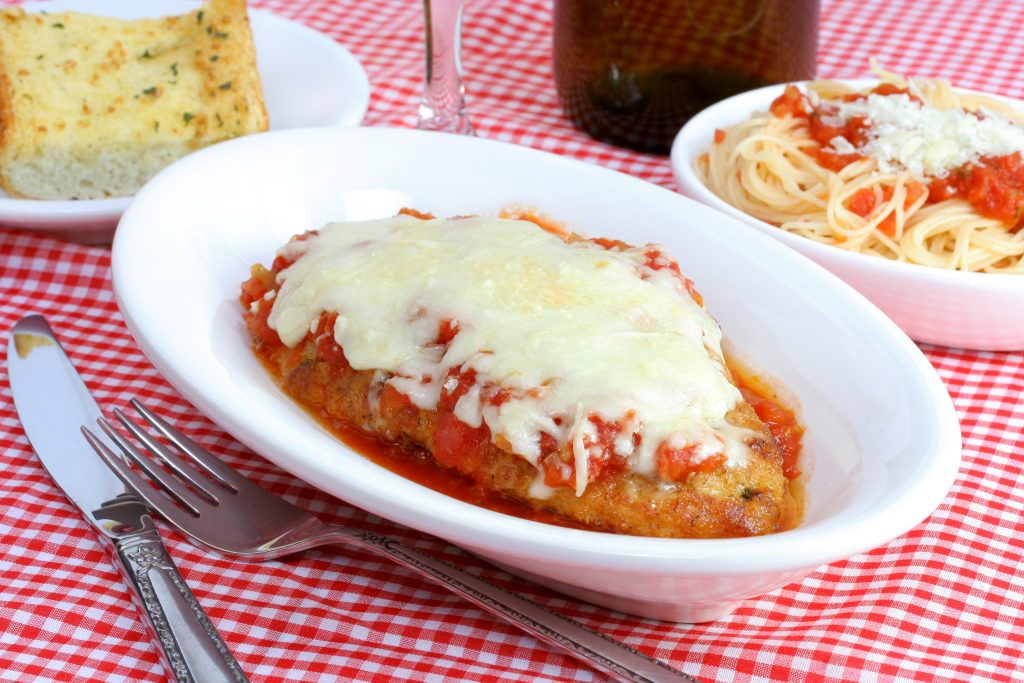 Meet your new favorite dish: keto chicken parmesan. This healthier version combines pork rinds, Parmesan cheese, garlic powder, red pepper flakes, and Italian seasoning for a keto-friendly breading. And for truly delicious chicken parmesan, of course, don't forget to cover it with tomato sauce and as much mozzarella cheese as you want. Though not on the ingredient list, adding a pop of green like basil won't hurt either.
Recipe for Inspiration: Keto Chicken Parmesan
Keto Chicken Salad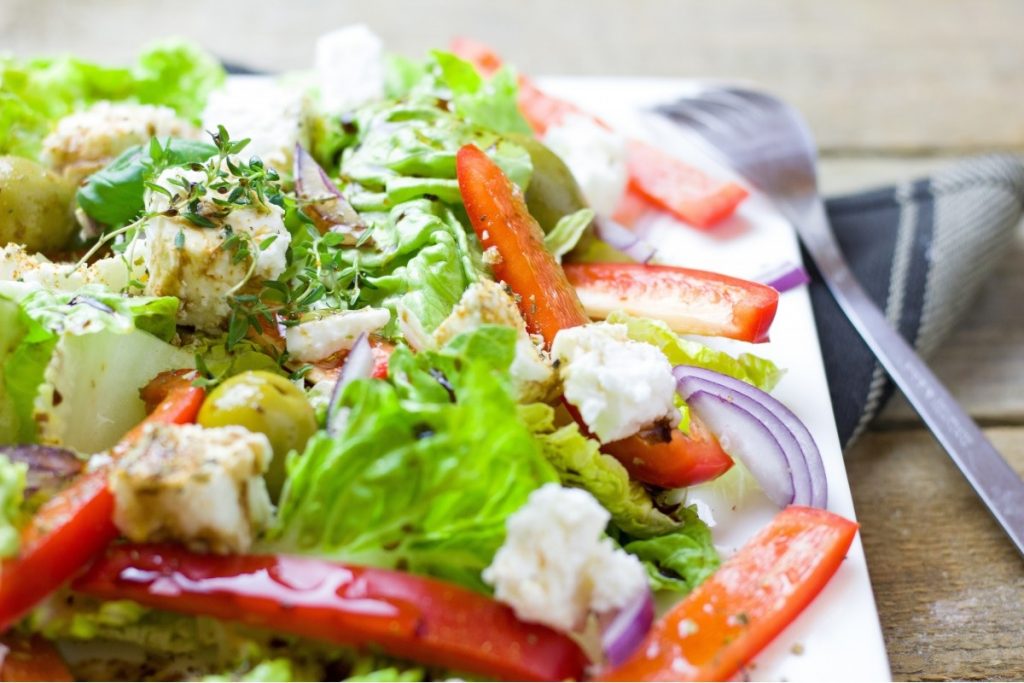 Refreshing and light, this keto chicken salad does not fall short on flavors too. The recipe requires juicy chicken, celery, apple, grapes, and walnuts folded in a delicious dressing made of yogurt, mayonnaise, and lemon juice. Now, you can eat it as is, but we love the crunch from adding lettuce leaves! Our serving suggestion? Spoon them onto lettuce leaves and serve like lettuce wraps.
Recipe for Inspiration: Waldorf Chicken Salad 
Grilled Chicken on the Barbie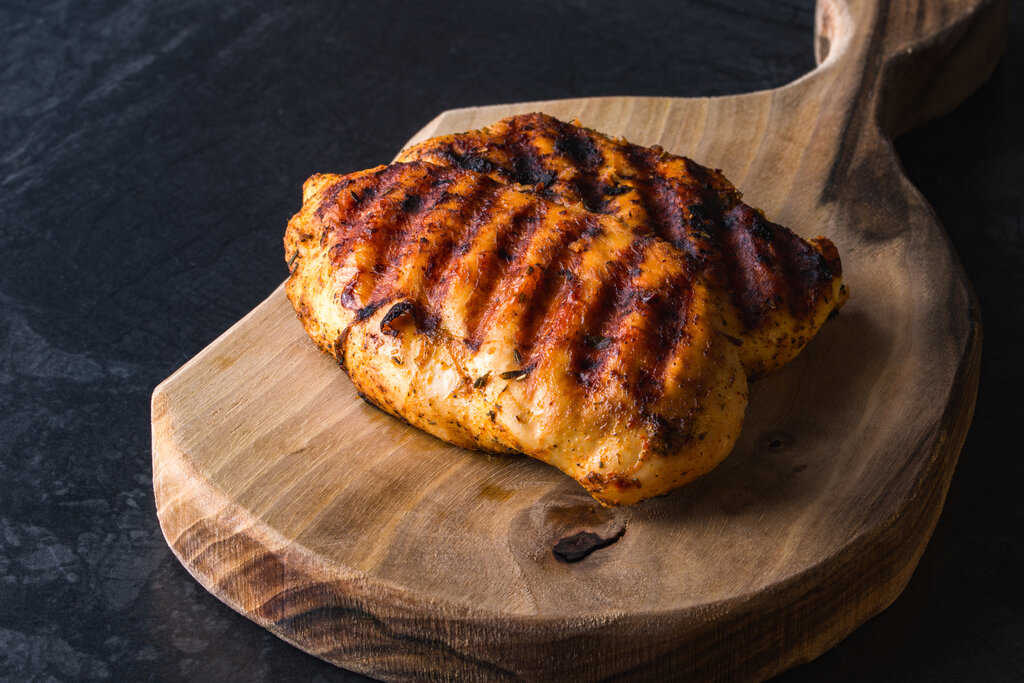 Your usual barbie (what the Australians call barbeque) can be either pork or beef. But if you want to stray from the usual, give chicken a try! Sporting a beautiful char baste in barbeque sauce, each bite of meat is juicy and loaded with umami flavor that pairs nicely with mixed vegetables.
It doesn't take much to make this dish either. The umami flavor can easily be replicated at home using chicken bouillon powder, cayenne, white pepper, onion powder, and garlic powder. Just make sure to brown the chicken nicely to enrich the flavor of your grilled chicken.
Recipe for Inspiration: Grilled Chicken on the Barbie
Chicken Avocado Salad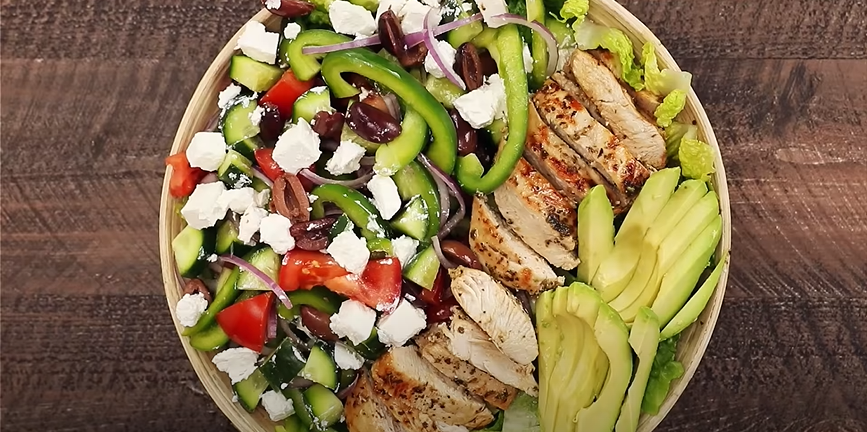 Wondering what other salad you can add to your list of keto lunch ideas? Then, this loaded Greek chicken avocado salad should be more than a welcome addition! Here, chicken fillets are marinated in olive oil, lemon juice, red wine vinegar, garlic, and a few more seasonings for a delicious lunch. Aside from the chicken, this salad also boasts flavors from feta cheese, olives, and green pepper. But there's no telling how we also love the bite from lettuce, cucumber, and tomatoes. Topped with avocados and delicious dressing, this salad is not only a good weight loss meal but also a satisfying one.
Recipe for Inspiration: Loaded Greek Chicken Avocado Salad
Chicken Cordon Bleu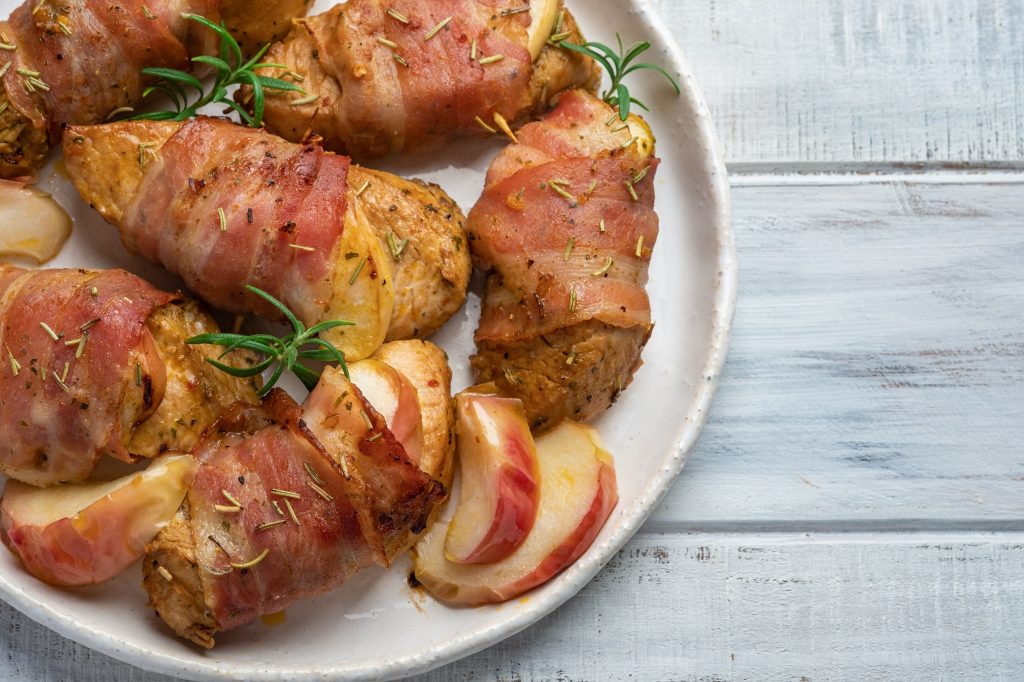 One of the many recipes you'll miss when you switch to a keto diet is breadcrumbs-coated chicken cordon bleu. But what if we told you there are even better versions of this recipe that don't use breadcrumbs? We know it sounds weird. But let us welcome you to new ways you can cook your comfort food. That means going out of the box. For example, this recipe substitutes crumbs with bacon pieces snuggly wrapped around chicken breasts. Straightaway, you'll be welcomed by the rich and savory flavor of the bacon, and then of the tender juicy meat of the chicken. Loaded with Parmesan cheese, this new twist on this crowd-favorite will be on top of everyone's list.
Recipe for Inspiration: Keto-Friendly Chicken Cordon Bleu
Keto Tuna Salad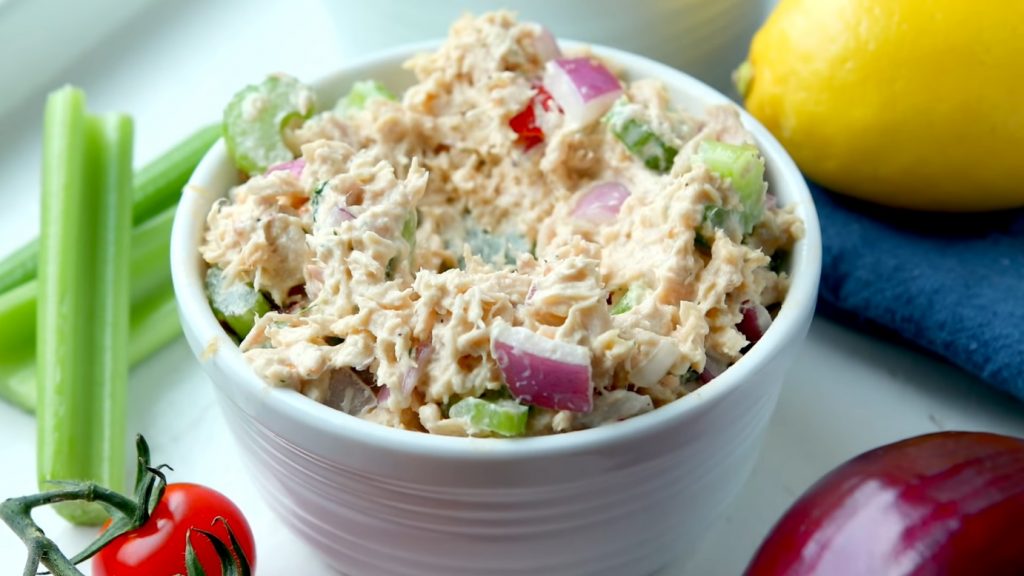 If cooking is alien to you as much as turning keto is, then better start with easy recipes such as this keto tuna salad. How easy is it? Let's just say you just need to combine all the ingredients together, no cooking involved. This wonderful recipe that whips up in 15 minutes only needs olive oil mayonnaise, celery stalks, lime juice, and mustard.
Recipe for Inspiration: Keto Tuna Salad
Creamy Keto Taco Soup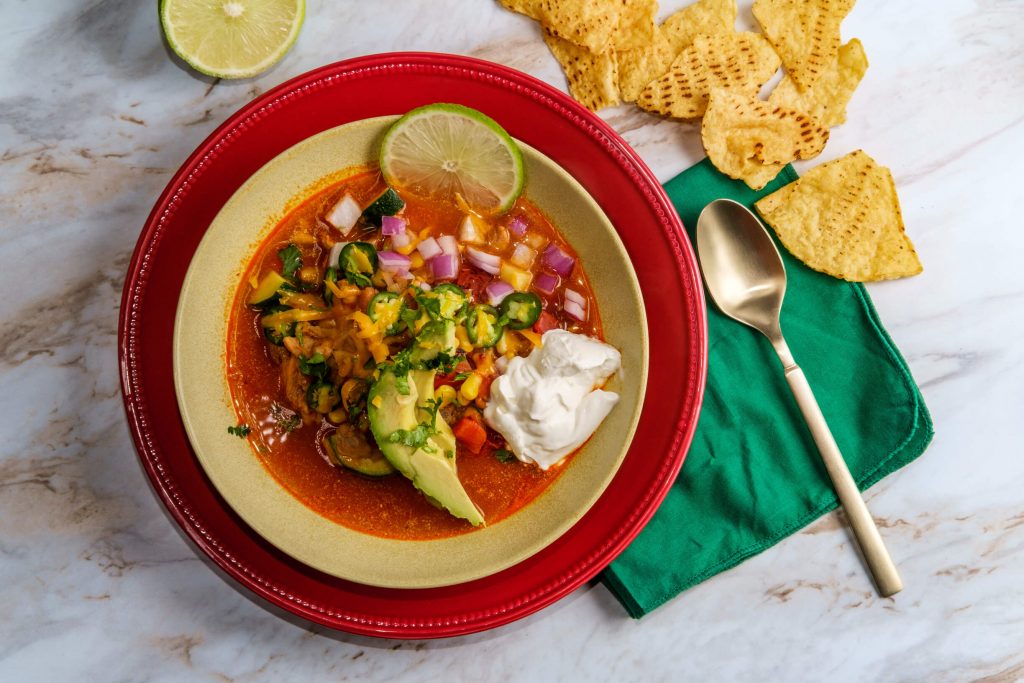 On the lookout for one-pot recipes just like the rest of us? Call off the search because this keto taco soup just found its way on this list. This soup is creamy, zesty, and slightly spicy. In our opinion, the perfect companion in cold weather. And if you're on a high fat, low carb diet, then it's even more perfect. This version of your favorite taco soup eliminates carbs and adds more healthy fats to the ingredients list like ground beef, avocado, and cream cheese.
Recipe for Inspiration: Creamy Keto Taco Soup
Egg Salad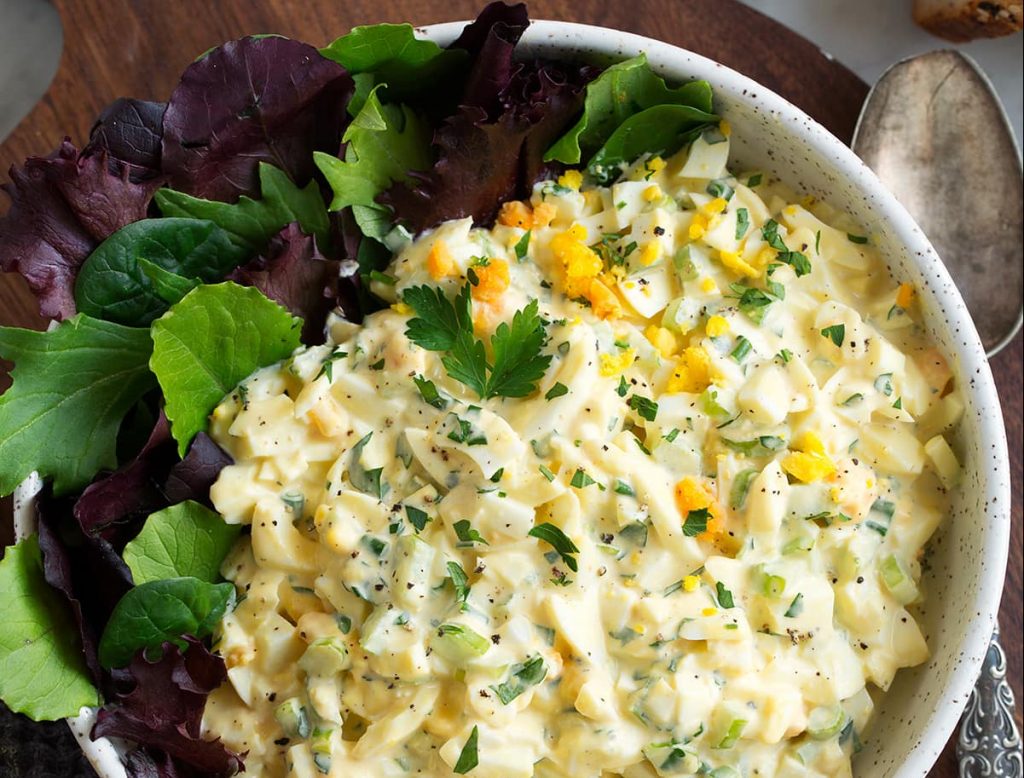 Your classic egg salad is always amazing. It's easy to say that it's hard to mess this recipe up no matter how much of a novice you are. Naturally, one of the best places to start when you turn keto is this delish classic egg salad. It combines hard-boiled eggs, mayonnaise, lemon juice, Dijon mustard, plus a few seasonings and greens for a well-balanced creamy dish.
Recipe for Inspiration: Classic Egg Salad 
Baked Chicken Thighs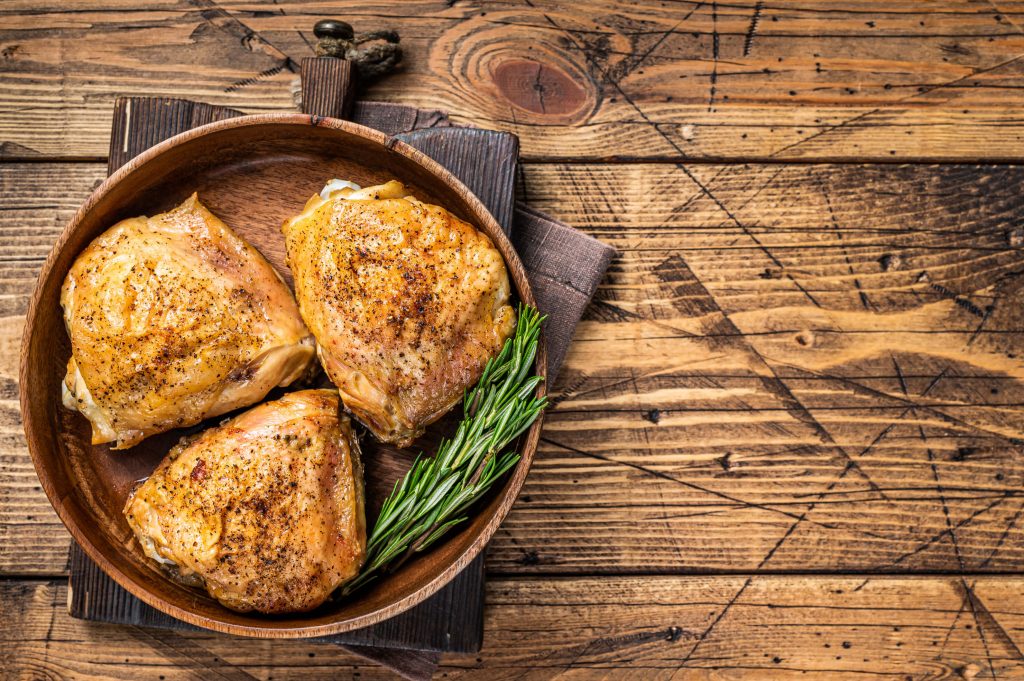 These baked chicken thighs make a fuss-free yet scrumptious lunch idea using only four common ingredients already in your pantry. Seasoned with black pepper and dried thyme, these chicken thighs are perfect with mixed vegetables of your choice. Or, you can try serving it alongside another keto dish like the bacon potato salad.
Recipe for Inspiration: Baked Chicken Thighs
Keto White Chicken Chili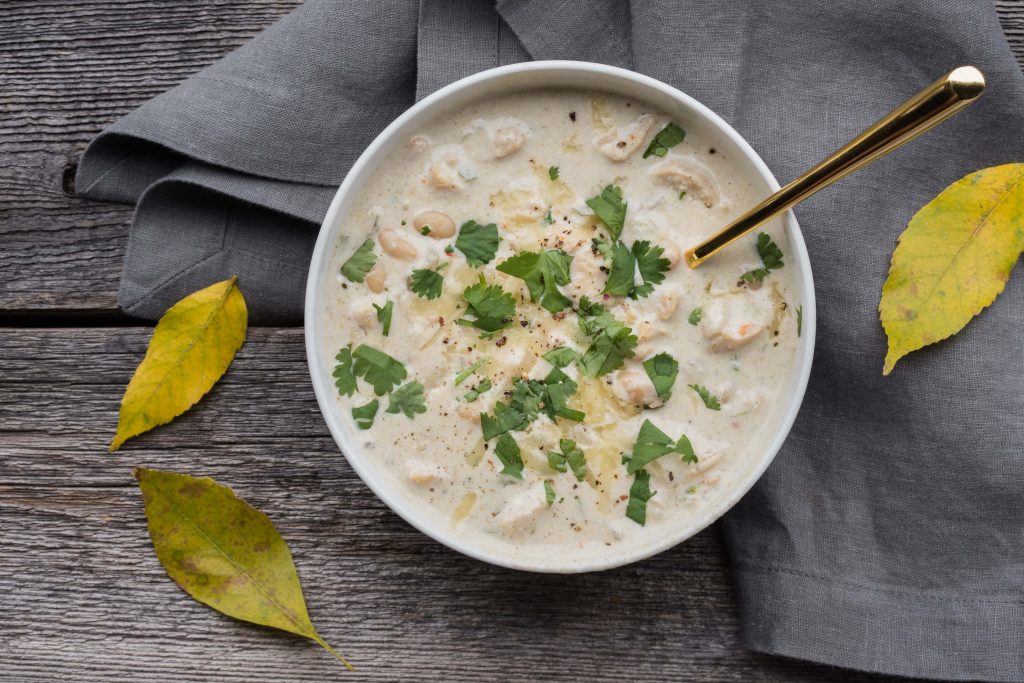 The well-known white chicken chili features hearty beans, tender juicy chicken, and a rich tomatoey broth topped with tortilla chips, and even more cheese. The problem is, beans and tortilla chips are loaded with carbs. Obviously, it's off-limits for this diet as well. But that doesn't mean you can't make your own keto-friendly version.
For the keto-friendly version, all you need to do is abandon beans and tortilla chips, and you can eat this dish with no problem. Since it's keto, you'll also add heavy whipping cream and cream cheese for a truly comforting chili.
Recipe for Inspiration: Keto White Chicken Chili
Taco Stuffed Avocados
One of the sure ways to get your healthy intake of fats is by eating an avocado. If you haven't noticed already, avocados are a pantry staple in keto households. But not only do people love it for its healthy fat, but they also love that it can be topped or added to many keto meals out there.
In this recipe, we'll use avocado in place of the usual lettuce cups, which are topped with common taco toppings like ground beef, cheese, tomatoes, cilantro, and sour cream. This recipe whips in just 15 minutes so it's good for last-minute food prep.
Recipe for Inspiration: Taco Stuffed Avocados
Korean Beef Lettuce Wraps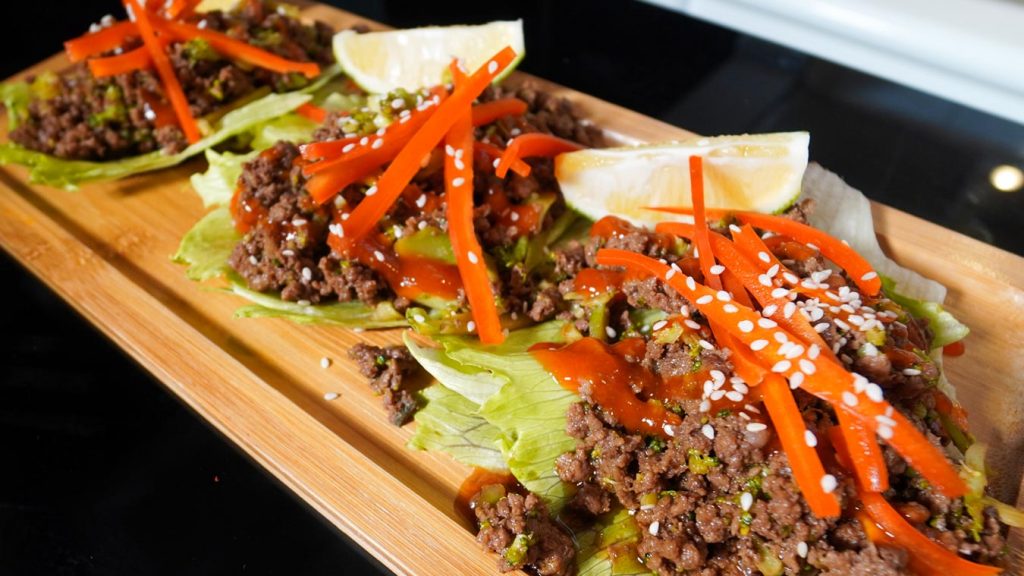 Ground beef is also another pantry staple for keto dieters. Regardless of the cut, say like skirt steak, flank steak, or even ribeye, as long it's unprocessed, it's okay to include beef on your diet. Take this ground beef lettuce wrap for example. This savory recipe perfectly seasoned with soy sauce, gochujang, and sesame oil, is one of the ideal recipes to add to your list of keto lunch ideas. Spooned in fresh lettuce leaves, they make a lunch that's not only healthy but also easy to prepare, cook and eat!
Recipe for Inspiration: Korean Beef Lettuce Wraps
Teriyaki Chicken Zucchini Noodles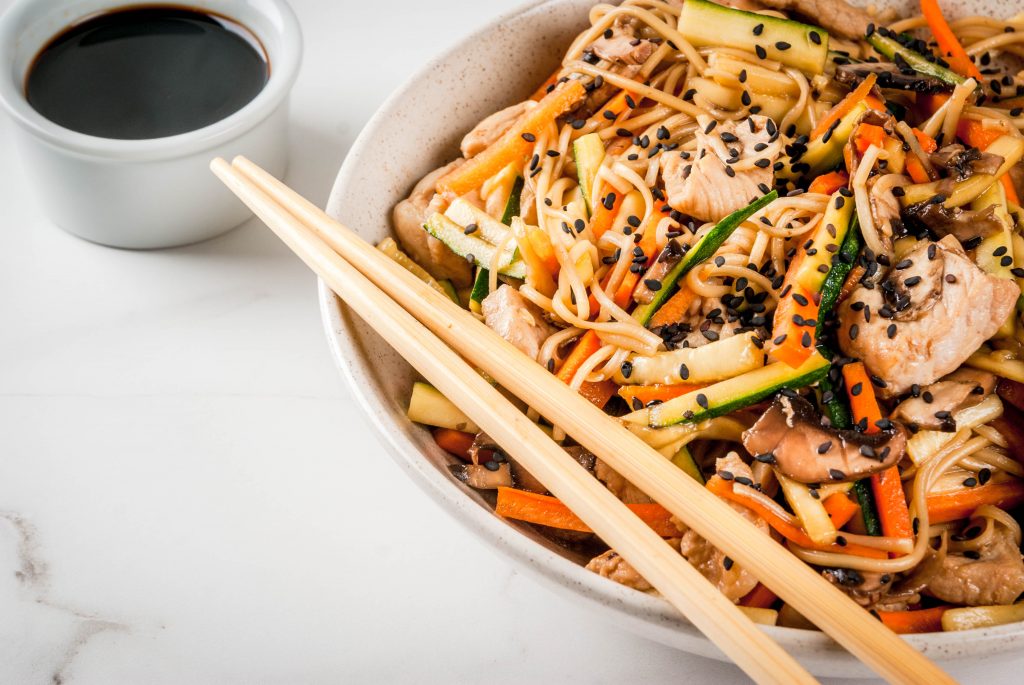 Containing only three grams of net carbs per medium size, zucchini is one of the versatile ingredients for a keto diet. Substitute for tortillas, zucchini can be used for roll-up recipes such as pinwheels and stuffed bread boats. But one of the popular applications for this vegetable is using it as a noodle substitute, like in this teriyaki chicken zucchini noodles dish.
This recipe boasts a delicious umami flavor that complements the teriyaki sauce made of soy sauce, brown sugar, honey, and sesame oil. Perfectly seasoned chicken pieces also add overall allure to this scrumptious dish.
Recipe for Inspiration: Teriyaki Chicken Zucchini Noodles
Keto Mac and Cheese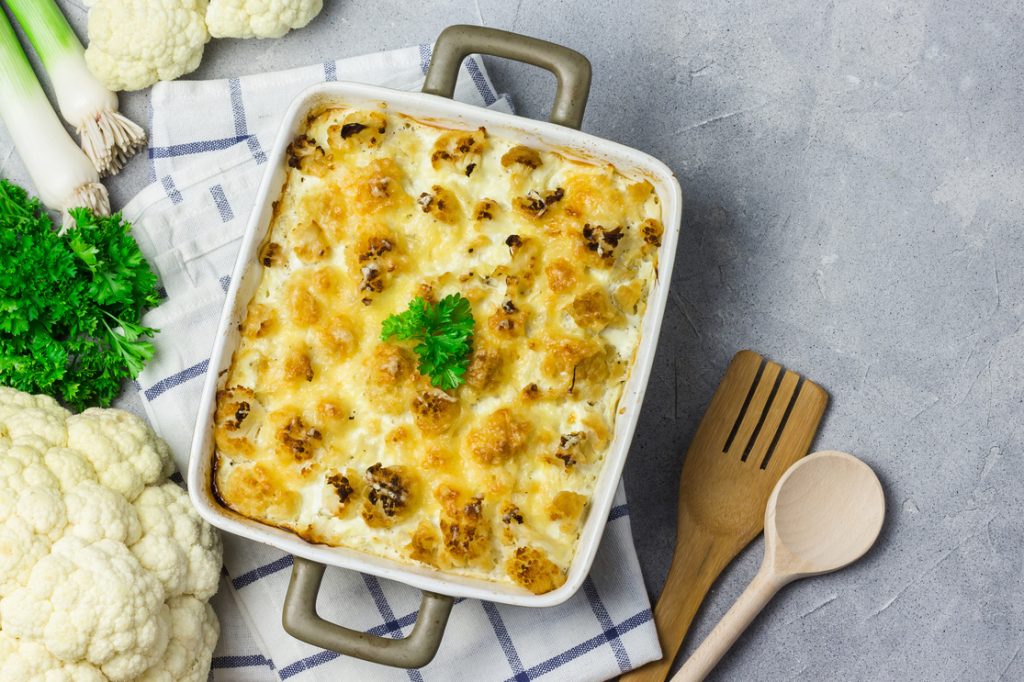 About to say goodbye to your childhood food? There's no need. The same creamy, cheesy, gooey dish that captured the hearts of many is also available in a keto-friendly version. But this new twist on mac and cheese substitutes pasta with cauliflower. A healthier option, but it tastes just the same.
Aside from cauliflower, the recipe also asks for fat-free milk. But, since you'll be making it keto-friendly, you can use any milk you prefer. You may also add crispy bacon for a truly high fat, low-carb keto diet.
Recipe for Inspiration: Baked Cauliflower Mac and Cheese
Keto Bacon Cheeseburger Soup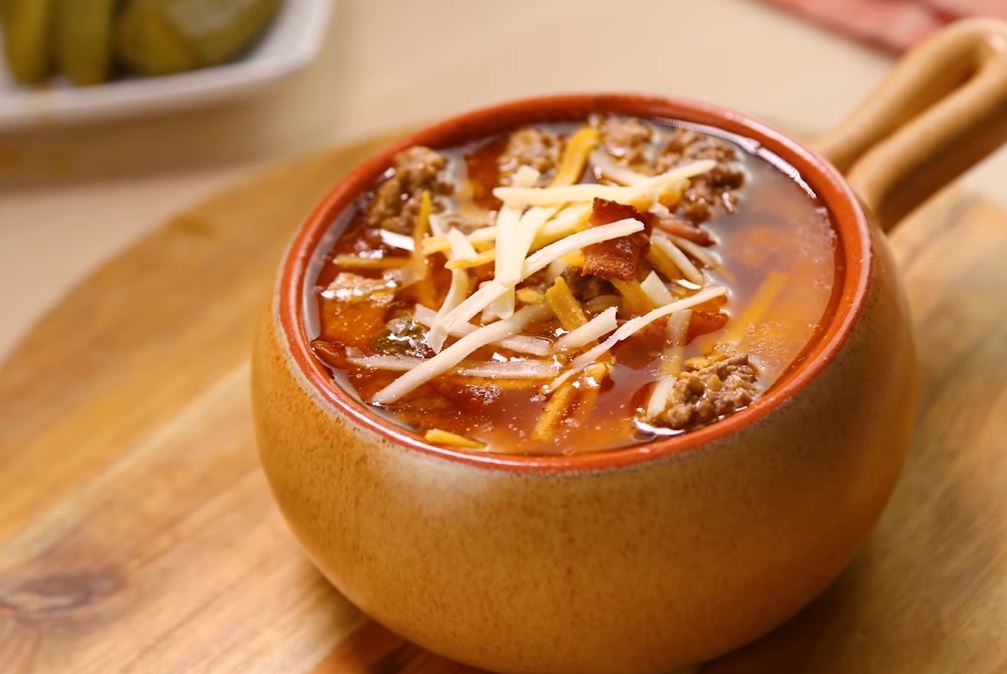 Your favorite bacon cheeseburger might be out of bounds on a keto diet, but that doesn't mean you can't have it any other way. So, next on this list of keto lunch ideas is this bacon cheeseburger soup fit for a low-carb diet. Composed of bacon, beef, and steak sauce, this soup is rich and meaty just like a cheeseburger should be. Of course, the addition of cream cheese and cheddar cheese makes this soup even more delicious and hearty.
Recipe for Inspiration: Keto Bacon Cheeseburger Soup
Keto Pizza Bites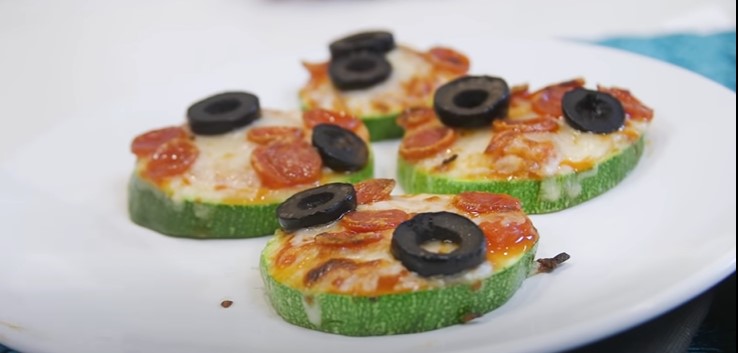 No one can deny that pizza is everyone's comfort food. By this time we're sure you're asking yourself, am I ready to give up on this well-loved Italian dish? Good news! You don't have to. There are many alternatives to pizza dough. They're not the same, but they look and taste just as delicious if you ask us.
That said, one of the many alternatives is zucchini slices. This tasty, yet healthy recipe that features zucchini also uses marinara sauce and mozzarella, but you can also add in any keto-friendly toppings. We're thinking chicken, turkey or beef, pepperoni, blue cheese, and more!
Recipe for Inspiration: Zucchini Pizza Bites
Avocado Salmon Salad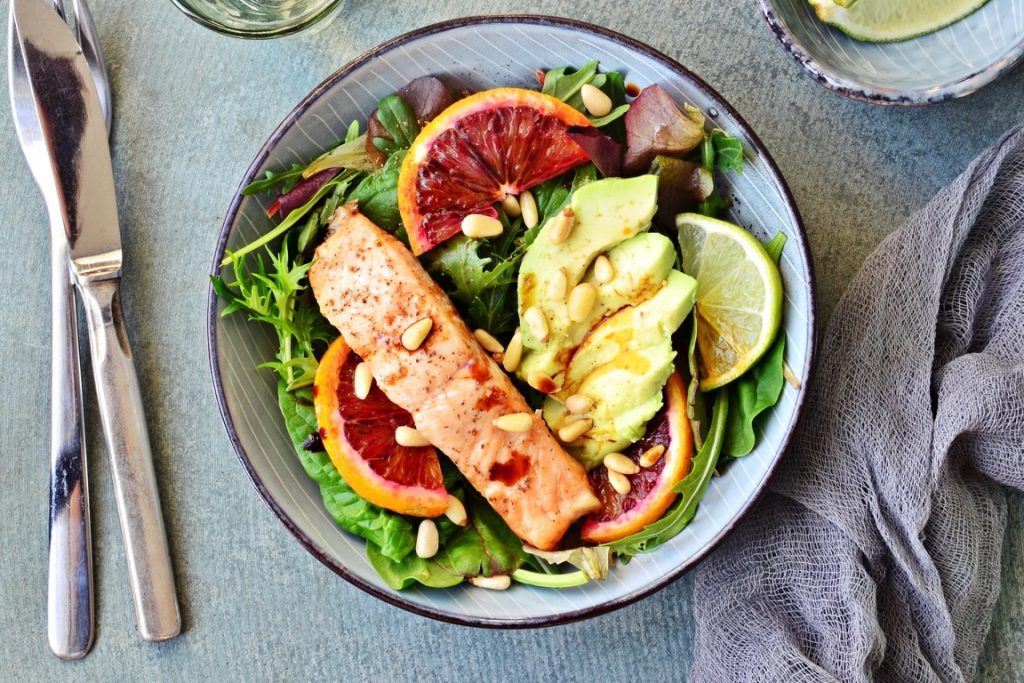 Sometimes eating healthy can be difficult because it's easier to order from your favorite fast-food chain. But if you know where to look, you'll find that there are actually easy keto lunch ideas that are done before takeout food arrives on your doorstep. Take this salad for example. It combines perfectly seared (albeit easy-to-prepare) salmon with avocado, lettuce, tomatoes, feta cheese, and olives for a dish done in just 20 minutes. We suggest you prepare the dressing beforehand so you can cut down even more time.
Recipe for Inspiration: Avocado Salmon Salad
Chicken Nuggets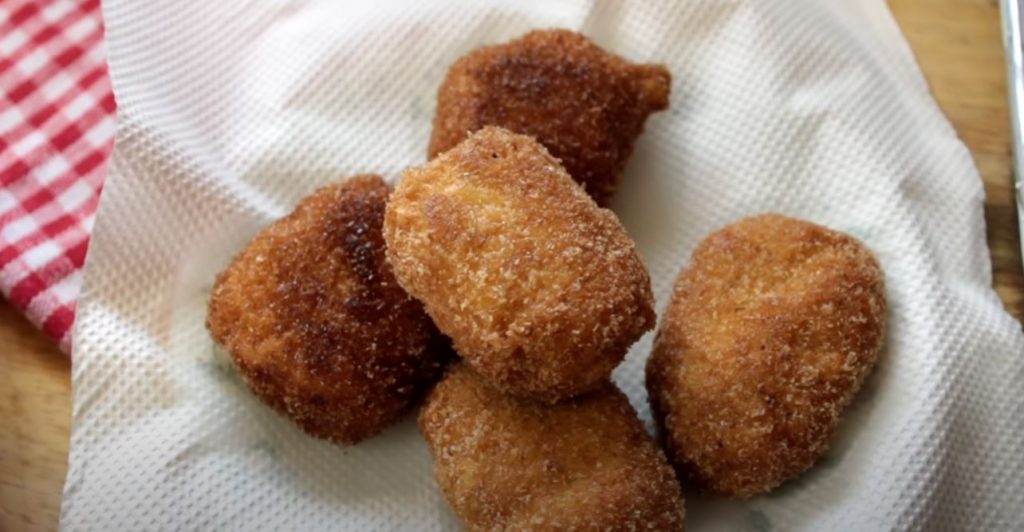 Trying foreign food (or ingredients) is just as challenging as deciding to go keto. So why not start with a dish you already know and love, like chicken nuggets? Almost carb-free, this chicken nuggets recipe uses pork rind crumbs in place of breadcrumbs. All you have to do is pulse pork rinds in a food processor and season with garlic powder, paprika, salt, and pepper.
Recipe for Inspiration: Keto Chicken Nuggets
Zucchini Roll-Ups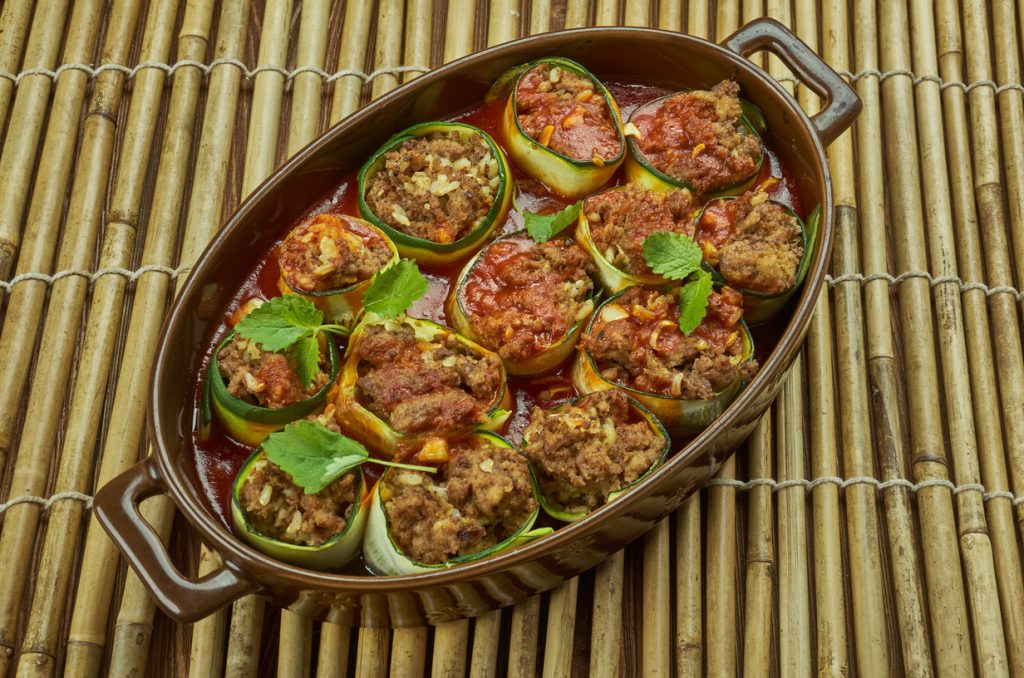 Enchilada roll-ups using zucchini? That's perfectly possible. And if you know your way around the kitchen, they'll hardly notice the difference when it comes to taste.
Cut lengthwise, you can easily fill zucchini with chicken seasoned with cumin, oregano, chili powder, and enchilada sauce. Set them in a dish and top with more enchilada sauce and cheese. And then bake until the cheese has melted. This savory dish is perfect when paired with guacamole — another keto staple dish.
Recipe for Inspiration: Low-Carb Zucchini Enchilada Roll-Ups
Buffalo Chicken Wings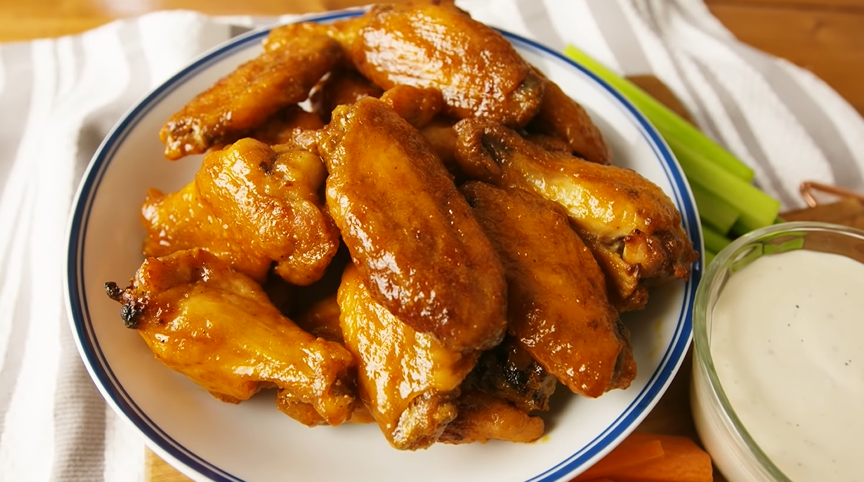 Just as good as any buffalo chicken wings, this recipe is the low-carb and high-fat version fit for a keto diet. In this recipe, you'll be combining ketchup, vinegar, and Tabasco sauce for a delicious sauce to coat your chicken wings in. But what makes this recipe special is its blue cheese dressing that pairs perfectly with the spicy and slightly zesty buffalo chicken wings.
Recipe for Inspiration: Baked Buffalo Chicken Wings
Stuffed Chicken Breast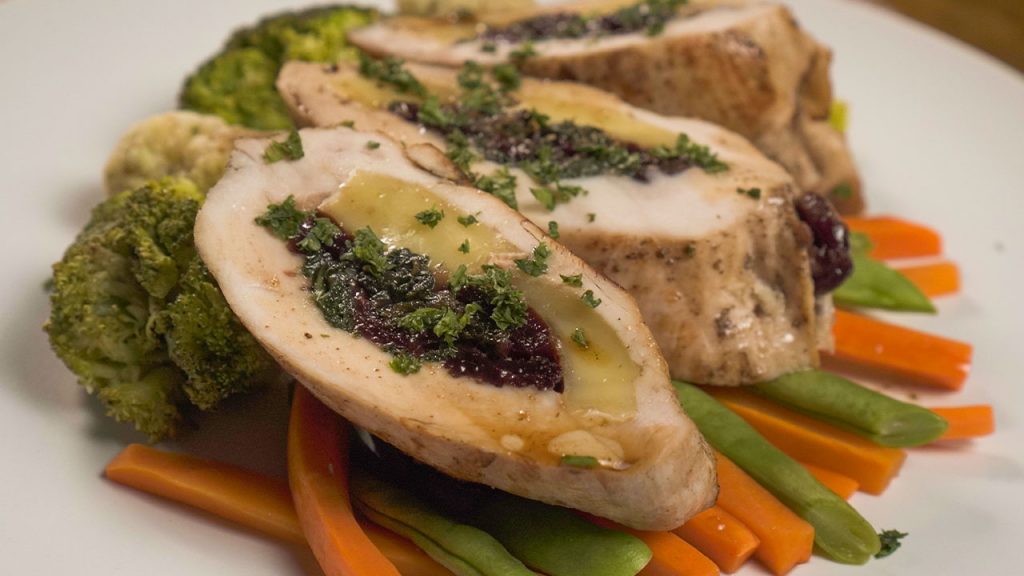 Not all scrumptious dishes take long to prepare. To prove you wrong, here's cranberry and brie-stuffed chicken breasts that you can make in an hour. Or less, if you're good with a knife and stuffing chicken. It starts with the cranberry stuffing sauteed with spinach and thyme for a more flavorful keto meal. And then there's brie cheese that has a mild, buttery flavor that adds creaminess into the dish. Served with your favorite vegetables and side dishes, this is not only the perfect candidate for your list of keto lunch ideas, but it's also fit for fancy occasions!
Recipe for Inspiration: Cranberry And Brie Stuffed Chicken Breast
Egg Roll Bowl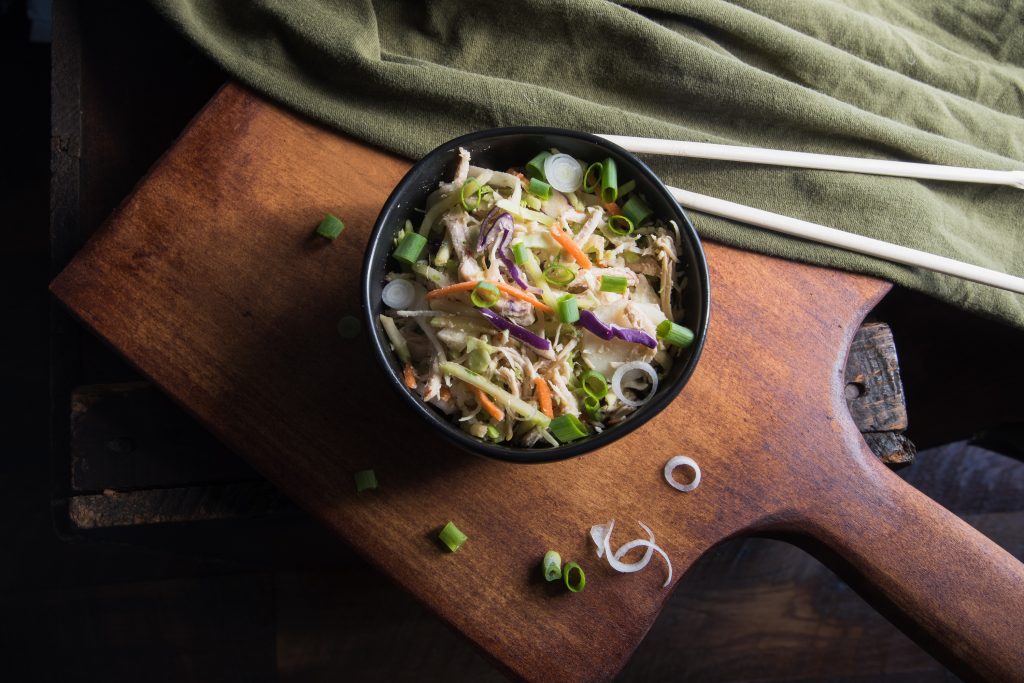 One-pan, one-pot, and one-skillet meal preps are truly a blessing, don't you think? That is why we absolutely adore this egg roll bowl that cooks in just one skillet. Using pantry staples, ground turkey breasts, and a few vegetables, you can have this popular appetizer on your dinner table in just 20 minutes.
Recipe for Inspiration: Egg Roll in a Bowl 
Cauliflower Potato Salad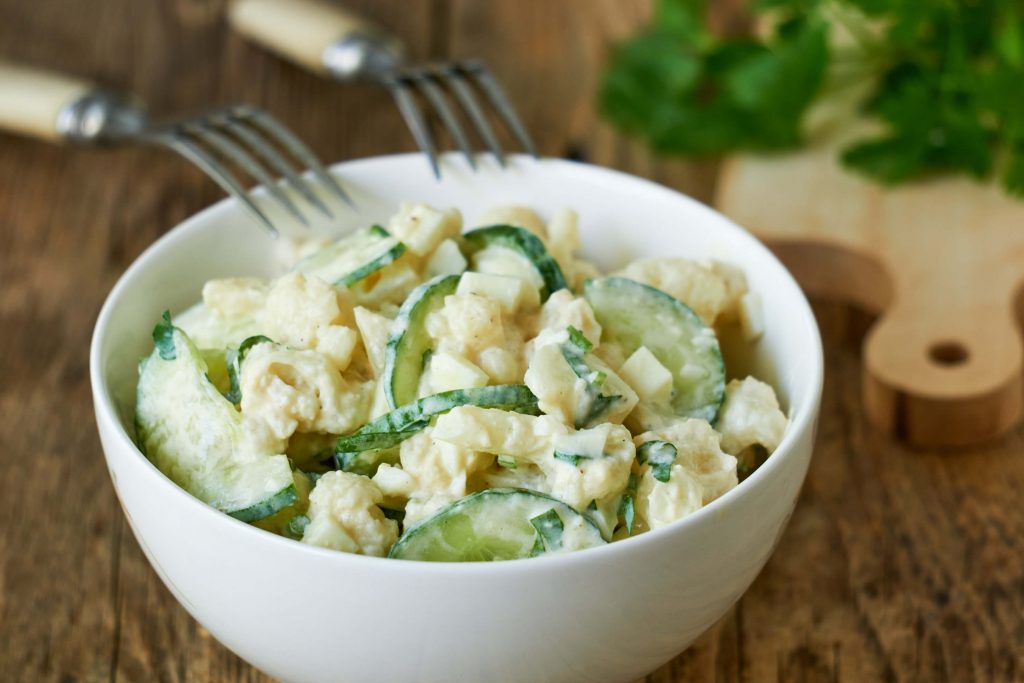 Although this recipe is not exactly made of potato (it's actually made of cauliflower), we're utterly besotted with how quick and easy you can make this dish. And of course, the flavor matters too. If you're wondering what it tastes like, it's almost the same as the potato salad you're fond of. With a dressing made of mayonnaise, mustard, vinegar, and spices, you get the same creamy salad minus the carbs you can add to your list of keto lunch ideas.
Recipe for Inspiration: Keto Cauliflower Potato Salad