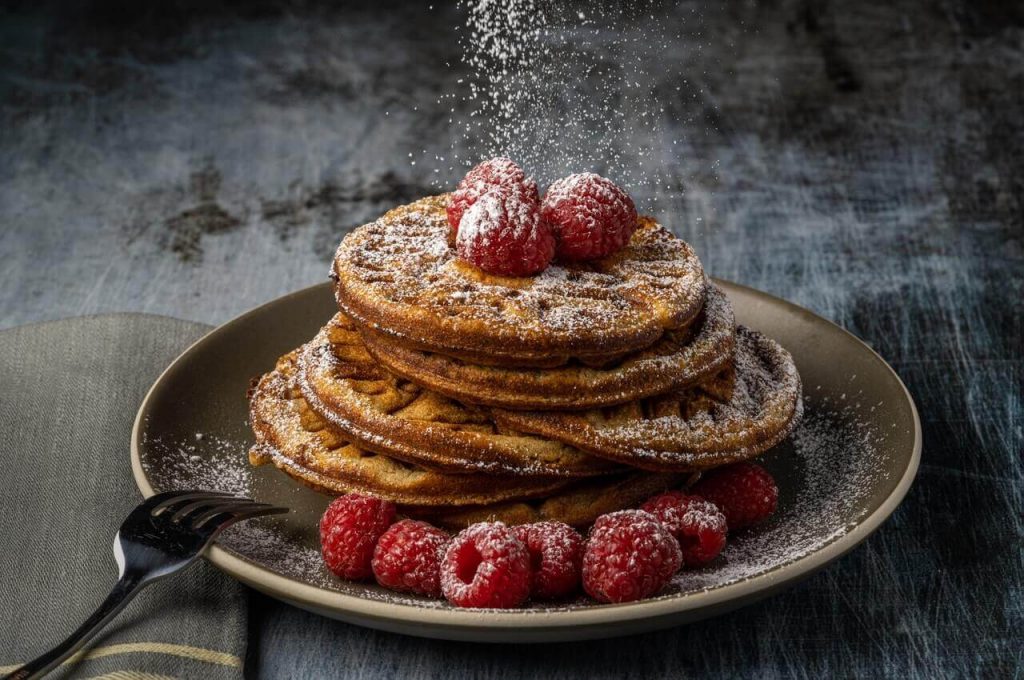 29 Fancy Desserts to Make For Special Occasions
Fancy desserts brighten up the day with just their presence. Whether drenched in luscious syrup or decorated with vibrant frosting, they are sure to lighten anyone's mood. What more if you pair them with a warm cup of herbal tea for an afternoon treat?
So don't let the word "fancy" intimidate you. In this list are a bunch of delightful sweets that are easy to make and don't cost a fortune. If you're having an intimate party or in need of a quick chocolate fix, then you'll likely benefit from this guide too. What's more, we're bringing gourmet desserts right to your table! So, without further ado, here are 29 fancy desserts that are perfect for any occasion!
Elegant Gourmet Desserts to Try at Home
You don't have to be an expert to whip up these decadent gourmet desserts. With the right ingredients and equipment, your guests will definitely be in awe when you serve these beautiful goodies.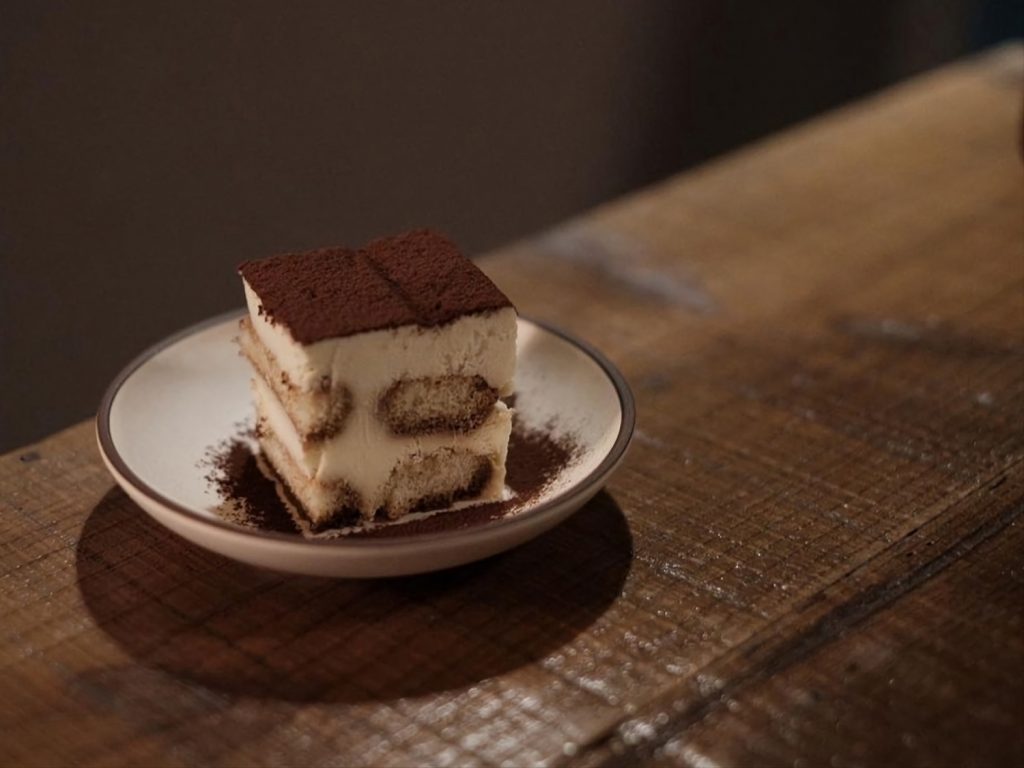 This coffee-flavored treat satisfies both your sweet tooth and a caffeine craving. The traditional version of this Italian dessert features layers of ladyfingers, fluffy cream, and a generous dusting of cocoa powder. However, in this recipe, we're using luscious mocha ice cream made from scratch and fluffy pound cake for a decadent ice cream cake on a different level. 
Recipe for Inspiration: Tiramisu Ice Cream Cake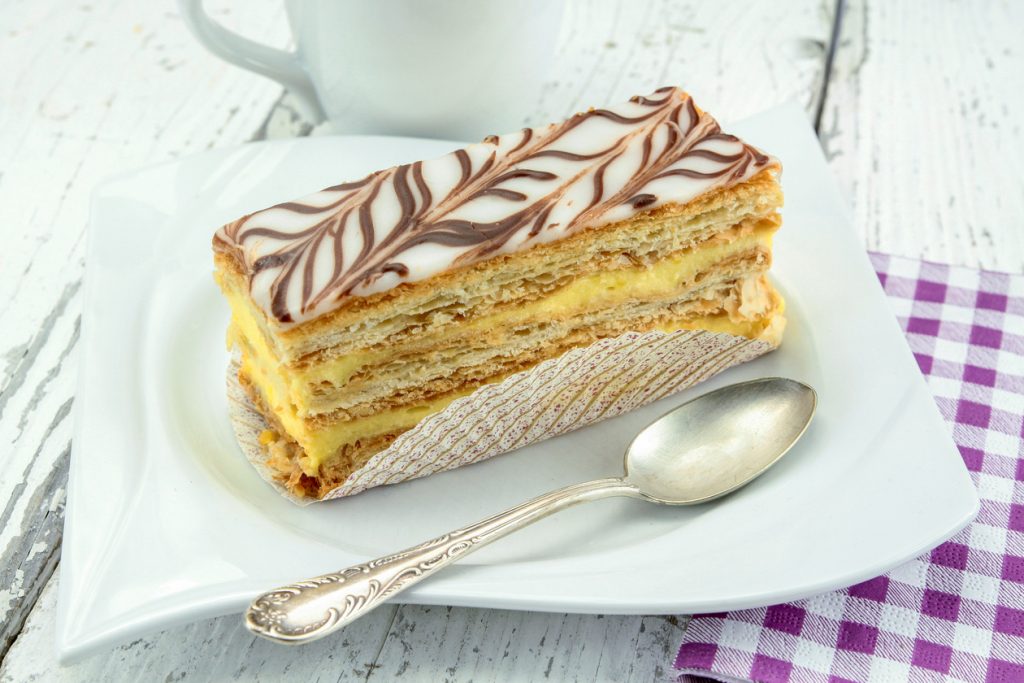 Pronounced as meel-foy (which means one thousand sheets in English), this French dessert offers a bite that's as light as air. This mille-feuille recipe follows the classic version with layers of crunchy puff pastry that go perfectly with silky vanilla cream. But what makes this dish even fancier is the vanilla and chocolate chevron pattern that's intricately designed using a handy piping bag.
Recipe for Inspiration: Mille Feuille 
With hints of nuts and coffee, you can never go wrong with this sophisticated opera cake. Popularized all the way back in 1955, this classic treat will remind you of the Paris Opera House with its deep dark brown and golden layers. Furthermore, one bite of it gives a mouthful of almond sponge cake, coffee buttercream, and chocolate ganache. Lastly, this special occasions-worthy dessert has modeling chocolate decors on top for an extra sophisticated touch.
Recipe for Inspiration: Classic Opera Cake
Cinnamon Roll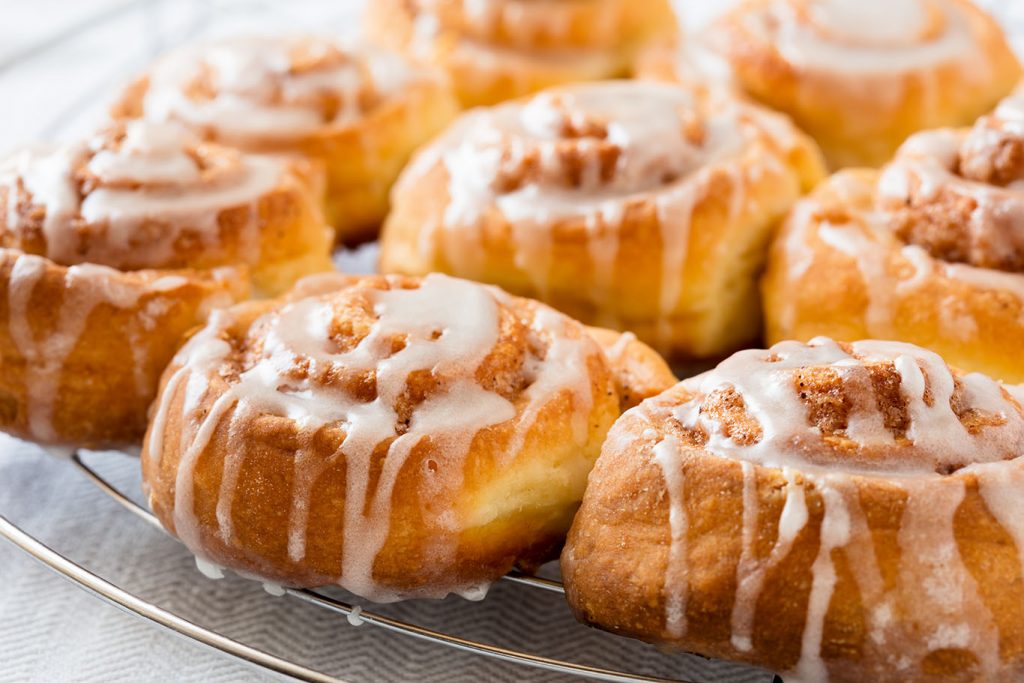 Believe it or not, this breakfast classic cinnamon roll can be a fancy dessert. The fluffy and soft pastry is usually filled with a sticky cinnamon-sugar mixture. It is also either drenched in gooey cream cheese frosting or a rich caramel sauce for a moist bite. But in this reinterpretation, we're serving it with a tart twist using apple pie filling which gives the dish a flavor boost.
Recipe for Inspiration: Apple Pie Cinnamon Roll
Lavender Ice Cream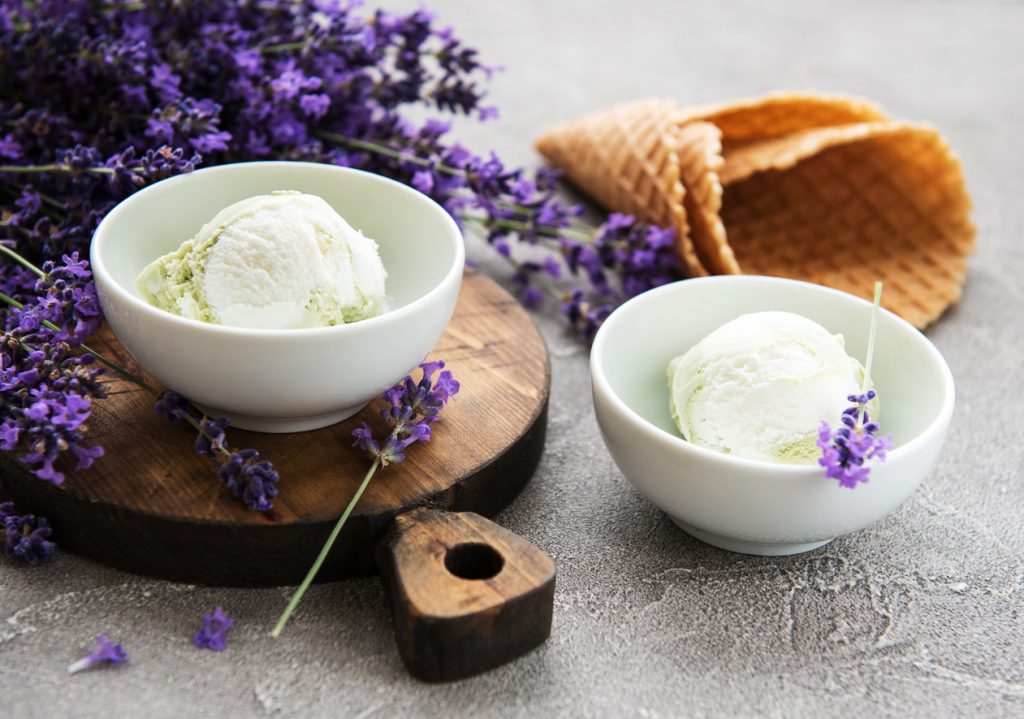 You'll surely be entranced with the fragrance and creaminess of this lavender ice cream. Known for its calming aroma, this bright purple plant mixes minty and herbed hints to any dish. And to turn it into a luscious frozen treat, you'll need rich custard, mild honey, and your trusty ice cream maker. A spoonful of this sweet treat will surely perk you up when you're having a bad day! 
Recipe for Inspiration: Honey Lavender Ice Cream
Fancy Chocolate Desserts
Nothing beats the indulgence of chocolates. Be it dark or white, in a bar or syrup form, it sparks joy with just a single bite. Above all, you can never go wrong with chocolate goodies because almost everyone loves them.
So if you're looking for pretty desserts to serve on your special dinner, then check out these yummy chocolate recipes!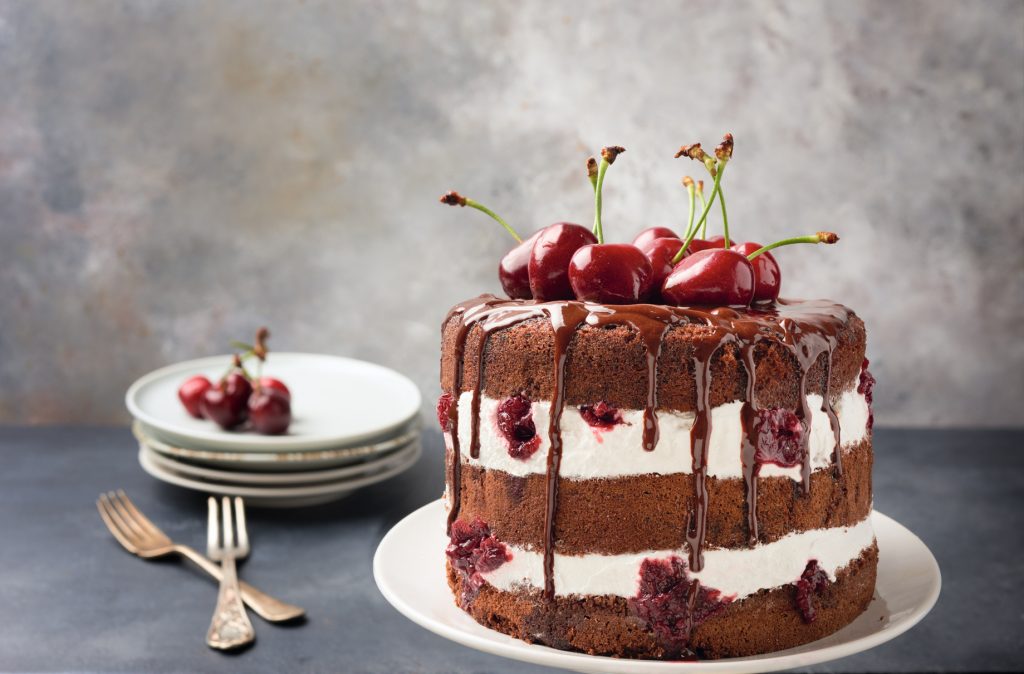 An elegant German chocolate dessert, this black forest cake is every chocolate lover's dream. First, the bittersweet cake combines cocoa powder and espresso powder for dark hints. Then, in between layers are sticky and sweet cherry syrup and vanilla whipped cream. But the one you wouldn't want to miss is its rich chocolate ganache topping deliciously dripping down its sides. 
Recipe for Inspiration: Black Forest Cake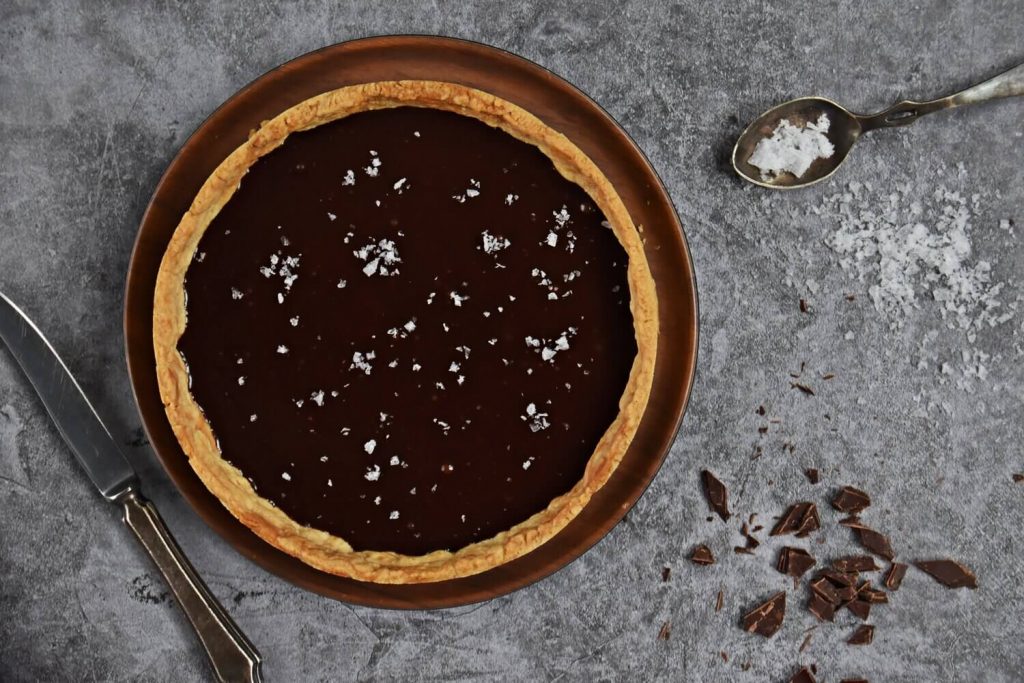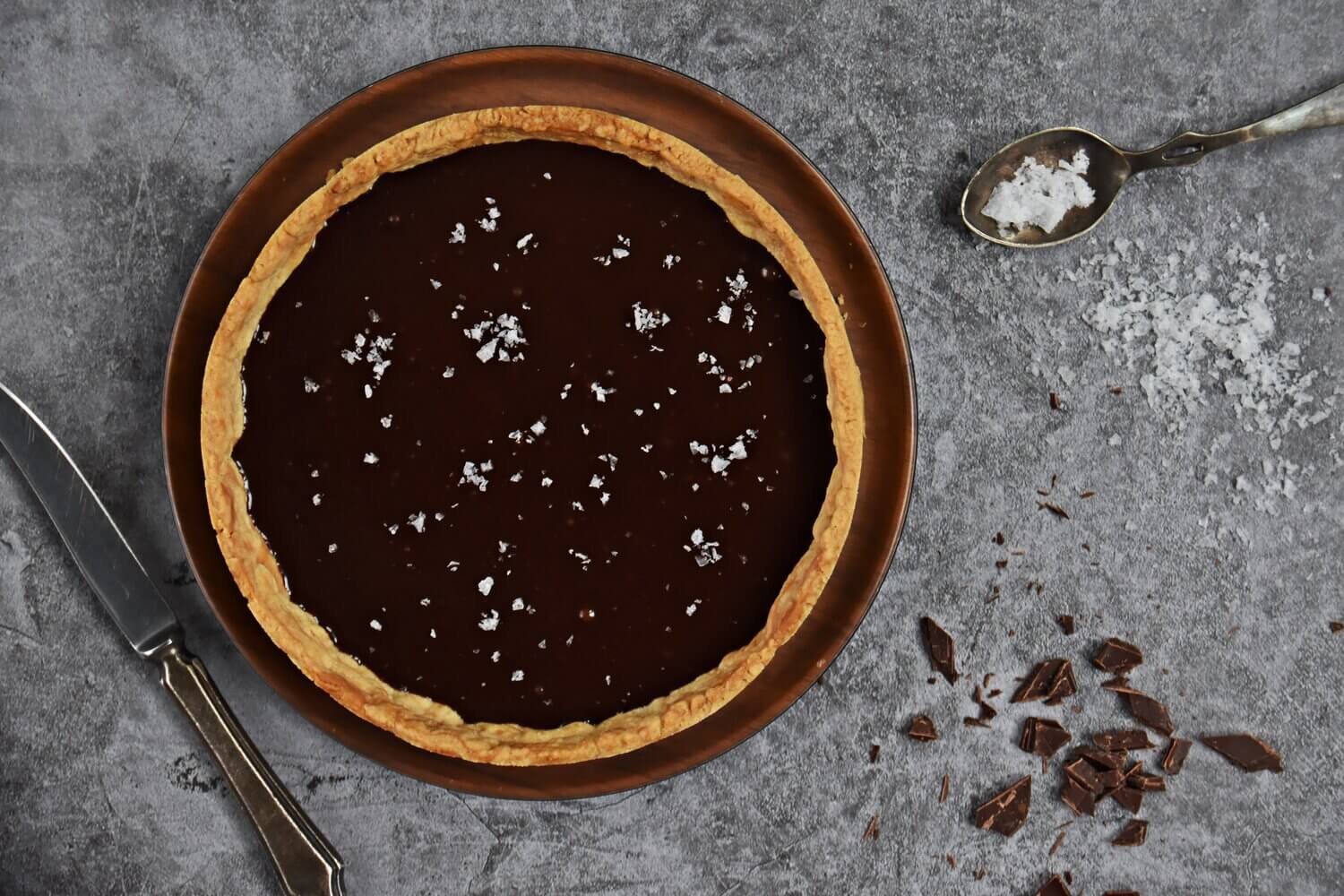 Sleek and thin, the chocolate tart is as sophisticated as a dessert can get. With a flaky crust and a decadent glaze, it's the chicest treat out there! Above all, if you're on the lookout for a healthy dessert, then this one's perfect for you. It uses almond flour for a gluten-free but nutty treat.
Recipe for Inspiration: Salted Dark Chocolate Tart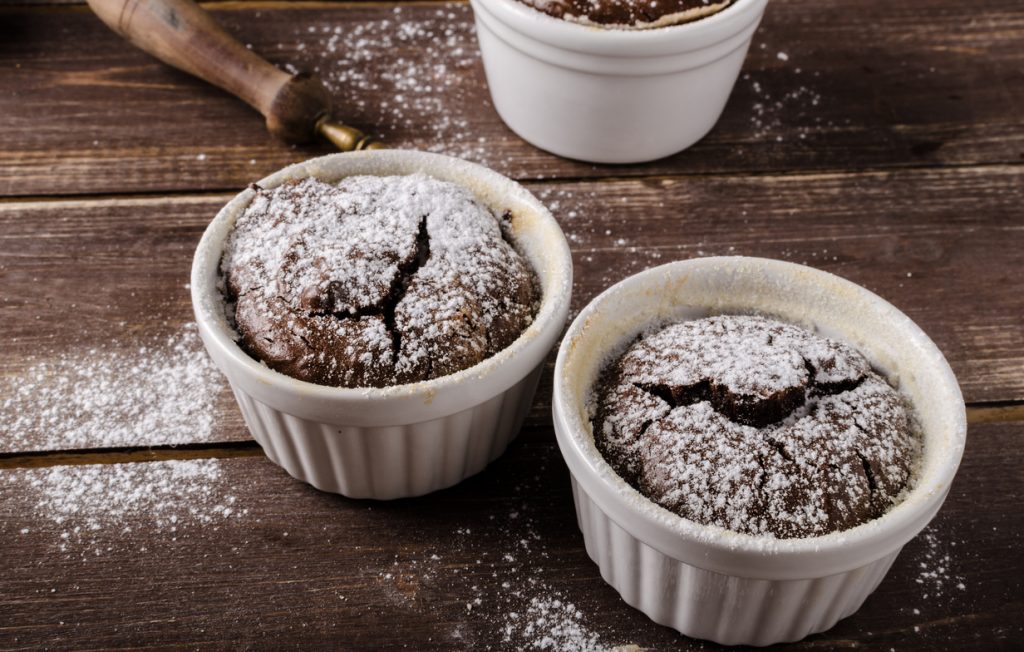 You don't know about light and pillowy desserts until you give this moist chocolate souffle a try! Melted dark chocolate chips and butter are combined with eggs creating a rich batter. Then, it is baked for half an hour resulting in a soft treat that has a luscious hot chocolate syrup inside. What's more, an ample dusting of powdered sugar or a vanilla ice cream topping not only makes this treat tastier but photo-worthy too!
Recipe for Inspiration: Hot Chocolate Souffle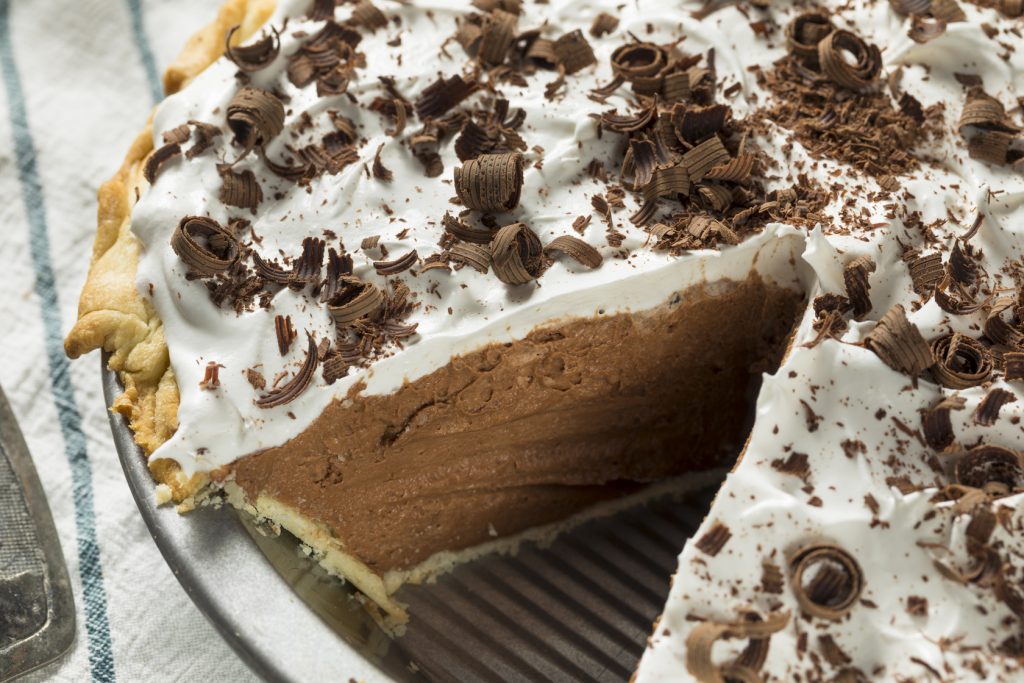 We're not joking when we say you can taste the clouds with this French silk pie. It's secret? The velvety mousse-like chocolate filling that's topped with whipped cream. Plus, its crumbly shell gives this European pie the perfect crunch that pairs well with the light and velvety filling.
Recipe for Inspiration: French Silk Pie (Chocolate Pie)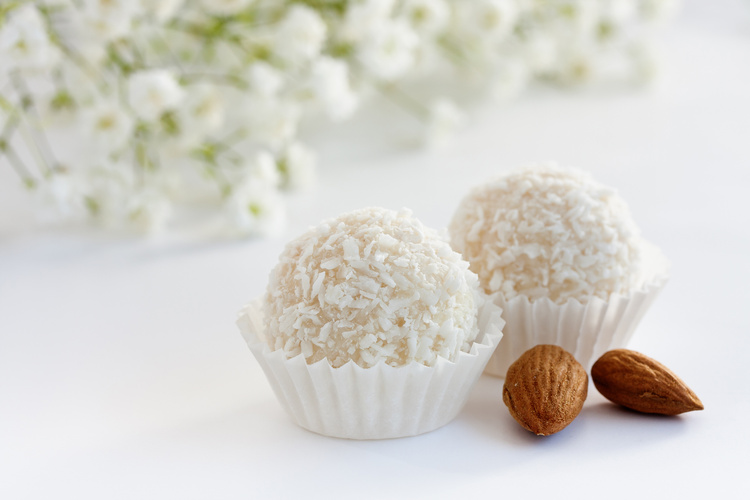 Chocolate truffles get a "snowy" twist with this easy recipe. These French desserts are traditionally made with dark chocolate ganache and coated in either cocoa powder or shredded coconut. However, in this rendition, they're made with white chocolate and encrusted with lightly toasted almonds. But if you are not a fan of chopped nuts or allergic to them, you can drizzle chocolate syrup on these goodies for more indulgence.
Recipe for Inspiration: White Chocolate Truffles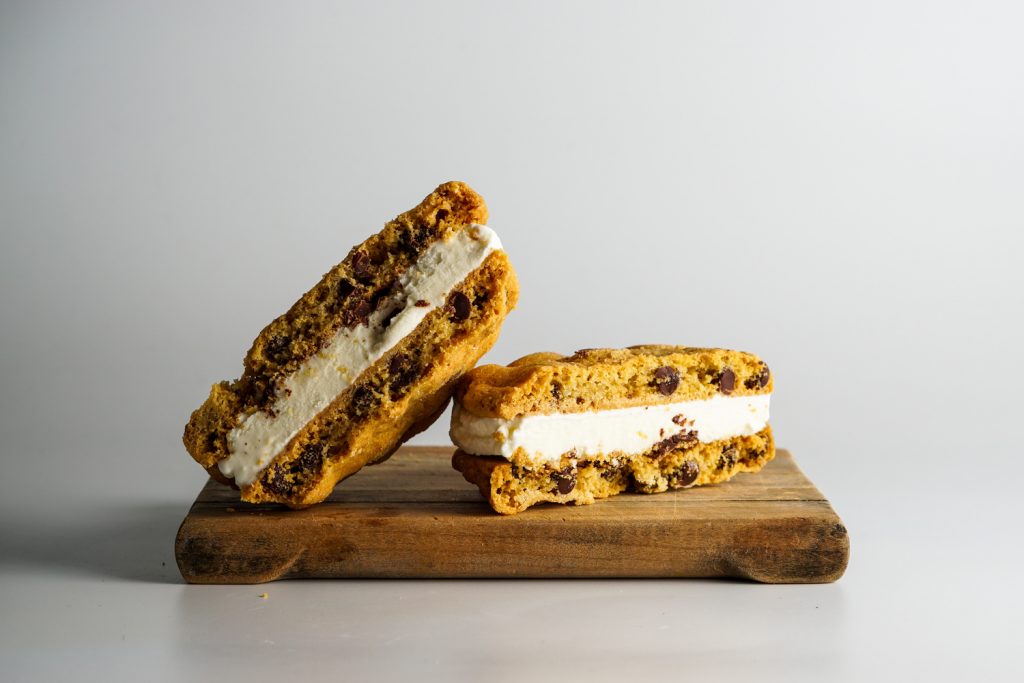 Yes, that's right. You can turn chocolate chip cookies into fancy desserts. This sweets mashup sandwiches vanilla ice cream and hot fudge sauce between baked chocolate chip squares. Plus, one side of these ice cream bars is crusted with crunchy almond and toffee bits. 
Recipe for Inspiration: Chocolate Chip Cookie Ice Cream Bars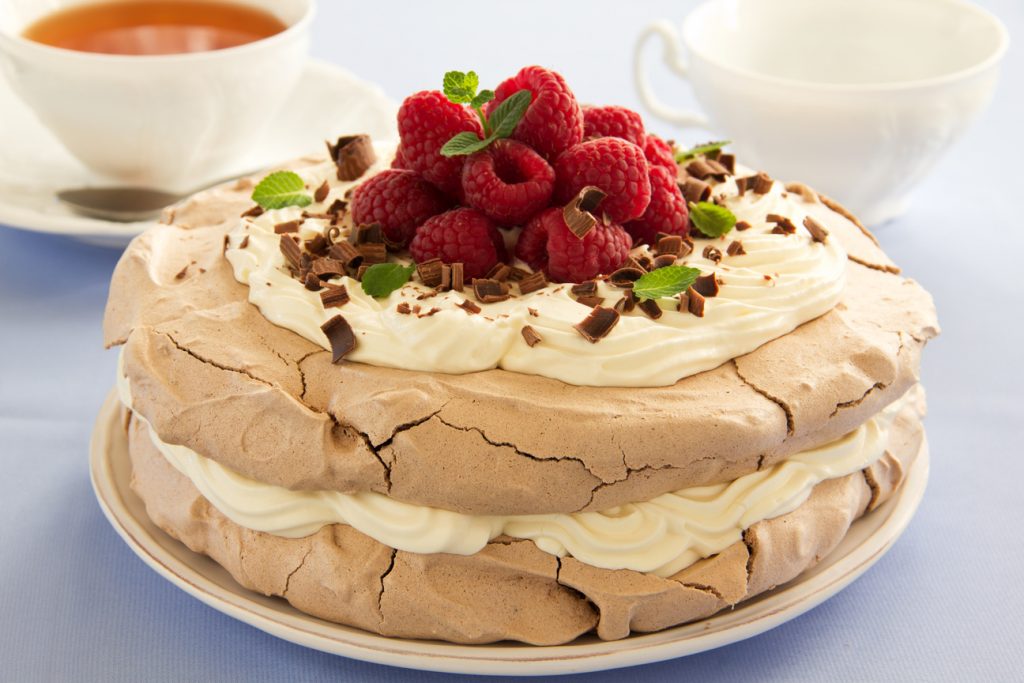 Usually described as a white and pillowy nest topped with whipped cream and berries, chocolate pavlova pleases your taste buds with its fluffy texture. This fudgy reinterpretation comes with tart raspberries and silky whipped cream on a bed of choco pavlova. You can also add kiwi, blueberries, and strawberries for a festive and fruity mix!
Recipe for Inspiration: Chocolate Pavlova With Whipped Cream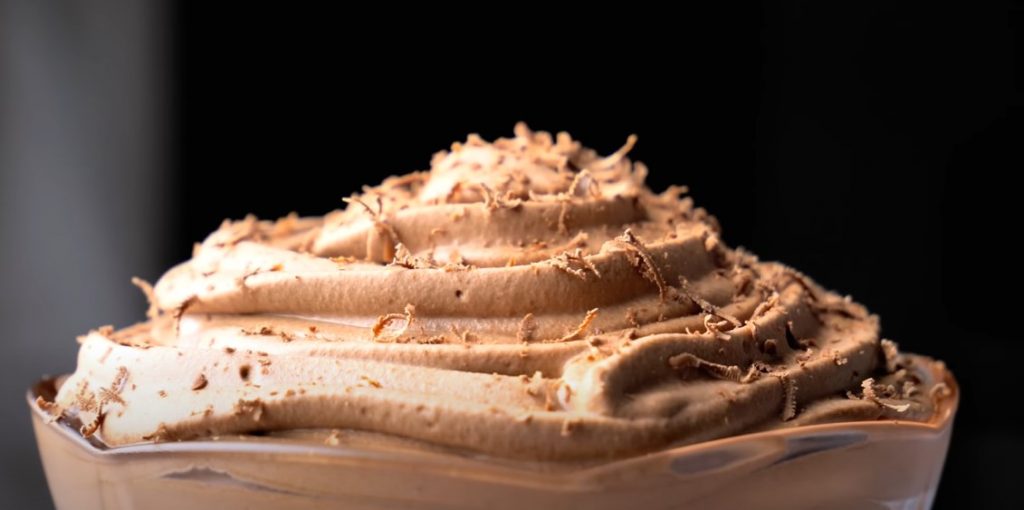 With only five ingredients, you can whip up a dark and melt-in-your-mouth treat with this chocolate mousse recipe. One of the lightest and easiest desserts you can make at home, it only takes 20 minutes to whip up. Furthermore, every scoop brings joy with its intense chocolate flavor mixed with heavy cream.
Recipe for Inspiration: Easy Chocolate Mousse
Easy Fancy Desserts For Beginners
Are you just starting in the kitchen? Or looking for an elegant treat that is easy to make? Then, this section is just right for you! These easy and fancy desserts options bust out the foodie in you using no-fuss recipes.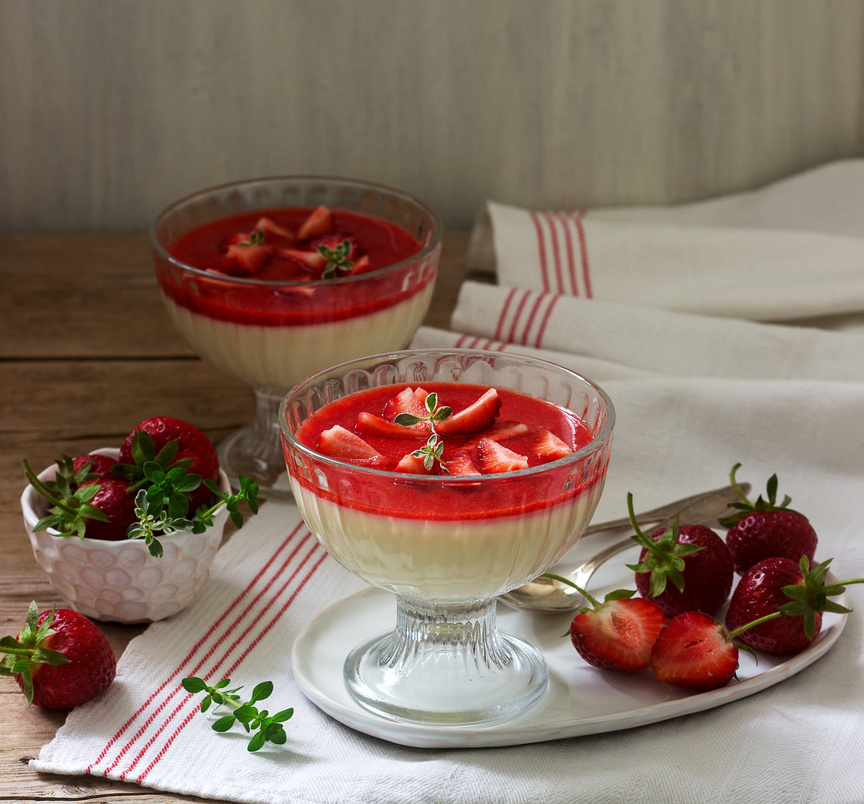 To start off this list of easy yet fancy desserts is this soft and silky French dessert. Half and half cream, gelatin, milk, and vanilla bean come together to make this panna cotta. Imagine a milky bite that's topped with tart strawberries. Indeed, a yummy treat straight out of heaven. Apart from that, you can make it diabetic-friendly by using stevia instead of sugar.
Recipe for Inspiration: Vanilla Bean Panna Cotta With Strawberries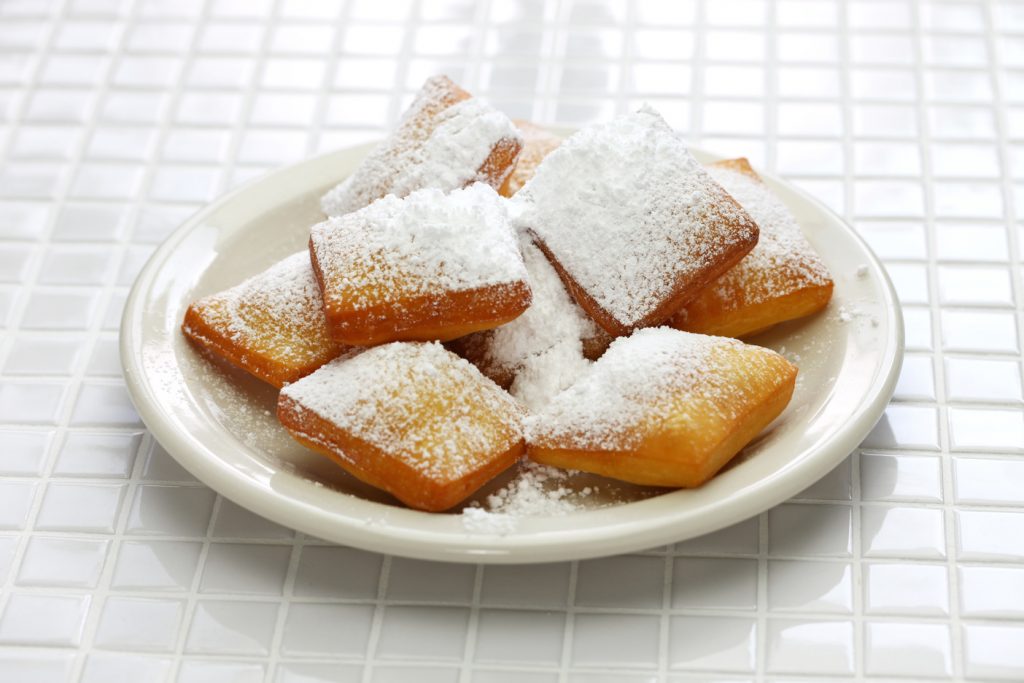 You don't have to head to New Orleans just to have a bite of puffy beignets. With this recipe, you can now enjoy a fresh batch made at home! These sweet, square-shaped, and deep-fried pastries are generously dusted with powdered sugar. You can also level up these light desserts with either chocolate or caramel sauce.
Recipe for Inspiration: New Orleans Beignets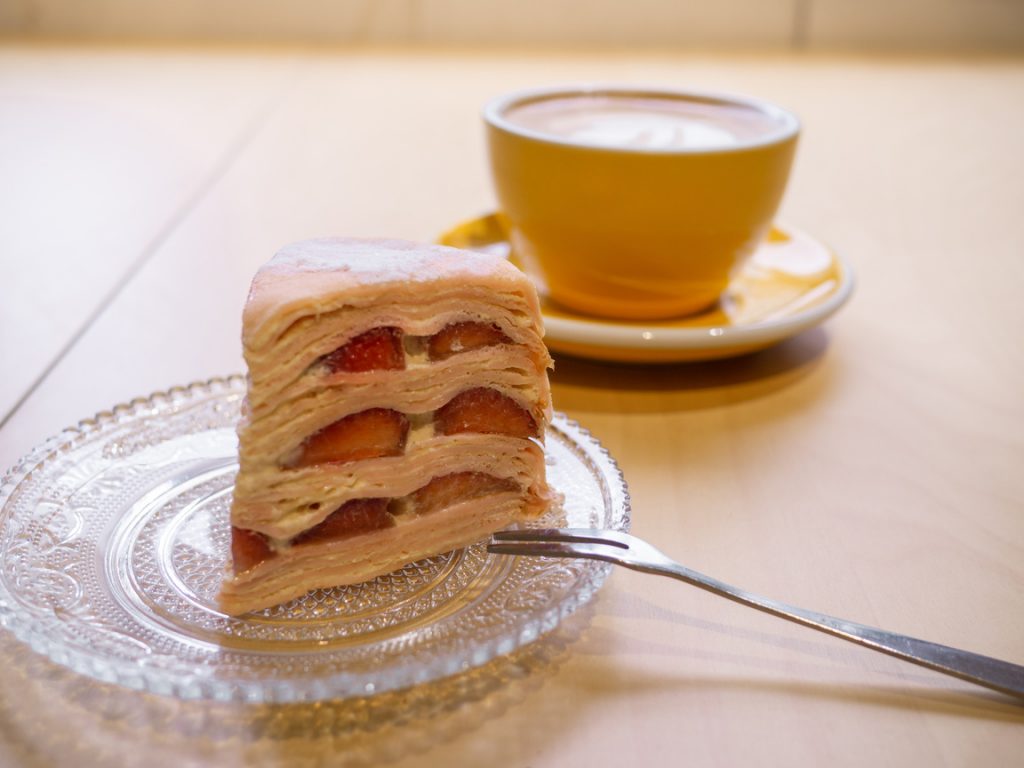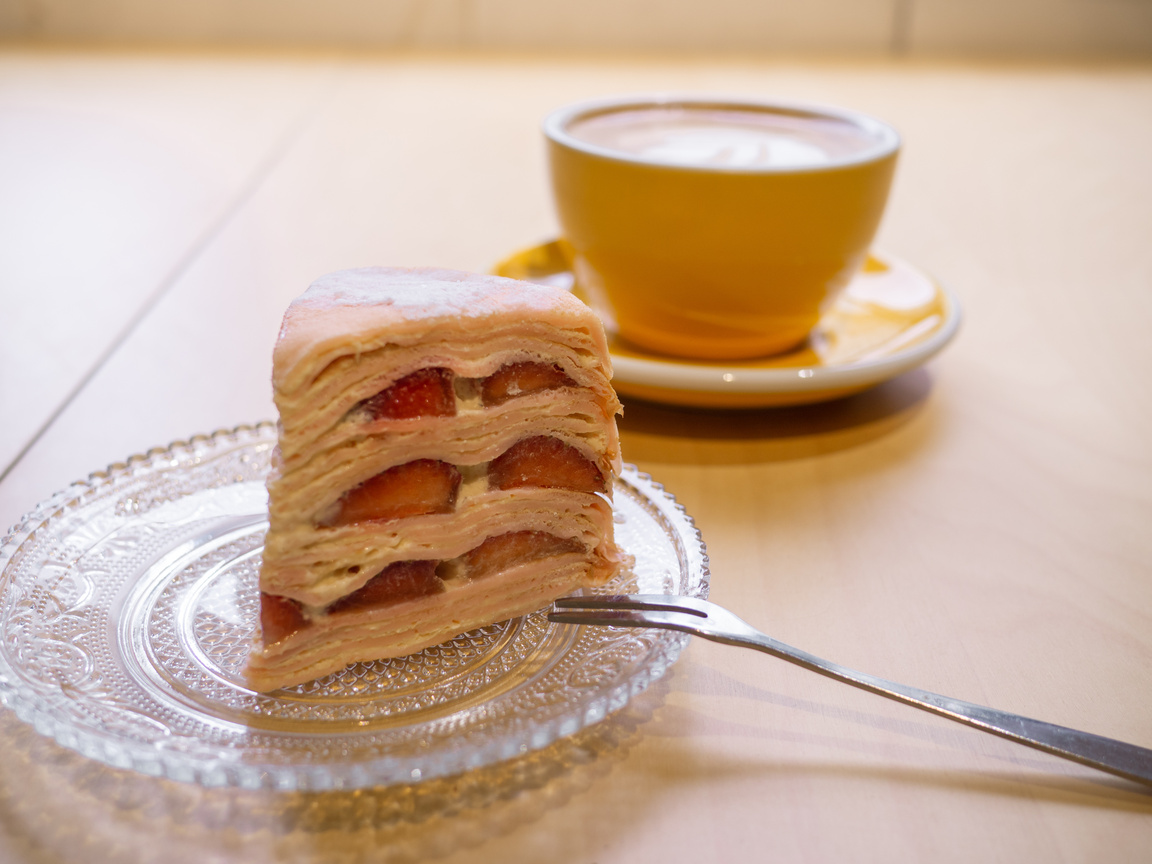 Amp up your usual breakfast into a fancy dessert using tons of crepe sheets! This no-bake dish has dreamy layers of airy cream from the combination of heavy whipping cream and greek yogurt. You can also catch a hint of warmth in the crepes as it uses cinnamon. And with strawberries in between layers, this crepe cake serves the perfect afternoon treat with its sweet and light flavors.
Recipe for Inspiration: No-Bake Strawberries and Cream Crepe Cake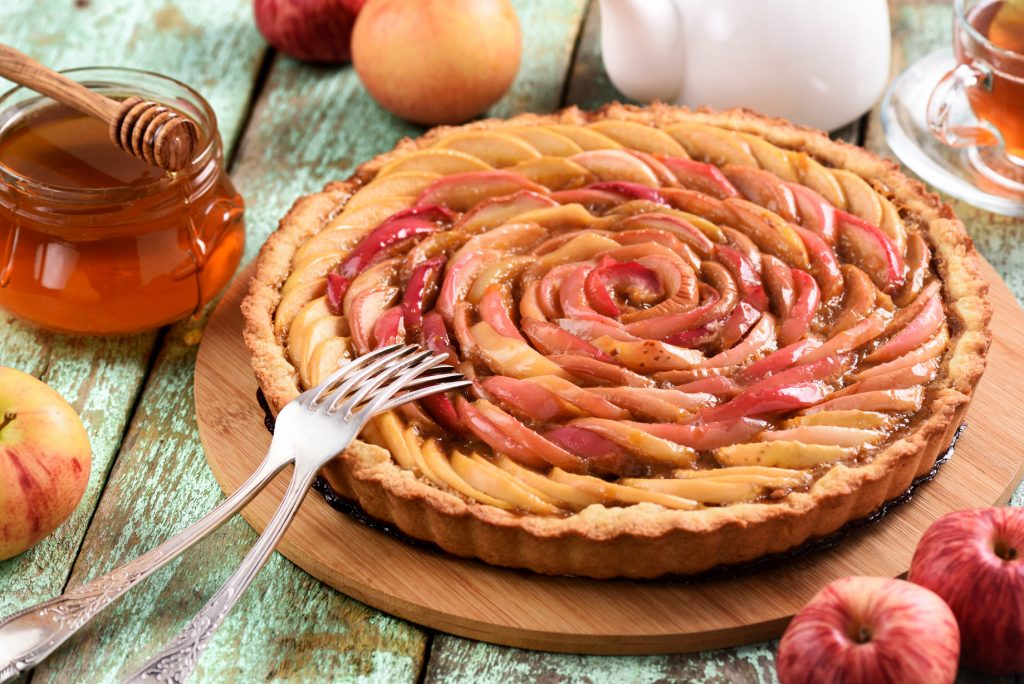 This rose apple tart is one of those desserts you would think twice to slice. Not because it's not tasty but because it's just too pretty to eat. Striking you with its rose-patterned apple filling, you might be thinking that it's hard to make. But don't worry, we have a tip to make the decorating process easier. You can soak the apple slices in lemon juice to make it more flexible. In addition, you can add some red food coloring to the fruit to mirror the color of the flower.
Recipe for Inspiration: Rose Apple Tart
Cheap Fancy Sweets When You're on a Budget
You don't have to spend much just to make fancy desserts. With these recipes, you can put together a deliciously addicting treat with easy-access or pocket-friendly ingredients. So, continue scrolling and discover what luxurious-looking goodies you can make with a budget.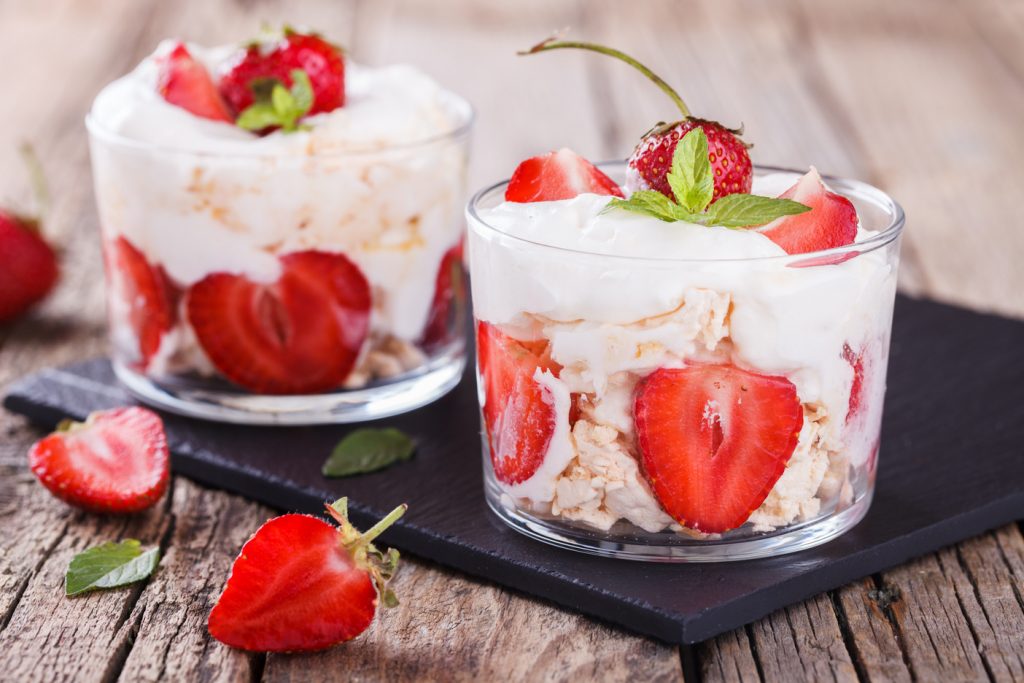 A list of fancy sweets ideas is not complete without this traditional English treat. Cheap and can serve a crowd, these light desserts are often compared to pavlova. Although both European dishes contain meringue, this budget-friendly treat is typically served in a glass.
Eton mess serves both crunchy and creamy textures in just one bite and with only five ingredients needed. Plus, its generous layers of crisp meringue, velvety whipped cream, and luscious strawberry syrup are an absolute joy to eat.
Recipe for Inspiration: Eton Mess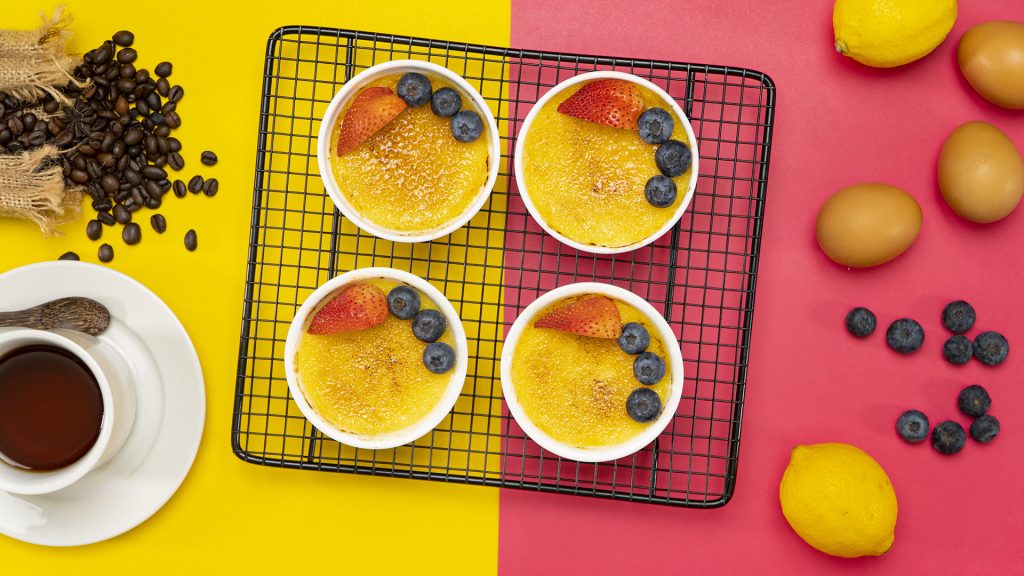 When you think of fancy desserts, the first thing that probably pops into your mind is this European treat. This elegant dish usually costs bucks when you eat it in restaurants. But you can bring the sophisticated vibe of this dessert at home with ingredients that can be found in your pantry. 
Heavy cream, sugar, lemon zest, eggs, and salt are just what you need to make this creamy treat. Furthermore, if you don't have a torch to make the brown topping, place it in the broiler and watch how it gloriously browns.
Recipe for Inspiration: Classic Italian Creme Brulee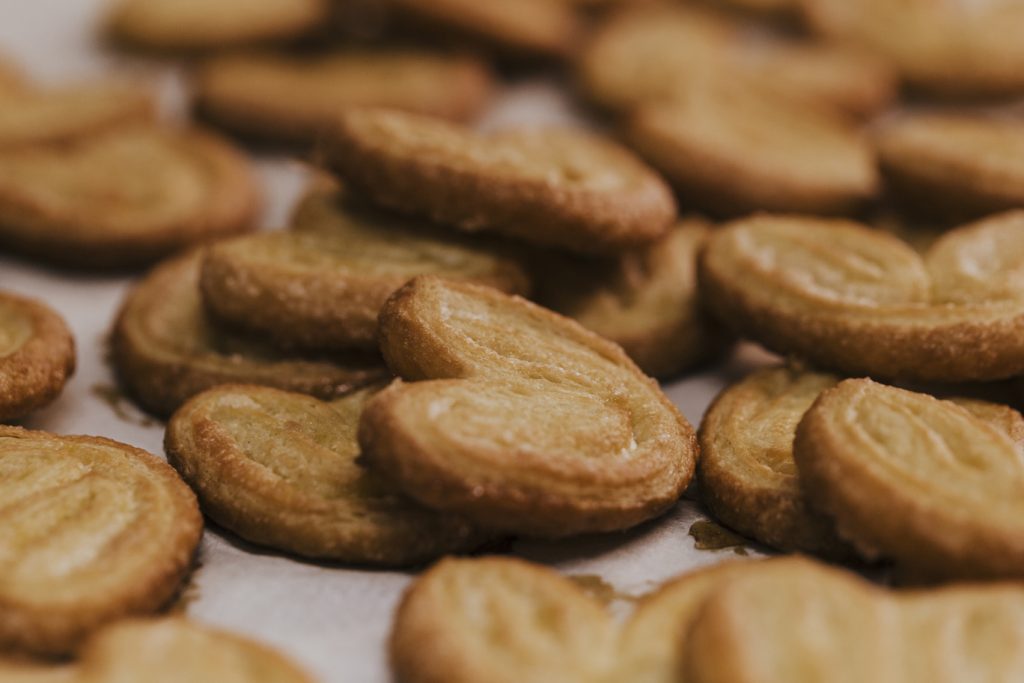 Palm heart, elephant ear, palm leaf shape, and butterfly shape are some of the other names of palmiers. Despite some of these silly names, you'll fall head over heels with the heart shape of these mini desserts. But it's the crunchy and sweet taste that seals the deal. In this festive take, we're fusing spices such as nutmeg, ground cinnamon, and ground allspice for these pretty holiday goodies.
Recipe for Inspiration: Gingersnap Palmiers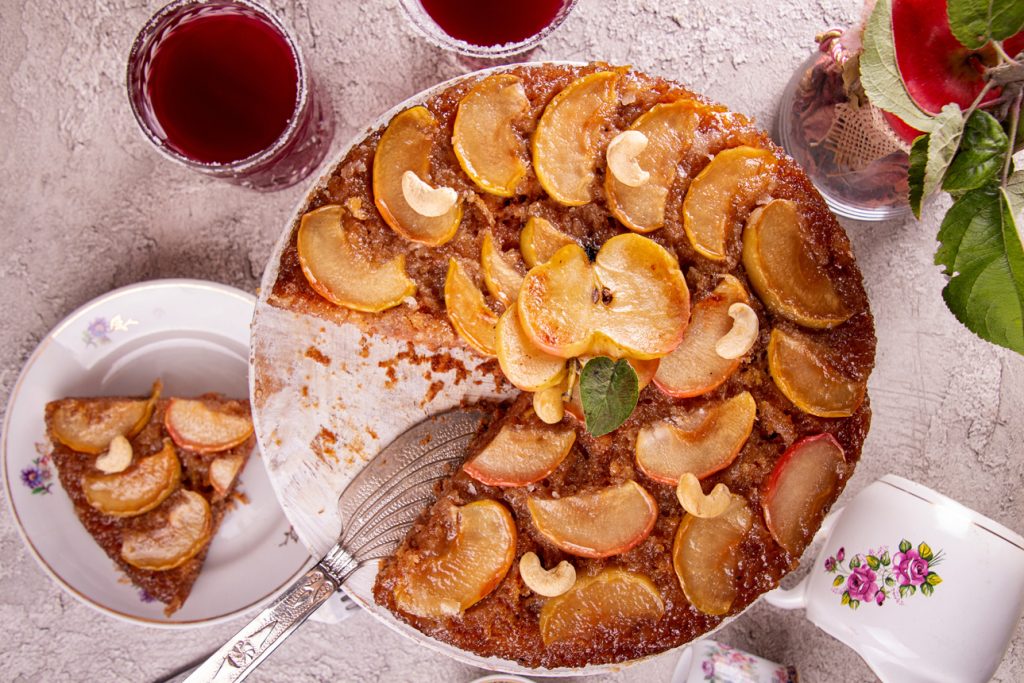 Have tons of apples at home? Then, this apple cake might be the ideal fancy dessert for you. Although this dish looks simple, its dense and moist finish goes well with tart and chunky apples. But unlike the original, we're inverting it in this recipe to make an upside-down cake that's drenched in sweet butter and sugar sauce.
Recipe for Inspiration: Upside Down Apple Cake
Strawberry Cream Cheese Danish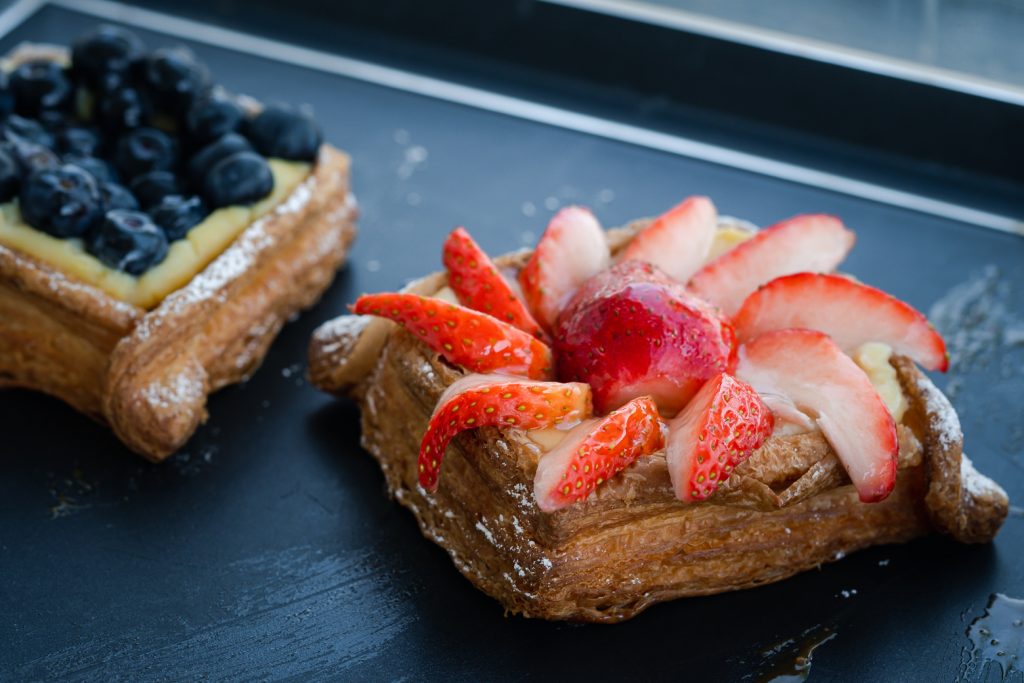 A pretty treat and sweet breakfast in one dish, these strawberry cream cheese danish will serve a perfect start to your day. Made with simple puff pastries, they're garnished with sweetened cream cheese and baked until perfectly browned. Then, these fancy desserts are topped with strawberry slices and tart jam. So simple yet so delicious, this quick recipe will surely make you swoon with its subtlety.
Recipe for Inspiration: Strawberry Cream Cheese Danishes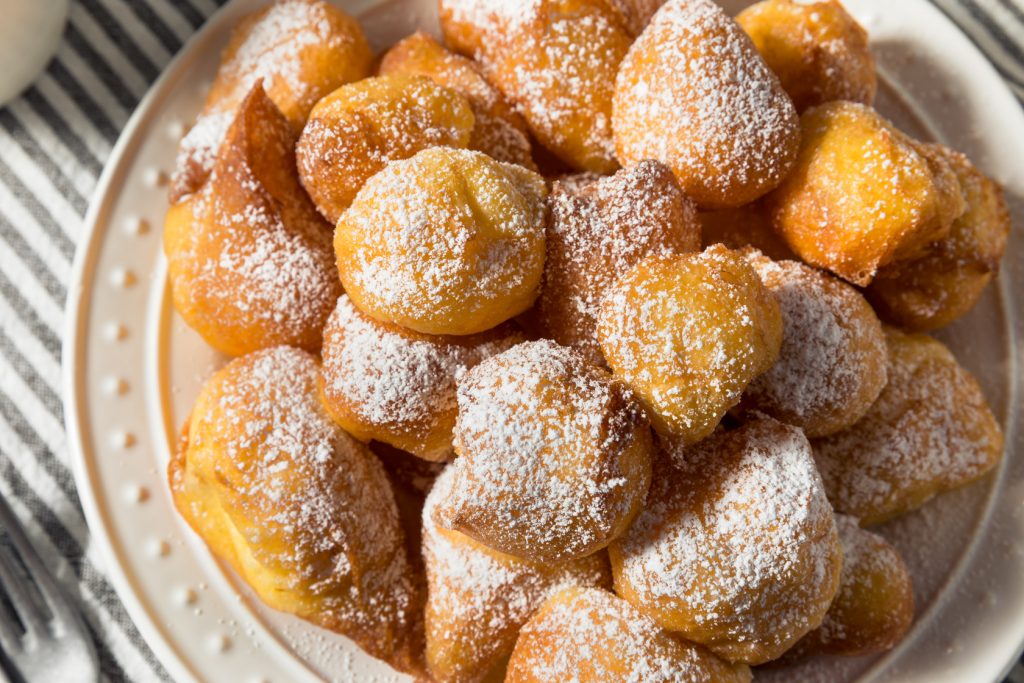 These Italian mini desserts will keep you wanting for more with their puffiness on the outside and melt-in-your-mouth center. It combines sugar, milk, butter, and flour for donut-like pastries that are deep-fried to perfection. Then, it is liberally dusted with confectioners sugar for sweetness. And to make it more delectable, serve it warm with chocolate syrup.
Recipe for Inspiration: Zeppole
Fancy Party Desserts for a Crowd
In need of fancy dessert recipes to make for your next party? Or looking to impress guests for your intimate gathering? Then, these easy recipes might do the trick! These desserts for a crowd will surely hit the spot even if some of them are bite-sized. So if you're ready to work on some magic in your kitchen, then get your ingredients ready.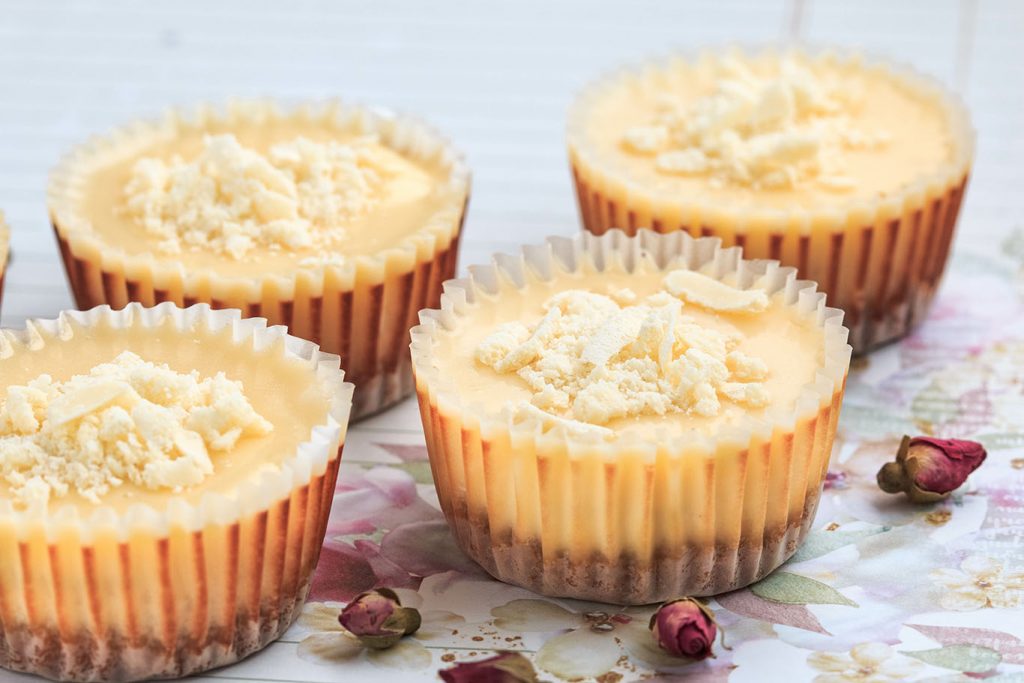 Cheesecakes are sometimes a pain to make. With all the chilling time needed, you might fall behind if you're in a rush. But with this cheesecake bites recipe, your treats only need a couple of hours in the fridge. Furthermore, you get to savor the richness of cream cheese with your choice of jam! The fusion of milky flavors and fruity hints in these yummy desserts makes the waiting worth it once you get a bite. Last but not least, the vanilla wafer crust gives the perfect crunch.
Recipe for Inspiration: Cheesecake Bites
Chocolate Covered Strawberries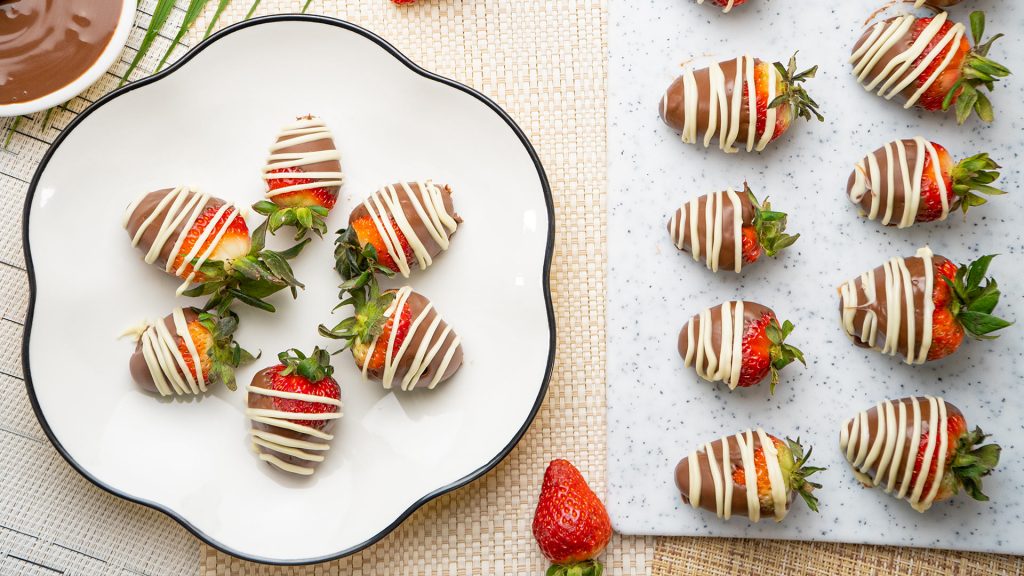 These chocolate-covered strawberries will surely save the day if you need a quick fix for a fancy dessert. This iconic combo already proved how good their flavors blend. Just the marriage of tart, juicy strawberries combined with bittersweet dark chocolate is enough to satisfy your taste buds. But the extra drizzle of white chocolate in this recipe adds vanilla hints.
Recipe for Inspiration: Fudge Dipped Strawberries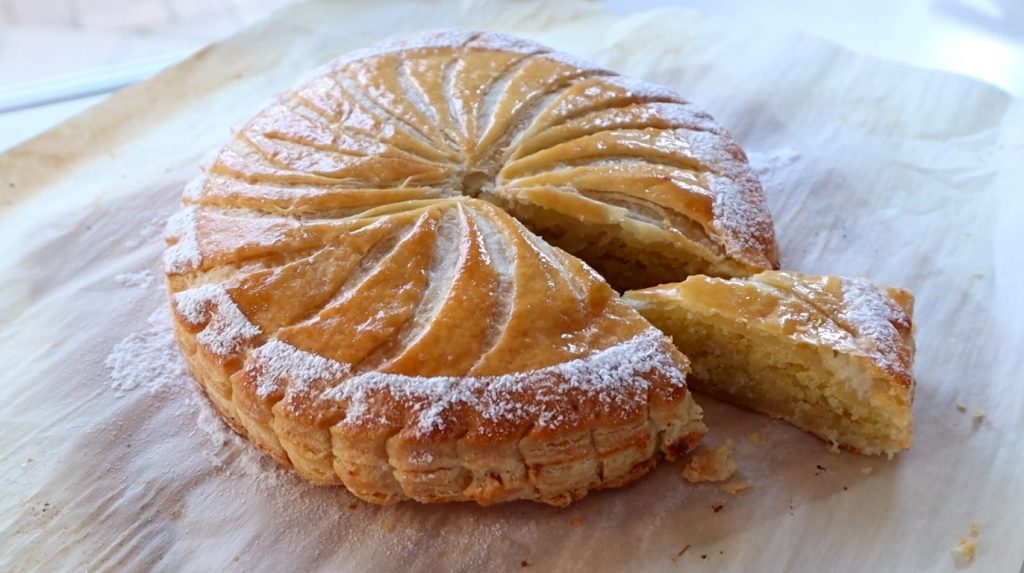 This French dessert will make jaws drop. Perfectly round with spiral lines, the pithivier is the perfect centerpiece. The golden crust is made with simple ingredients but it boasts the right thickness and crispiness. Apart from that, its entrancing aroma tempts your guests to take a slice which reveals the yellow frangipane or almond-flavored custard. Serve this moist and crusty treat when you need a scene-stealing dish.
Recipe for Inspiration: Pithivier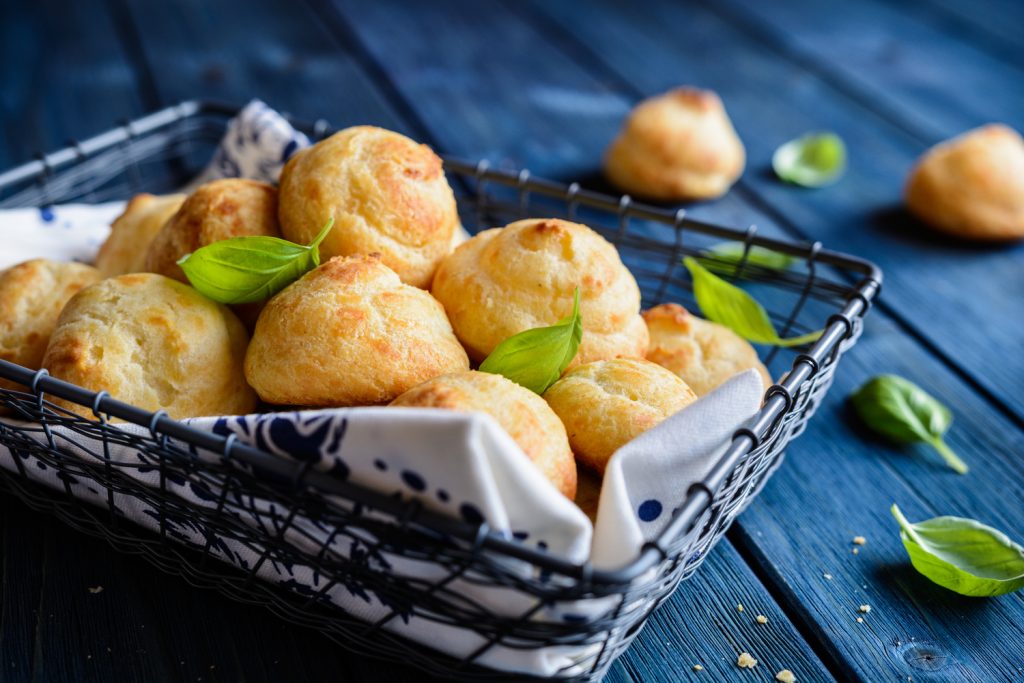 French cuisine offers tons of fancy desserts when you need one. Another European treat you might want to try is this choux pastry or pate a choux. These adorable and light goodies are made with simple pantry ingredients. Pastries usually require a rising agent to inflate. But unlike most pastries, this elegant dish can puff out with just heat. What's more, you can fill these golden shells with creamy custard, tangy lemon curd, pastry cream, or tangy jam for a delightful bite.
Recipe for Inspiration: Choux Pastry Pate A Choux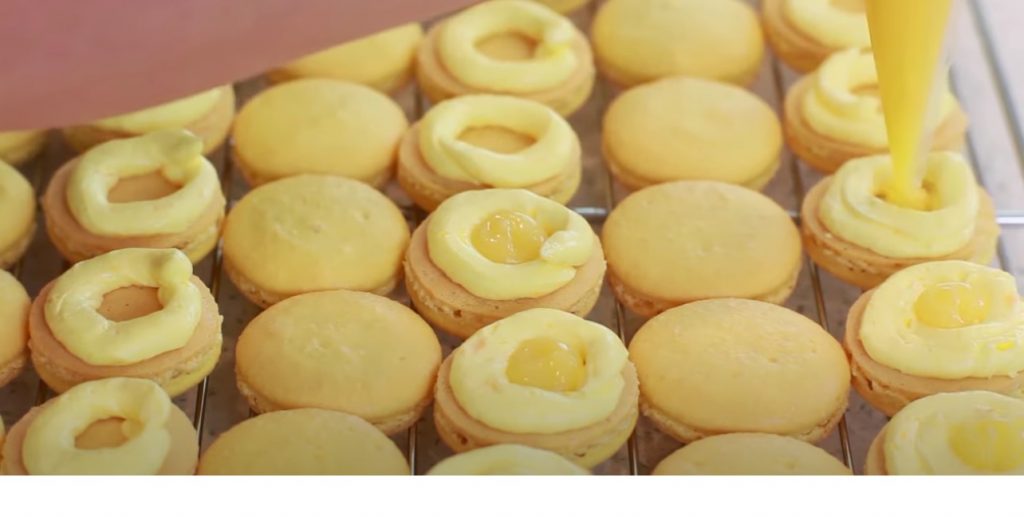 Smooth, delicate, and classy, the French macarons are one of the many iconic European goodies. These yummy desserts easily melt in your mouth while offering a variety of flavors. Plus, the crisp meringue base fuse well with ganache, jam, or cream.
In this recipe, we're adding a refreshing zing using lemon. And the filling that mixes cream cheese and lemon curd for a combination of flavors will surely remind you of warm summer days. 
Recipe for Inspiration: Lemon Macaron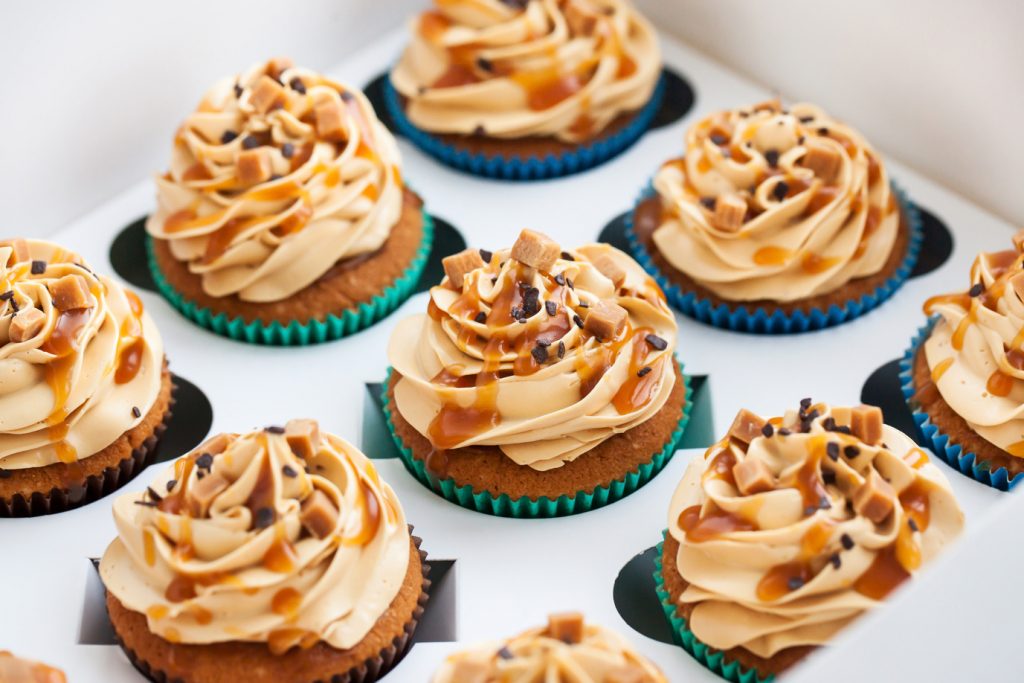 No occasion is complete without cakes. However, if you want to accommodate a huge crowd better, cupcakes are always a good choice. The moist base topped with a rich frosting never goes wrong. And in this salted caramel cupcakes recipe, we're serving caramel madness from the candy decor down to the cake. Each layer is rich in dark brown sugar flavors for a scrumptious and fancy dessert that both kids and adults will surely love.
Recipe for Inspiration: Salted Caramel Cupcakes