This Red Lobster crab cakes recipe will take you to the seafood restaurant. These pan seared crab cakes flavored with bay seasoning, dijon mustard, onion powder, Worcestershire sauce, mayo, and plain Greek yogurt are crispy on the outside while the crab meat remains lusciously soft and flaky on the inside. Learn how you can recreate this former Red Lobster delicacy at home. Serve them with grilled corn on the cob and tartar sauce on the side. We recommend making a few extra pieces because you'll surely want more! 
Tips on Making Red Lobster Crab Cakes
Crab cakes are often part of the appetizers menu served in fancy parties. Who can resist tender crab meat coated in crispy bread crumbs mixed with select herbs and spices? Here are the best tips about making this seafood appetizer:
Use fresh or canned crab meat. All kinds of crab work well for this crab cakes recipe. You can use the meat from blue crab, dungeness crab, snow crab legs, or king crab legs. For a more convenient option, you can get already picked jumbo lump crab meat from the grocery, just like what we used for this recipe, or any canned crab meat that you can find.
Fry the crab cakes in batches

in order to maintain the cooking temperature. Overcrowding the pan will cause the oil temperature to drop.
Do not overmix the ingredients.

Overmixing will only make the delicate crab meat mushy and will also result in crab cakes that easily fall apart.
Use an ice cream scoop to make uniformly sized portions of crab cakes.

They will look great together! And since they're the same size, they will also finish cooking at the same time.
Make sure that the frying pan is hot

that once the cakes hit them, you should hear a sizzle. Otherwise, the crab cakes will stick to it. 
Make them ahead.

You can form the crab cakes, lay them on a parchment paper-lined baking sheet, and freeze them for up to 2 months. Just thaw them in the fridge overnight before cooking. 
We have more Red Lobster recipes for you to try out, and these linguini alfredo and cheddar bay biscuits belong to our top picks! Feel free to browse the recipes and see which ones you would want to try.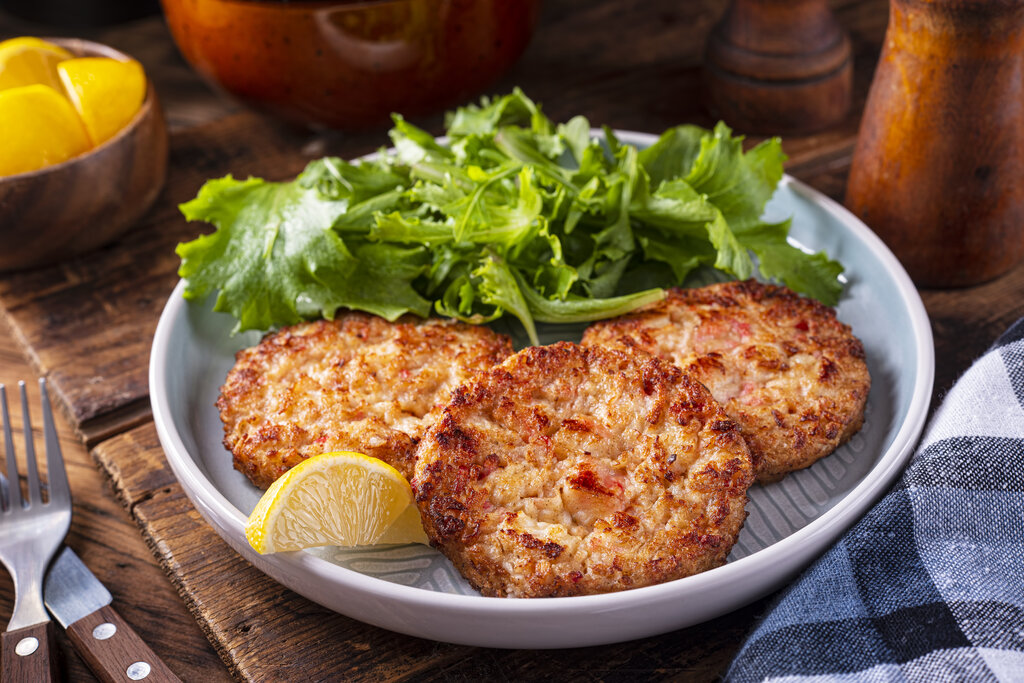 Copycat Red Lobster Crab Cakes Recipe
How To Make Copycat Red Lobster Crab Cakes
This Red Lobster crab cakes recipe makes flavorful crab cakes seasoned with Worcestershire sauce, mayo, dijon, garlic, and other herbs and spices for a crisp and flaky seafood appetizer that you'll surely love.
Ingredients
2

tbsp

plain Greek yogurt

1

tbsp

garlic,

minced

1

egg

2

tbsp

mayo

1

tbsp

Worcestershire sauce

1

tsp

hot sauce

1

tsp

dijon mustard

⅓

tsp

ground ginger

⅓

tsp

sweet paprika

⅓

tsp

bay seasoning,

or bay leaves, powdered

⅛

tsp

onion powder

⅛

tsp

sea salt

⅛

tsp

ground black pepper

1

lb

lump crab meat

1

cup

plain bread crumbs,

or crushed saltines

2

tbsp

canola oil
Instructions
In a large mixing bowl, stir together Greek yogurt, garlic, egg, mayo, Worcestershire sauce, hot sauce, dijon, ginger, paprika, bay seasoning, onion powder, sea salt, and pepper until well-mixed.

Stir in the crab meat and half of the bread crumbs.

Place the remaining plain bread crumbs into a shallow bowl.

Scoop up 2-3 tablespoons of crab meat and form them into 1-inch thick cakes.

Dredge each crab cake into the bread crumbs until fully coated.

Refrigerate the crab cakes for 30 minutes to set.

Pour canola oil in a large skillet over medium heat.

Working in batches of 3 to 4 crab cakes at a time, add crab cakes to the skillet and cook over medium heat for about 3 minutes, flipping halfway through the cooking time once one side of the cake turns golden brown.

When both sides have been browned, reduce heat to low and continue cooking crab cakes for 3 to 5 more minutes until warmed through.

Serve them with your choice of dip and enjoy!
Nutrition
Sugar:

1g

:

Calcium:

29mg

Calories:

79kcal

Carbohydrates:

4g

Cholesterol:

25mg

Fat:

4g

Fiber:

1g

Iron:

1mg

Monounsaturated Fat:

2g

Polyunsaturated Fat:

2g

Potassium:

88mg

Protein:

7g

Saturated Fat:

1g

Sodium:

340mg

Trans Fat:

1g

Vitamin A:

50IU

Vitamin C:

3mg
Nutrition Disclaimer
Frequently Asked Questions
How do you keep crab cakes from falling apart?
One of the most important steps which help keep the crab cakes from falling apart is refrigerating the formed crab cakes before frying them. Use just enough binder. Also, when mixing the ingredients together, mix them with as little strokes as possible. Keeping the mixture cold as you work also helps everything bind together better.

Is it better to fry or bake crab cakes?
You can do both for this Red Lobster crab cakes recipe. You can even air fry them! To bake them in the oven or air fryer, preheat it first to 350 degrees F. Let the cakes cook for around 12 to 15 minutes.

What is the best binder for crab cakes?
The combination of egg and bread crumbs makes a good binder for the crab cakes. Mayonnaise, as used in this recipe, also helps in the binding. Other alternatives are crushed crackers, cereals, flour, and cornstarch. Whichever binder you use, make sure to use just the right amount. Excessive amounts of binder also cause the crab cakes to fall apart.

Conclusion
Bring the taste of this seafood restaurant favorite to your dinner table by making Red Lobster crab cakes at home! This recipe makes irresistibly flavorful and flaky crab cakes that will leave you wanting more.