It's a fun twist on a classic potato salad, this bacon potato salad will make you craving for more! Certainly, serve it chilled, this is sure to be a hit side dish for a hot summer day. It can be a perfect dish to whip up on your next backyard barbecue, for instance.
It is completely fine to serve it either chilled or at room temperature. In contrast, both has their own different experience. Moreover, serving it chilled makes the bacon fat solidify and thickens the dressing. But it'll definitely melt in your mouth with a delayed release of flavors, truly a pleasant experience. Likewise, serving it at room temp is good, too. As a result, the full flavor of the aromatics, the potatoes, and the saltiness of the bacon plays on your palate at once.
Most importantly, it's quite a wonderful thing to stock up on these during summer days when you want a quick bite to eat as it would be good for up to 3-4 days when kept in the fridge in an airtight container. However, if you don't want the fuss of peeling a bunch of potatoes, it's totally fine. So, it is entirely optional and there's no need to peel if you prefer not to.
Above all, this dish is a perfect base for when you're feeling a little bit more creative and adventurous. We suggest adding a pinch or two of cayenne pepper if you want a bit of kick in every bite. In addition, if you'd like to learn more easy dishes to whip up on your next picnic, try our Confetti Macaroni Salad.
Tip: After cooking your potatoes, allow to cool for up to 1 hour for best results.
Bacon Potato Salad Recipe Video
How To Make Bacon Potato Salad
A fun twist on a classic potato salad, this bacon potato salad will make you want more! Served chilled, this is sure to be a hit side dish for a hot summer day.
Ingredients
½

cup

bacon

chopped in pieces

1 ½

lbs

potatoes

diced

½

cup

sweet pickle relish

including juice

½

cup

celery stalk

diced

½

cup

red onion

diced

½

cup

mayonnaise

⅛

teaspoon

salt and pepper

1

tablespoon

dijon mustard

4

hard boiled eggs

peeled and chopped
Instructions
Peel and dice 1 ½ pounds of potatoes. Making the best potato salad is all about using the right potato for this dish. We recommend Yukon or red potatoes, make sure to wash your potatoes well.

In a large pot, boil your potatoes for 13-15 minutes or until fork tender. Ensure that the water covers all your potatoes.

In a heated skillet, add ½ a cup of chopped bacon.

Cook your bacon bits until crispy golden brown. Remove the bacon bits and allow to drain on paper towels. You will want to reserve the bacon fat for sauteing the rest of the ingredients. This adds a smokey, meaty flavor that is sure to be a hit.

Throw in ½ a cup of diced red onion into your heated skillet and saute making sure to scrape the brown bits from the skillet.

Now, add in your ½ cup diced celery stalks and saute till translucent. Remove from the skillet and set aside for later.

In a mixing bowl, add a tablespoon of dijon mustard and ½ cup of mayonnaise. You can always substitute with ¼ cup of sour cream for a healthier version or opt for Greek yogurt.

Add ½ a cup of sweet pickle relish to the mixture.

Next, season with a teaspoon of smoked paprika powder.

Season with salt and pepper.

Mix ingredients until fully incorporated.

Now, throw in your boiled potatoes and the sauteed vegetables to your dressing.

Add your drained bacon bits and boiled eggs. How many boiled eggs you use depends on how much or how little sauce you prefer. We used 2 eggs.

Now, throw in ½ a tablespoon of chopped dill.

Mix all your ingredients until fully coated with your creamy dressing.

There you have it, bacon potato salad. Serve chilled in a bowl and enjoy with family and friends!
Nutrition Facts
Calories:
287
kcal
|
Carbohydrates:
22
g
|
Protein:
7
g
|
Fat:
19
g
|
Saturated Fat:
4
g
|
Cholesterol:
109
mg
|
Sodium:
410
mg
|
Potassium:
450
mg
|
Fiber:
2
g
|
Sugar:
6
g
|
Vitamin A:
354
IU
|
Vitamin C:
18
mg
|
Calcium:
28
mg
|
Iron:
1
mg
Commonly Asked Questions
How to boil your potatoes?
When it comes to boiling potatoes, you always want to make sure to use a large pot and completely cover the potatoes with cold water. The cold water is necessary to ensure even cooking. You can also season your water with salt for more flavorful and creamy boiled potatoes. You will need to keep a watchful eye on your boiling potatoes to ensure they don't overcook and become too soft.
Why does potato salad get watery?
It's all in the potatoes. You want to use potatoes that have added starch to help keep it dry and less watery. The other reason is overcooking your potatoes or allowing your potatoes to sit and soak in the liquid.
What can I use to make the potato salad without mayo?
You can substitute mayo with other alternatives, such as greek yogurt, buttermilk, and even sour cream to add a little bit of tang.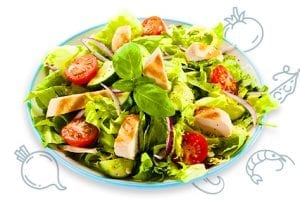 Conclusion
The skin of red and yukon potatoes are usually tender and add a nice color and texture to your potato salad. Alternatively, ranch dressing or even greek yogurt can be substituted in place of mayonnaise for a different take of this summer classic.
The classic potato salad, a crowd favorite, mixed with bacon, what more could you ask for? Seconds, I hope! Go on and make some, your family and friends will thank you for it.