This potato salad with bacon is one of the best potato salad recipes you should try. Creamy and salty at the same time, it's sure to excite your taste buds. It's made with diced potatoes, crispy bacon bits, and hard-boiled eggs with a creamy and tangy mayo salad dressing that ties everything together. Served chilled, this bacon potato salad is perfect for summer entertaining, picnics, and potlucks! We heard that a juicy eye of round steak also really goes well with this dish.
Making potato salad with bacon crumbles is super easy. Simply boil diced potatoes and sauté sliced red onions and celery stalks. Then, add them to the salad dressing made with Dijon mustard, mayonnaise, sweet pickle relish, and apple cider vinegar. You can even toss in paprika and cayenne pepper for a bit of kick, or some freshly-chopped herbs for extra flavor. All things considered, this potato salad recipe with bacon certainly sounds like a tasty meal accompaniment.
Tips for Making Potato Salad with Bacon
Full of exciting flavors and fantastic texture, this potato salad recipe is among the most refreshing side dishes you can serve to loved ones. Best of all, it's a breeze to prepare and easily customizable too. You can easily remove or add ingredients to your liking. And remember, everything should be coated evenly with the creamy salad dressing.
Here are more tips to make this bacon potato salad even more delightful:
Use waxy potatoes. To make the best potato salad recipe with bacon, use waxy potatoes, such as red potatoes and fingerling potatoes. They contain less starch compared to other potatoes and can retain their shapes better when cooked. You can also rely on starchy potatoes, like Idaho and Russet potatoes, provided you cook them just right. The semi-waxy and semi-starchy Yukon Gold potatoes are also one of the best potatoes for salad.
Don't undercook or overcook the potatoes. To make the best potato salad, you have to cook the spuds just right. If they are undercooked, you will most likely end up with crunchy potatoes. Meanwhile, the potatoes might turn mushy if you overcook them. Check out the FAQs below to know how long you should cook potatoes to avoid undercooking or overcooking them.
Season the water before bringing the potatoes to a boil. One way to infuse flavors into the starchy spuds is to add salt and herbs to the water you're going to boil them in. You can toss in sprigs of parsley or garlic. A tablespoon of vinegar will also be a great addition, lending a punchy taste to the potatoes.
Add vibrant colors to your healthy potato salad. A delicious, easy potato salad is already a godsend, but a bright-colored one is even better. That's why we highly recommend adding a few colorful, tasty ingredients. Chopped celery stalks and red onions can transform your simple potato salad recipe into a striking side dish. You can even use a mash-up of white, purple, and red potatoes.
Let the excess water from the cooked potatoes evaporate. To prevent a watery hot potato salad, allow the boiled potatoes to cool completely before blending them with other ingredients. Place the cooked spuds in a single layer on a baking sheet to remove excess moisture. If you do so, the salad dressing will cling better to the potatoes.
Chill the potato salad before serving. For a much better eating experience, it's best to chill your potato salad with bacon and egg in the fridge for at least 30 minutes or up to four hours. This will allow the flavors to meld, resulting in an ambrosial side salad that'll impress the guests.
Brighten up the creamy salad dressing. Incorporate sweet pickle relish or juice, apple cider vinegar or red wine vinegar, and a squeeze of lemon. You can even add a bit of mustard and sour cream to your salad dressing!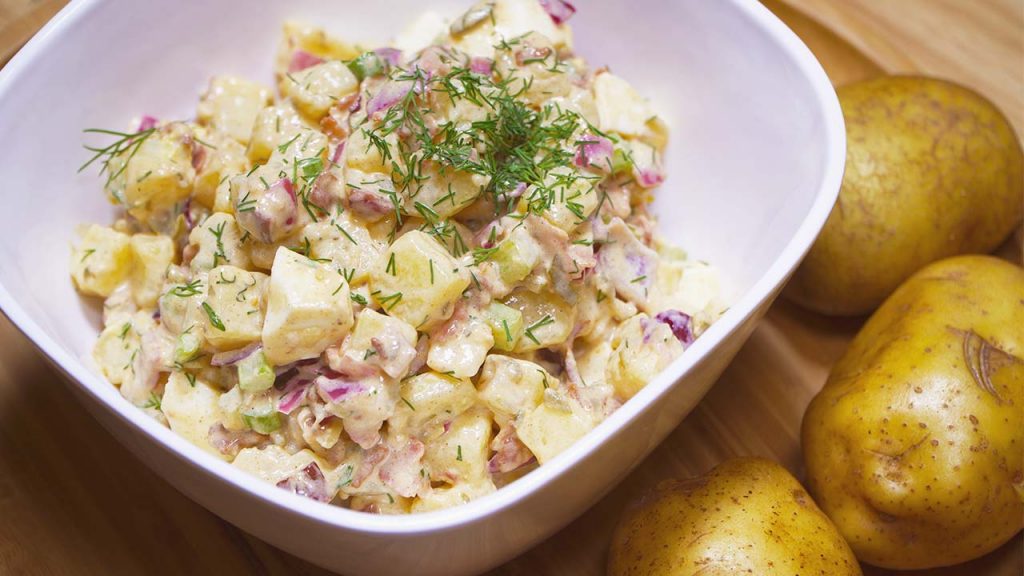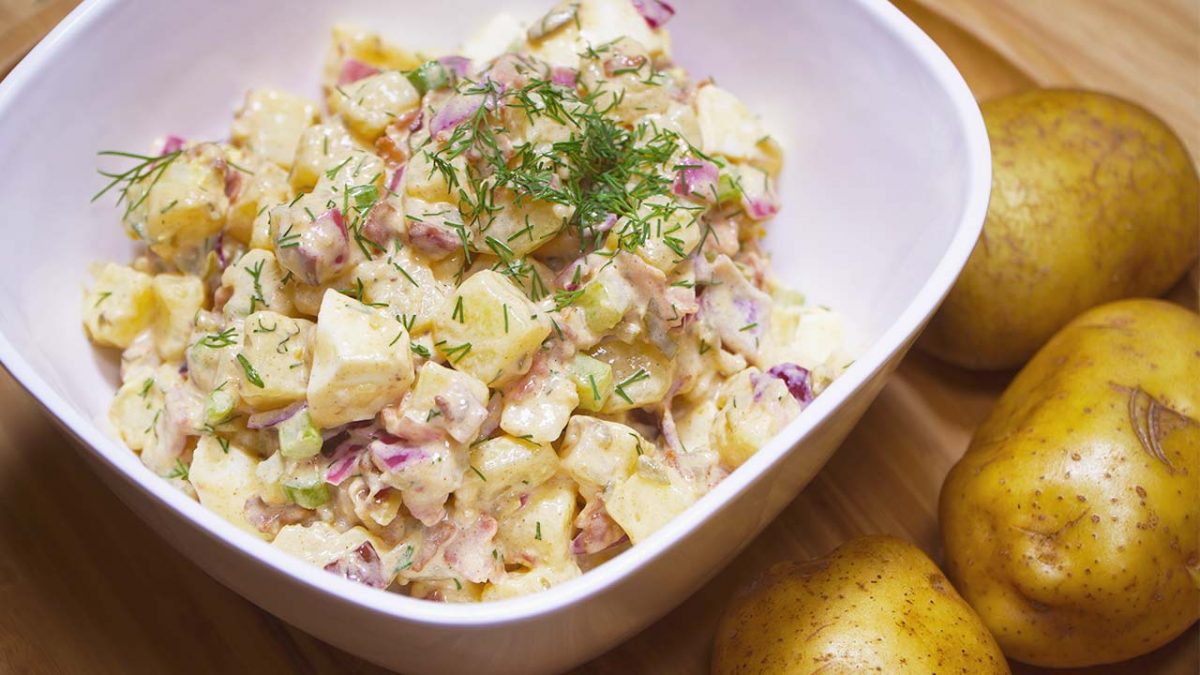 Bacon Potato Salad Recipe
How To Make Bacon Potato Salad
This potato salad with bacon has a delicious blend of diced potatoes, bacon bits, and hard-boiled egg, all tossed in a creamy mayo dressing. A perfect salad recipe that pairs well with just about any meal!
Ingredients
1

cup

potatoes ,

medium-sized, diced (Yukon or Red)

⅓

cup

bacon,

chopped into bits

½

cup

red onion,

diced

½

cup

celery stalk,

diced

2

tbsp

Dijon mustard

¼

cup

mayonnaise

½

cup

sweet pickle relish,

including juice

1

tsp

paprika

1

tbsp

apple cider vinegar

⅛

tsp

salt and pepper

⅛

cup

hard-boiled eggs,

chopped (or 2 medium-sized)

½

tbsp

dill,

chopped
Instructions
Peel and dice the potatoes. Make sure to wash your potatoes well before peeling.

In a large pot, boil your potatoes for 13 to 15 minutes or until fork-tender. Ensure that the water covers all your potatoes.

In a heated skillet, add chopped bacon. Cook your bacon bits until crispy and golden brown. Then, remove the bacon bits from the skillet. Reserve the bacon oil for sauteing the rest of the ingredients. This adds a smokey, meaty flavor that is sure to be a hit.

Throw the diced red onion into your heated skillet and saute, making sure to scrape up the brown bits from the skillet.

Now, add in your diced celery stalks and continue sauteing until translucent, about 10 minutes. Remove from the skillet and set aside for later.

In a mixing bowl, add the dijon mustard, mayonnaise, sweet pickle relish, paprika, apple cider vinegar, and salt and pepper. Mix well.

Next, add your boiled potatoes and sauteed vegetables into your dressing.

Add your drained bacon bits and chopped boiled eggs. Top it off with dill and mix all your ingredients together until everything is fully coated with your creamy dressing.

Garnish with more chopped dill. Serve chilled in a bowl and enjoy with family and friends!
Recipe Notes
You can use packaged or store-bought bacon bits to quicken the process.

Before

cooking bacon

, let the meat rest for 15 minutes, so it will cook evenly.

If you're out of mayo, you can use Greek yogurt, buttermilk, or sour cream instead.

Fresh parsley and cheese will be great toppers for your

potato salad with bacon and egg

. 
Nutrition
Sugar:

5g

:

Calcium:

10mg

Calories:

141kcal

Carbohydrates:

12g

Cholesterol:

17mg

Fat:

10g

Fiber:

1g

Iron:

1mg

Potassium:

173mg

Protein:

3g

Saturated Fat:

2g

Sodium:

323mg

Vitamin A:

368IU

Vitamin C:

6mg
Nutrition Disclaimer
Frequently Asked Questions
How long should you boil potatoes for potato salad?
Usually, you should boil potatoes for around 15 minutes or until fork-tender. But the boiling period might vary, depending on the variety and the size of the diced potatoes. The best thing to do is check the texture of the potatoes every three or five minutes. If the fork easily pierces through the flesh of the spuds, then they're good to go!
Why does the potato salad appear watery?
If you're not using too much liquid to make your salad, then it's all in the potatoes. Regardless if you're using waxy or starchy potatoes, your salad might become watery if you're using spuds that are still too hot. Always make sure to cool down the potatoes after cooking. Another culprit for having a soggy salad is overcooking your potatoes. Allowing your potatoes to sit and soak in the liquid might also be a reason. Place the spuds on a dry kitchen towel after boiling to avoid water build-up.
How do you make potato salad with bacon taste better?
To make your potato salad taste even more delicious, try adding fresh dill or celery seed to the mix. You can also add corn, green onions, or various herbs for a superb flavor and texture. Or better yet, let the salad chill in the fridge overnight. Potato salads always taste better the next day!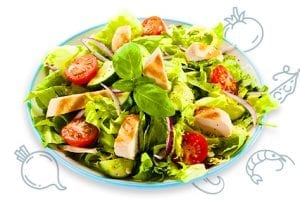 Conclusion
This potato salad with bacon is a bright and creamy dish that would have people lining up for seconds. It's a symphony of textures and flavors! The chunky potato and bacon bits harmonize with the velvety dijon mustard and mayonnaise. It's a beautiful dish to try at home and your family might just thank you for it.