Mushrooms are an underrated food source. It is safe to say that mushrooms are not a common thing to find at one's cupboards. There may be a couple of reasons for that: mushrooms can be expensive and people don't think it's delicious. However, mushrooms are absolutely delicious, especially with the right cream sauce. Read on and discover the wonders of mushrooms in this Portobello mushroom recipe
In this recipe, we'll show you how you can make your dinners a wee bit fancy with this Portobello mushroom tower dish. It's savory, flavorful, and we guarantee that it will change whatever your opinions are about mushrooms.
Serve this with rice or bread and your favorite cheese and it will surely be a hit! If you're experimenting with meatless dishes, this recipe is for you. If you are interested in trying more mushroom recipes, check out our balsamic mushroom salad recipe.
How To Make Portobello Mushroom Tower
Ingredients
For Marinade
1/2

cup

olive oil

1

tbsp

garlic,

minced

1

tbsp

lemon juice

1

tbsp

white wine

1

tbsp

garlic,

minced

1

large shallot,

minced

1

tbsp

basil

1

tbsp

thyme

1

tbsp

rosemary

1

tbsp

parsley

salt and pepper to taste
For Vegetables:
4

3-inch portobello mushrooms,

trimmed and degilled

1

yellow squash

1

zucchini

1

large celeriac, peeled,

(See Note)

2

large red and yellow heirloom tomatoes
For Puree:
1

shallot

1

clove garlic

1

lb

cauliflower,

minced
Also required:
1

cup

marinara sauce

1/4

lb

asparagus for garnish,

cut 1 1/2 inches from tip
Instructions
Combine marinade ingredients. Slice all vegetables 1/4 inch thick and marinate, refrigerated for a minimum of 1 hour. Lightly grill each vegetable, (use either an outdoor or indoor grill or a George Foreman grill) until just done. They should still be slightly crunchy — do not overcook.

Over medium heat, sauté shallots and garlic until tender add cauliflower and caramelized lightly. Put in cauliflower mixture in food processor and puree. 

To assemble tower, start by placing a dollop of the cauliflower puree in the center of plate as your base, then add a dollop of marinara sauce in the center. S

Start the tower by adding one each on top of the puree and marinara the following: Portobello mushroom, Yellow squash, Green zucchini, Red heirloom tomatoes, Celeriac,Yellow heirloom tomatoes.

Garnish that with grilled asparagus tips.
Nutrition
Sugar:

1g

:

Calcium:

2mg

Calories:

161kcal

Carbohydrates:

1g

Fat:

18g

Iron:

1mg

Protein:

1g

Saturated Fat:

2g

Sodium:

1mg

Vitamin C:

1mg
Nutrition Disclaimer
Frequently Asked Questions
What can I substitute white wine with?
If for whatever reason you want to remove the alcohol from this dish without compromising on the flavor, you can use apple cider vinegar. ACV has the same notes as white wine and will give you the same flavors. However, remember that ACV can be quite strong, so use less than the recommended amount.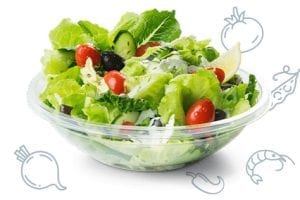 Conclusion
Want to see what the fuss is all about when it comes to vegetarian dishes? This portobello mushroom tower is the perfect recipe to start with. Portobello mushrooms are both meaty and filling while being completely vegetarian. Let us know what you loved about this recipe in the comments!
Topics: