South Korean culture is taking the world by storm in recent years and it's especially gaining popularity in the West. This trend is especially prevalent in its cuisine. These beef lettuce wraps are one such dish that is not only easy to make but is super tasty.
Korean dishes are mostly healthy and full of various flavors and colors. These Korean lettuce wraps or ssam involves folding seasoned beef and other vegetables in a lettuce leaf. This creates an easy gluten-free meal that is great for meal prep.
How To Make Korean Beef Lettuce Wraps
These Korean Beef Lettuce Wraps are light, refreshing and can be made in under 20 minutes. Not only are they extremely delicious and easy to make, but they are healthy for you too!
Ingredients
12

ounces

extra-lean ground beef

3

tbsp

reduced-sodium soy sauce

2

tsp

sesame oil

toasted

1

tbsp

sriracha sauce or Korean red pepper paste

12

oz

broccoli stems

grated

1

head

lettuce

separated
Instructions
Set the skillet over medium heat. Cook the ground beef, stirring constantly until browned.

Add the reduced-sodium soy sauce, toasted sesame oil, and sriracha sauce. If you can use the Korean red chili paste (gochujang), the dish will taste more authentic.

Add broccoli stems to the beef. Stir over medium heat for 2-3 minutes until the vegetables are cooked.

Line a serving plate with the lettuce leaves. Scoop the ground beef onto the lettuce wraps. Season with more sriracha if you like.

Garnish with thin slices of bell pepper, sprinkle with sesame seeds, and add some lime wedges on the side.
Nutrition Facts
Calories:
223
kcal
|
Carbohydrates:
7
g
|
Protein:
29
g
|
Fat:
9
g
|
Saturated Fat:
3
g
|
Cholesterol:
70
mg
|
Sodium:
754
mg
|
Potassium:
802
mg
|
Fiber:
1
g
|
Sugar:
1
g
|
Vitamin A:
619
IU
|
Vitamin C:
109
mg
|
Calcium:
65
mg
|
Iron:
4
mg
Commonly Asked Questions
What to serve with Korean beef lettuce wraps?
You can serve these Korean beef lettuce wraps with side dishes like kimchi, green onion salad, pickled vegetables or stir-fried cucumber. You can even pair it with some Korean stews like soft tofu stew or soybean stew. 
What is the best lettuce for lettuce wraps?
Butter lettuce varieties like Boston and Bibb are good options as they are soft enough to fold, have a buttery texture and a slightly sweet flavor. If you wantAnother good option is red leaf lettuce because it is known as the most commonly known ssam used in most Korean BBQ restaurants.
What is the best sauce to pair with Korean beef lettuce wraps?
Barbeque sauce is popular as a flavoring sauce, condiment or a topping for Korean beef lettuce wraps because it blends nicely to the meat. You can also make your homemade BBQ sauce if you want it more sweet or tangy.

How do you make your own sauce?
Combine soy sauce, brown sugar, chopped ginger, sesame oil, and minced garlic to your own taste. You can add other condiments like vinegar or black pepper and any preferred garnishes for your Korean beef lettuce wraps.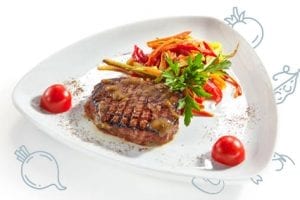 Conclusion
These easy-to-make beef wraps are irresistibly good and quick to make. You can pair them with other favorite savoury Asian side dishes. It's a perfect light meal in the summer with a healthy balance of meat and veggies.