These beef lettuce wraps, also called ssam, are real umami bombs. Imagine succulent sauteed beef seasoned with green onions, nutty sesame seeds, made sweet and slightly spicy with Korean red pepper paste. Then, it is all wrapped up in crunchy lettuce cups, perfect to be devoured in one big bite. Pair them with white rice and other Korean side dishes like candied sweet potatoes and bok choy kimchi for a filling Korean feast.
Tips on Making Korean Beef Lettuce Wraps
These no-marinade beef lettuce wraps or ssam are highly customizable. You can swap and substitute other ingredients, and they pair well with a lot of side dishes. Meanwhile, to ensure you won't miss the authentic Korean flavors in this dish, here are some valuable tips to take note of in making this recipe:
Most importantly, make sure to use gochujang (fermented red chili paste)

. Because first, the thick sweet and spicy chili paste packs a ton of essential Korean flavors in your dish. Secondly, its pigmented red color makes the dish more appetizing.

The best lettuce to use is butter lettuce because its 

cup-shaped leaves make it perfect for holding the beef in. In the same way, you can also use romaine, iceberg lettuce, and perilla leaves.

This

Korean ground beef recipe

calls for healthy extra-lean ground beef. But if you're in

for a juicier alternative, use this instant pot beef bulgogi instead.

On the other hand,

you can use other types of protein

like pork for a

ground pork lettuce wrap

or

samgyupsal

(Korean pork belly lettuce wraps)

. Whichever you prefer, first, be sure to bring them to room temperature. After that, saute them well until they develop browning. As a result, you will have a yummy savory filling for your ssam.
These mouth-watering beef lettuce wraps are gluten-free, keto-friendly, and ready in 30 minutes. So if you're ready for your at-home Korean food adventure, let's get right on to making it.
How To Make Korean Beef Lettuce Wraps
Make succulent and savory Korean beef lettuce wraps made of ground beef and broccoli stems sautéed in spicy and umami seasonings.
Advertisement
Continue Reading Below
Ingredients
12

oz

ground beef,

extra-lean

3

tbsp

reduced-sodium soy sauce

2

tsp

sesame oil,

toasted

1

tbsp

gochujang,

or sriracha

12

oz

broccoli,

grated

1

tbsp

garlic,

minced

1

tbsp

green onion,

chopped

1

head

lettuce,

separated
Instructions
Set the skillet over medium heat.

Cook the ground beef, stirring constantly until browned.

Add the soy sauce, sesame oil, and gochujang.

Add the broccoli to the beef.

Stir over medium heat for 2 to 3 minutes, or until the vegetables are cooked.

Line a serving plate with the lettuce leaves.

Scoop the ground beef onto the lettuce wraps.

Season with more gochujang if you like the added heat.

Garnish with thin slices of bell pepper, sprinkle with sesame seeds, and add some lime wedges on the side.
Advertisement
Continue Reading Below
Advertisement
Continue Reading Below
Commonly Asked Questions
Why do Koreans wrap food in lettuce?
A huge part of traditional Korean food culture, and Asian food in general, come in bite-sized pieces. For example, some well-loved wrapped food are maki, sushi, mochi, Chinese siomai, siopao, dumplings, lumpia, Filipino turon, and samgyupsal. They're wrapped to keep all the fillings together inside so that they are easier to eat. Similarly, Koreans use lettuce for samgyupsal and ssam because its fresh, crisp taste balances out the flavor-packed meat.
What to put in ssam?
Other Korean lettuce wrap fillings include garlic slices, enoki mushrooms, green onions, Korean pickled radish and rice. Korean short ribs (galbi) is also a popular filling. For sauces, you can use gochujang, sesame oil, and ssamjang (Korean dipping sauce).
What do I serve with Korean beef wraps?
Korean meals are served with a lot of side dishes called banchan. Before having your Korean lettuce wraps, you can start your meal with this hot kimchi soup and kimchi patties on the side. Complete the meal with a glass of refreshing soju cocktail for drinks.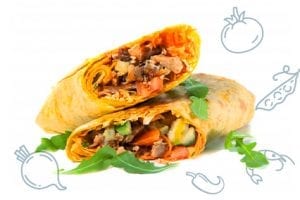 Conclusion
Have a taste of these spicy and flavorful Korean beef lettuce wraps through this wonderful ssam-making endeavor. Paired with Korean side dishes and drinks, it's sure to make your mouth full and your heart happy.
Advertisement
Continue Reading Below
Topics:
Advertisement
Continue Reading Below
Advertisement
Continue Reading Below