South Korean culture has taken the world by storm. From fashion to music, we have embraced it all. It's no surprise that Korean cuisine has also made its way into our hearts. Have a taste of the Korean flavors we all know and love with this simple Korean beef recipe in a crisp lettuce wrap also known as ssam!
We all know Korean cuisine for its intense flavor and spice. Their dishes have a good balance of meat and vegetables. The same is true for this lettuce wrap. The crunchy lettuce leaves gently cradle the meaty ground beef and grated broccoli florets that's been tossed in Asian seasonings for a mouthwatering dish.
For this Korean beef recipe, the ingredients we'll be using are easily accessible. We know that traditional Korean ingredients won't always be available to everybody so we've included alternatives that could best replicate the flavor profile of our chosen Korean ingredients. There's no special technique or equipment needed to make this dish, so you don't have to be an expert in Korean cuisine to be able to pull it off. For a full-on Korean-inspired meal, pair these lettuce wraps with a cold glass of the trendy strawberry milk.
What Is Ssam?
Ssam is a Korean word that translates to "wrapped." It's a common Korean food item, too. This dish is usually made of stir-fried protein, vegetables, and seasonings wrapped in leafy greens. Serve with ssamjang sauce for a mildly spicy flavoring. Plus, this particular condiment is thick, spicy, and will surely bring that signature Korean heat to your lettuce wrap.
What's In This Korean Lettuce Wraps Recipe?
Traditionally, the components of korean lettuce wraps or ssam are served in separate serving dishes, and each guest is free to assemble individual lettuce wraps for themselves. Hence, it's highly-customizable allowing you to mix and match each ingredient according to your liking. Here are some of the usual components of a Korean ssam and possible alternatives:
Leaf Wrap
It's common to use butter lettuce for lettuce wraps. This is great if you want something mild and slightly sweet to add to your dish. Otherwise, you can also use romaine lettuce for that crisp and fresh finish. You can also use perilla leaves if you can get your hands on some. It's a common ingredient to use in Korean cooking.
Protein
You can't have ssam without that distinct savoriness that comes from protein. For our Korean beef recipe, we'll be using extra lean ground beef. This is perfect if you're looking to cut your fat content intake. It's comparatively drier, but the added seasonings should compensate for the lack of moisture from the meat. If you prefer a juicier alternative, you can make bulgogi and use it as the protein of your ssam. You're also free to use pork for a classic bo ssam feast.
Vegetables
Korean cuisine is also known for its good balance of meat and veggies. Aside from the leaf wrap that cradles the other components of ssam, you'll also get a good serving of broccoli with our Korean beef recipe. Toss bits of broccoli along with the ground beef and cook it in Asian seasonings. It's packed with nutrients and it adds an earthy taste to counteract the very meaty flavor of the dish.
Seasonings
Asian cooking is also known for using special seasonings to enhance the umami taste of the food. In particular, this Korean beef recipe calls for reduced sodium soy sauce and some toasted sesame oil. Sesame oil is a healthier kind of fat which should add a bit of sweet nutty flavor that also compensate for the dryness of the lean meat.
Heat is another crucial component of Korean cooking. As stated, you can use a special sauce called ssamjang for this. For this recipe, we'll be using gochujang sauce. This Korean red pepper paste also has mild notes of sweetness, saltiness, and meatiness.  Such combinations create an interplay of flavors in a dish.

Tip: If you don't have gochujang sauce, sriracha is a good alternative as it also has an umami quality.
Optional Ingredients For This Korean Beef Recipe
Rice – Serve rice as an additional ssam component to make ssambap. It's another popular variation of this Korean favorite. Scoop a ball of rice onto your leaf wrap just before you put your protein.
Kimchi – For this Korean beef recipe, we recommend having it with a side of our classic kimchi made from baby bok choy. Kimchi tastes bright and spicy, a great addition to your meaty wraps. It should add the perfect amount of zing to balance out the savory dish. Like the lettuce wrap, kimchi is also a healthy option as it's also rich in nutrients and probiotics. You can even make some guilt-free kimchi fried rice with the leftover side dish.
How To Make Korean Beef Lettuce Wraps
Make succulent and savory korean beef 'ssam' made of lean ground beef and broccoli stems sautéed in spicy and umami seasonings.
Ingredients
12

oz

ground beef,

extra-lean

3

tbsps

reduced-sodium soy sauce

2

tsp

sesame oil,

toasted

1

tbsp

gochujang,

or sriracha

12

oz

broccoli,

grated

1

head

lettuce,

separated
Instructions
Set the skillet over medium heat.

Cook the ground beef, stirring constantly until browned.

Add the reduced-sodium soy sauce, toasted sesame oil, and gochujang.

Add the broccoli stems to the beef.

Stir over medium heat for 2 to 3 minutes, or until the vegetables are cooked.

Line a serving plate with the lettuce leaves.

Scoop the ground beef onto the lettuce wraps.

Season with more gochujang if you like the added heat.

Garnish with thin slices of bell pepper, sprinkle with sesame seeds, and add some lime wedges on the side.
Recipe Notes
Before cooking the ground beef, the lettuce should be prepared. Run the lettuce under cold water to clean it. Afterward, pat dry and use a paring knife to separate the leaves. 

The ground beef should also be brought down to room temperature before cooking

to

give you evenly cooked meat.

This will

also

save you time on the stove as it will cook faster.

If beef isn't available, you can also use pork belly

as

a substitute.

To make this dish even more flavorful, add some tuna mayonnaise and other various seasonings to your liking. For added color, include your favorite greens or your preferred type of rice.
Commonly Asked Questions
How do I store a lettuce wrap?
Since this Korean beef recipe has several components, it's best to store each one in separate airtight containers. Place them in the fridge. When ready to consume, reheat and assemble for serving. If stored properly, lettuce wraps can stay good for 2 to 3 days.
What sauce can I use with Korean Lettuce Wraps?
You can use barbecue sauce as a condiment to pair with this Korean beef recipe. The sweet and tangy sauce marries well with the seasoning of the ground beef. If you don't have barbecue sauce on hand, you can easily make some in your kitchen.
How do I make Korean-style barbecue sauce?
Mix together soy sauce, brown sugar, chopped ginger, sesame oil, and minced garlic to your own liking. You can also add vinegar or black pepper to taste.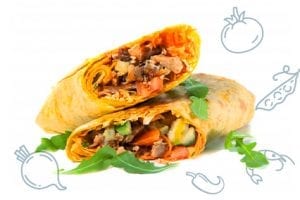 Conclusion
Have a taste of this spicy and flavorful Korean beef wrapped in some fresh and crispy lettuce leaves, an easy and healthy popular East-Asian dish favorite. Paired with Korean side dishes and drinks, it's sure to get your mouths full and your heart happy experiencing this wonderful ssam-making endeavor.
Topics: