Pumpkin spices pie with sour cream and topping of caramelized sugar with pumpkin seeds in the form of flat splinters of candy on the table. Top View
This crustless pumpkin pie is the perfect way to round out your Thanksgiving dinner. It's made with evaporated milk, canned pumpkin, and spices. It tastes just like your favorite pumpkin pie BUT without the crust. This pumpkin pie undoubtedly has a yummy Thanksgiving dessert written all over it. Crowned with whipped cream, it makes for the best pumpkin dessert! It's the sweetest ending for your roasted turkey or stuffed turkey breast dinner.
To make this no-crust pumpkin pie, you only have to whisk together the ingredients, pour the batter into the pan, and bake. No blind baking and rolling out a pie crust required! Continue reading for some tips and the full recipe.
Tips on Making Crustless Pumpkin Pie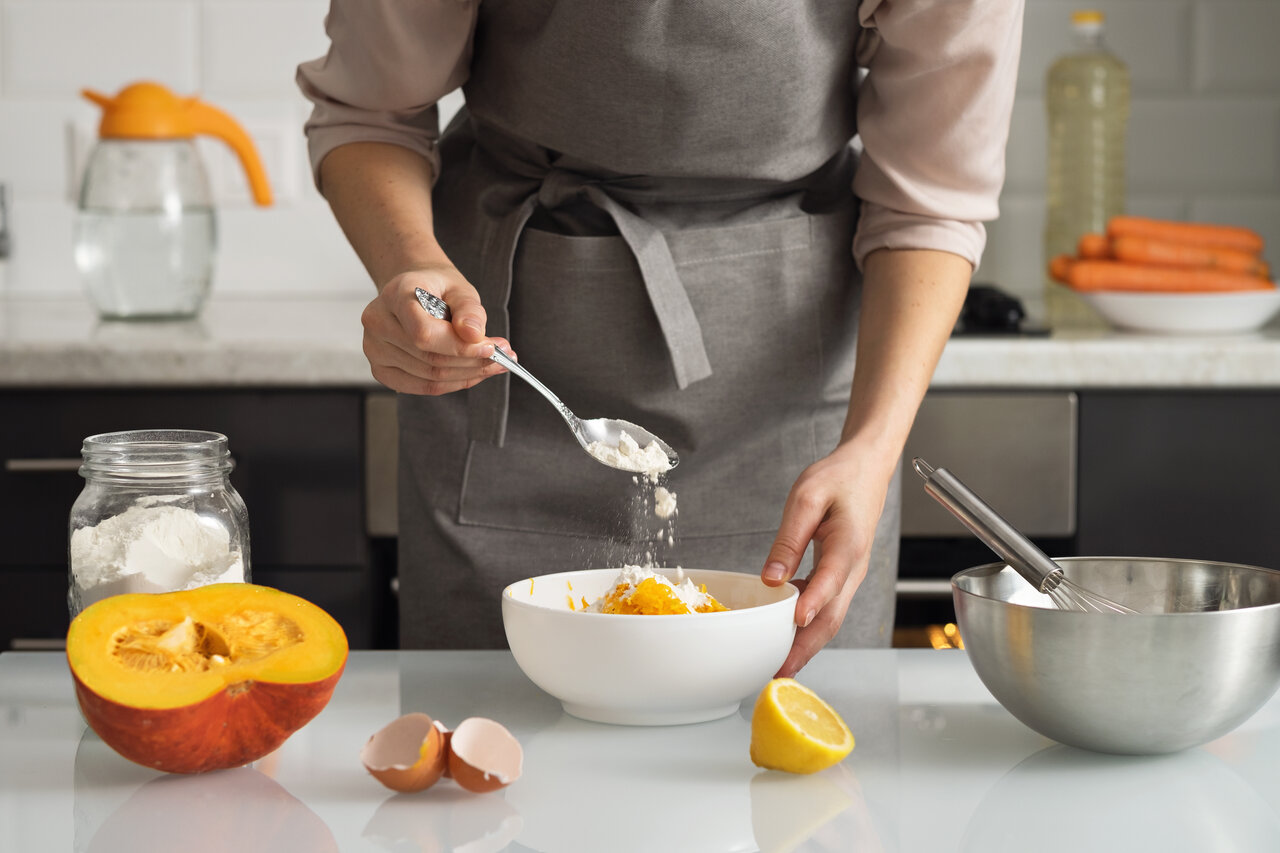 This recipe for crustless pumpkin pie hits all the right notes—silky smooth, rich, and full of pumpkin flavor. Even without the crust, it's bound to elicit oohs and aahs from your guests. Best of all, it's keto-friendly and completely gluten-free.
Follow these simple tips to make the best crustless pumpkin pie:
Make sure to use pure canned pumpkins!

Check the label carefully. The canned pumpkin should not contain sugar or spices. This is because you will be flavoring the pumpkin yourself.

For a creamier pumpkin pie, use heavy cream.

You can also make this c

rustless pumpkin pie recipe

without evaporated milk

. Just replace it with heavy cream. It'll make your pie creamier, smoother, and a whole lot more luxurious!

Feel free to make this keto pumpkin pie with sweetened condensed milk.

If you use sweetened condensed milk instead of evaporated milk, there's no need to add sugar!

Add a touch of cornstarch to your keto crustless pumpkin pie.

It will make your pie firmer and sturdier. It can also keep the eggs from curdling, resulting in a creamy and pudding-like texture.

Flavor your whipped cream!

Sweeten it up by adding maple syrup, brown sugar, or vanilla. Although, bourbon takes it over the top. If you wish to add a more seasonal taste, flavor your whipped cream with cinnamon.

Make a healthy vegan version with no eggs!

Skip the eggs and replace them with cornstarch or a flaxseed meal. Make sure to use coconut sugar and coconut milk as well!
This crustless pumpkin pie is incredibly delicious and the easiest pumpkin pie ever. If you're looking for more pumpkin recipes for your Thanksgiving menu, try this pumpkin bundt cake. You're also going to love Cheesecake Factory's pumpkin cheesecake recipe that's flavored with various fall spices!
Frequently Asked Questions
Is pumpkin pie healthy for weight loss?
Yes, pumpkin pie is good for weight loss. It has plenty of nutrients and is incredibly low in calories. Pumpkin is also fiber-rich food. So, consuming it might help suppress your hunger and appetite. It's just perfect for when you're on a keto diet.
Can crustless pumpkin pie be frozen?
Yes, you can definitely freeze a crustless pumpkin pie. Once baked, allow the no-crust pumpkin pie to cool completely. Wrap the whole pie with plastic wrap, then chill it in the fridge. Once chilled, wrap it with foil or place it in a freezer-safe container. You can freeze your pumpkin pie for up to 3 months.
How To Make Creamy Crustless Pumpkin Pie
Skip the crust and make a truly smooth and rich pumpkin pie that's perfect for any Thanksgiving feast. This dessert is packed with rich and comforting flavors.
Ingredients
¾ cup white sugar

1½ tsp cinnamon

¼ tsp nutmeg

⅛ tsp ground cloves

¼ cup cornstarch

15 oz pure pumpkin, (1 can)

2 large eggs

1 tsp vanilla extract

1 cup evaporated milk

whipped cream, for serving
Instructions
Preheat the oven to 375 degrees F.

Spray a 9-inch pie plate with non-stick cooking spray.

In a large bowl, whisk together the sugar, spices, and cornstarch.

Whisk in the pumpkin, eggs, vanilla extract, and evaporated milk.

Pour the mixture into the prepared pan.

Bake in the preheated oven for 60 to 70 minutes or until the middle no longer wobbles. If the top is getting too brown, cover the pie lightly with aluminum foil as it bakes.

Remove from the oven and cool to room temperature.

Place the pie in the fridge for at least 4 hours to set.

Serve with whipped cream, slice, and enjoy!
Recipe Notes
You can also make your homemade crustless pie with fresh pumpkin puree. But the canned pumpkin is better for desserts as they are less watery than homemade purees.

If you have any leftovers, store them in the fridge for up to three days.

Wrap your homemade pumpkin pie with plastic wrap or tin foil before keeping them in the fridge.
Nutrition
Calories: 

164.87kcal

Fat: 

3.66g

Saturated Fat: 

1.89g

Trans Fat: 

0.00g

Monounsaturated Fat: 

1.20g

Polyunsaturated Fat: 

0.32g

Carbohydrates: 

29.62g

Fiber: 

0.59g

Sugar: 

23.47g

Protein: 

4.28g

Cholesterol: 

55.63mg

Sodium: 

52.42mg

Calcium: 

105.92mg

Potassium: 

297.37mg

Iron: 

0.78mg

Vitamin A: 

267.00µg

Vitamin C: 

5.40mg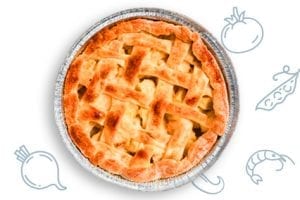 Conclusion
End your Thanksgiving feast with this crustless pumpkin pie. It's rich, smooth, and brimming with seasonal flavors. The perfect holiday dessert! Top it with flavored whipped cream for a more luscious treat.