Oreo is best paired with a glass of milk. But these cookies are such a versatile ingredient when it comes to making sweet treats. You can do a lot of desserts with them, from deep fried treats to cheesecake! In this recipe, we'll teach you how to make a light and creamy no-bake oreo cheesecake, also known as no-bake Oreo pie, you can share this delicious with your friends and family.
Baked vs No-Bake Oreo Cheesecake: What's the Difference?
Cheesecake is a well-loved dessert. You can make it in two different ways, by baking or chilling (no bake). Baking is the most common way of making a cheesecake. Since not everyone has an oven at home, no-bake cheesecakes became more popular. It's also easier to make compared to baking.
But what exactly is the difference between baked Oreo cheesecake and a no-bake Oreo cheesecake? Do they taste the same?
Although both types of Oreo cheesecakes use cream cheese and have a biscuit base, baked and no baked cheesecakes have different texture and taste. A baked Oreo cheesecake is dense and has a velvety texture, while the other is light and airy.
The techniques used for both cheesecakes are different, therefore, they have different characteristics. Minimal air is incorporated in making a baked cheesecake but no-bake cheesecakes needs to incorporate more air to achieve its light and airy texture.
Some people prefer no-bake Oreo cheesecakes as they are a lot easier to make. You just need to whip the cream cheese and cream together and make the crust. Baked cheesecake, however, needs a water bath to ensure it bakes properly. We love sharing easy no-fuss recipes as much as you love making them, so here's our take on a no bake Oreo cheesecake!
How to Make No Bake Oreo Cheesecake?
One of the things we love about making cheesecakes is that you can make them in different flavors! For example, this Strawberry Vanilla Cheesecake has the perfect balance of creaminess from the cheesecake and freshness from the strawberries. You can also experiment with other fruits in season.
Oreo cheesecakes are also a popular cheesecake flavor. It's Oreo and cheesecake in one delectable dessert! They're full of Oreo flavor with the right amount of sweetness and a just bit of tang from the cream cheese. What's not to like?
A simple no bake Oreo cheesecake recipe requires whipping cream and cream cheese to achieve the light yet thick texture. This is unlike a baked cheesecake which uses eggs that help set the filling when baking.
When it comes to the crust, baked and no-bake cheesecakes use graham crackers, sugar, and butter. Since this an Oreo cheesecake, you can use crushed Oreos instead of graham crackers to create the Oreo cookie crust. Use a food processor to crush Oreo cookies until they become fine crumbs. Once you have created the Oreo crust, chill it while you work on the filling.

Tip: Use room temperature cream cheese. Otherwise, it will be difficult to achieve a smooth filling. Take it out of your fridge a night before you plan to make the recipe or pop it in the microwave for about 20 seconds at 50% power. If you use cold cream cheese, there will be lumps in your mixture.
No-Bake Oreo Cheesecake Recipe Video
How to Make No Bake Oreo Cheesecake
Enjoy your favorite snack and dessert in one delightful sweet treat. Try this light and creamy Oreo cheesecake recipe you can make without baking.
Advertisement
Continue Reading Below
Ingredients
For Crust:
24

Oreos,

blended

4

tbsp

butter,

melted
For Filling:
16

oz

cream cheese,

softened

1

cup

sugar ,

powdered or icing

1

tsp

vanilla extract
Instructions
In a large bowl, mix the crushed Oreos and melted butter together until the mixture looks like wet sand. Set aside.

Using a stand mixer or an electric mixer, combine the cream cheese, icing sugar, and vanilla extract. Mix until smooth.

Scoop some of the Oreo and butter mixture into the cream cheese mixture. Mix until well-distributed.

Line your springform pan with parchment paper. Add the remaining Oreo and butter mixture into the pan. The parchment paper makes it easier to get your cake out later.

Firmly press the Oreo mixture into one even layer.

Scoop the cheesecake filling onto the crust.

Carefully spread the filling to level it out.

Add the extra chopped Oreos on top. Gently press them down a little.

Chill for at least 4 to 5 hours or overnight.
Recipe Notes
Get some extra Oreos if you want to sprinkle more on top. You can also top it with freshly whipped cream to add more creaminess to the cheesecake.
Advertisement
Continue Reading Below
Advertisement
Continue Reading Below
Commonly Asked Questions
How long does a no bake cheesecake last?
You can store your no-bake cheesecake in your fridge for up to 5 days. If you want to store it longer, it's best to freeze your cheesecake. Place it in an airtight container or place plastic wrap to seal it. Covering the cheesecake will help prevent any condensation or drying out, especially if you have already sliced it.

Can I use different cookies?
Yes! If you're not a fan of Oreo or want to play around with other cookies, you can swap Oreos to any cookie you like. For example, you can use Biscoff or digestive biscuits for the crust. You only need to change the cookies, but the rest of the ingredients will remain the same.

Can I make a no bake Oreo cheesecake healthier?
Like most desserts, this Oreo cheesecake recipe may contain a lot of sugar and calories. If l want to cut down the calories, you may swap heavy cream for Greek yogurt. Use the same amount of yogurt as the heavy cream used in this recipe. The Greek yogurt will provide the same creaminess to your cheesecake, but with the excessive calories. Keep in mind, however, that you wouldn't need to whip the yogurt until it reaches a stiff peak because it's already stiffer than heavy cream.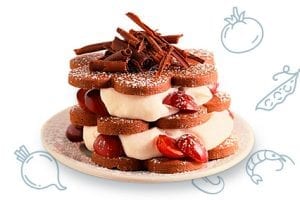 Conclusion
This easy no bake cheesecake is one of our favorite desserts to make. Its light and airy texture, decadent Oreo cream cheese filling, and crunchy Oreo cookie crust, is hard to resist. This recipe is also versatile so you can play with any cookies you love!
Advertisement
Continue Reading Below
Topics:
Advertisement
Continue Reading Below
Advertisement
Continue Reading Below