Baklava is a dessert popular among Middle Eastern people. This Mediterranean pastry is made of layers of filo dough and nuts, cut into beautiful diamond-shaped slices, and topped with sweet syrup. The name itself might lead you to believe it's of Turkish descent, but its exact origin still remains a mystery. Many countries like Greece, Bulgaria, and Armenia have claimed that the baklava recipe was theirs. As 3,000 years have passed since its creation, different versions of this recipe began to surface.
Making baklava requires a lot of layering, mixing, and brushing. Keep in mind that you're working with Filo dough and, unlike the regular dough, Filo is a thin, unleavened dough specifically used for layered pastries like this. If you love sweet and nutty pastries but can't take the amount of effort behind this dessert, you can try our Almond Butter Pastry Recipe instead, it gives you the same crisp nutty goodness sans the work!
But if you're up for a challenge, this baklava recipe is for you. This baklava recipe is perfect for when you have a few people over or a dessert you can make for a special occasion. Do not be intimidated by the number of steps within this recipe. Most of the time, you're doing the same step over and over; brushing and layering. So, let's head onto the kitchen and start baking!

Tip: Make your baklava one night ahead! It allows the syrup to absorb completely, enhancing its unique spiced honey flavor.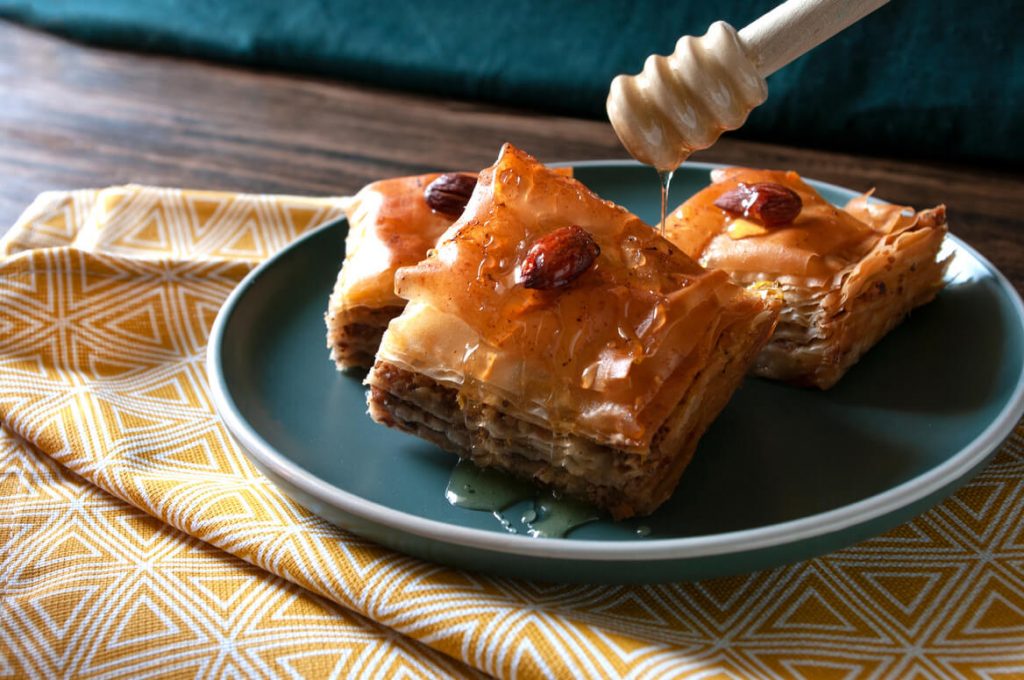 Baklava Recipe
How To Make Classic Baklava
A dish to impress your guest! A sweet and nutty dessert that takes you to the Middle East in one bite.
Ingredients
For Syrup:
1 ½

cups

water

1

cinnamon stick

¼

tsp

lemon peel,

an alternative is a piece of fresh orange rind

1 ½

tbsp

honey
For Nut mixture:
1 ½

cups

almonds,

toasted and ground

1

cup

walnuts,

toasted and ground

1

cup

pecans,

toasted and ground

2

tsp

cinnamon

¾

cup

superfine sugar ,

(you can blend or process regular sugar to make it fine)
For Baklava:
1

cup

unsalted butter

16

oz

filo dough
Instructions
Syrup
To make the syrup, combine the water, lemon or orange peel, cinnamon stick, and honey in a saucepan and bring the mixture to a boil.

Reduce the heat and let the mixture simmer for 15 minutes. Leave it to cool and proceed to prepare the baklava. 
Nut mixture
Using a food processor, ground the nuts until coarsely ground

Mix the nuts in a bowl with the cinnamon and sugar.
Baklava
Preheat your oven to 450 degrees F.

Brush a 10x14 cookie sheet with melted butter.

Line the cookie sheet with 1 sheet of filo.

Brush the dough with melted butter and add another layer of filo. Repeat with 8 more filo sheets.

Sprinkle the nut mixture generously over the filo.

Continue the layering of the filo pastry using 3 sheets of filo and one layer of nuts, brushing each sheet with butter. Keep repeating this layering formation until nuts are used up.

Top the pastry with 8 more sheets of filo, making sure the top sheet is well buttered.

Cut the top lengthwise in parallel strips and slice them diagonally to form diamond shapes.

Bake the baklava in the oven for 15 minutes.

Afterward, reduce the heat to 300 degrees F and bake for another hour.

Once the baklava is done baking, pour cold syrup over it and let it cool.

After the baklava cools, store it in an air-tight container for you to enjoy the next day. Have a slice and enjoy!
Recipe Notes
Letting the baklava sit for a few hours to overnight allows it to better absorb the syrup

and soften the layers.

 

It is best to make the syrup before starting on the baklava so that it has more time to cool.
Nutrition
Sugar:

6g

:

Calcium:

30mg

Calories:

199kcal

Carbohydrates:

16g

Cholesterol:

15mg

Fat:

15g

Fiber:

2g

Iron:

1mg

Potassium:

88mg

Protein:

3g

Saturated Fat:

5g

Sodium:

70mg

Vitamin A:

179IU

Vitamin C:

1mg
Nutrition Disclaimer
Frequently Asked Questions
Why does my baklava fall apart?
The dilemma most people encounter with filo dough is that it dries up fast, causing it to tear easily. A way to remedy the situation is to place a damp cloth over the filo dough to keep it moistened.
How do you prevent soggy baklava?
Firstly, you should also be aware that the filo dough should also not be too wet. Too much moisture will also cause the individual sheets of filo to stick together. To prevent a wet filo dough, let the frozen dough to thaw in the fridge before letting it sit at room temperature for several hours to warm up the dough before using. Next, as the baklava pastry is quite delicate, you need to make sure that your syrup is completely cool before pouring over the baklava. Some encounter this problem from over-buttering, so you should take note not to spread too much butter on each layer. Just brushing a thin layer of butter once will do.
How long before baklava goes bad?
Baklava can last up to 2 weeks! Just keep it in an airtight container at room temperature, or if you prefer a harder and chewier consistency, you can keep it in a fridge. If you freeze it, you can even keep it up to 3 months! When you wish to eat it, simply thaw it for 4 to 6 hours or overnight in the fridge.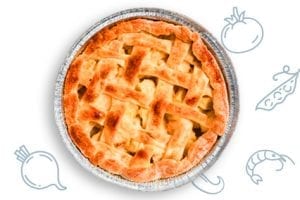 Conclusion
Baklava leans to a nutty and sweet flavor with an added crunch thanks to the filo dough layers. The layering is indeed a repetitive process but it ensures that the dish holds the weight of the nuts as well as being able to deliver equal notes of each ingredient. All in all, it's worth a dish to make especially if you want to try out something new.