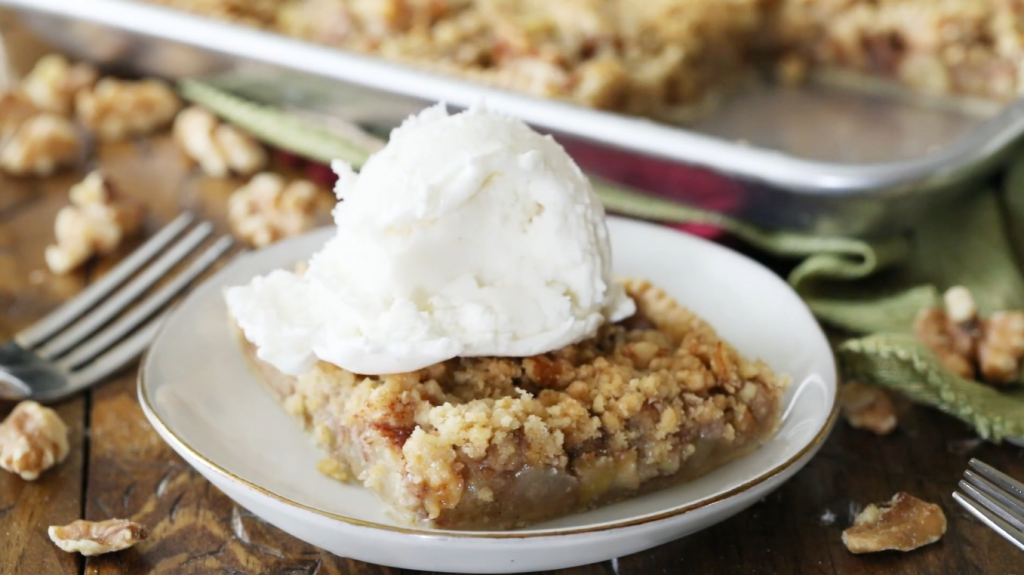 Apple Slab Pie with Spiced Glaze Recipe
How To Make Apple Slab Pie with Spiced Glaze
Every slice of this delectable apple slab pie is packed with a perfectly golden and flaky crust. It comes with a spiced apple filling tossed in lemon juice.
Instructions
Pie Crust:
Using a food processor, process the flour, sugar, and salt for a few seconds.
Add in the butter cubes and pour water into the top feeder of the food processor slowly while pulsing the mixture until it resembles pea-sized pieces.
Take the dough out of the processor and knead together a few times just to form a rough ball.
Cut into two pieces, flatten each like a disc, and wrap tightly with saran wrap. Put in the refrigerator for at least 1 hour.
Heat the oven to 375 degrees F.
Line bottom of 10x15x1-inch jellyroll pan with parchment paper. Alternately, use a regular rectangular pan, a jelly roll pan just makes for a prettier presentation.
Filling:
Toss the cut apples with the lemon juice
Add the sugar, cornstarch, cinnamon, nutmeg, allspice, and salt. Mix well.
To Assemble and Bake:
On a lightly floured smooth surface, roll one of the dough halves into a rectangle about an inch bigger than the pan on all sides.
Put the crust into the pan and use that extra inch surround to make the crust into a wall going up the sides of the pan. Roll out the second disk of dough into another rectangle.
Scoop the apples out, leaving behind the juices. Put apples onto crust.
Cover the apples with the second crust and crimp the two crusts together to form a tight seal.
Cut 6 to 8 small 1-inch vents on the pie to prevent the crust from having steam trapped inside. Brush with heavy cream and top with coarse sanding sugar.
Bake for 40 to 45 minutes until the crust is golden brown and the insides of the slits show it bubbling. Transfer to a wire rack to cool.
In the meantime, using the bowl that had the apples, add in the powdered sugar and mix. Pour the glaze in any pattern over the cooled pie.
Enjoy! Leftover is good for a couple of days at room temperature. Reheated in the oven at 350 degrees F for 10 minutes.
Nutrition
Monounsaturated Fat: 

3.26g
Polyunsaturated Fat: 

0.59g