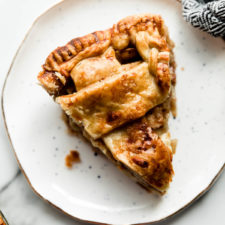 Apple Cheddar Pie Recipe
How To Make Apple Cheddar Pie
This apple cheddar pie is loaded with a spice-enriched slab of sharp cheddar and sweet gooey cinnamon apple filling in a flaky, cheesy dough.
Chill and Cool Time:
5 hours
Total:
6 hours 55 minutes
Ingredients
For Cheddar Pie Crust:
2½

cups

all-purpose flour,

plus more as needed, spoon and leveled

2

tsp

granulated sugar

1

tsp

salt

1

cup

unsalted butter,

chilled and cubed

½

cup

ice water,

plus more as needed

1

cup

cheddar cheese,

freshly shredded

1

large egg,

beaten with 1 tbsp (15ml) milk

coarse sugar,

for sprinkling on crust, optional
For Apple Pie Filling:
7

large apples,

(11-12 cups total from different varieties of apple, preferably), cored, peeled, and sliced into ¼ inch slices

½

cup

granulated sugar

¼

cup

all-purpose flour,

spoon and leveled

1½

tsp

ground cinnamon

¼

tsp

ground allspice,

ground cloves, and ground nutmeg

¼

cup

cheddar cheese,

freshly shredded
Instructions
Cheddar Pie Crust:
Mix the flour, sugar, and salt together in a large bowl. Add the cubed butter on top. Using a pastry cutter, food processor, or two forks (pastry cutter is ideal, see post above), cut the butter into the dry ingredients until all flour is coated. Pea-sized bits of flour-coated butter will show; a few larger bits of butter is okay.

Measure ½ cup of water in a cup. Add ice. Stir it around. From that, measure ½ cup of water since the ice has melted a bit. Drizzle the cold water in, 2 tablespoons at a time, and stir after each addition. Stop adding water when the dough comes together easily and begins to form large clumps. The dough will feel moist and a little sticky, but not overly wet. Do not add any more water than needed. Using a rubber spatula, carefully fold in the cheese; avoid overworking the dough.

Place pie dough on a lightly floured work surface. Using floured hands, fold the dough into itself until the flour is fully incorporated into the fats. Form it into a ball. Cut dough in half. Using your hands, flatten each half into a 1-inch thick disc. Wrap each disc tightly in plastic wrap and refrigerate for at least 2 hours and up to 5 days.
Apple Pie Filling:
In a large bowl, stir the apple slices, sugar, flour, cinnamon, allspice, cloves, nutmeg, and ¼ cup cheese together until thoroughly combined. Set filling aside as you roll out the pie crust.
To Roll Out the Chilled Pie Dough:
On a floured work surface, roll out one of the discs of chilled dough (keep the other one in the refrigerator). Turn the dough about a quarter turn after every few rolls until it reaches 12 inches in diameter.

Smooth out the edges with your fingers if you notice cracks. Keeping your work surface, rolling pin, and hands lightly floured makes rolling out easier. Carefully place the dough into a 9×2-inch pie dish. Tuck it in with your fingers, making sure it is smooth. (Also, for a nice thick edge, don't trim the overhanging dough from the edges of the crust. Instead, fold the excess dough back over the edge and use hands to mold the edge into a nice thick rim around the pie. Do this before or after adding the top pie crust.)

Spoon the filling into the crust.

Roll out the 2nd pie crust just like the bottom pie crust. Simply lay the pie crust on top of the filling to make a double crust pie (slit a few holes in the top for air vents) or create a pretty pie crust design on top like a lattice pie crust and/or a braided pie crust. Crimp the edges with a fork or flute the edges with your fingers. Brush the pie crust with egg wash. Sprinkle with coarse sugar, if desired. This adds a lovely sweet crunch.

Preheat oven to 400 degrees F. As the oven preheats, place your pie in the refrigerator or freezer to keep it cold. The colder the pie dough, the more likely it will hold its beautiful shape.

Place the pie onto a large baking sheet and bake for about 25 minutes. Keeping the pie in the oven, turn the temperature down to 375 degrees F and bake for about 30 to 35 minutes. After the first 20 minutes of bake time, place a pie crust shield on top of the pie to prevent the edges from browning too quickly.

Cool for at least 3 hours at room temperature before serving. This time allows the filling to thicken up. Cover leftovers tightly and store in the refrigerator for up to 5 days.
Nutrition
Calories: 

613.57kcal

Fat: 

30.75g

Saturated Fat: 

18.69g

Trans Fat: 

1.17g

Monounsaturated Fat: 

7.76g

Polyunsaturated Fat: 

1.44g

Carbohydrates: 

77.81g

Fiber: 

6.11g

Sugar: 

37.79g

Protein: 

10.17g

Cholesterol: 

82.04mg

Sodium: 

430.30mg

Calcium: 

170.26mg

Potassium: 

280.37mg

Iron: 

2.32mg

Vitamin A: 

254.27µg

Vitamin C: 

9.02mg